Last year in May, I received a pic from my best friend with the following caption: 'YOU JUST HAVE TO GO THERE!'. And what I saw then was right up my street! An amazing hotel – Casa Cook Kos. I immediately thought of Tulum and our best holiday. After quite a detailed research it came out that the hotel was part of Thomas Cook hotels designed especially for demanding guests. You can also find Casa Cook in Rhodes, Chania, in Ibiza and Egypt. The hotels are defined by the boho style, minimalistic design and the usage of nature in their interior design. The hotels all offer fantastic cuisine and excellent customer service. Have a look my post to get a little more understanding of the vibe of Casa Cook Kos.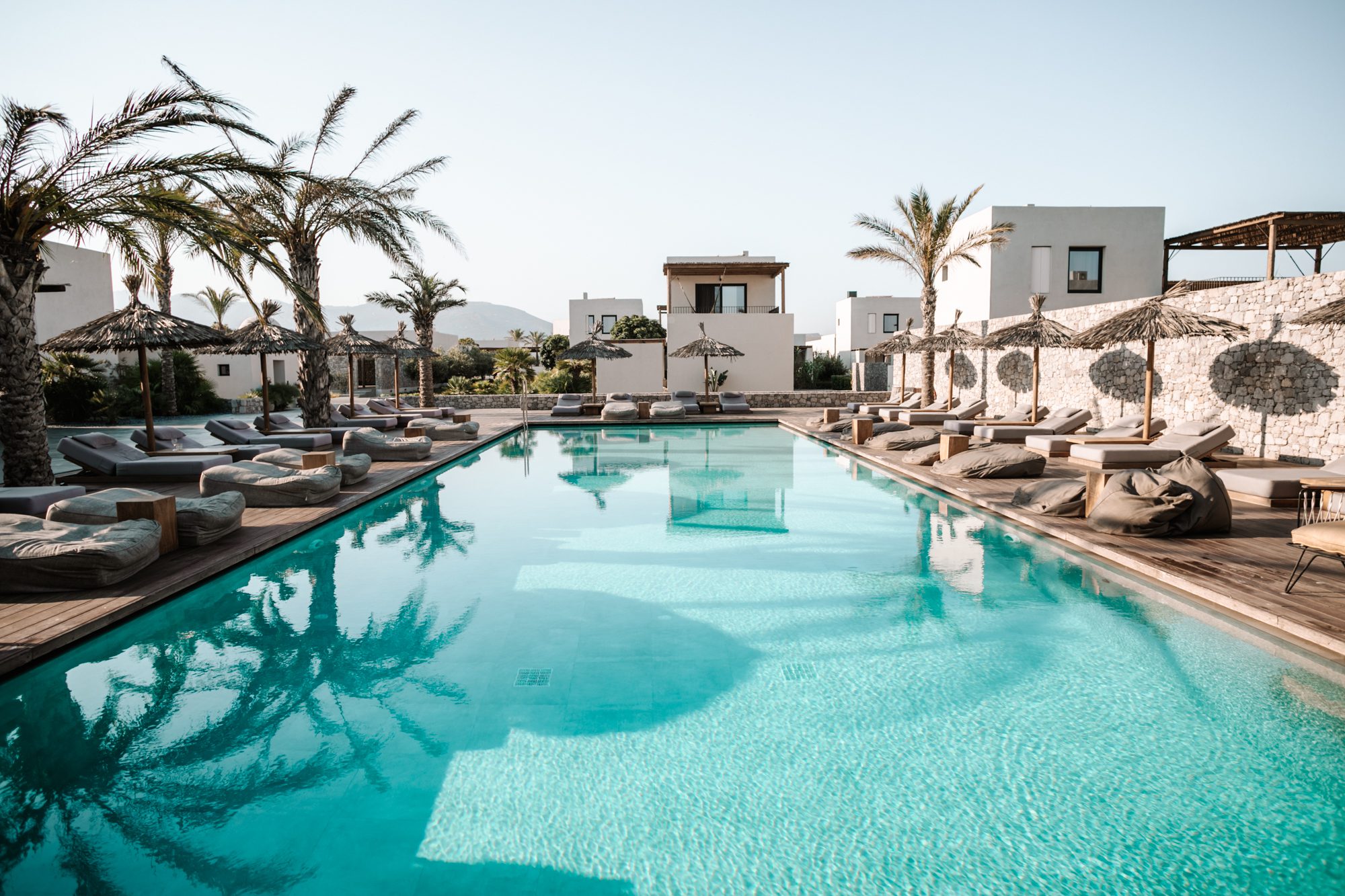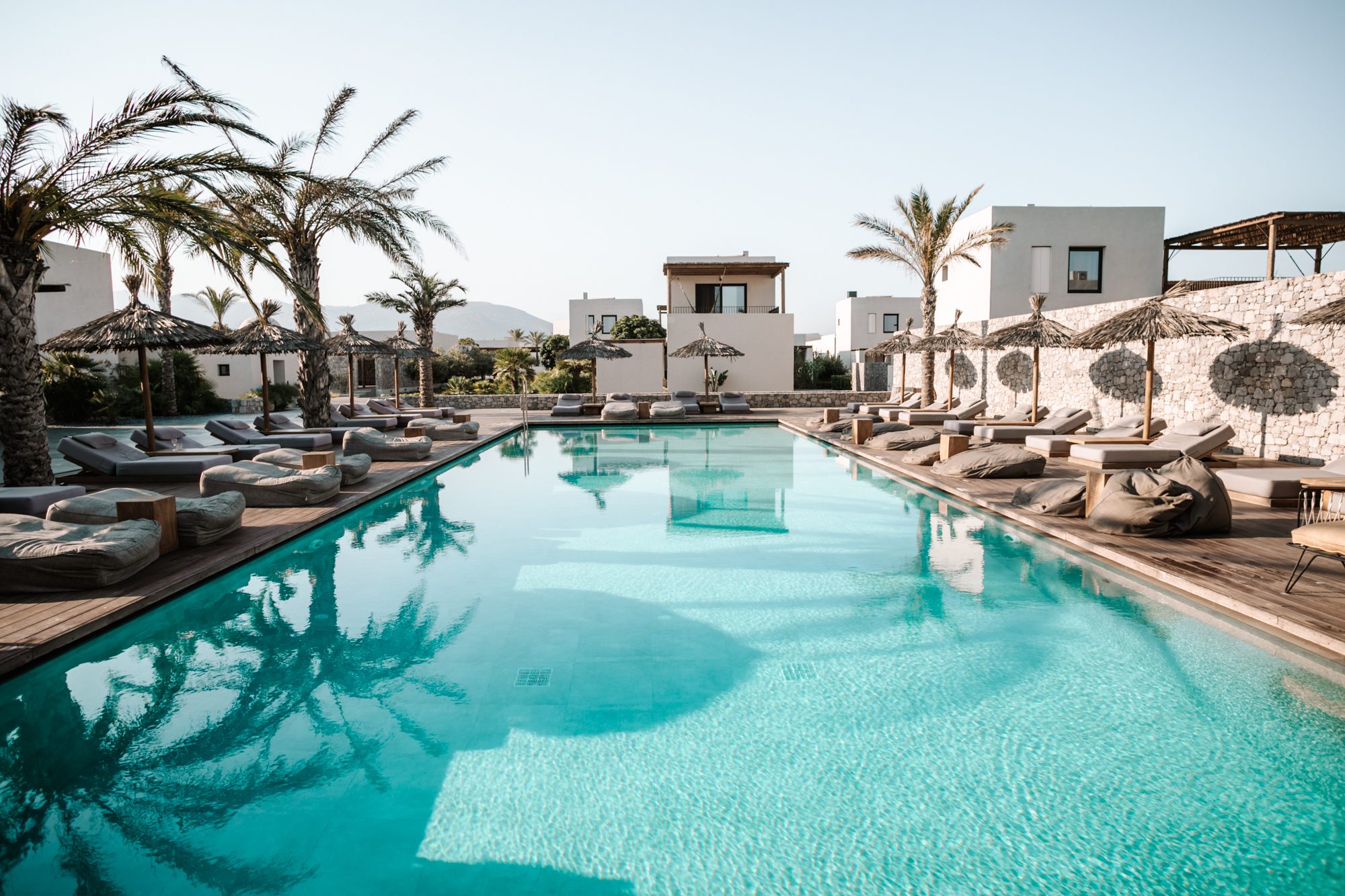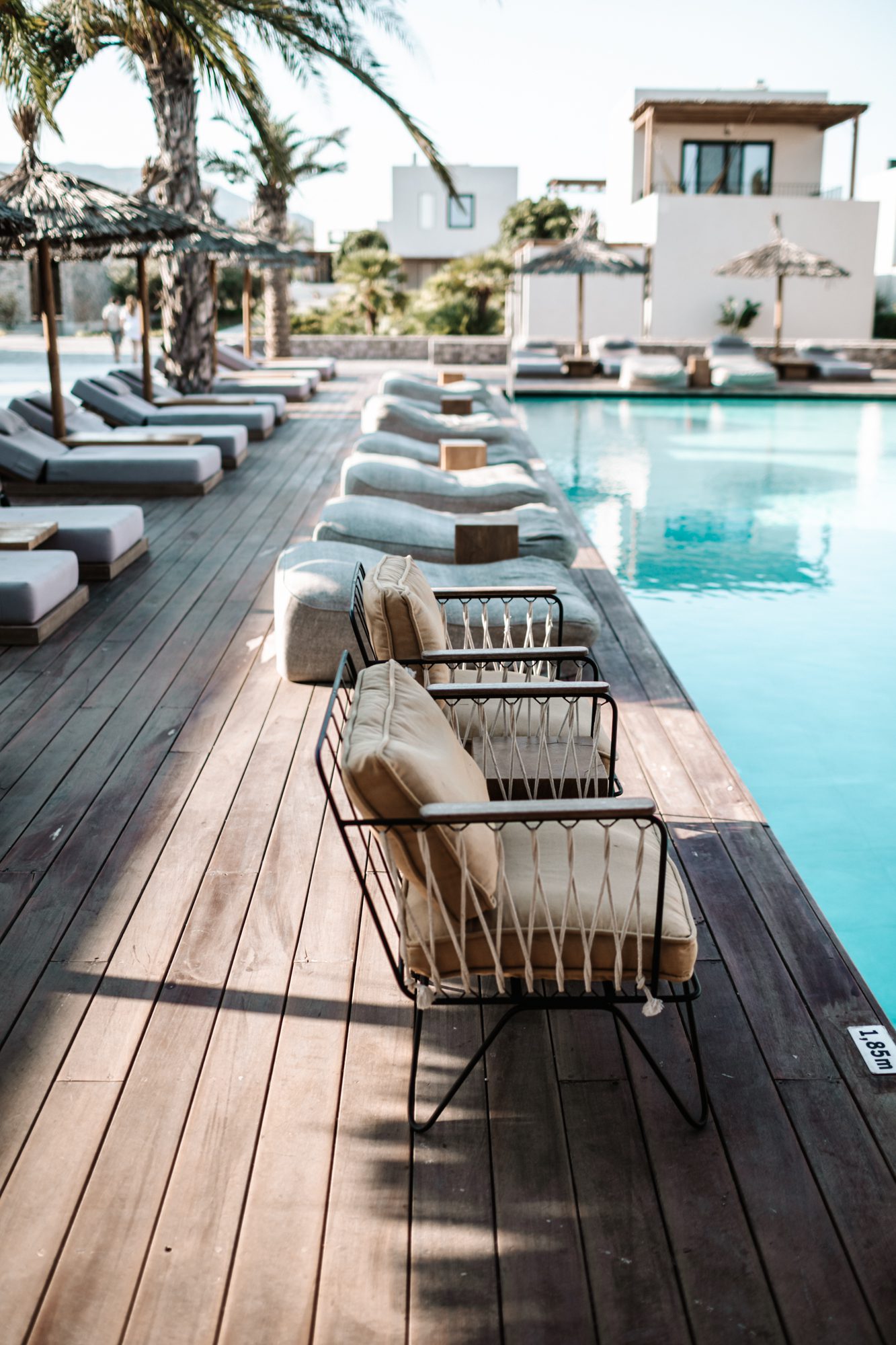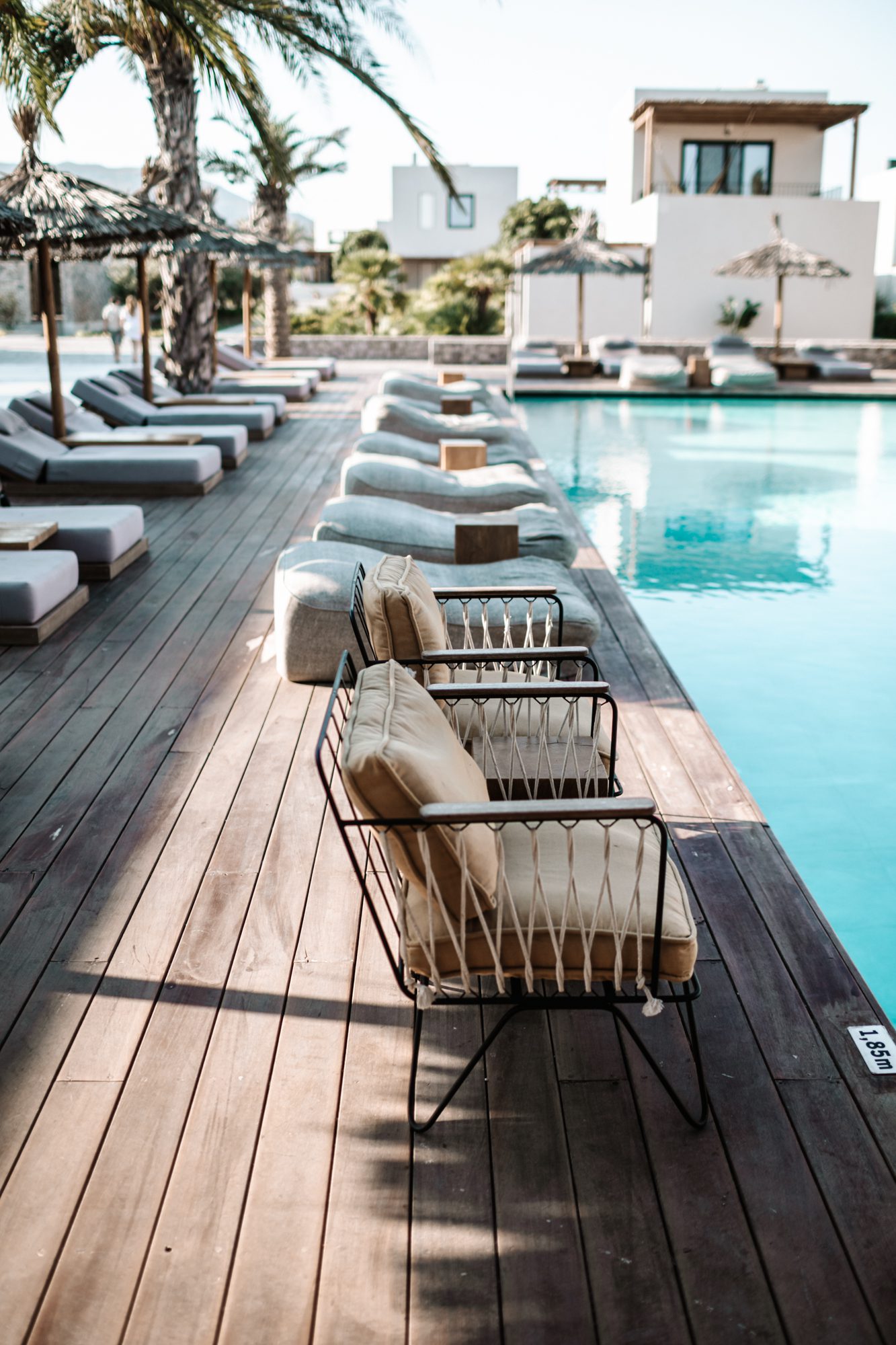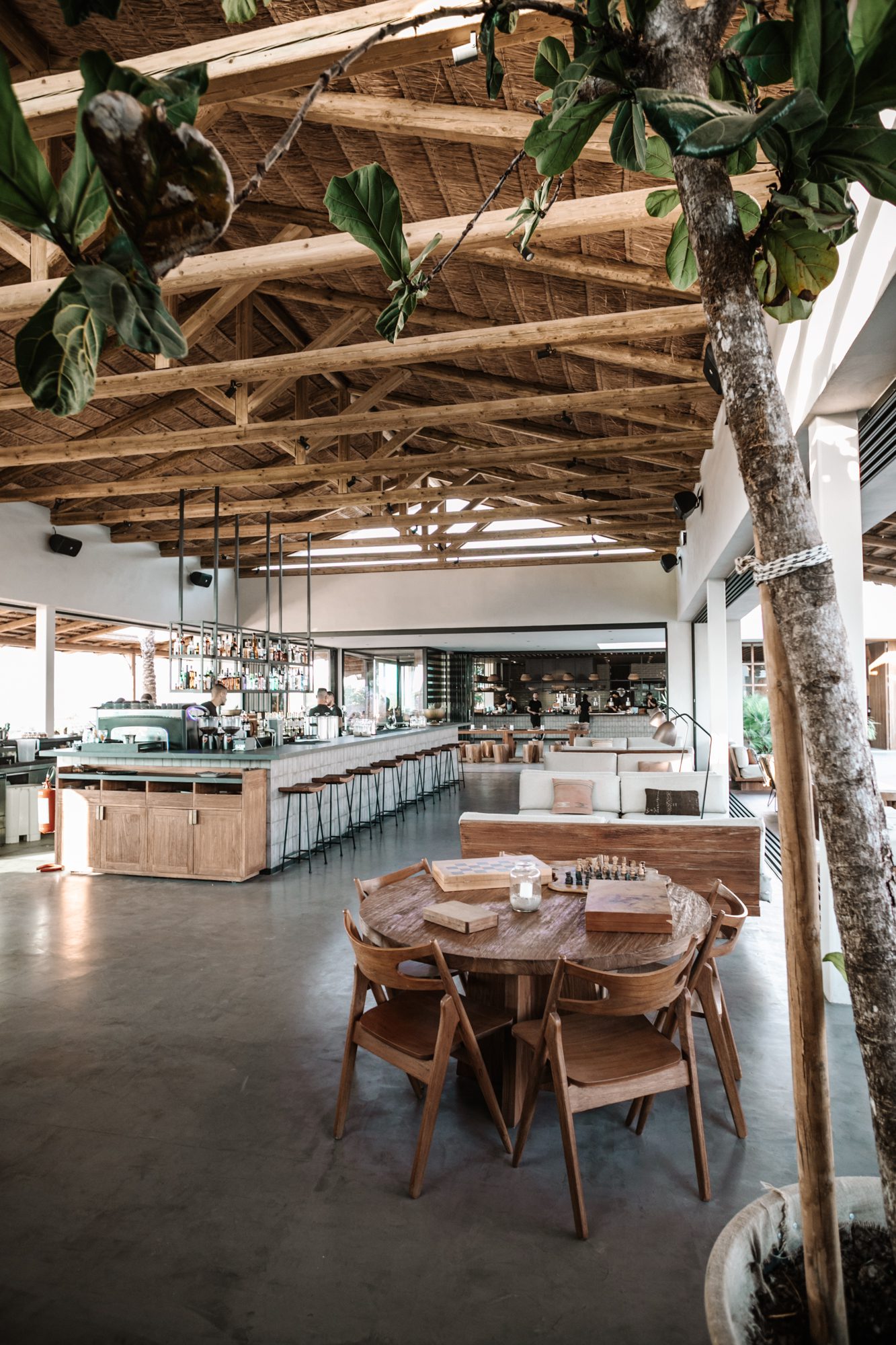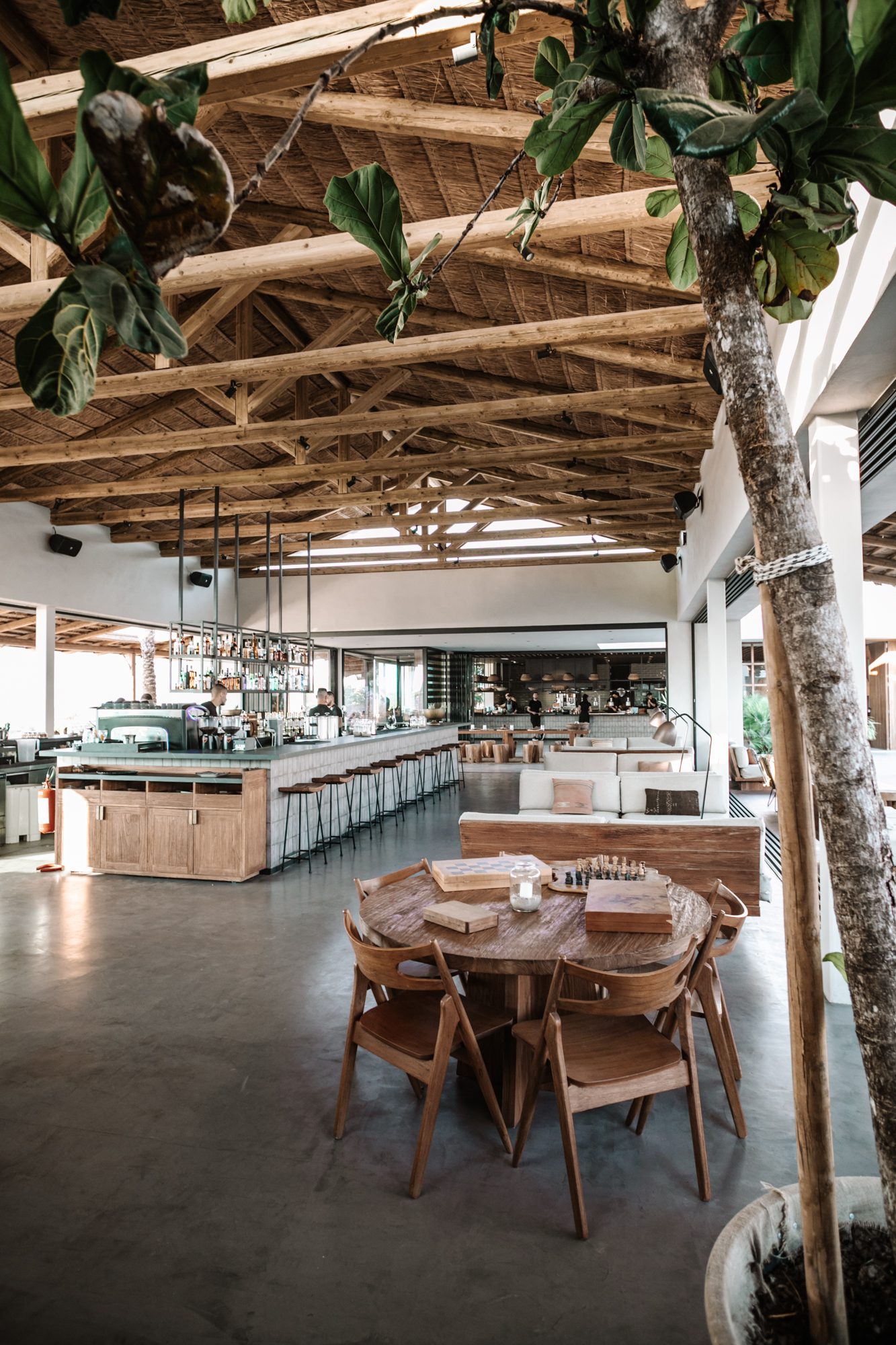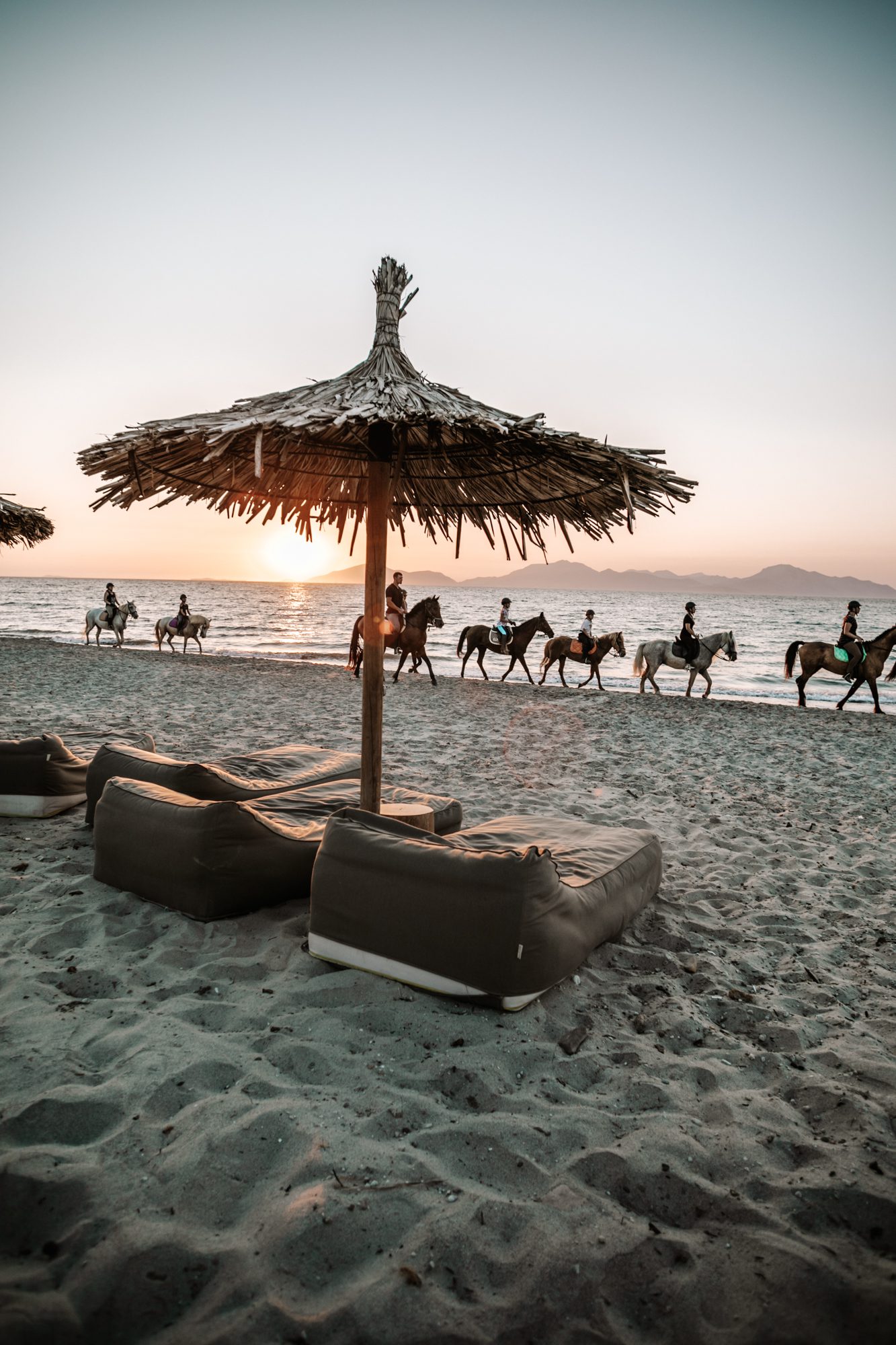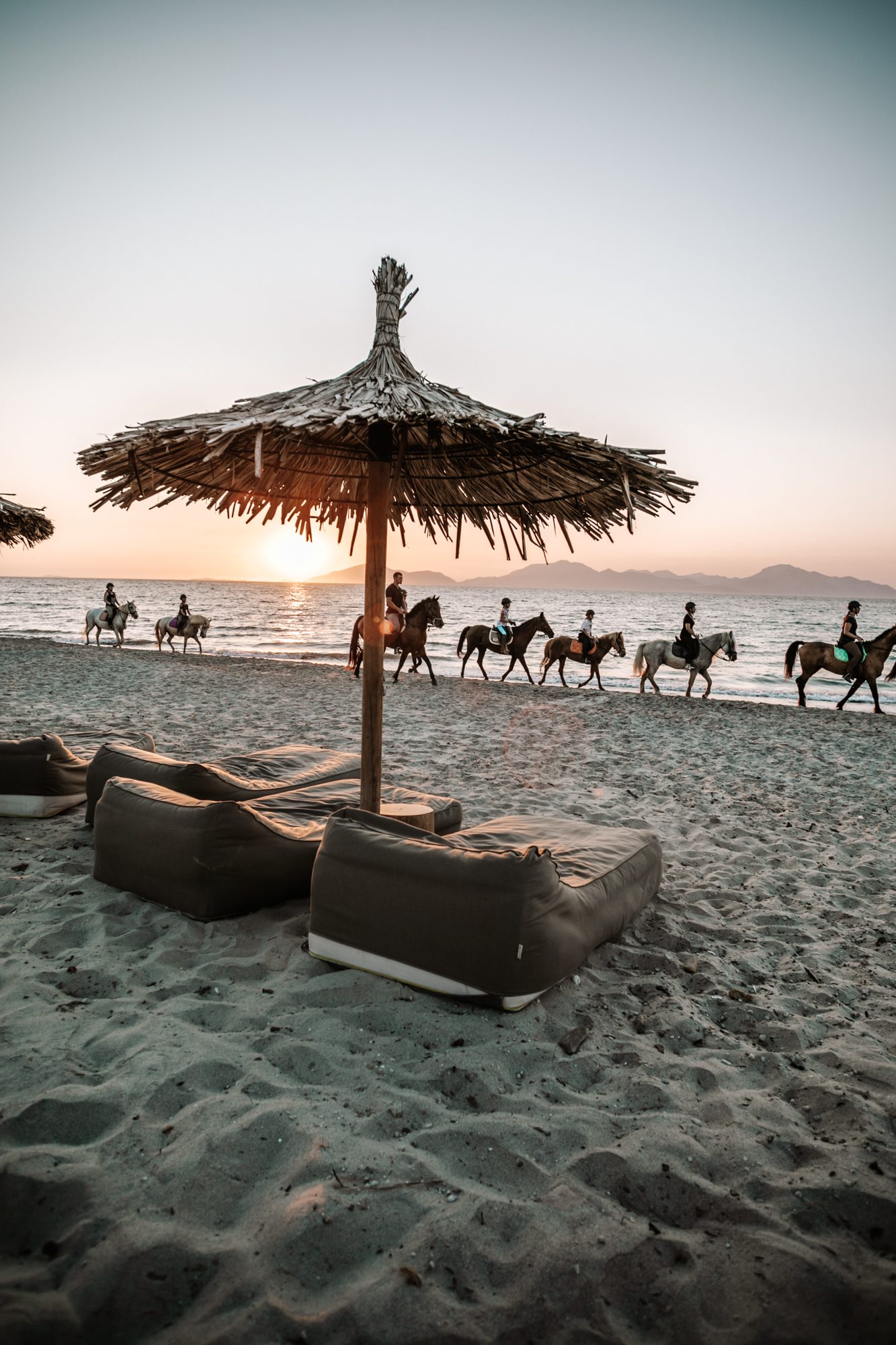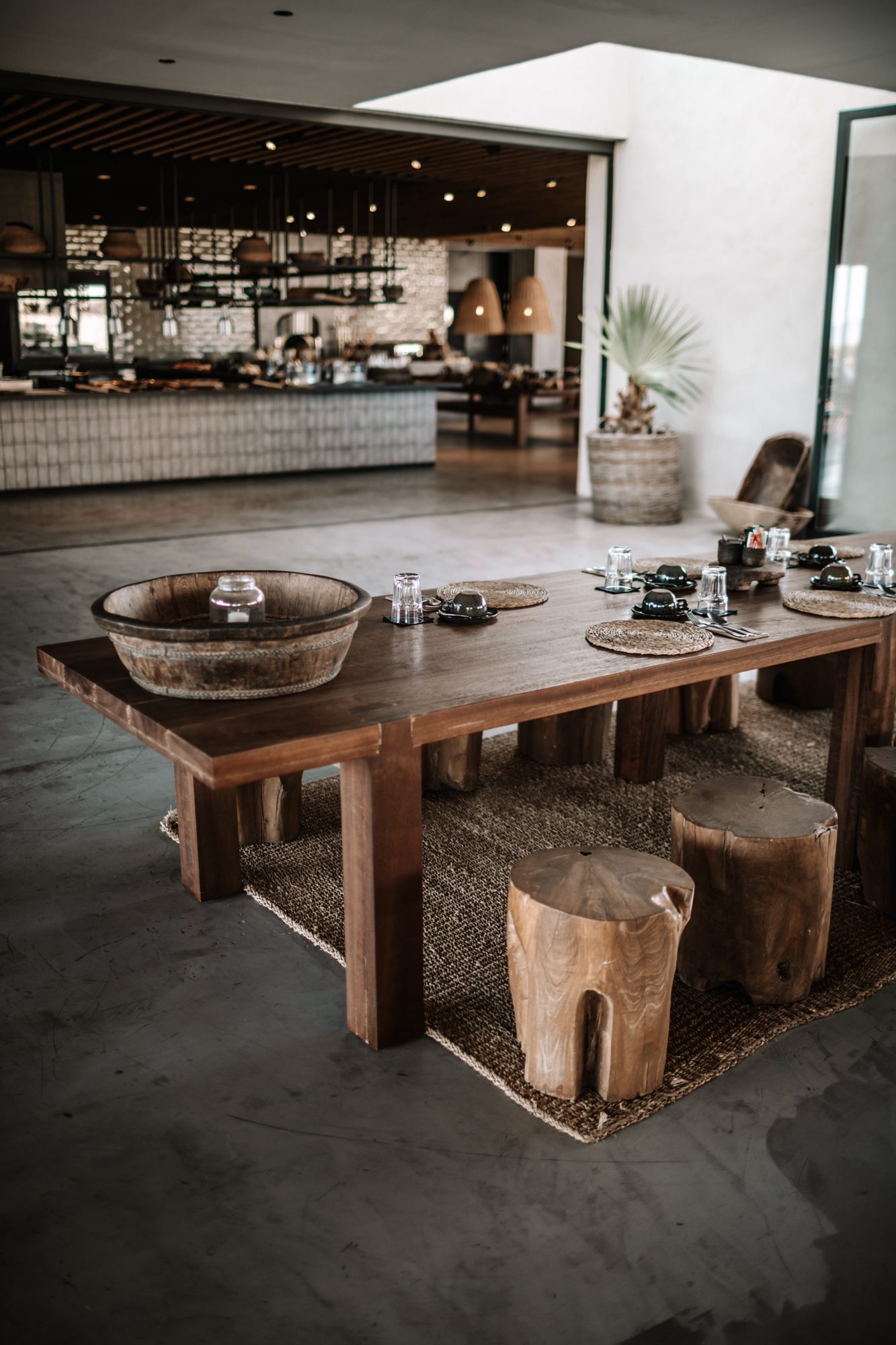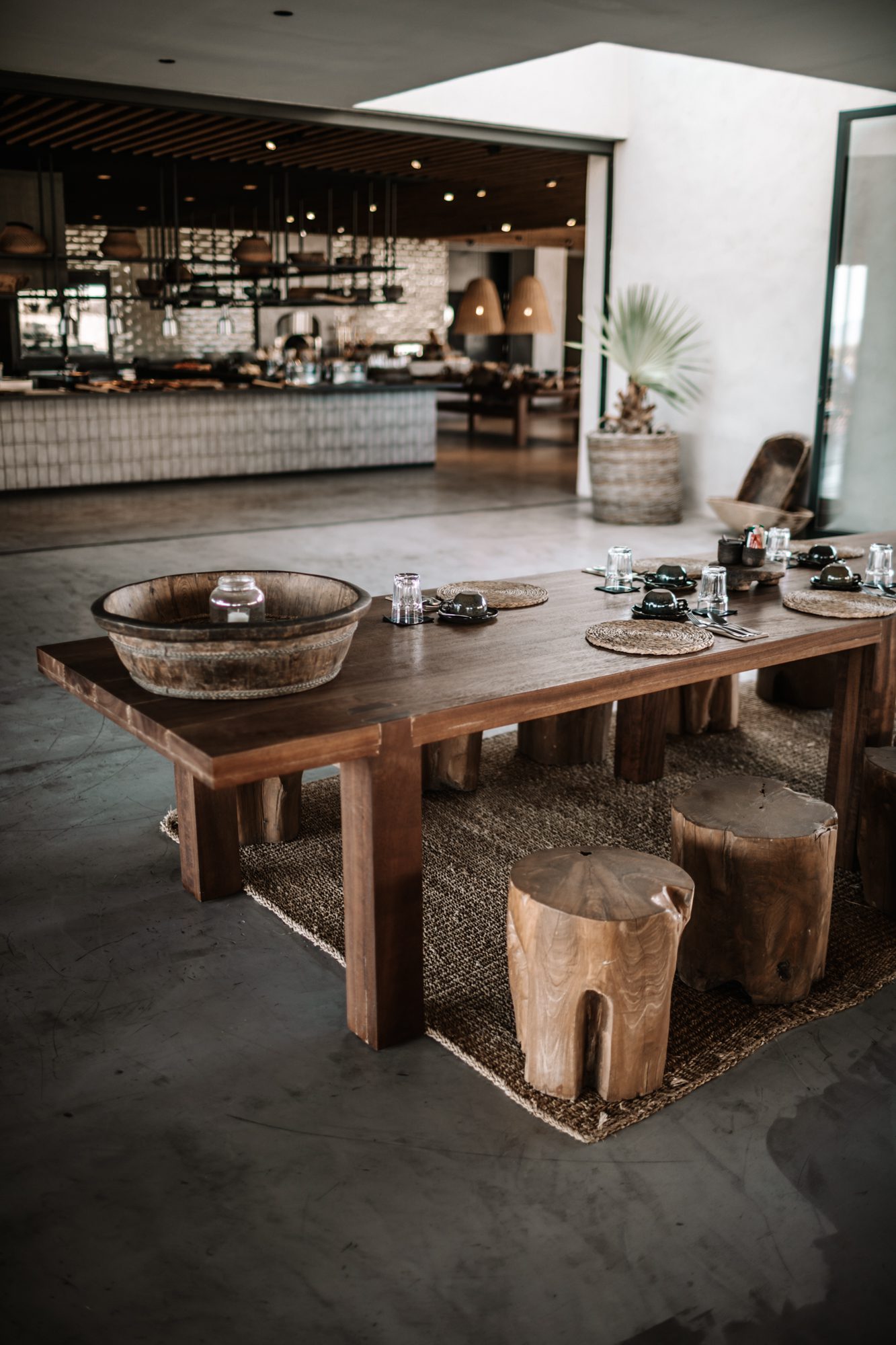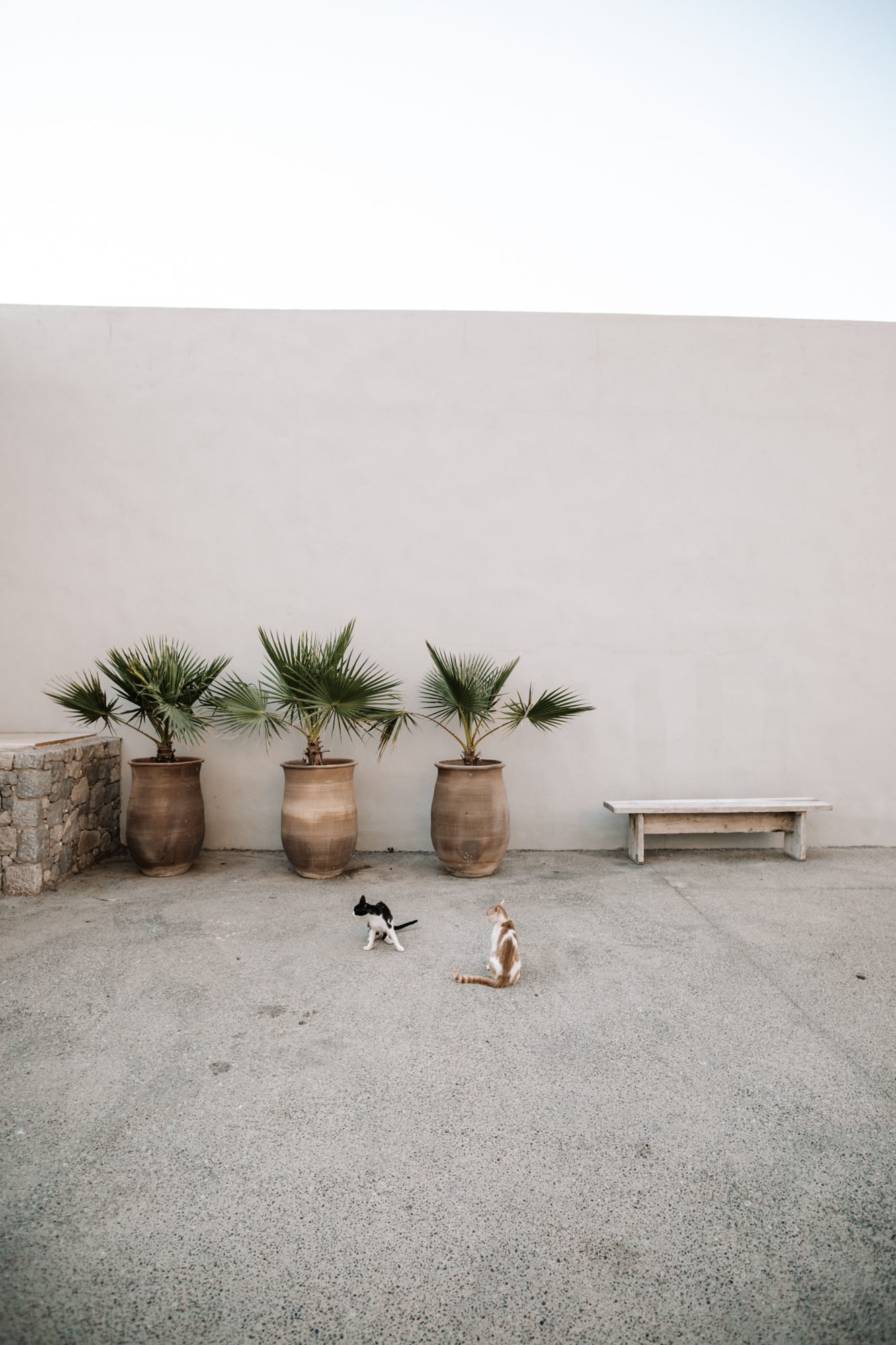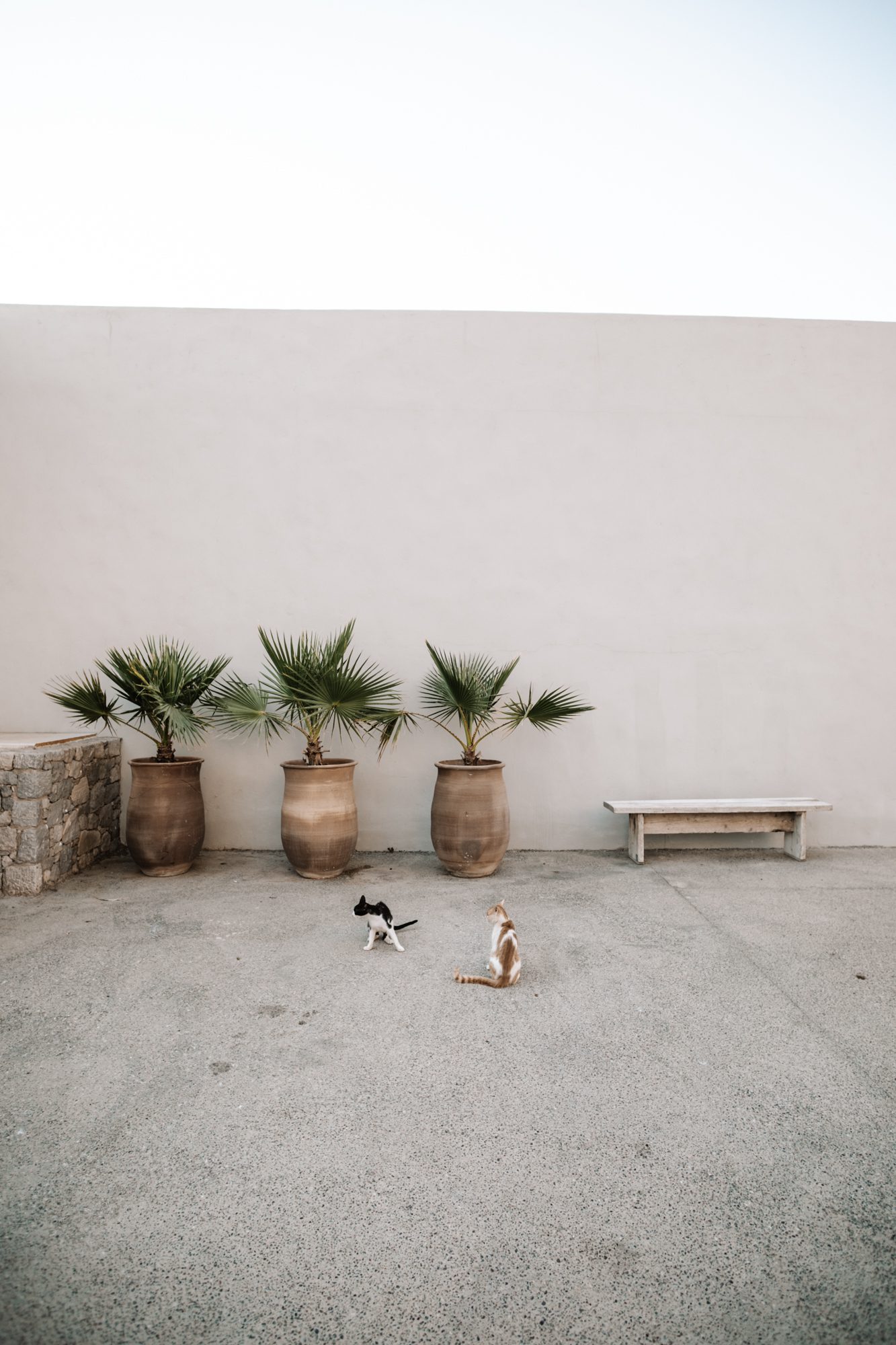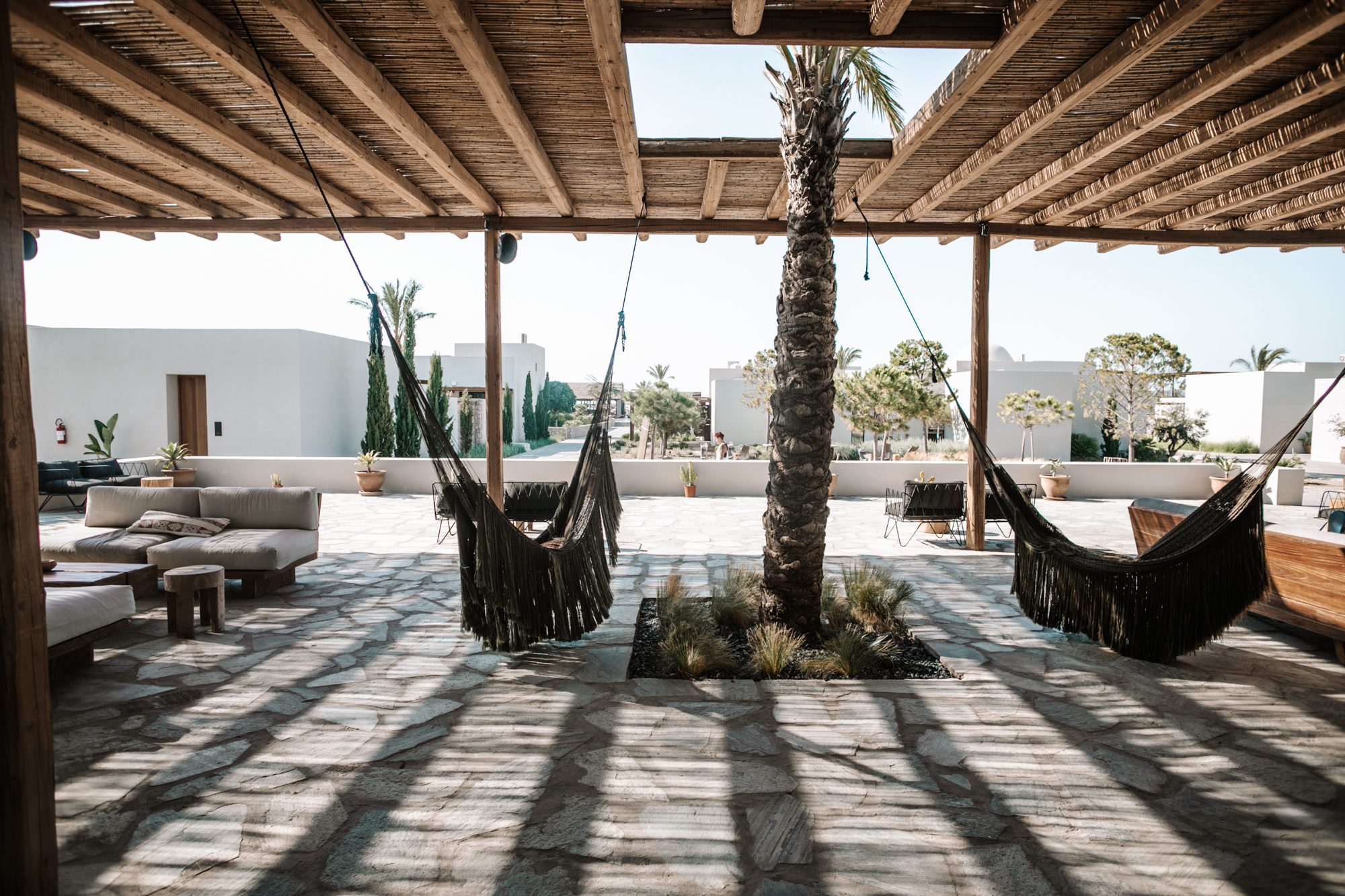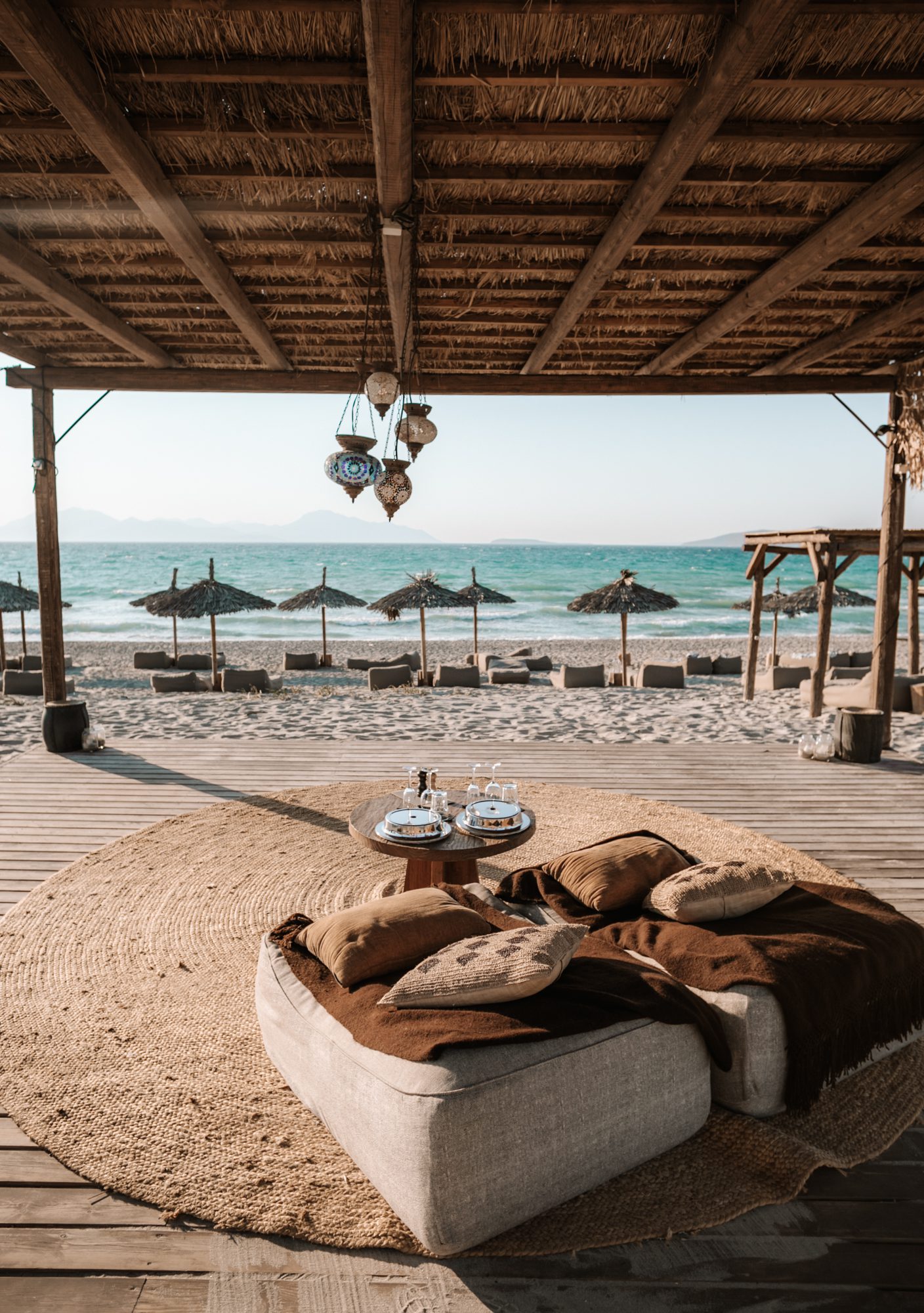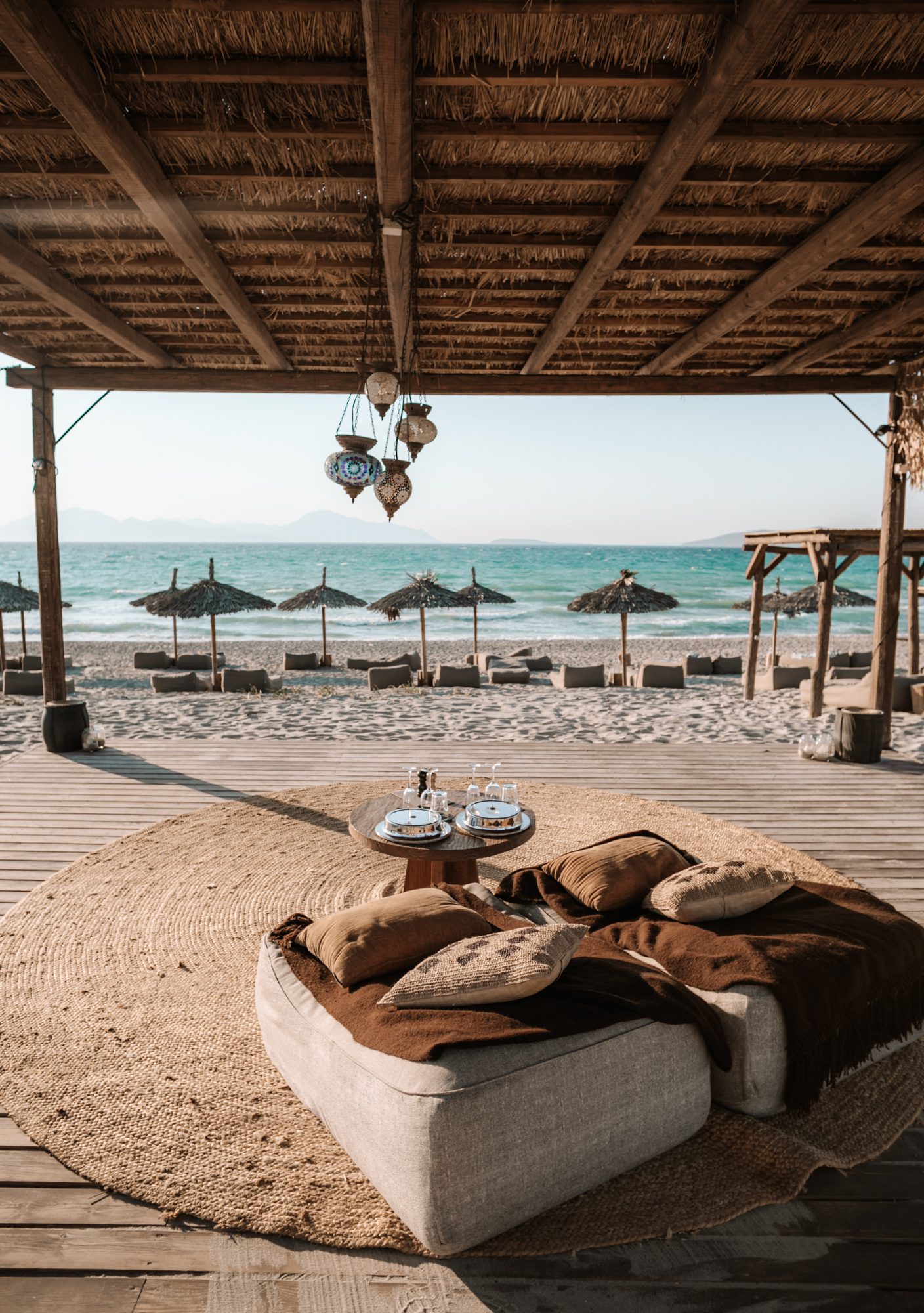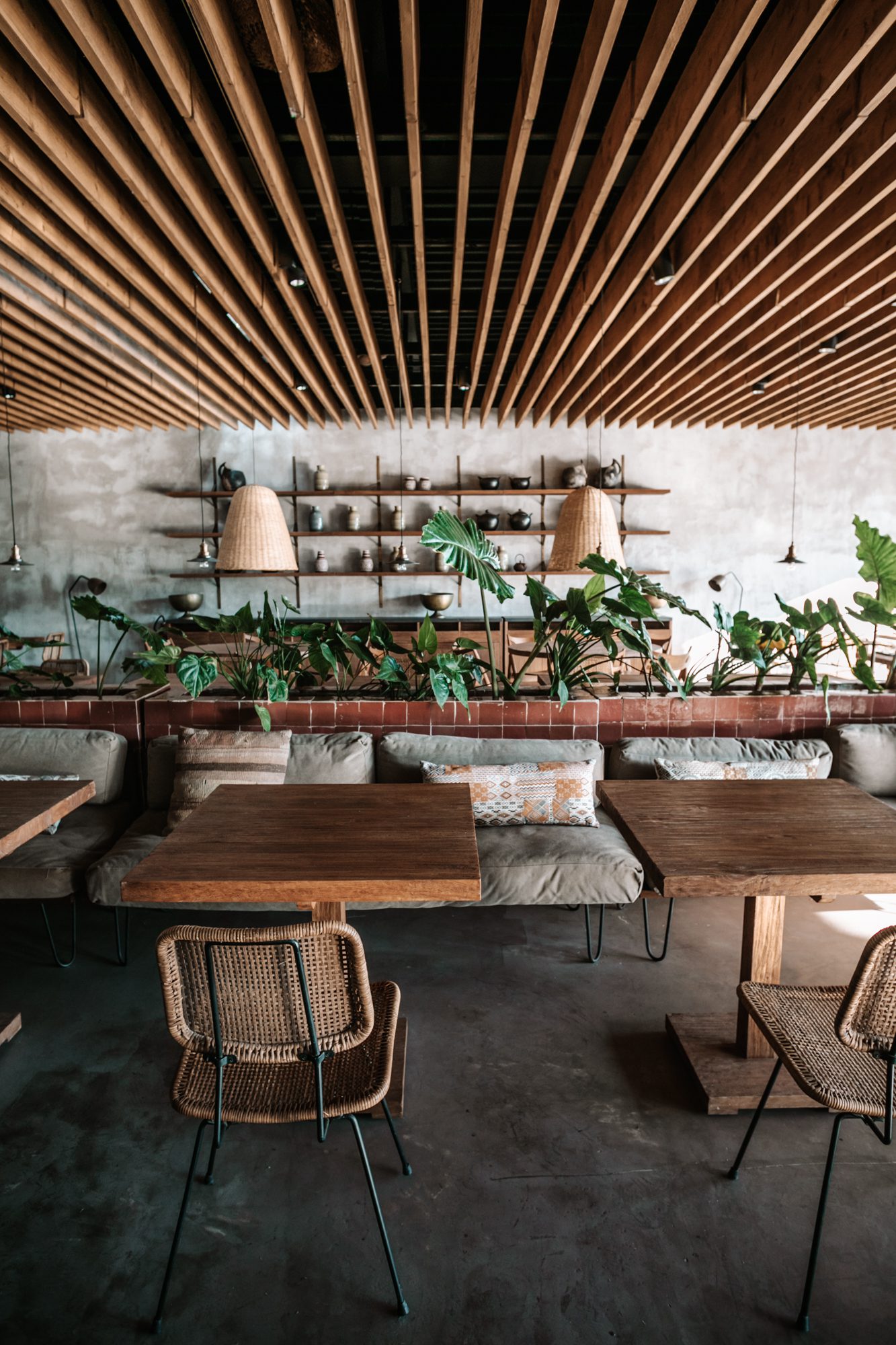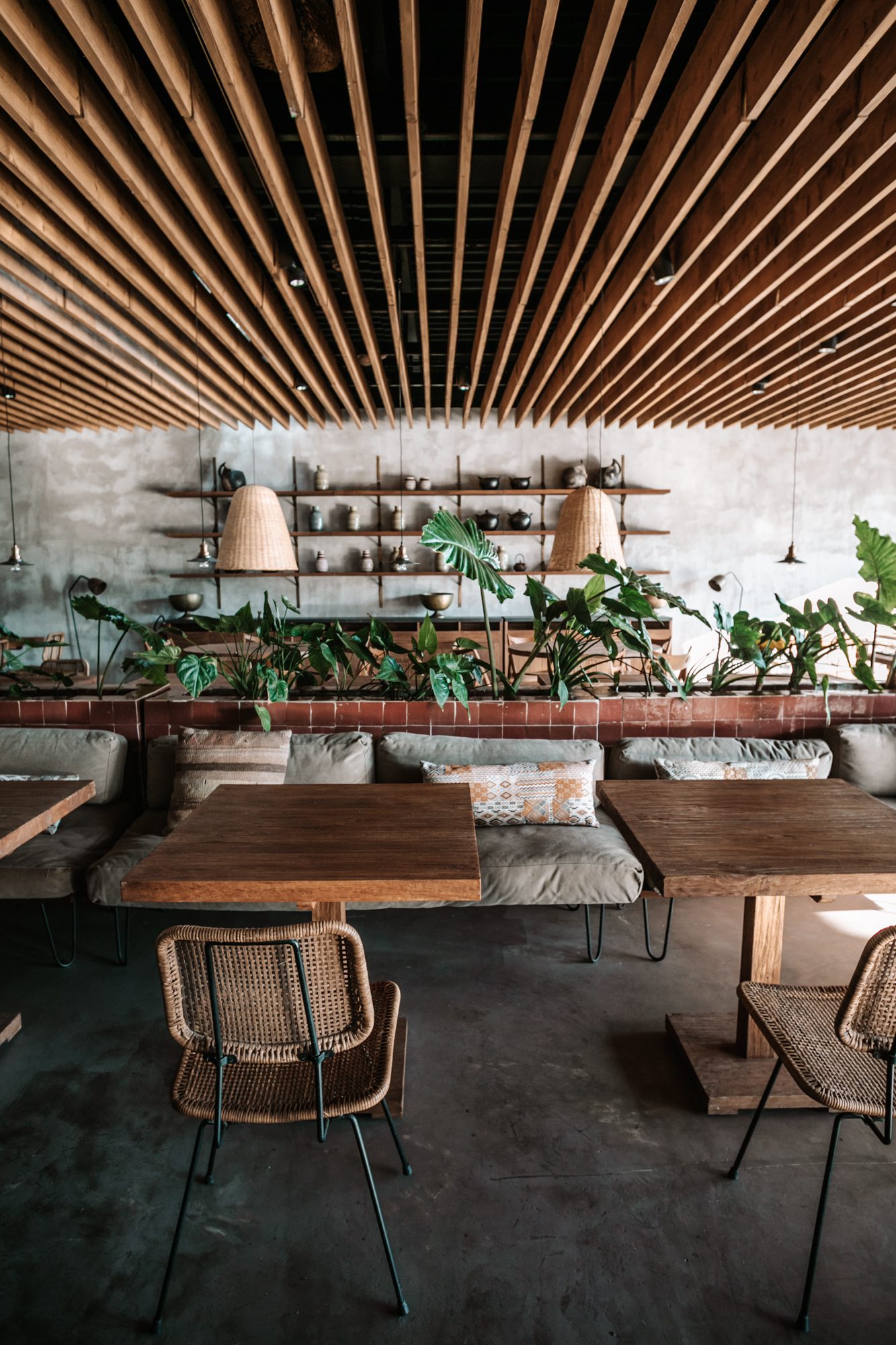 I booked Casa Cook Kos in May. I've chosen the breakfast only option (you can choose a breakfast + dinner one too). We arrived in Kos by TUI plane (I booked the flight through TUI website and I paid 800 PLN – that's for a return ticket). The flight was 2,5 hrs and we just got a taxi from the airport – it took us about 12 minutes to get to the hotel. So, basically it took us 3 hours to be transported to an exotic paradise straight out of a fairy-tale (and that's in Europe!). It felt like Mexico! Casa Cook is just genius. It takes your breath away! We arrived at the hotel after 10 p.m. and the receptionist has been waiting for us for quite a while. The check-in took place on comfortable sofas located just by the swimming pool. We got water and cocktails. The customer service was just awesome and it got even better throughout the stay!
I've chosen a standard hotel room. It was gigantic, with a beautiful terrace and the design was wonderful. Choosing an option with a swimming pool in the room is an amazing idea, however they've all been booked already when I did the booking. Well, to be honest, all the rooms in this hotel are perfect anyway. The rooms are minimalistic and modest, but you can tell someone's been really creative when designing them! Everything is just so well thought. Even the bathrobes aren't just your regular cotton ones but stylish linen! The hotel slippers are also unique and cute and made of palm leaves. You can actually purchase all the accessories and even the hotel furniture and get them transported to your country! It's an interesting idea and well … an additional business opportunity for the hotel. The standard room is very spacious and has a terrace in shadow – ideal for an afternoon nap. The open-space bathroom with a huge shower and a massive sink, has a concrete floor. Our room was located just by the swimming pool and the restaurant which was very convenient for us (obviously!).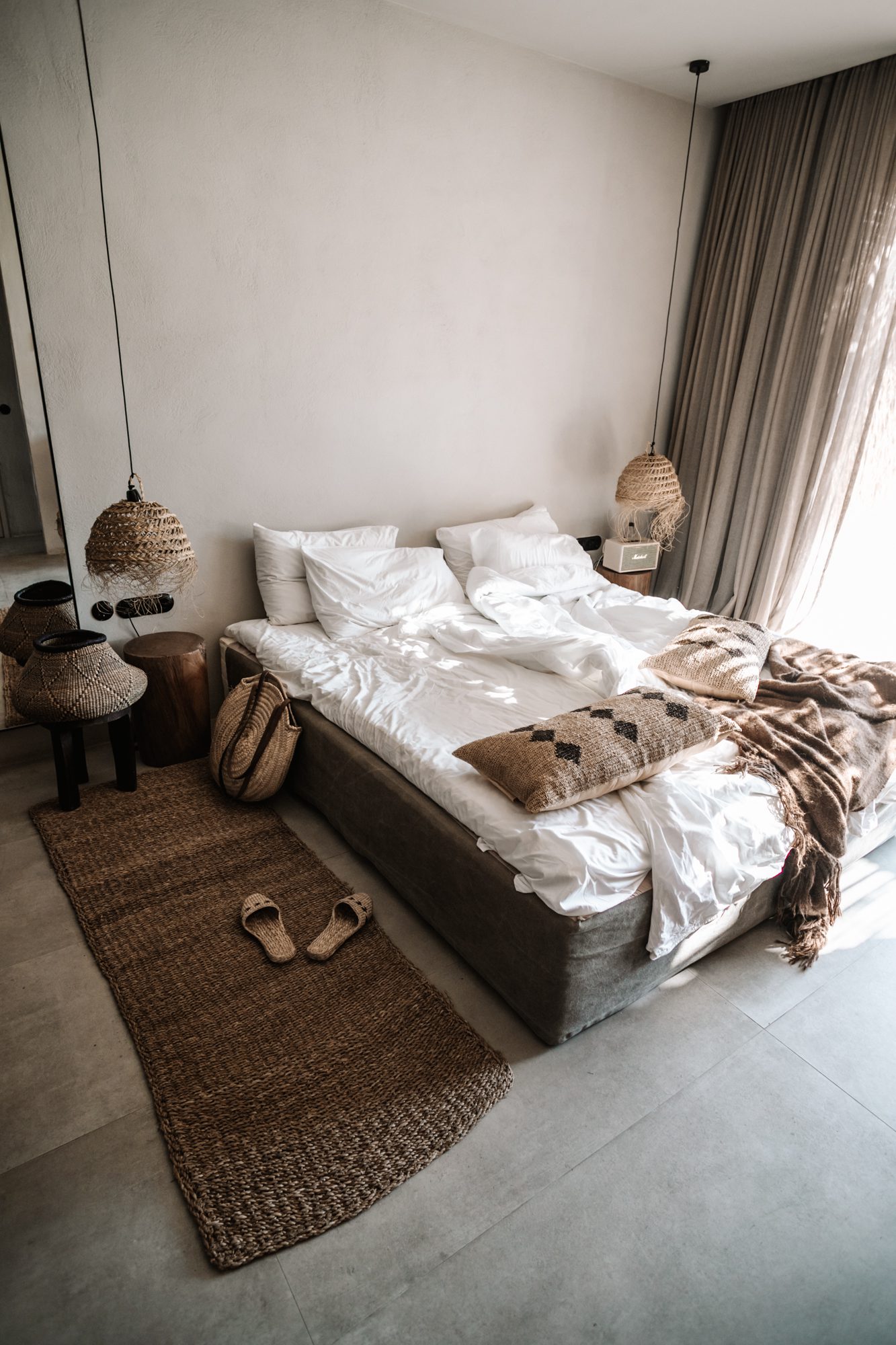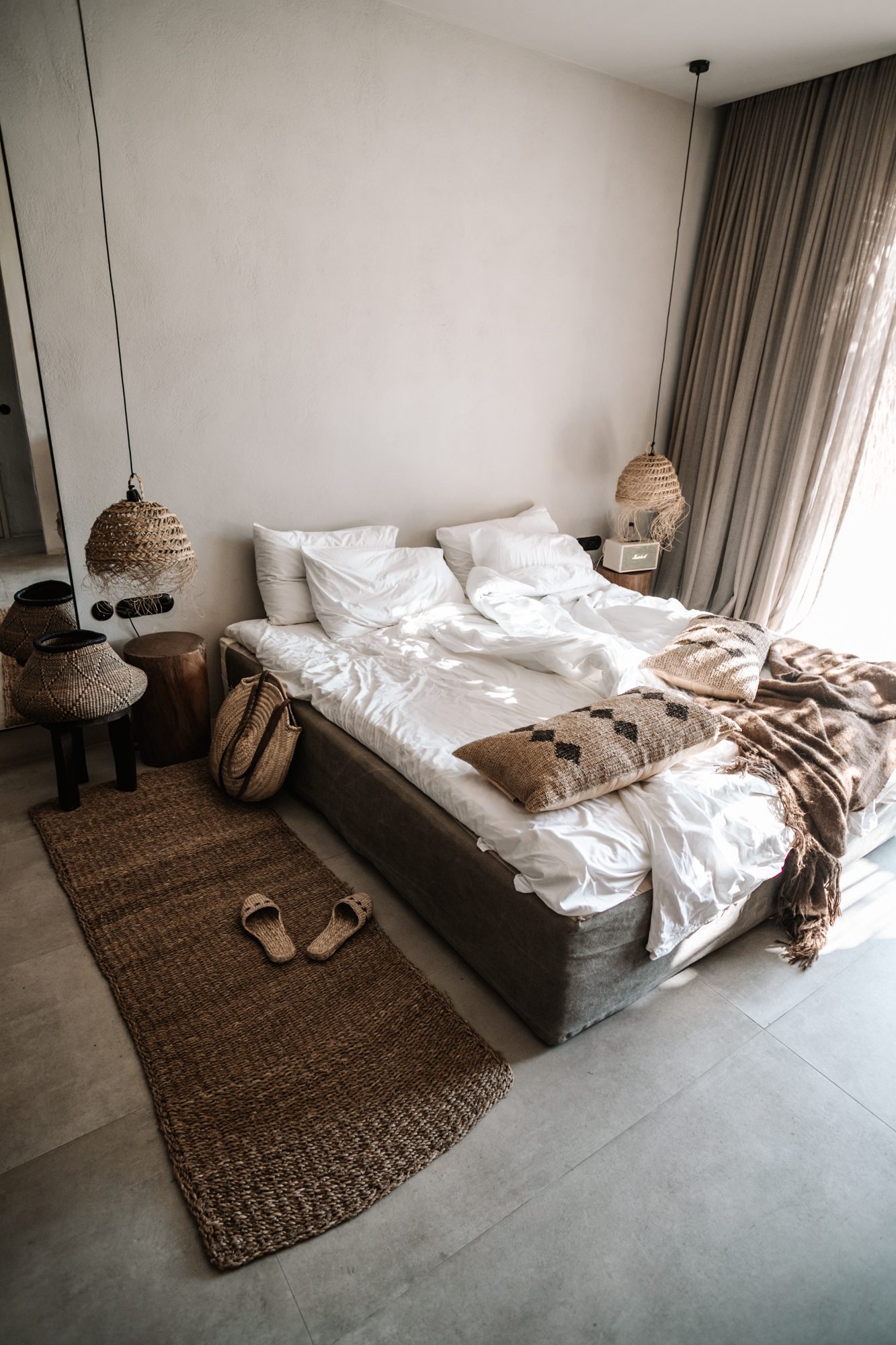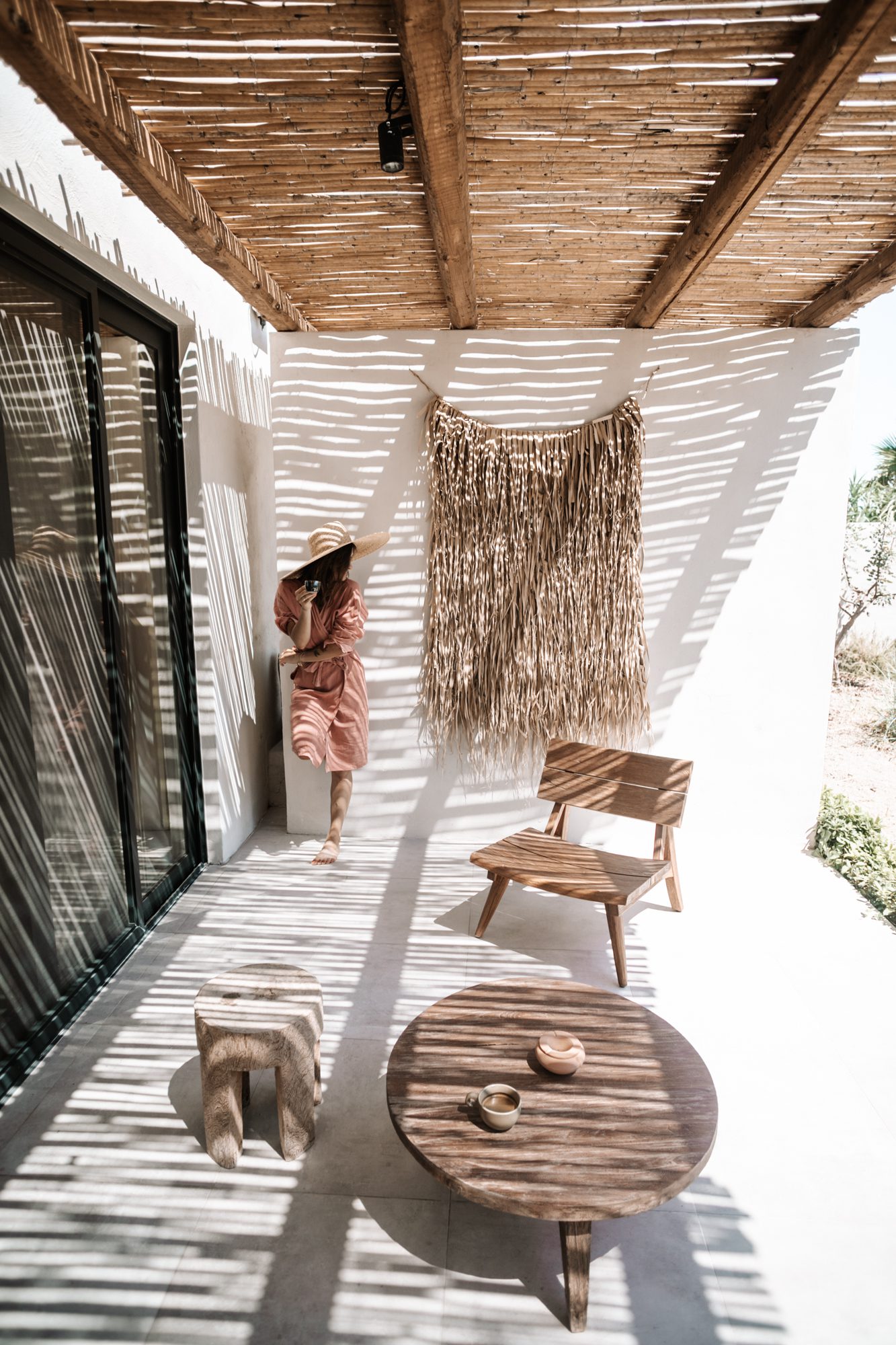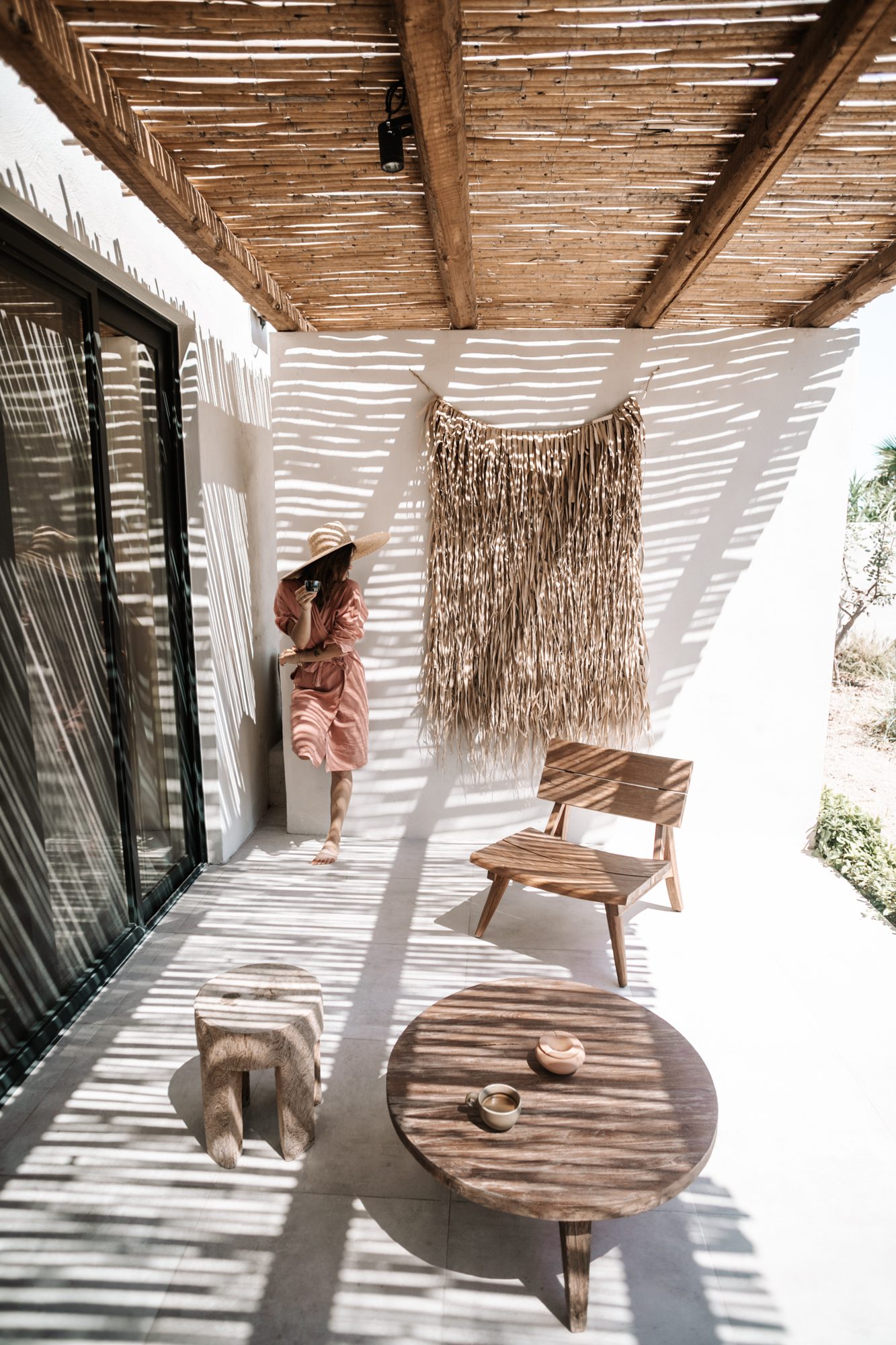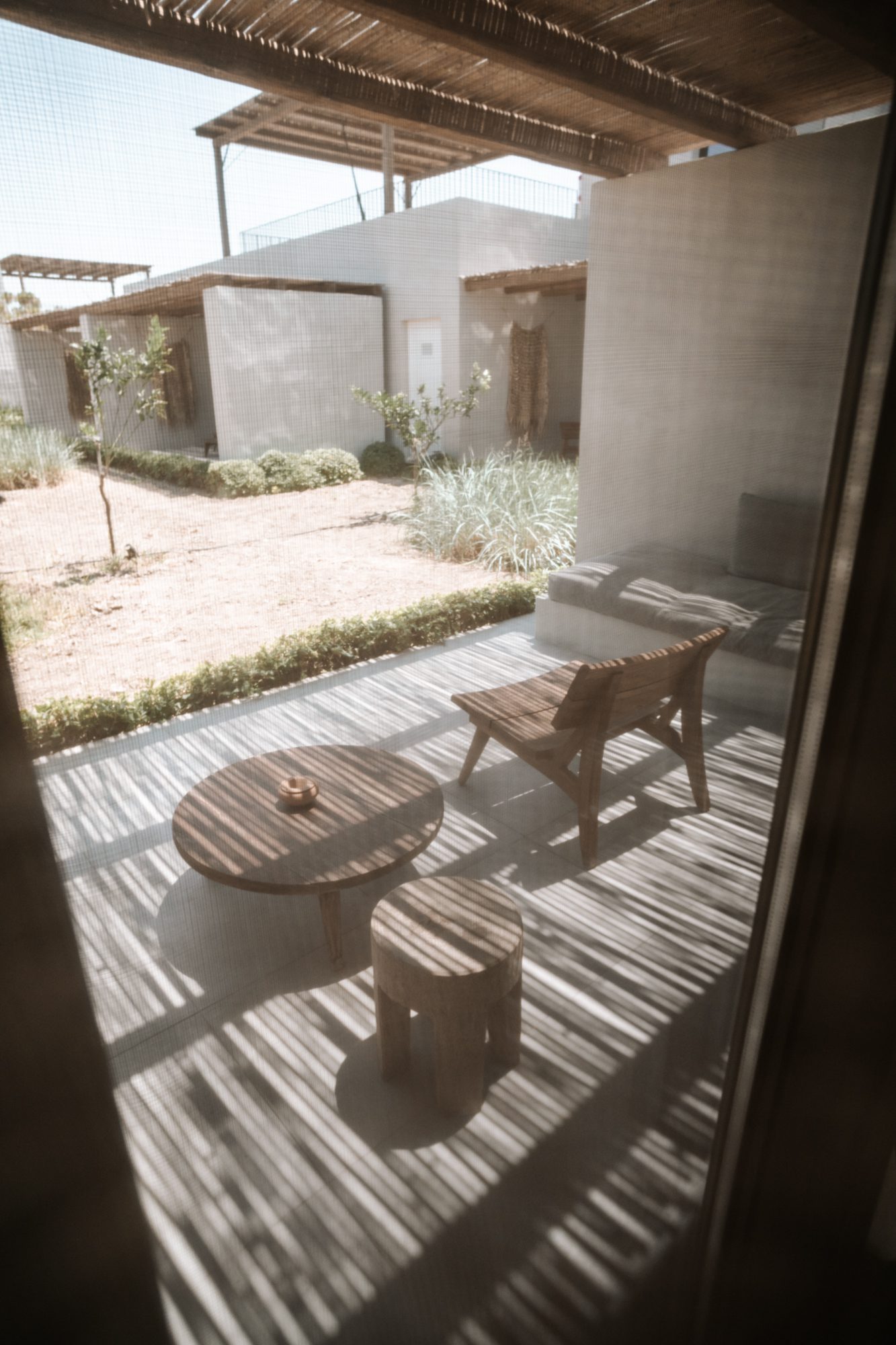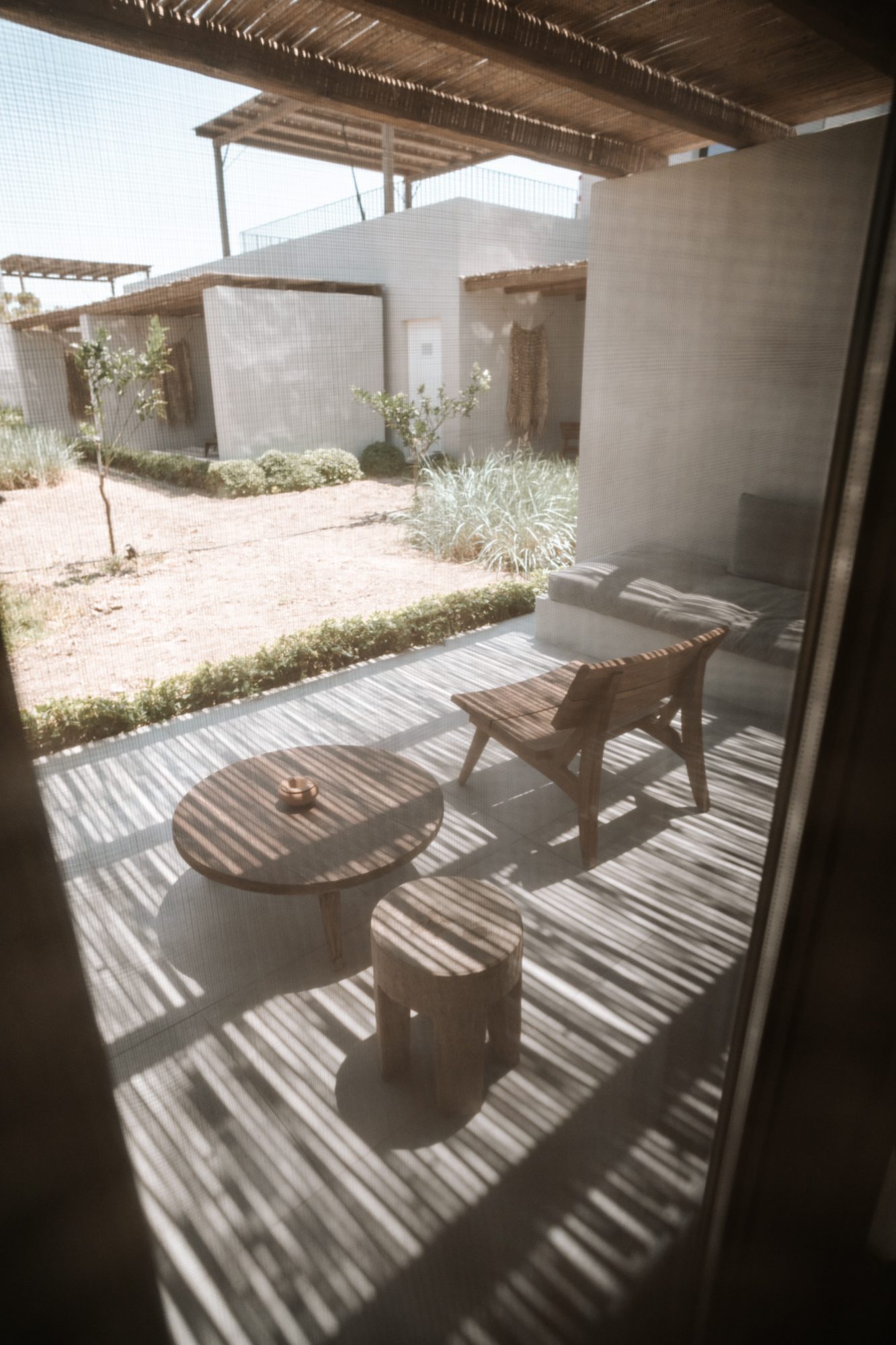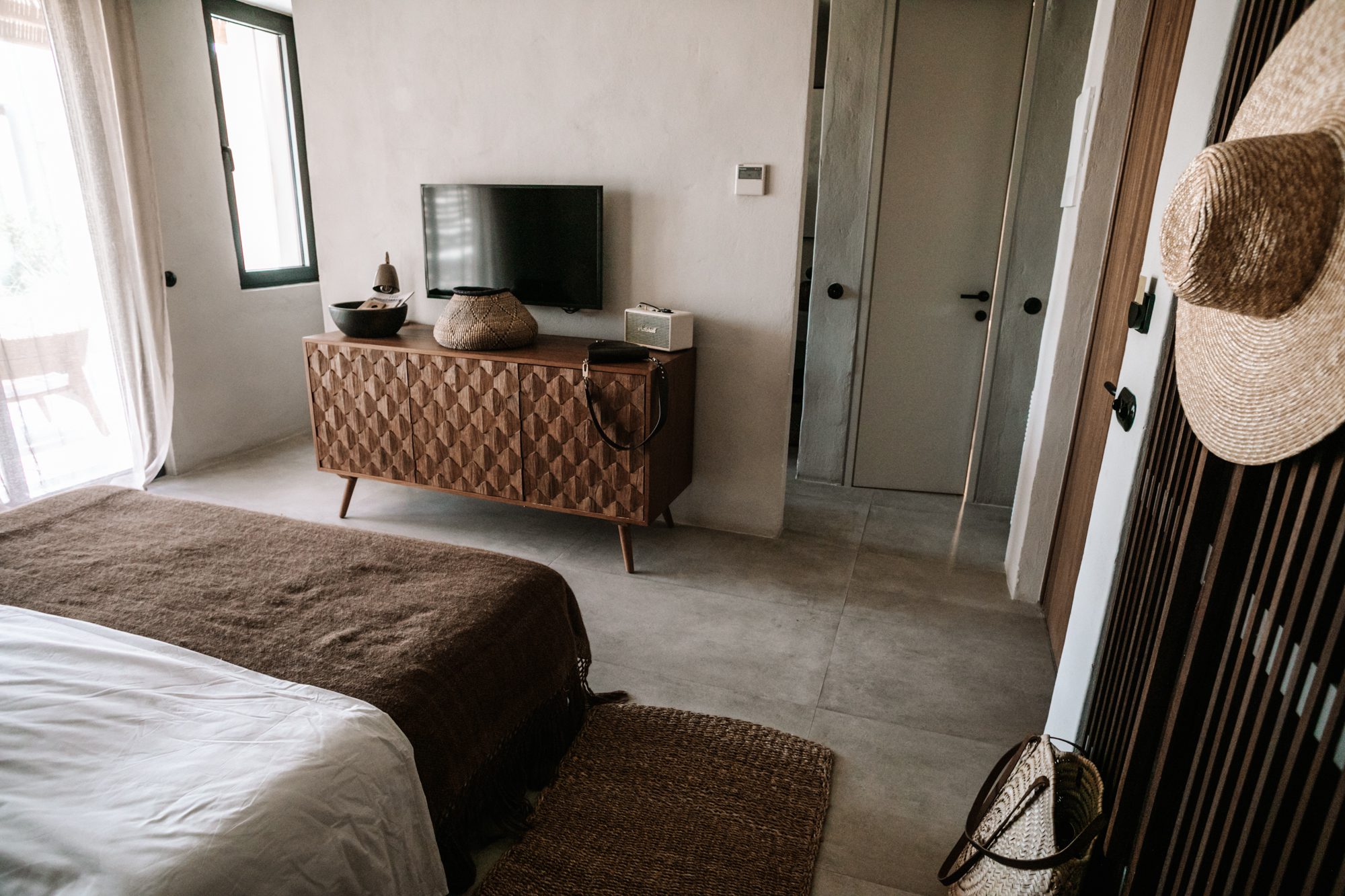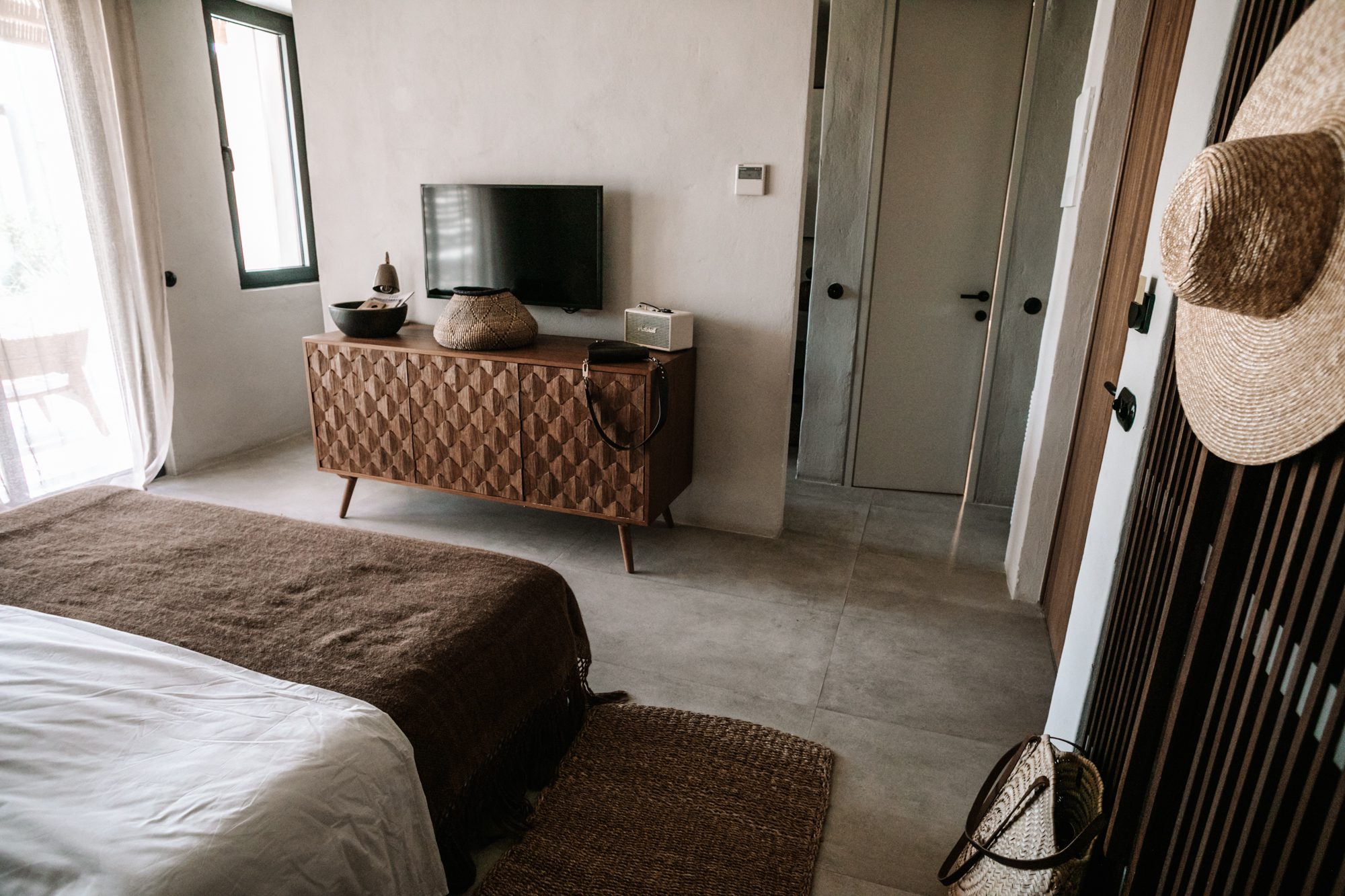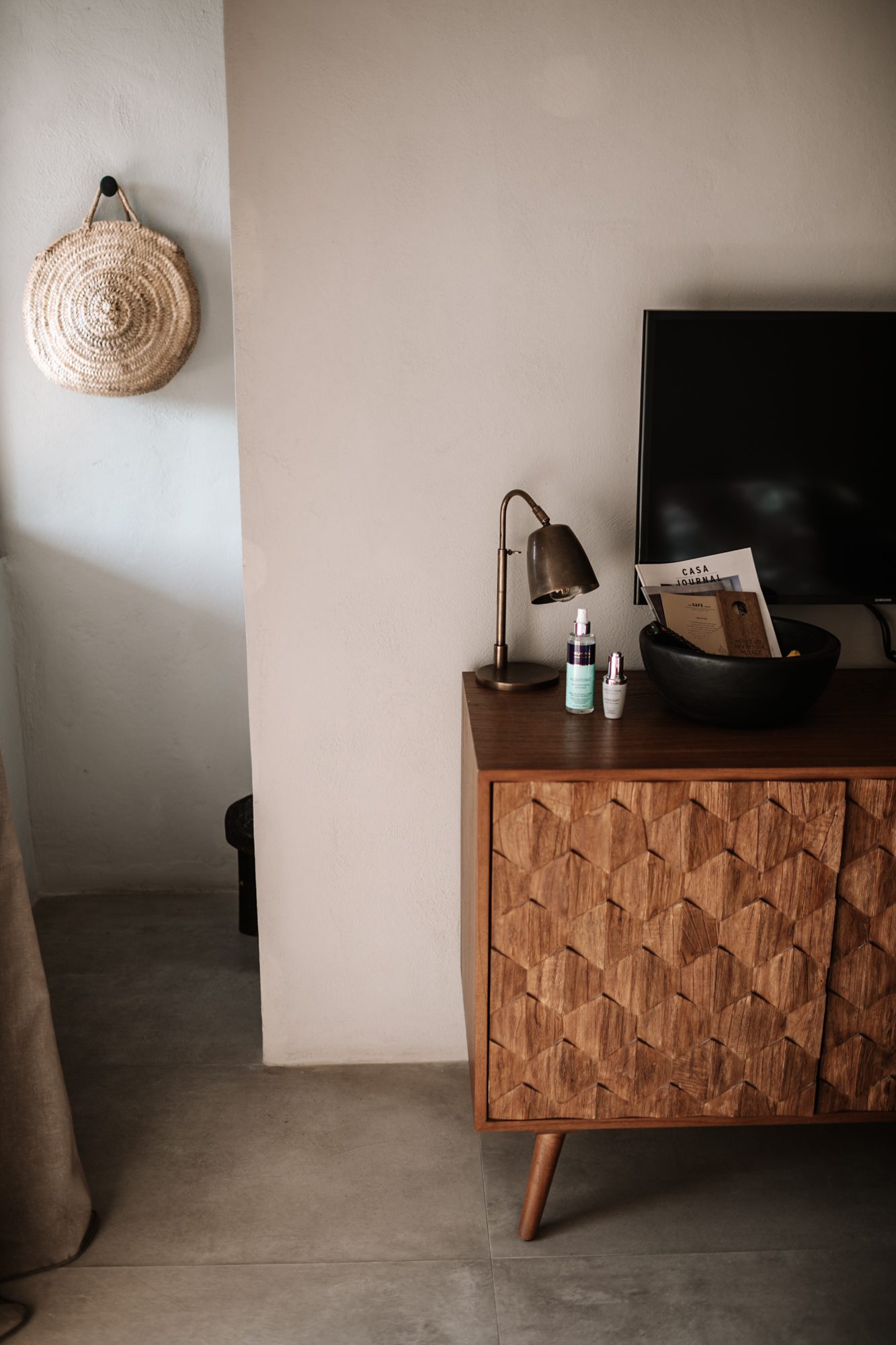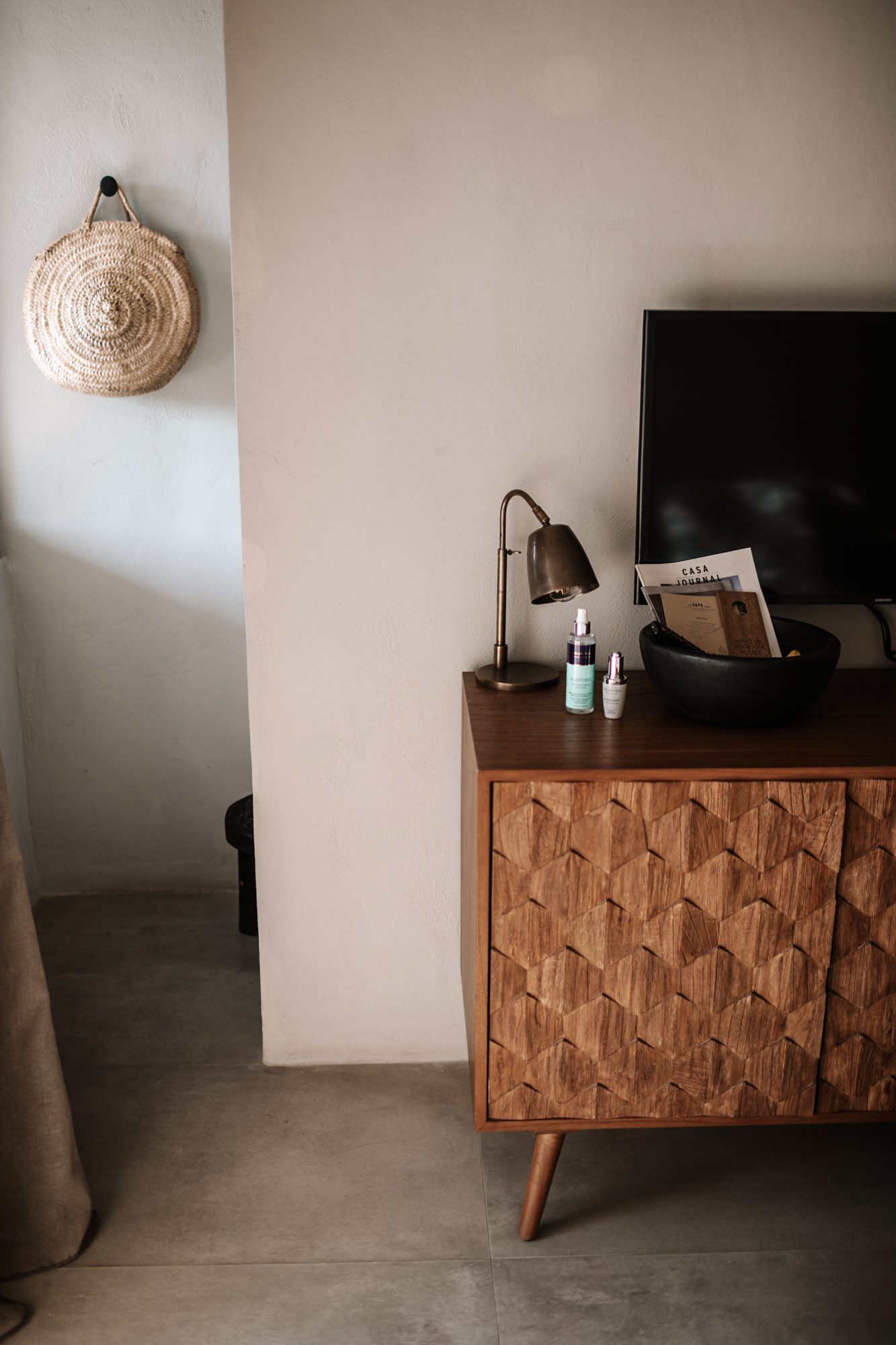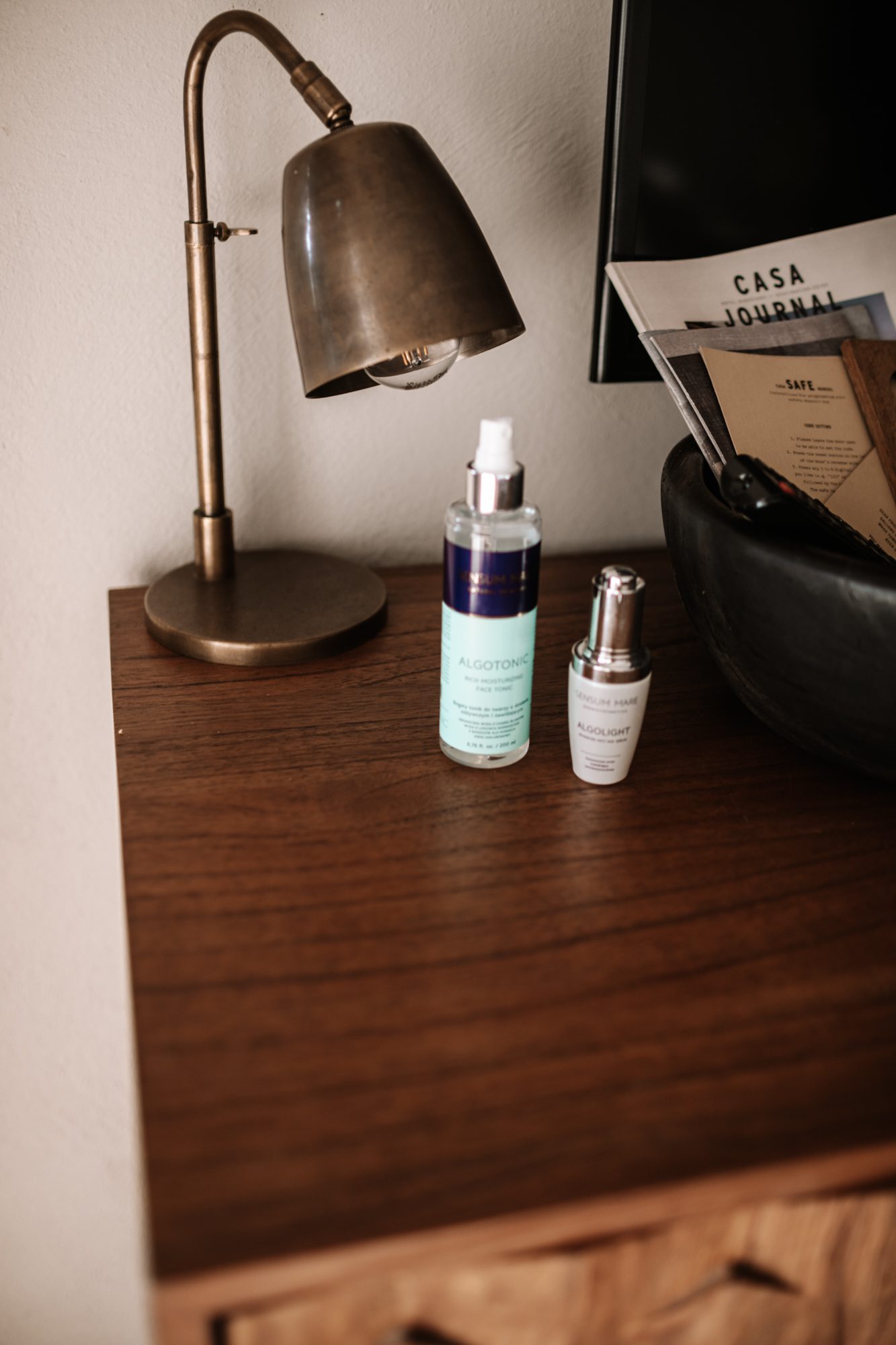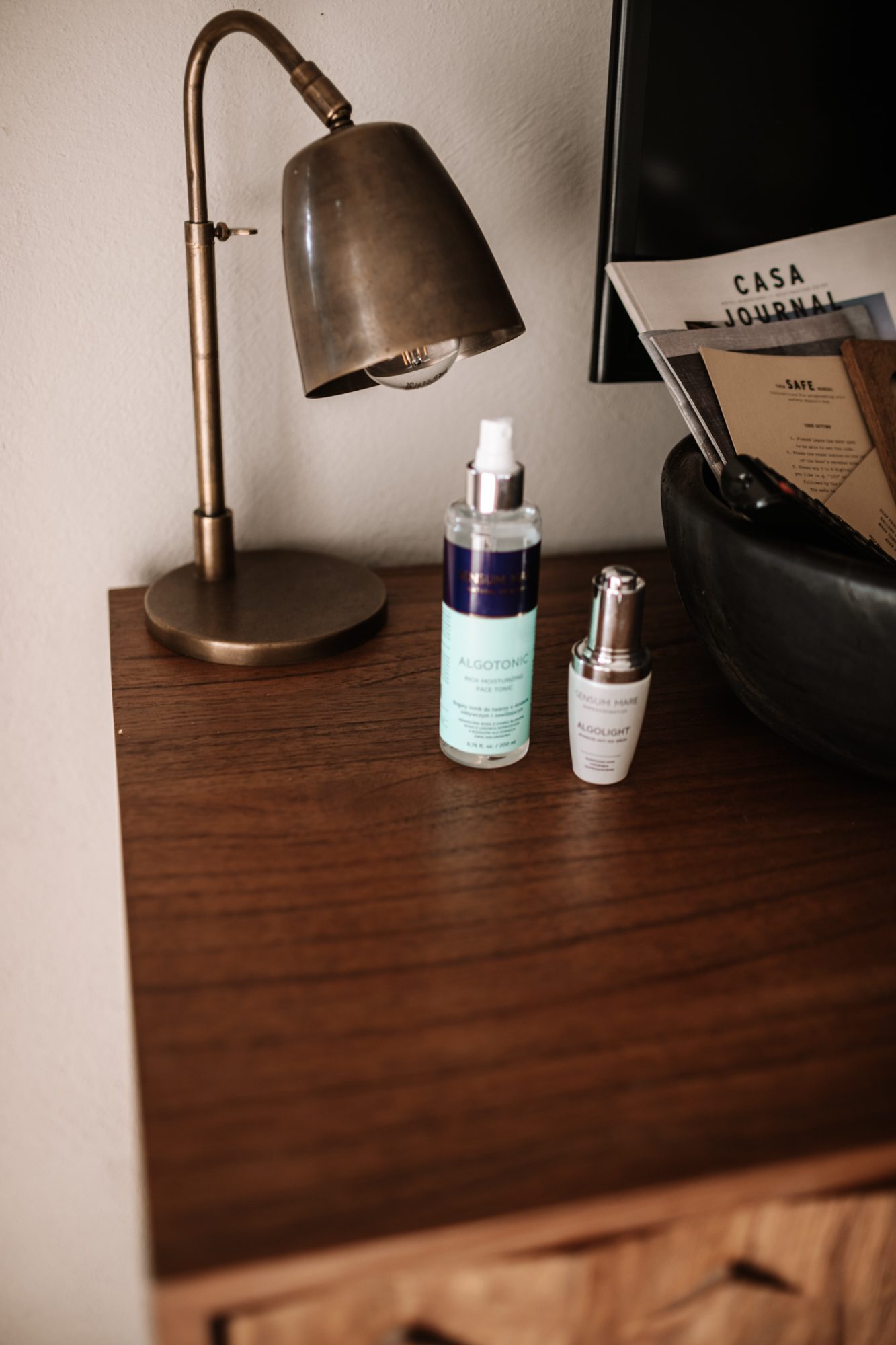 You might think (just by looking at my pics) that Casa Cook is a small, boutique hotel. It's massive in reality though. It's just designed in a very smart way so that everyone feels as if they owned their fair share of space. Even if the hotel is fully booked, you can choose from loads of sunbeds and it never feels crowded. You can just relax. That's it.
The shared hotel space consists of the reception area with a fireplace and a selection of photo albums (nice, but PURO offers much better ones). There's also a hotel lobby outside with hammocks and a chill out zone. You can also do some shopping while you're at the hotel – the shop offers designer clothes, make-up, accessories (like Moscot), swimsuits straight from California or fancy yoga outfits. They also sell everything that's available in the hotel so: furniture, blankets, chairs, robes, cups etc.
There's the chill out zone with wooden chairs and that's where the hotel organized a summer cinematic experience (with popcorn and everything!). It's just so cool. It made one of the evenings very special to us.Apart from all of the above, there's a beautiful SPA at the hotel with a fitness room and a sports pool. There's a great restaurant and a bar and a wooden path leading you to the beach which offers yoga spots and comfortable sunbeds. Phew! I have to say Casa Cook Kos is quite a thing! What impressed me the most however, was the design of the hotel. It just enables you to relax and be inspired.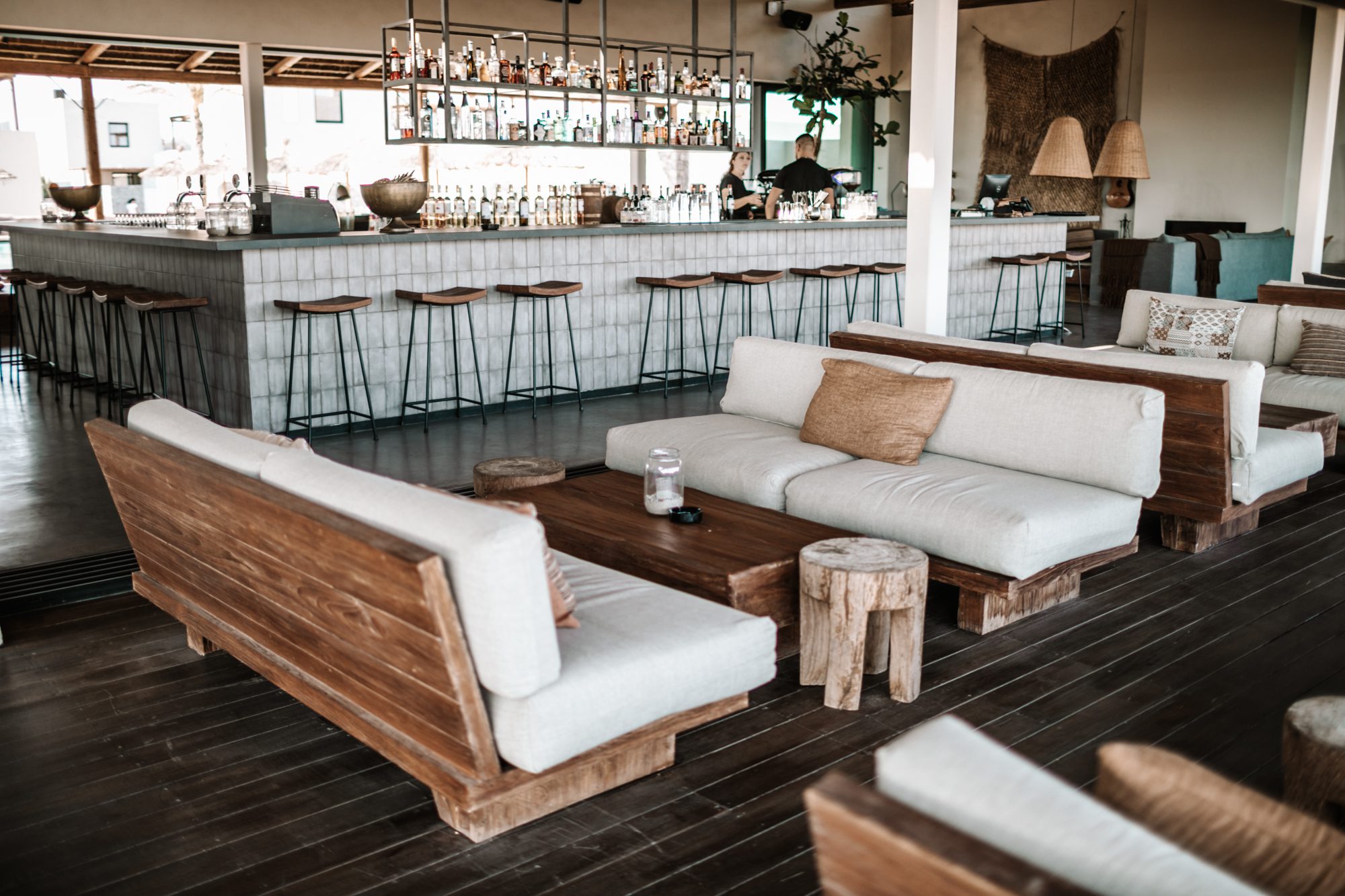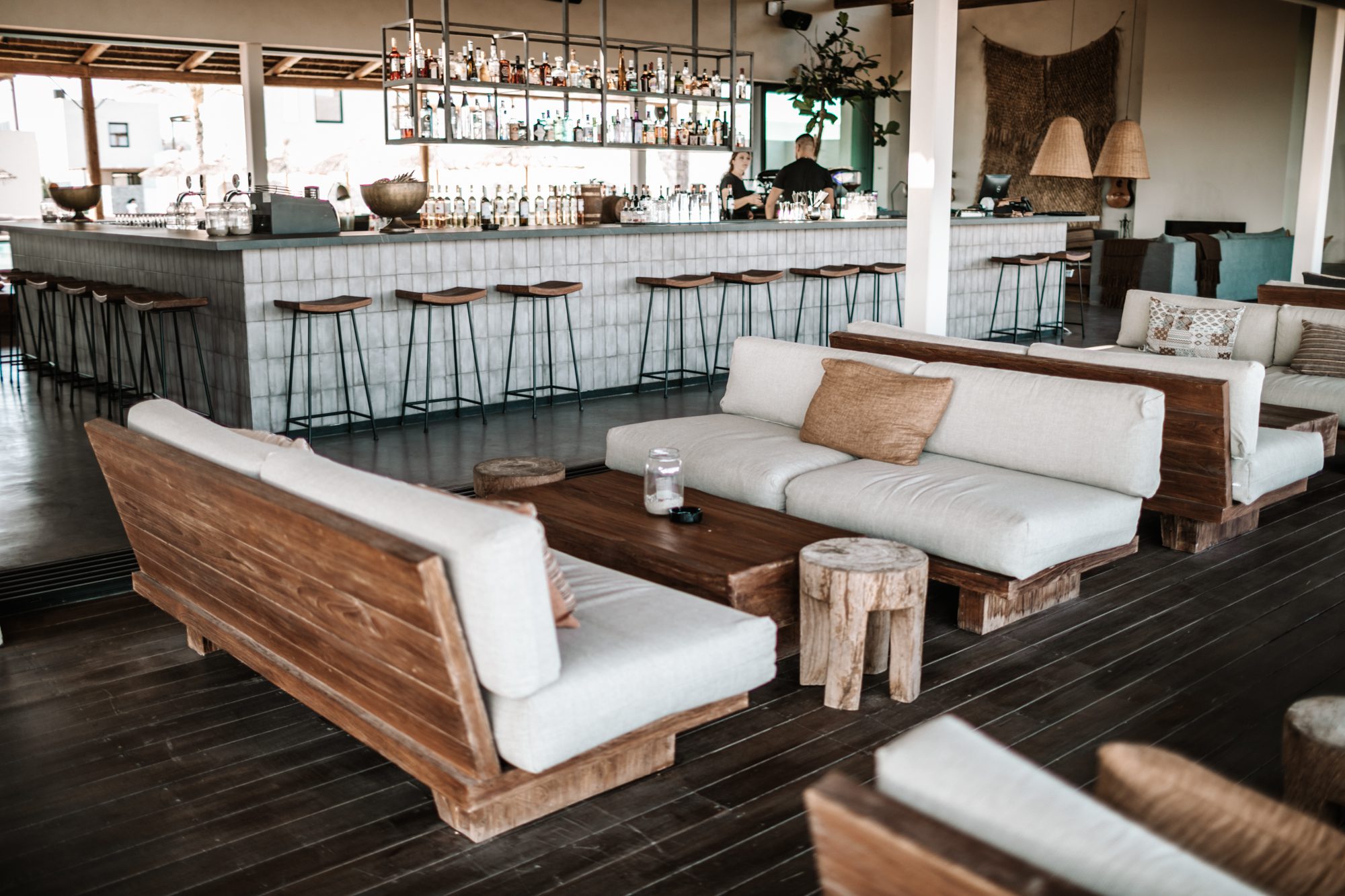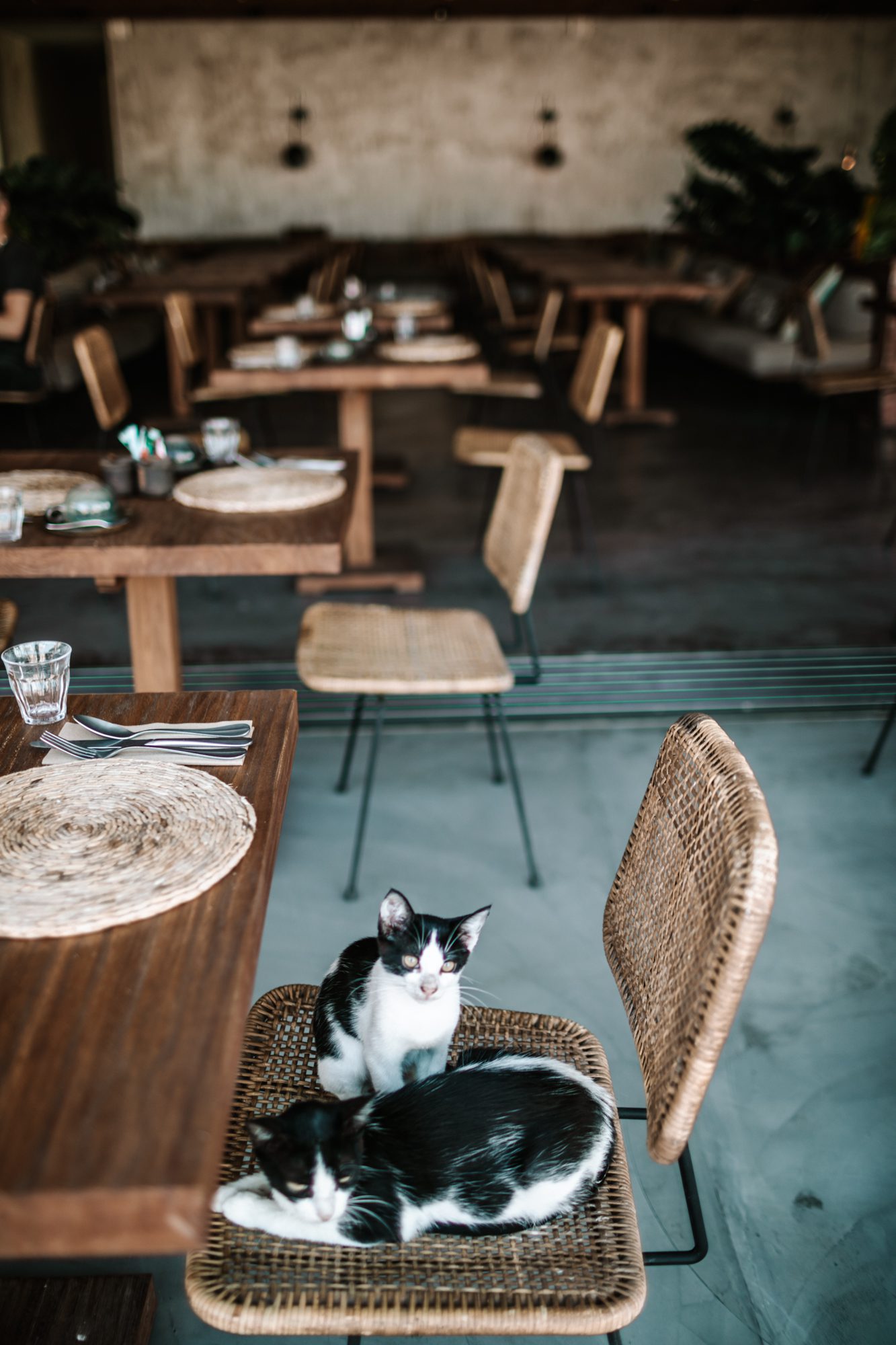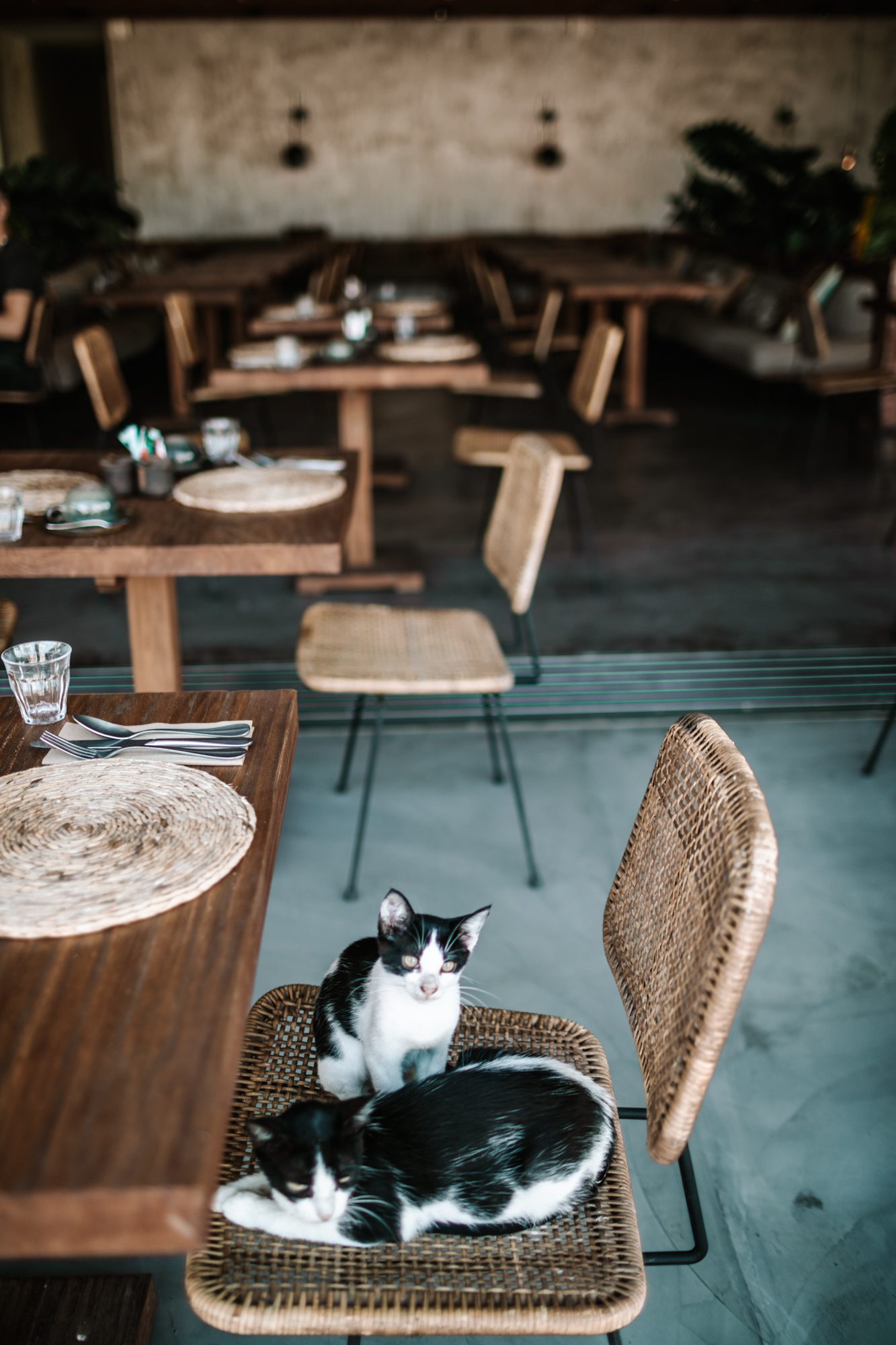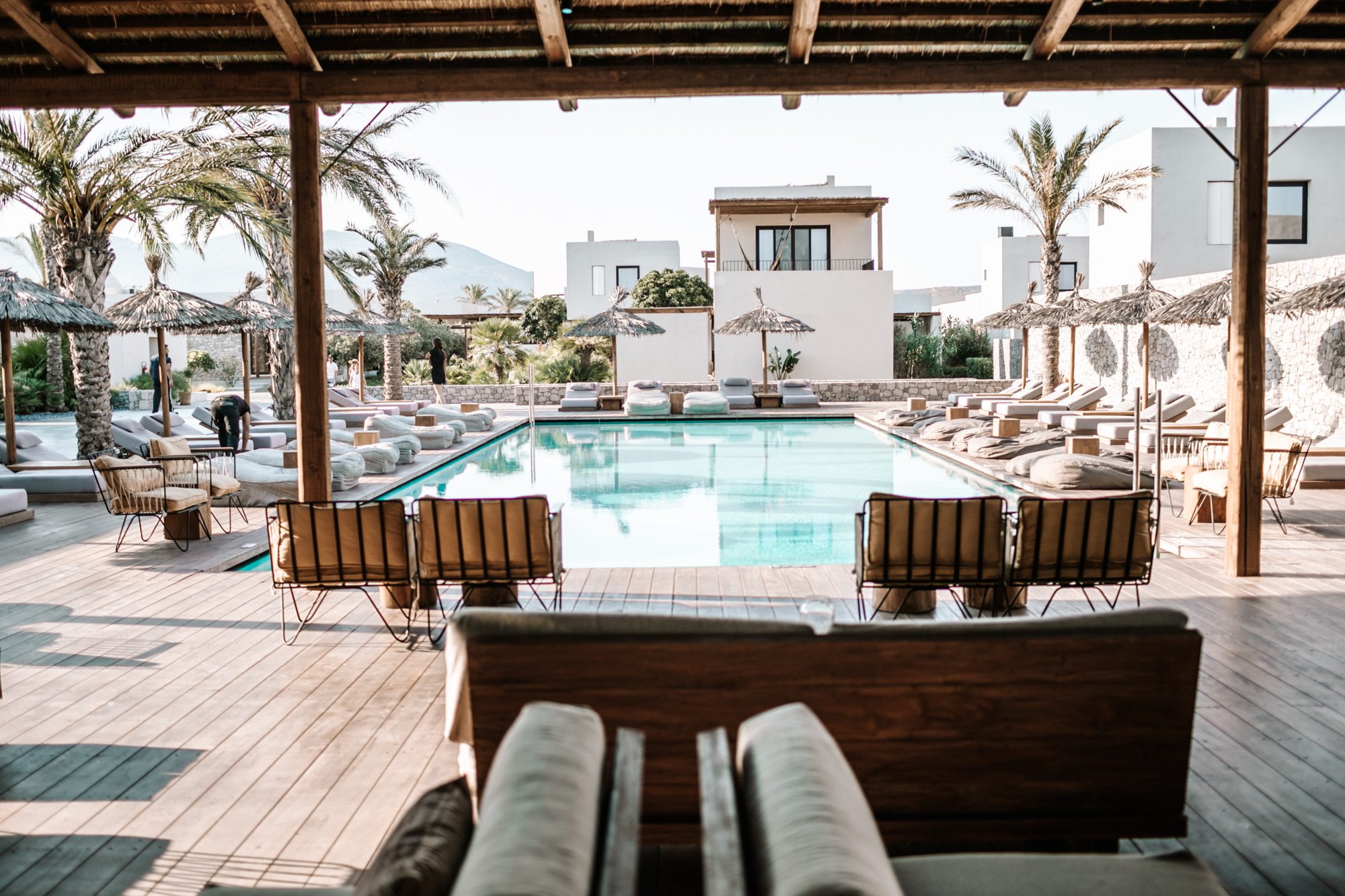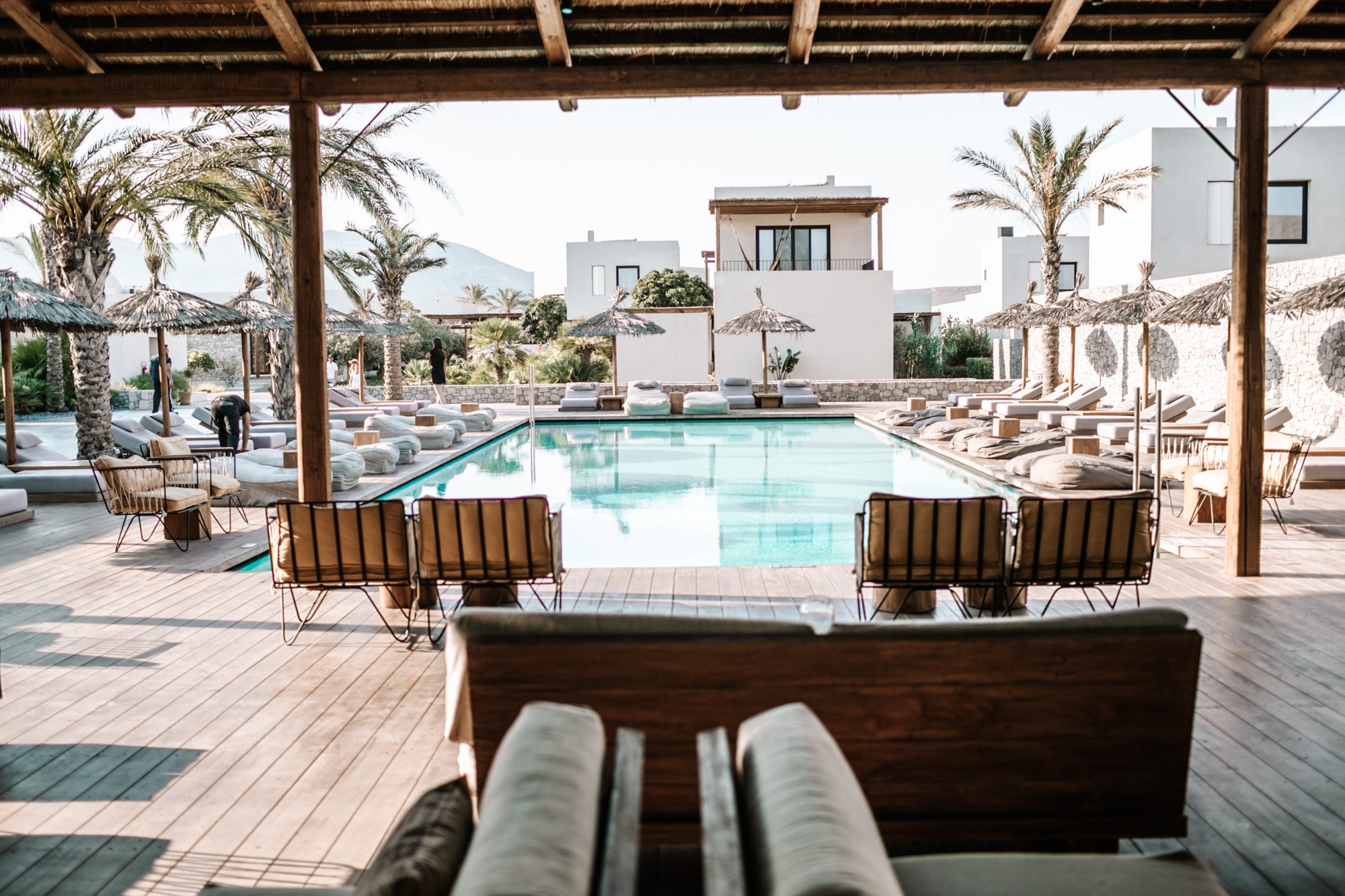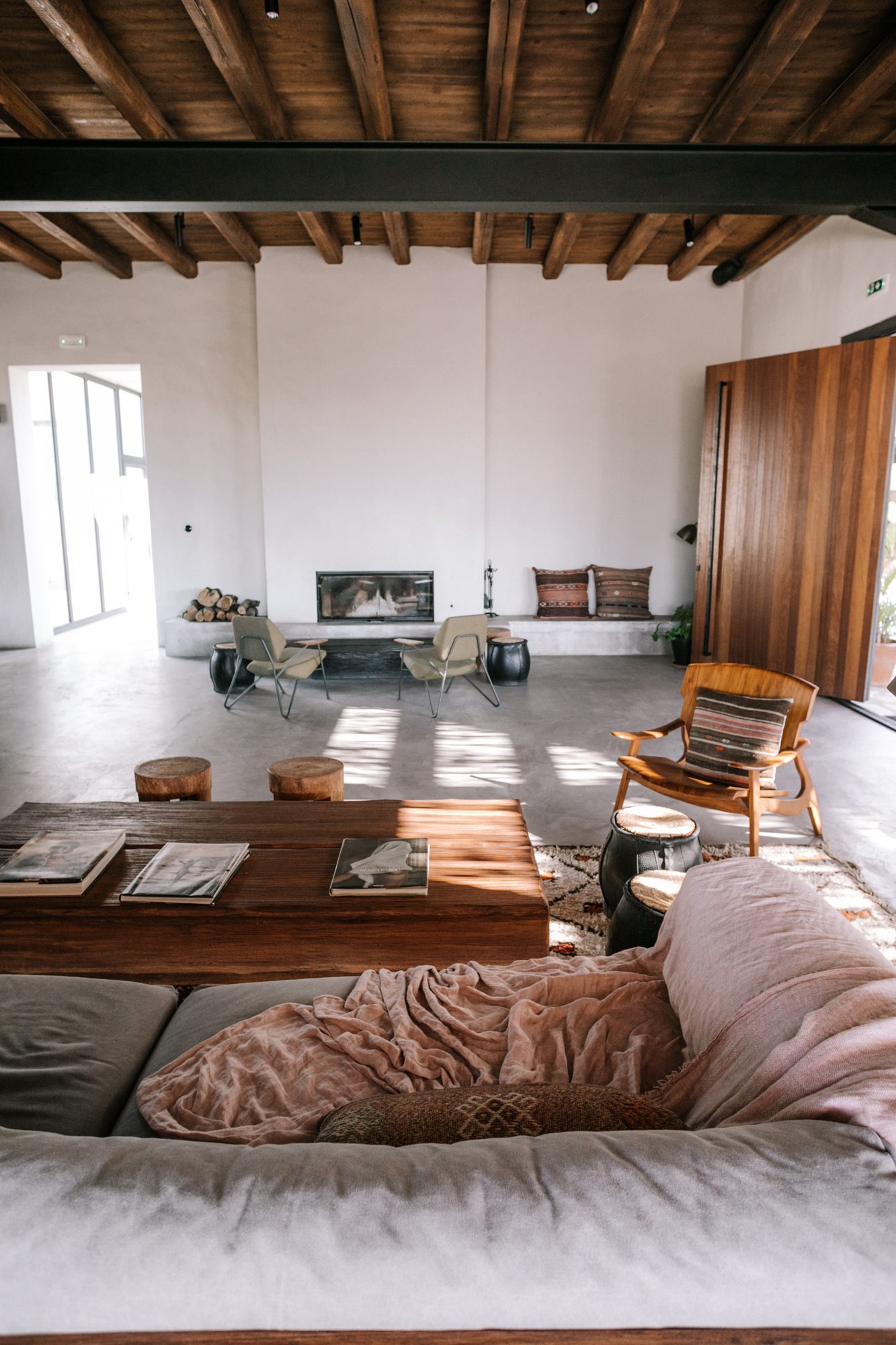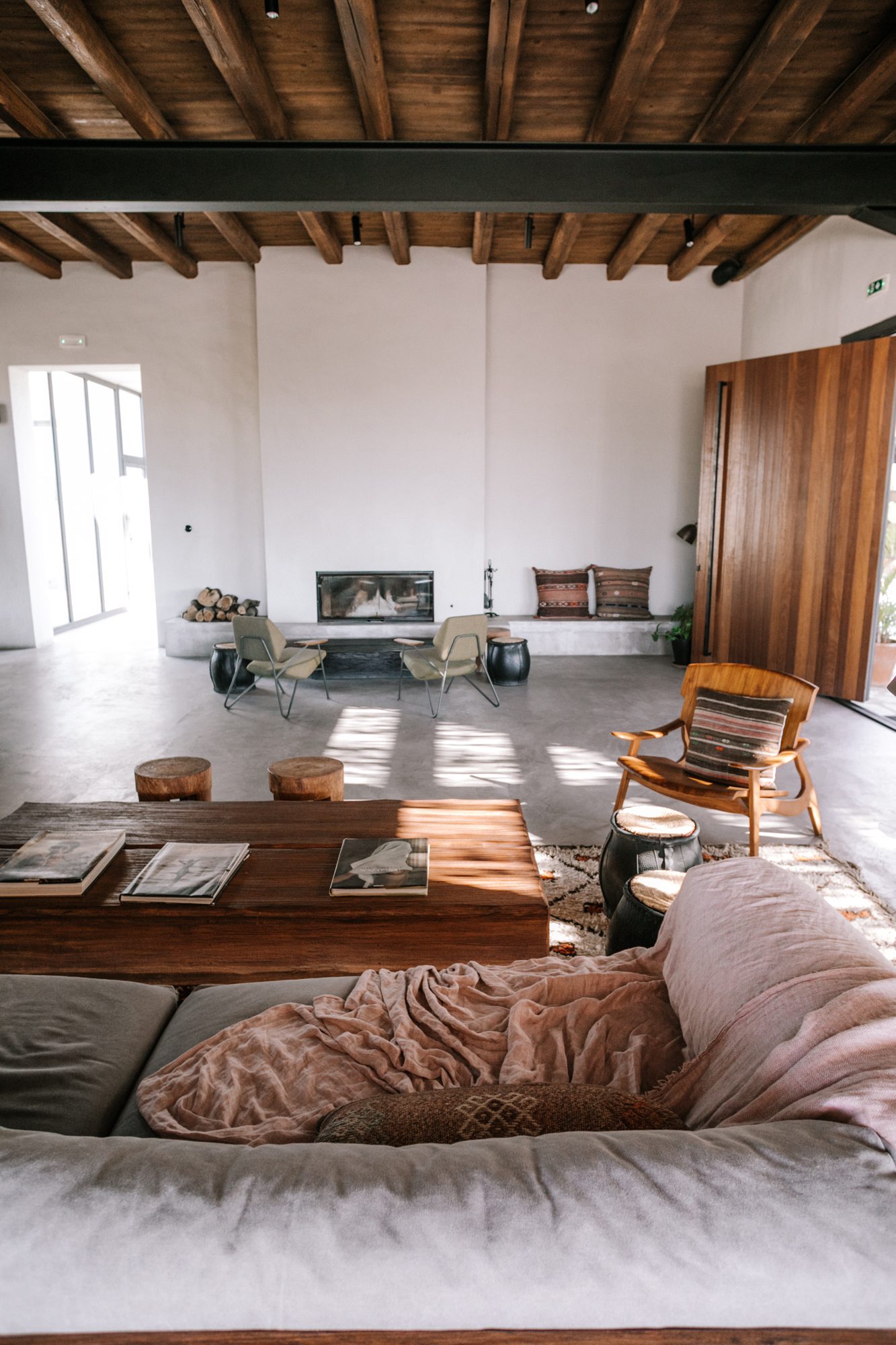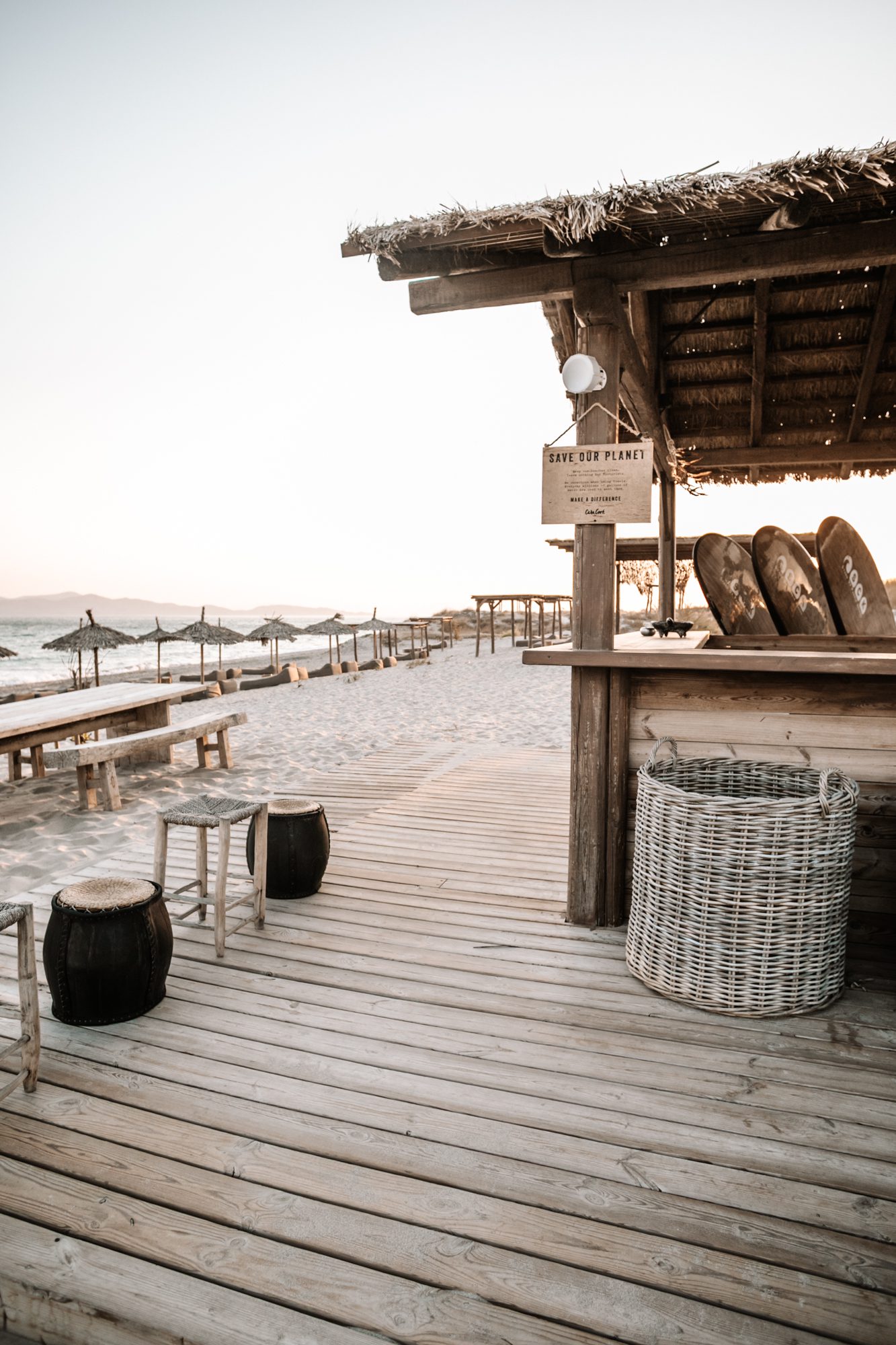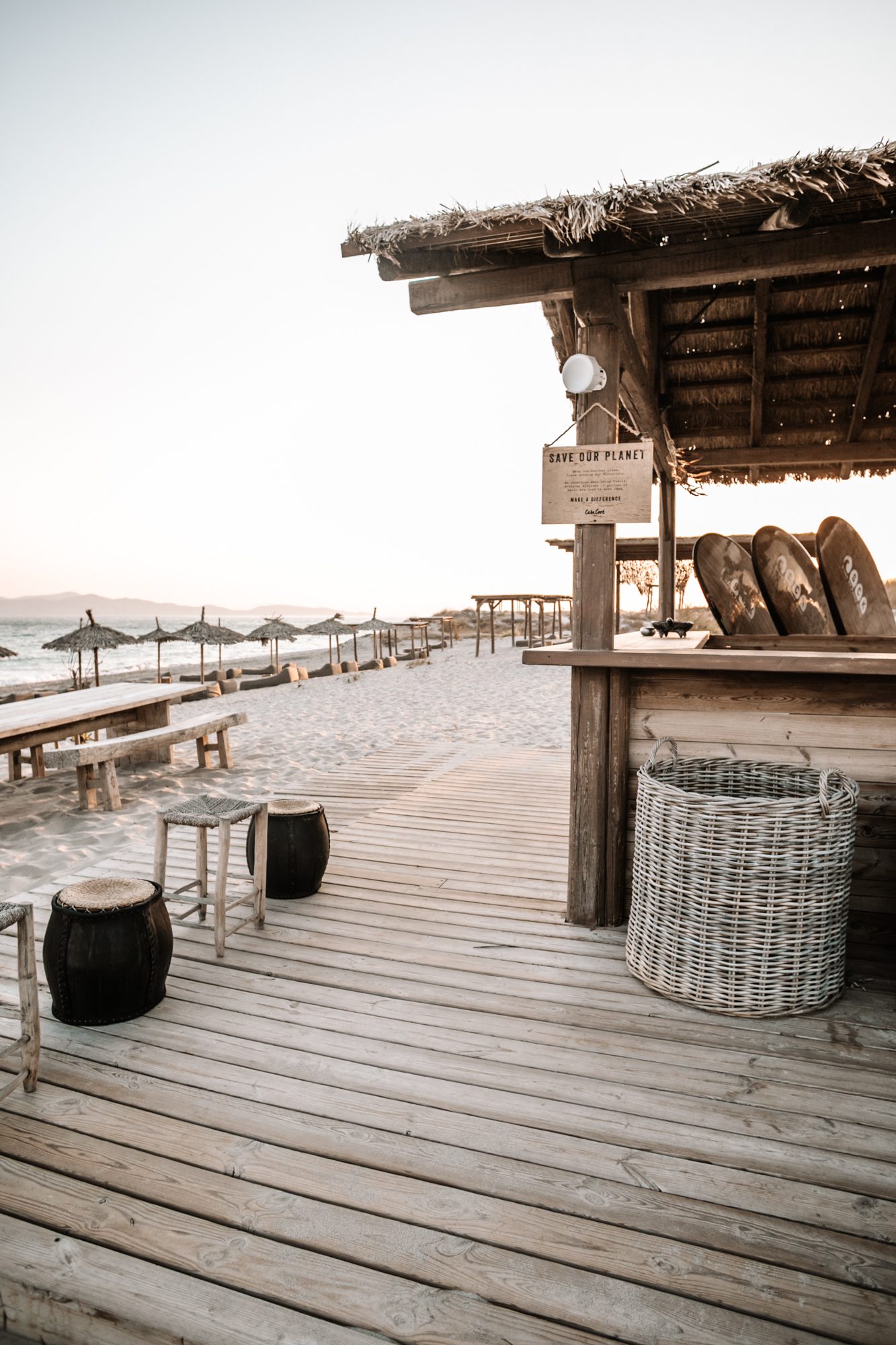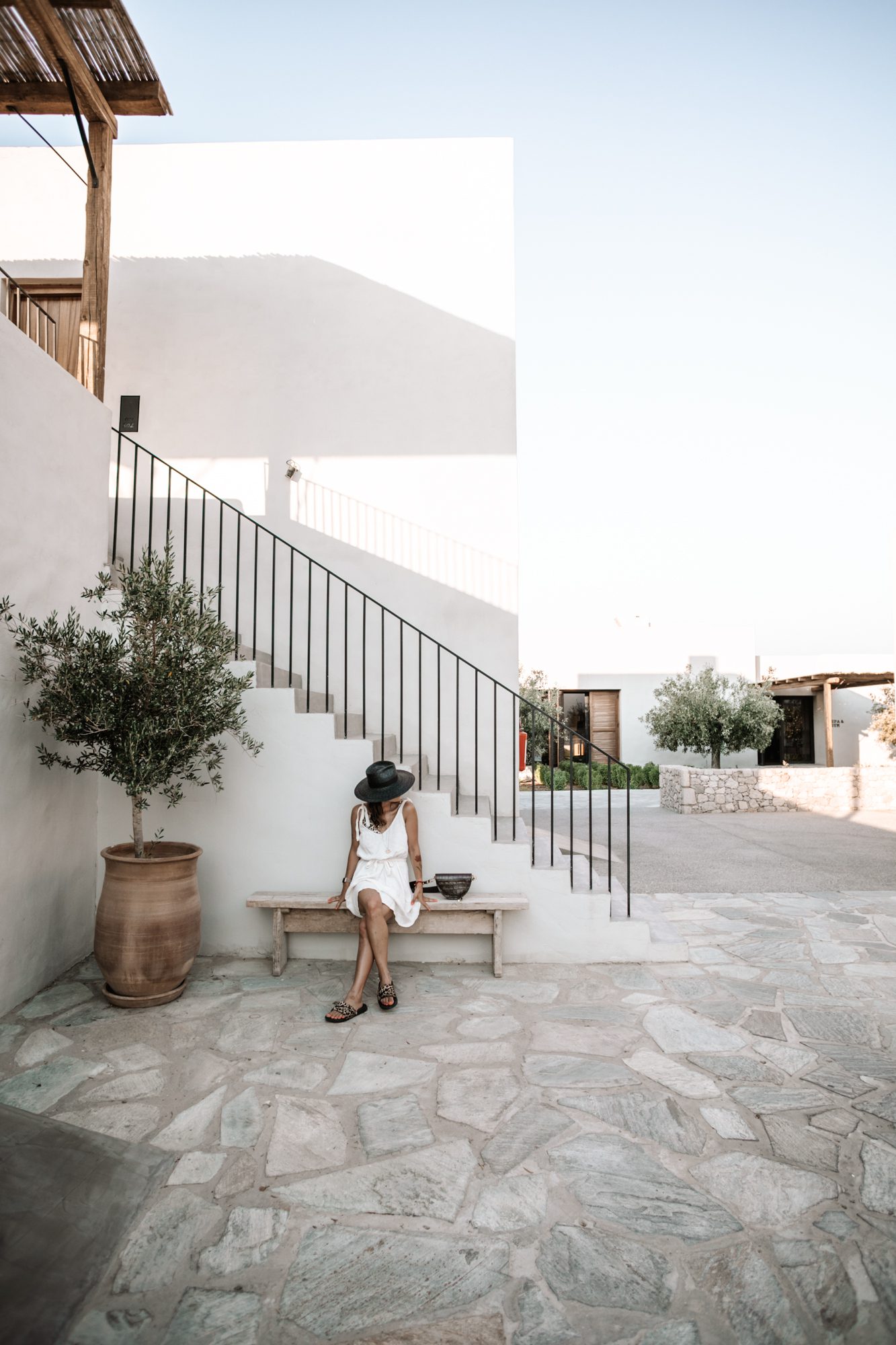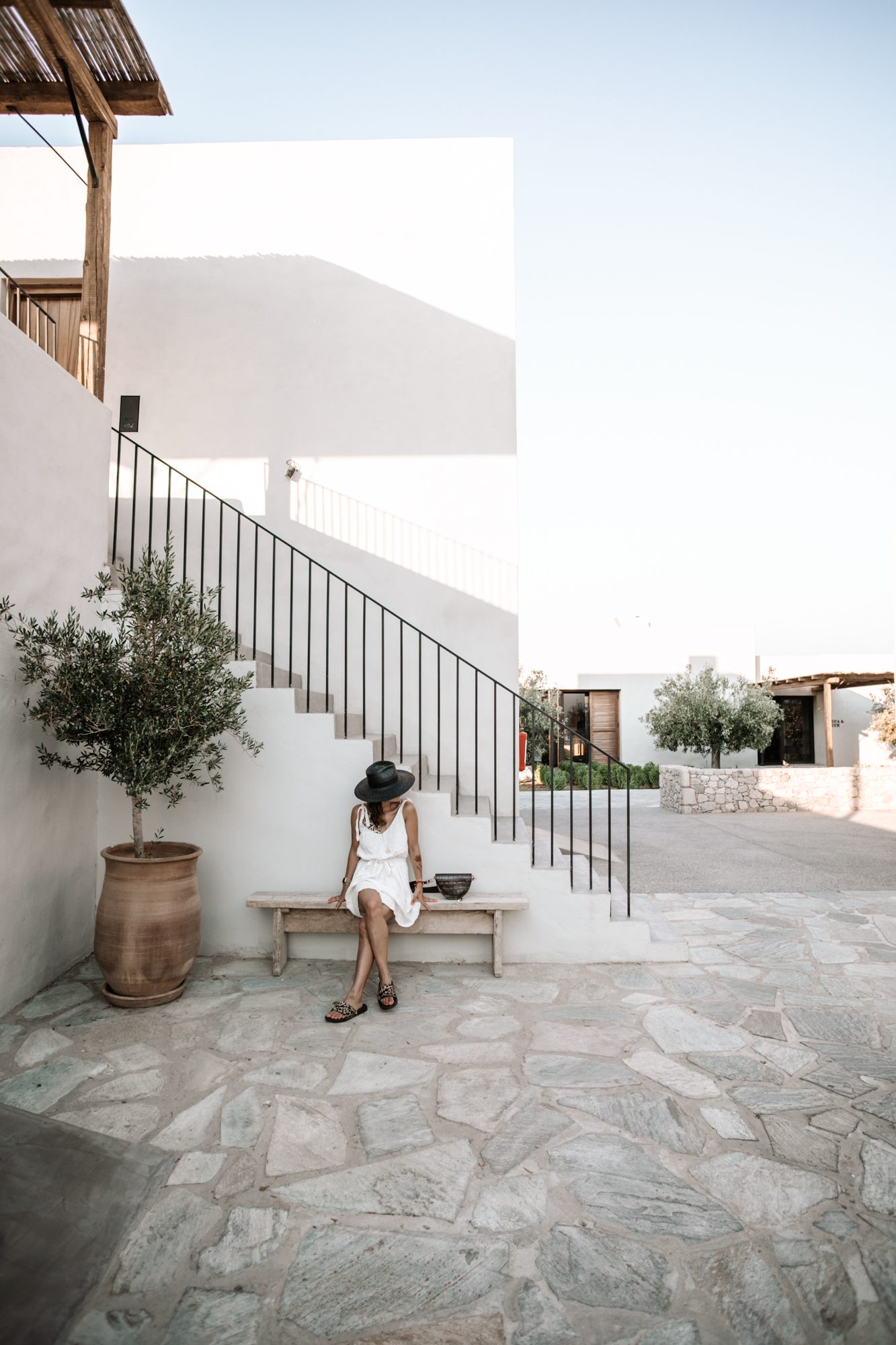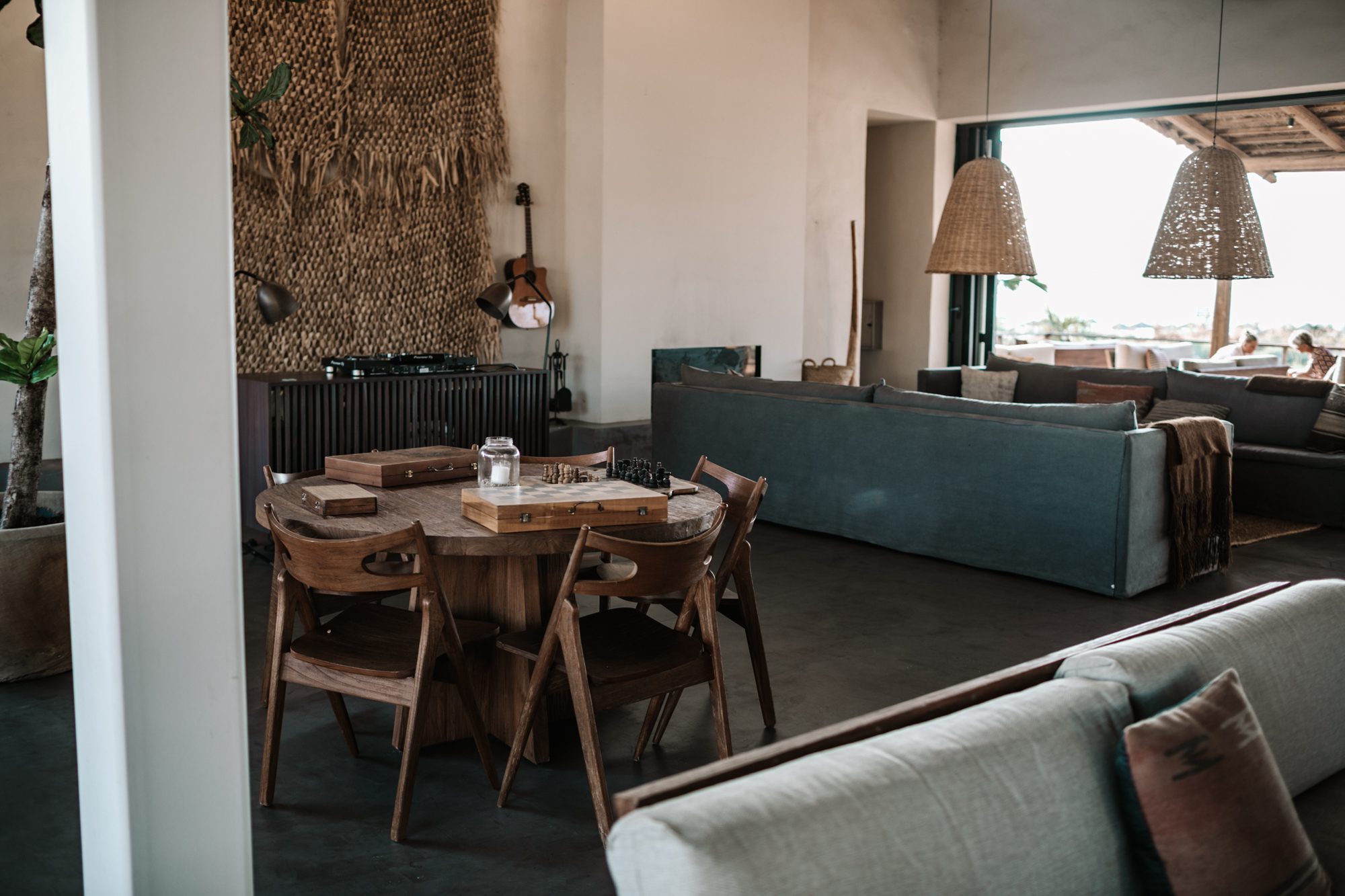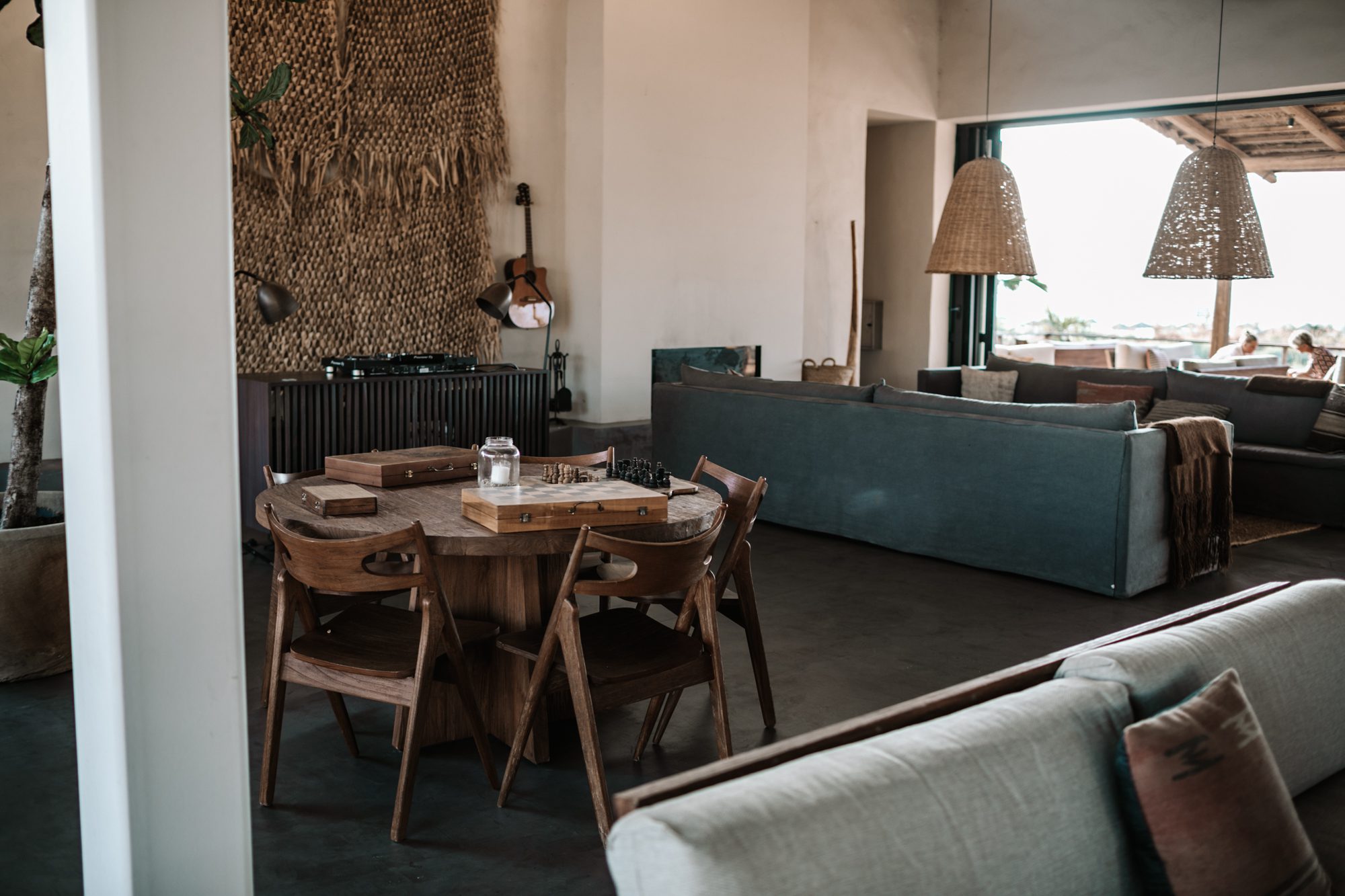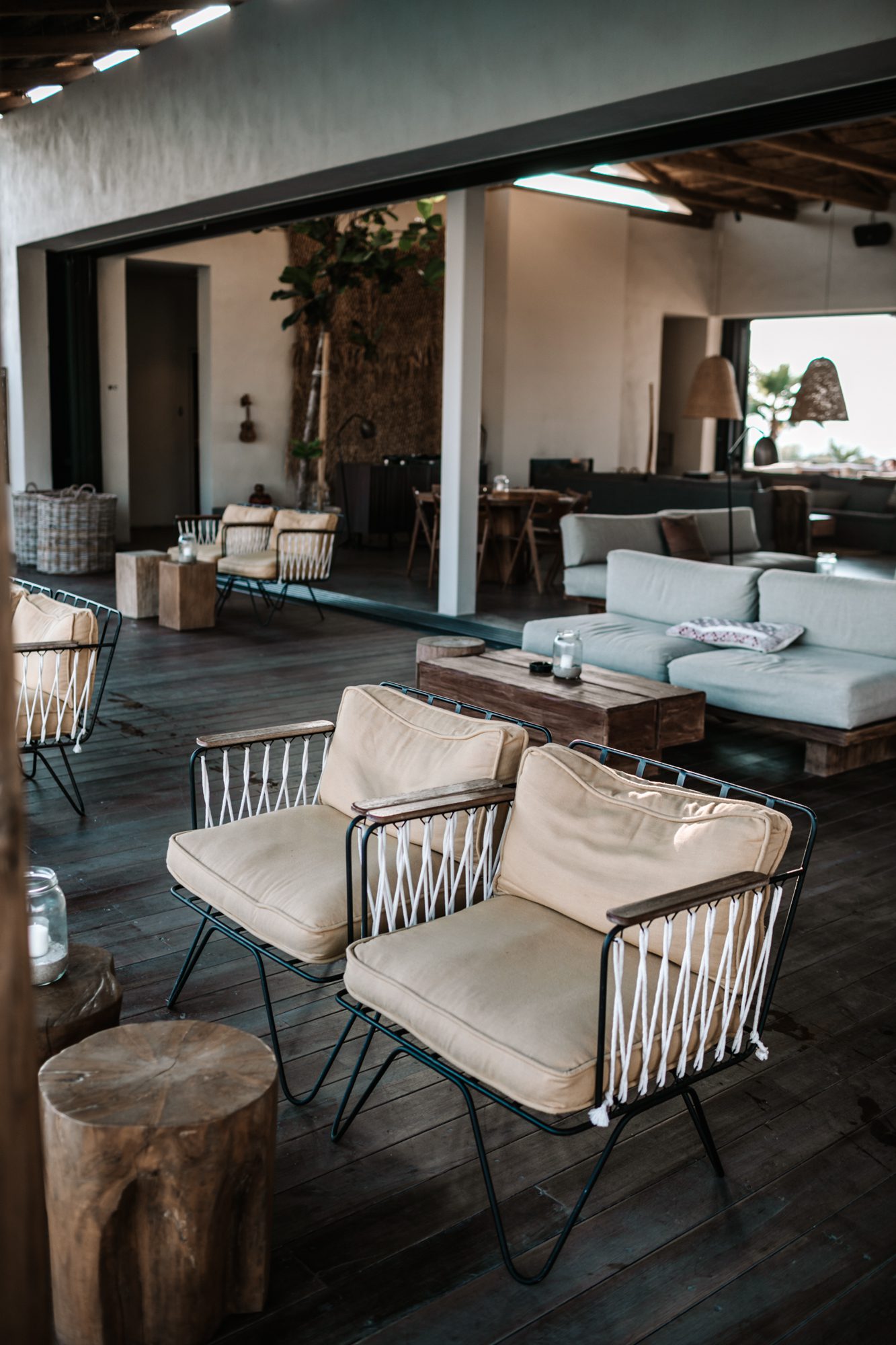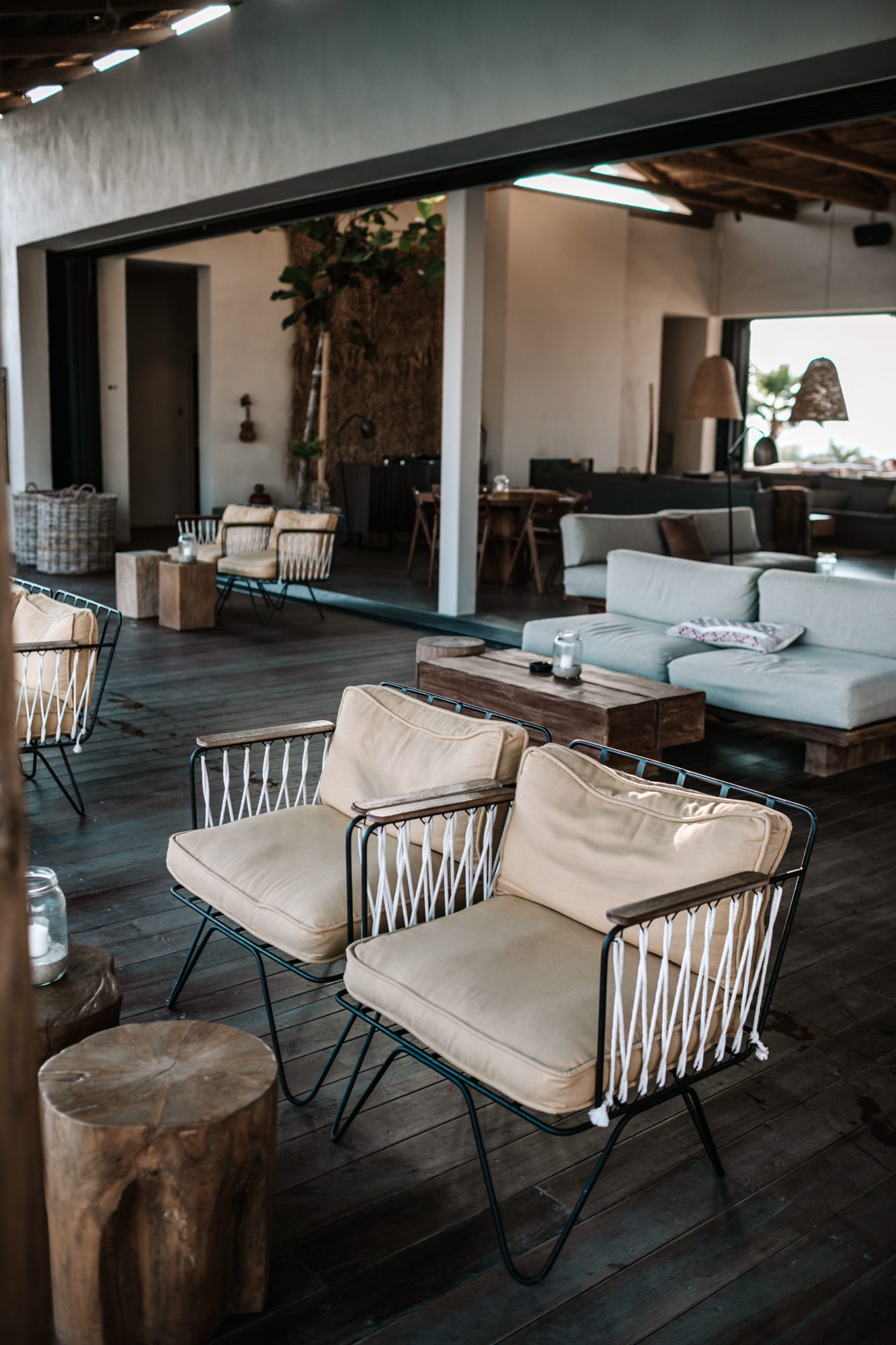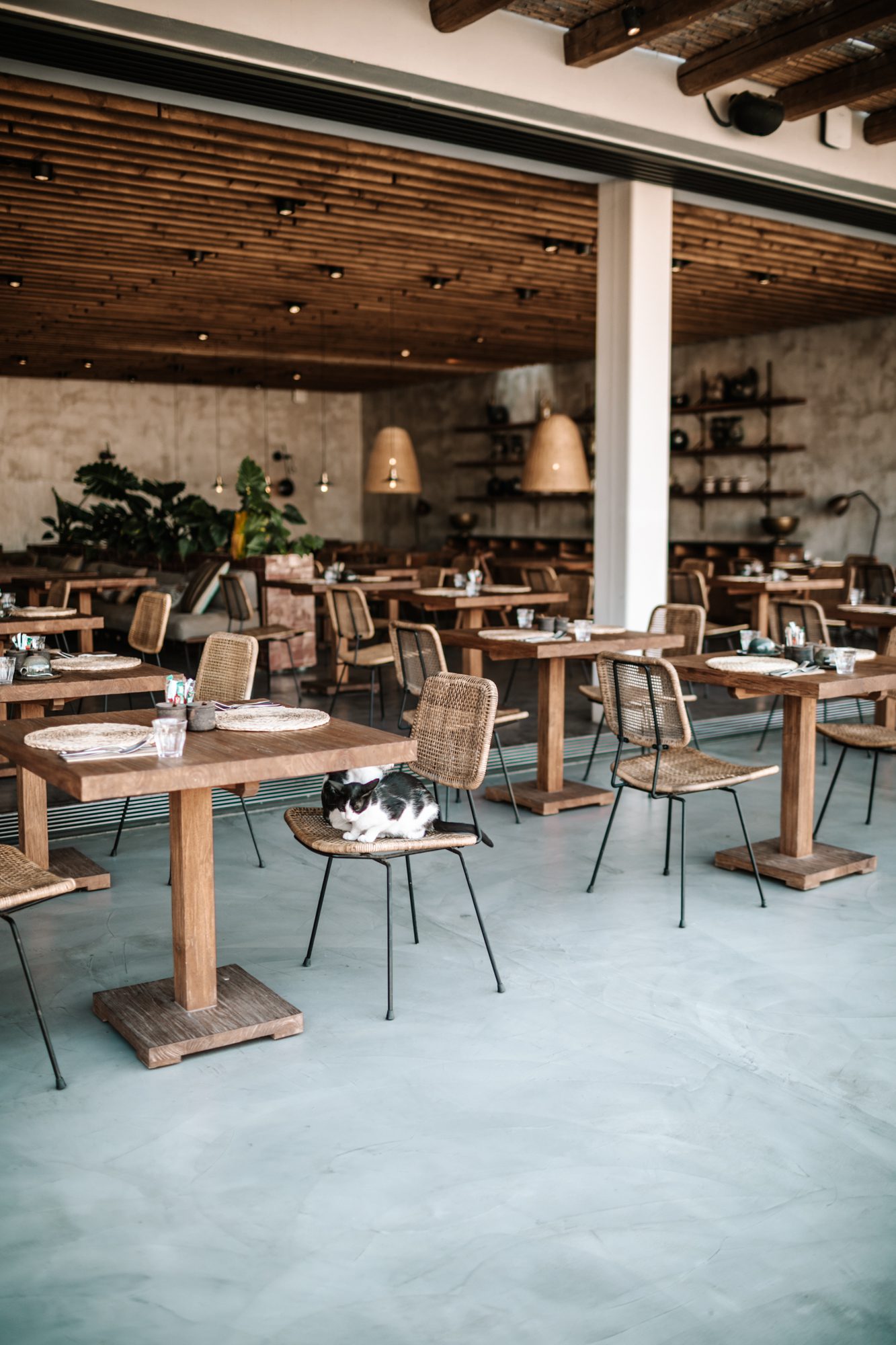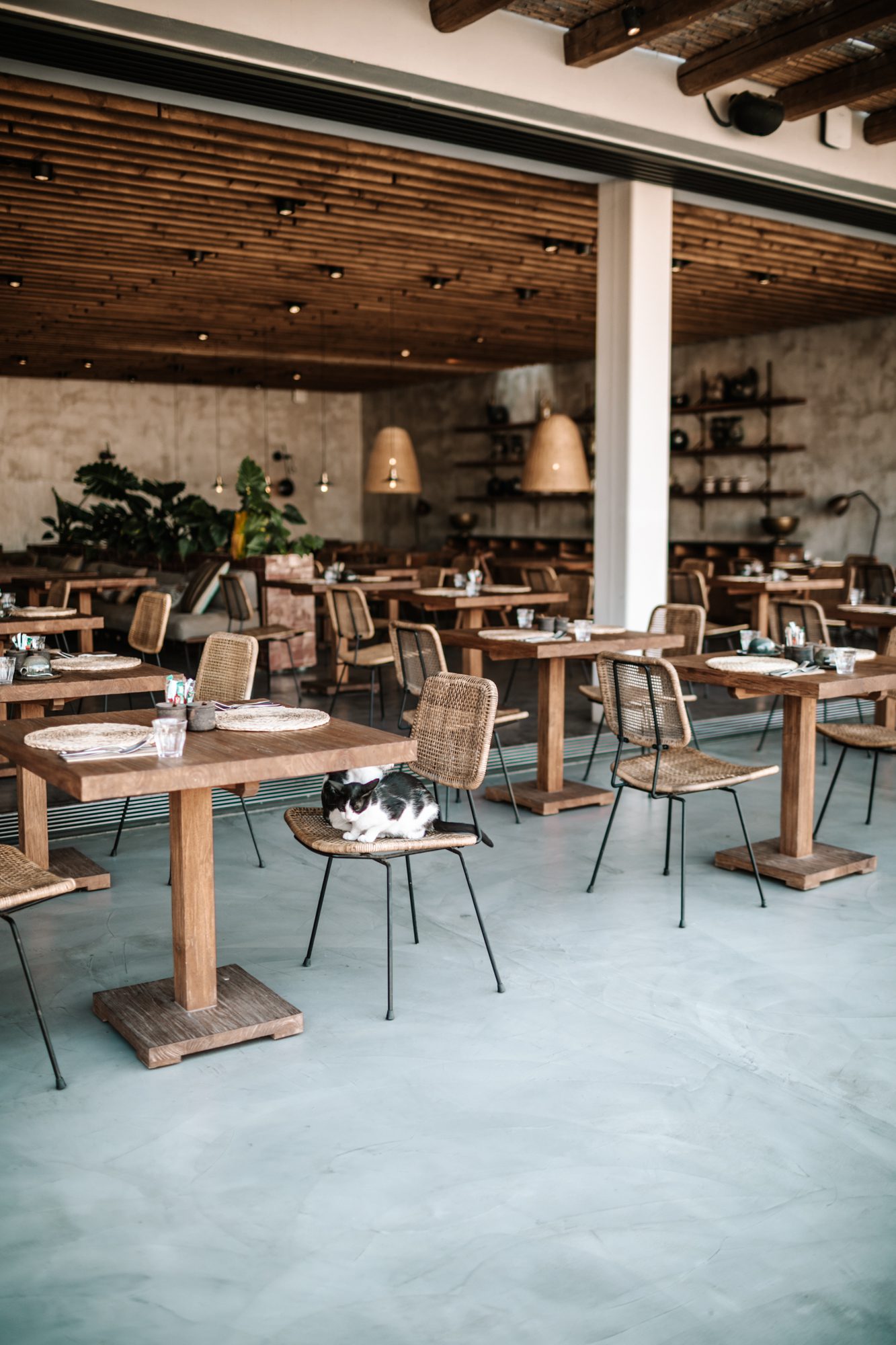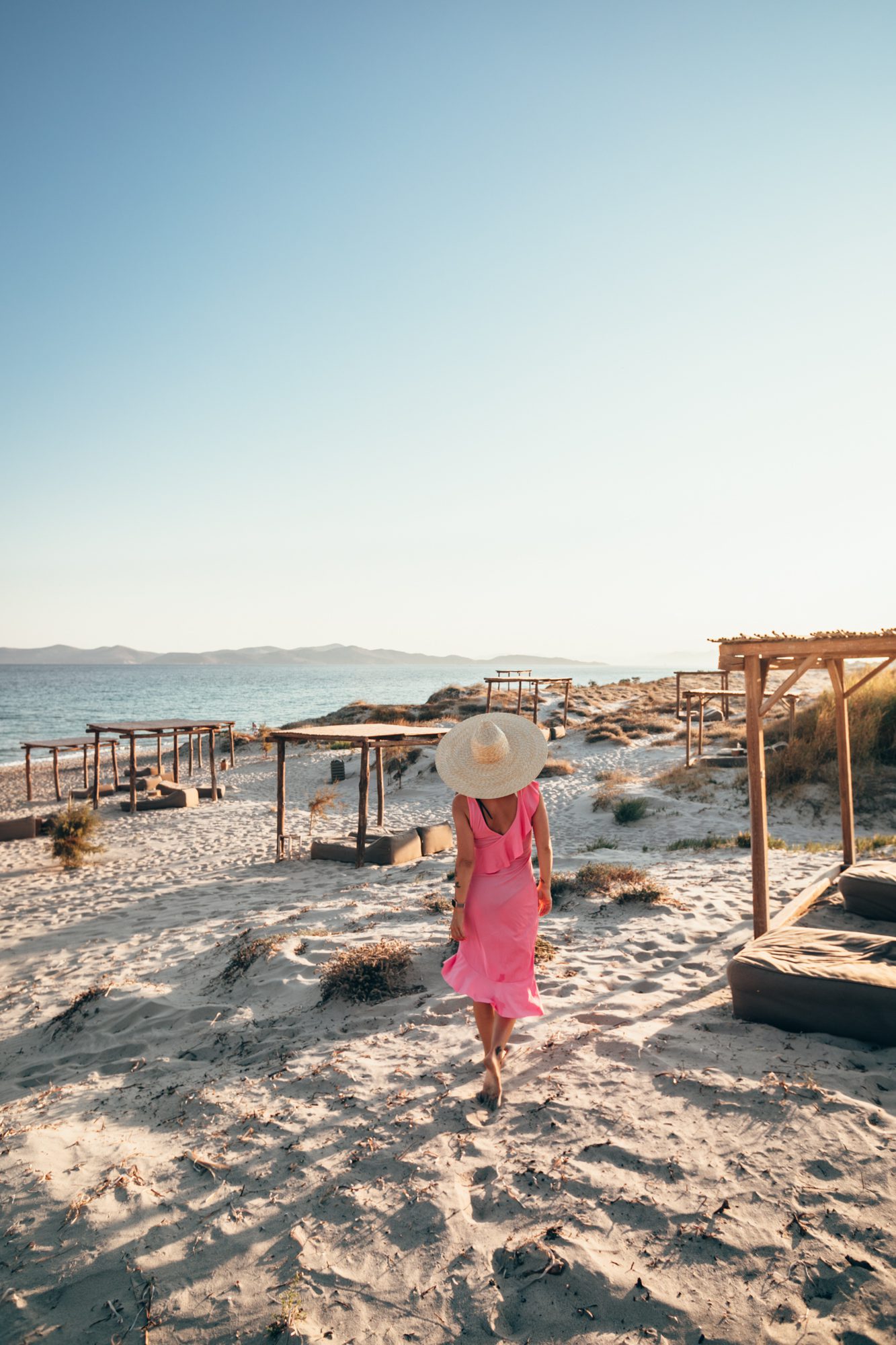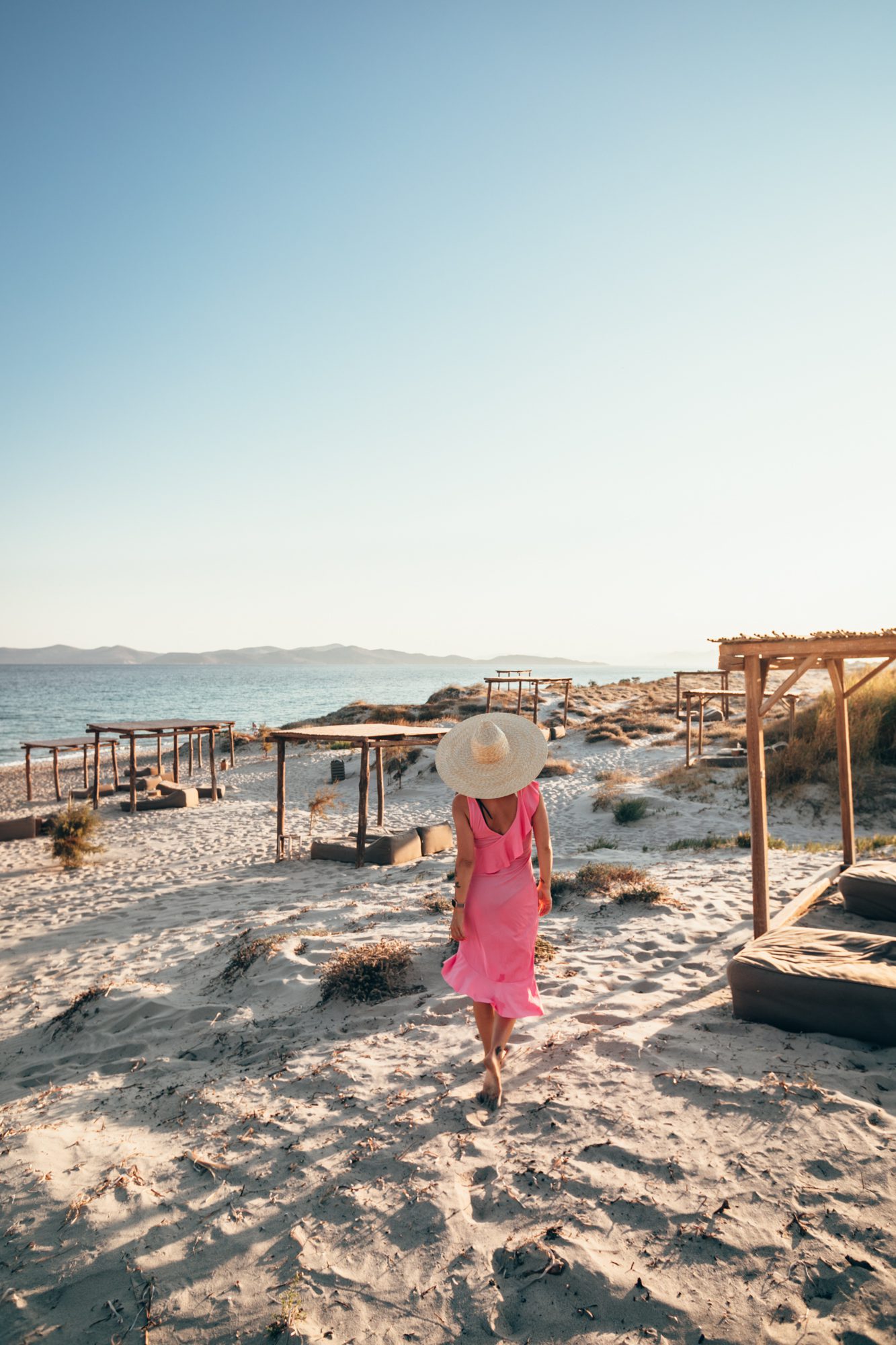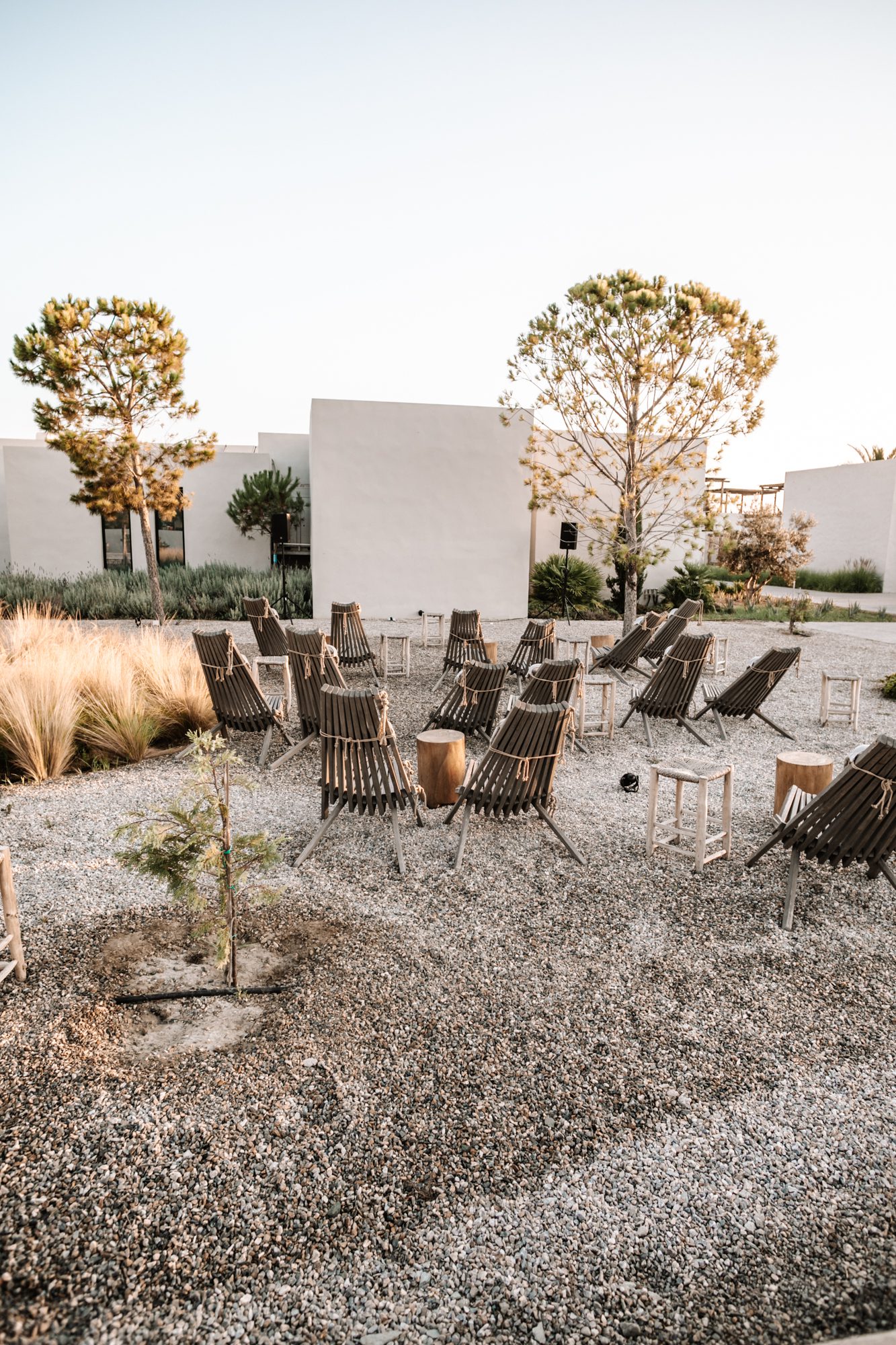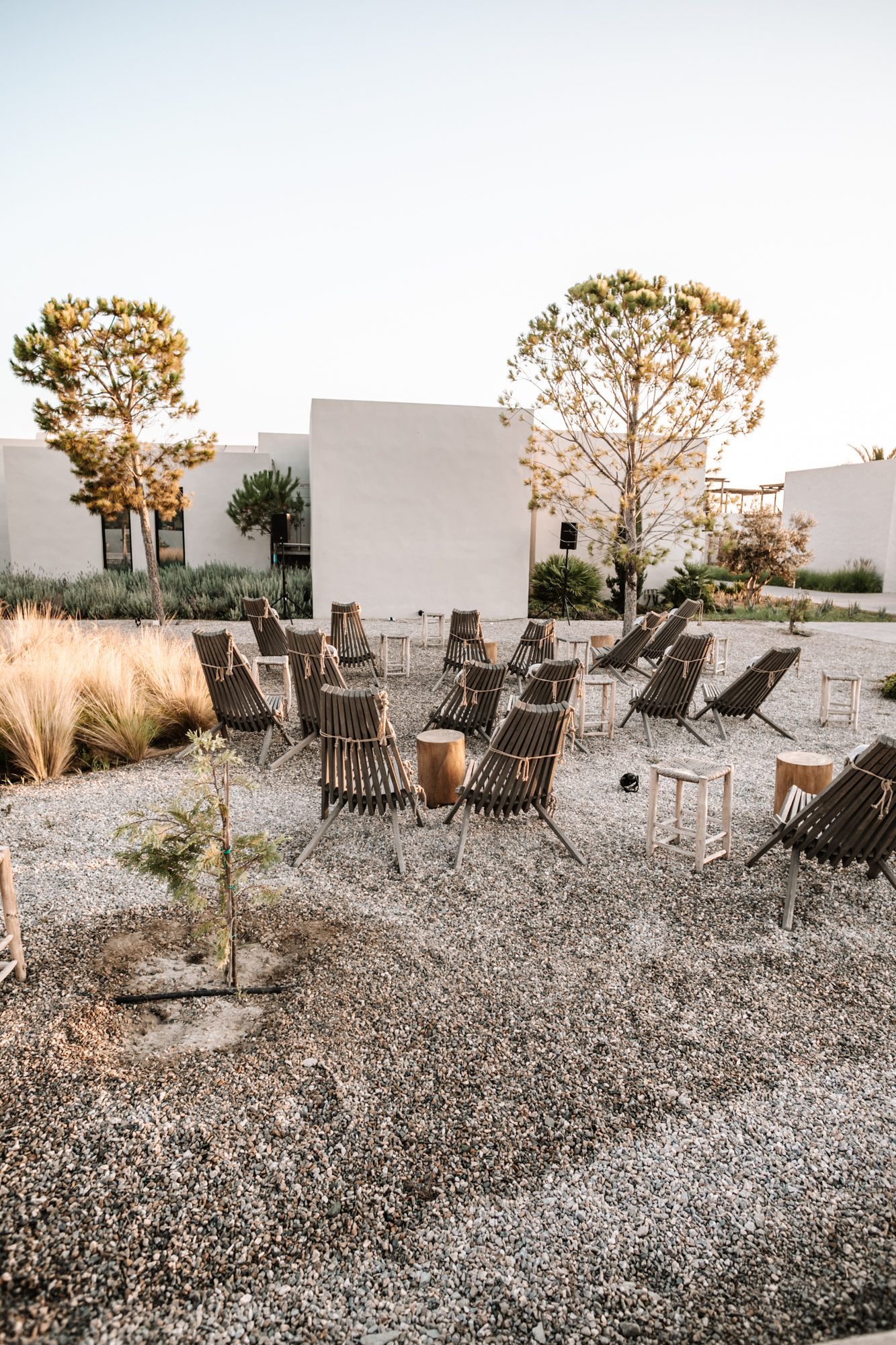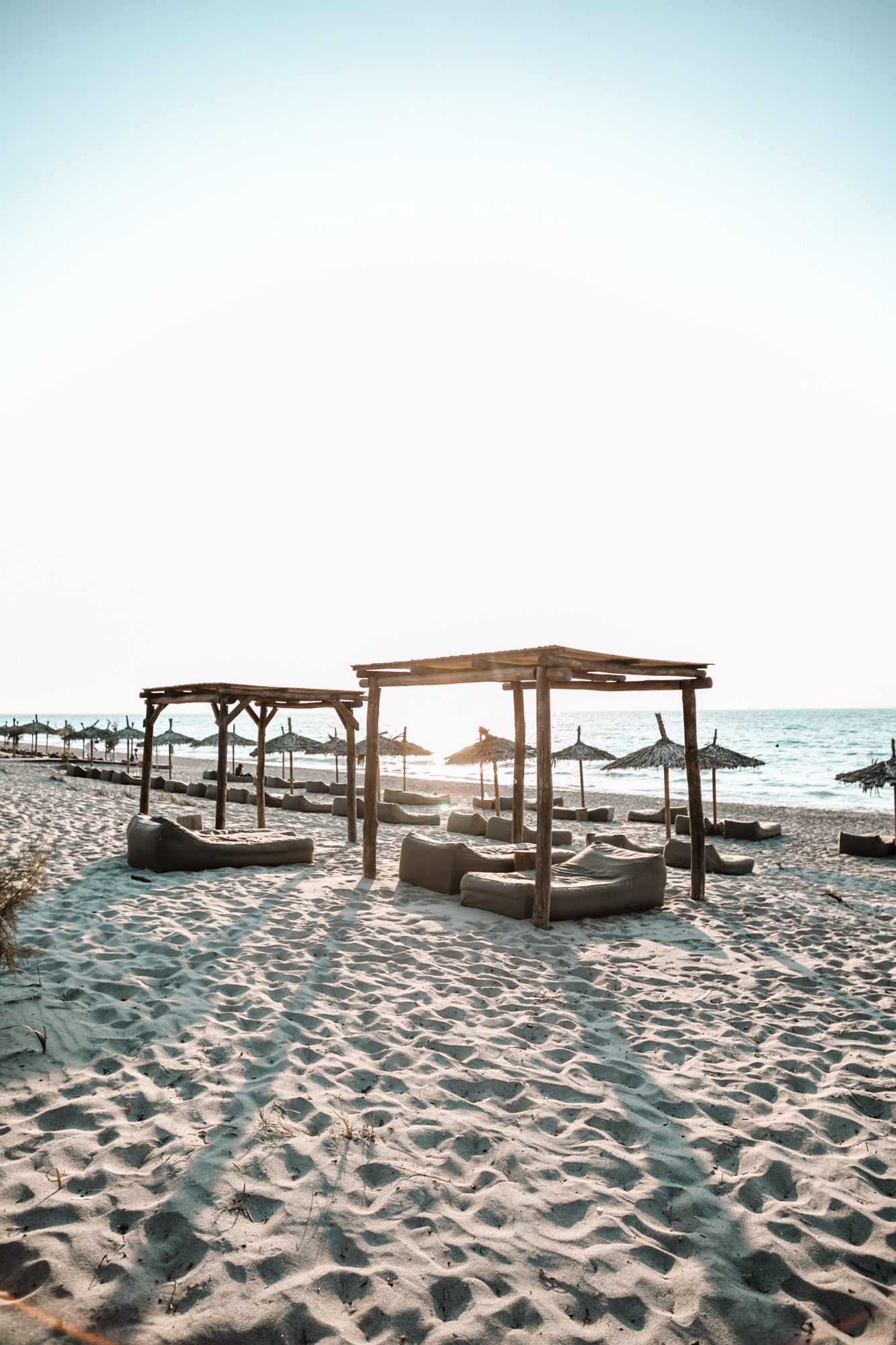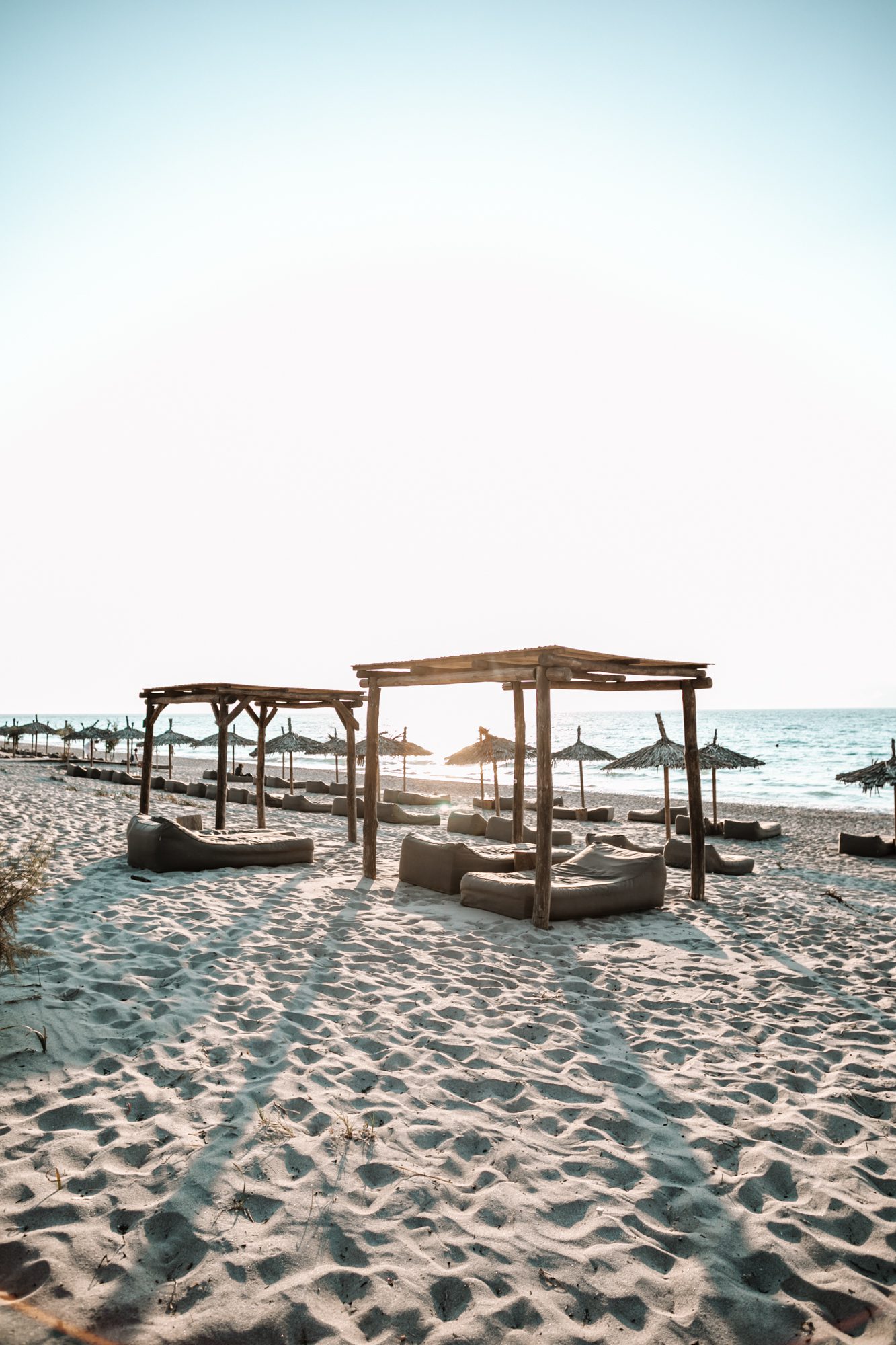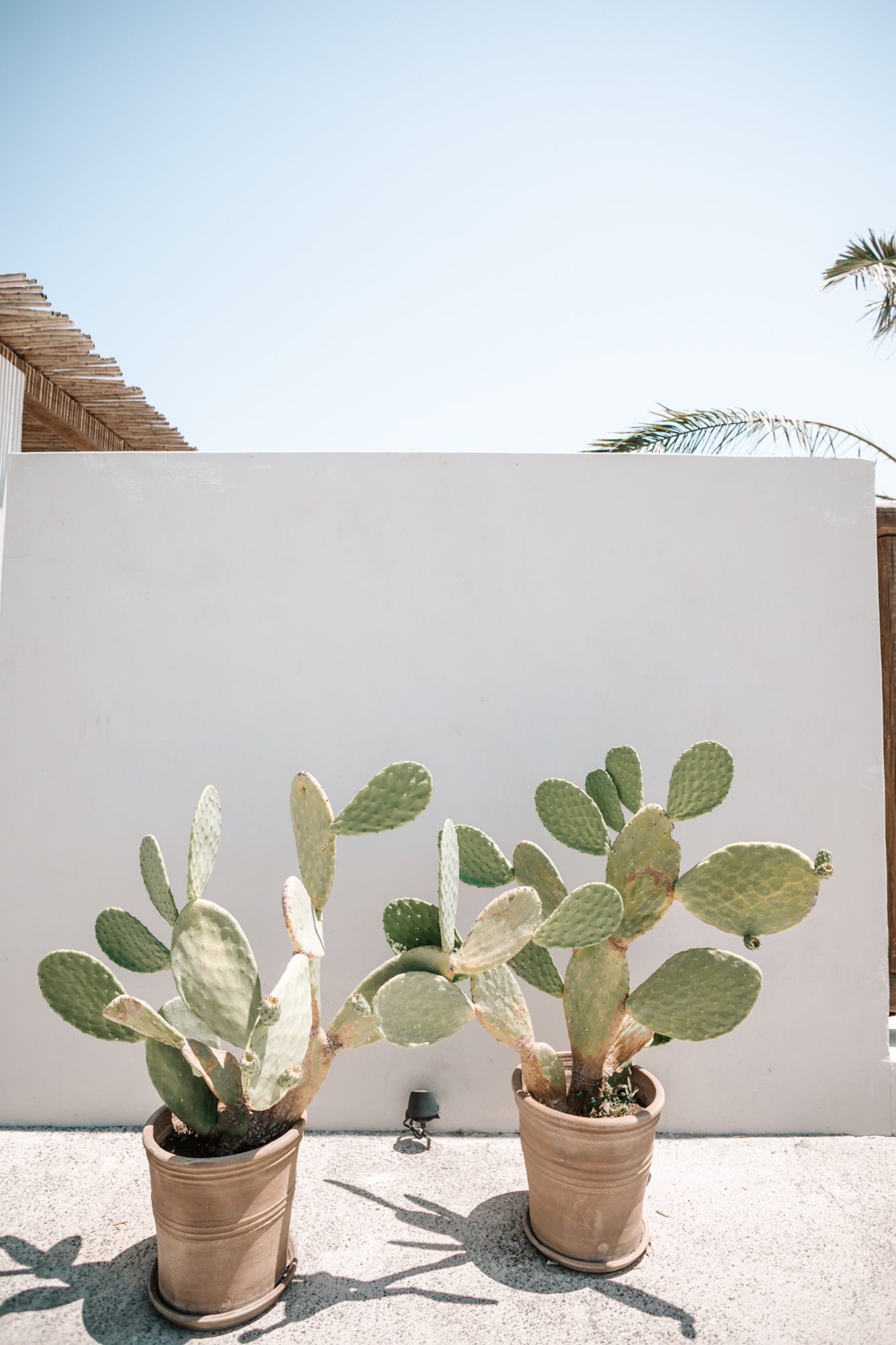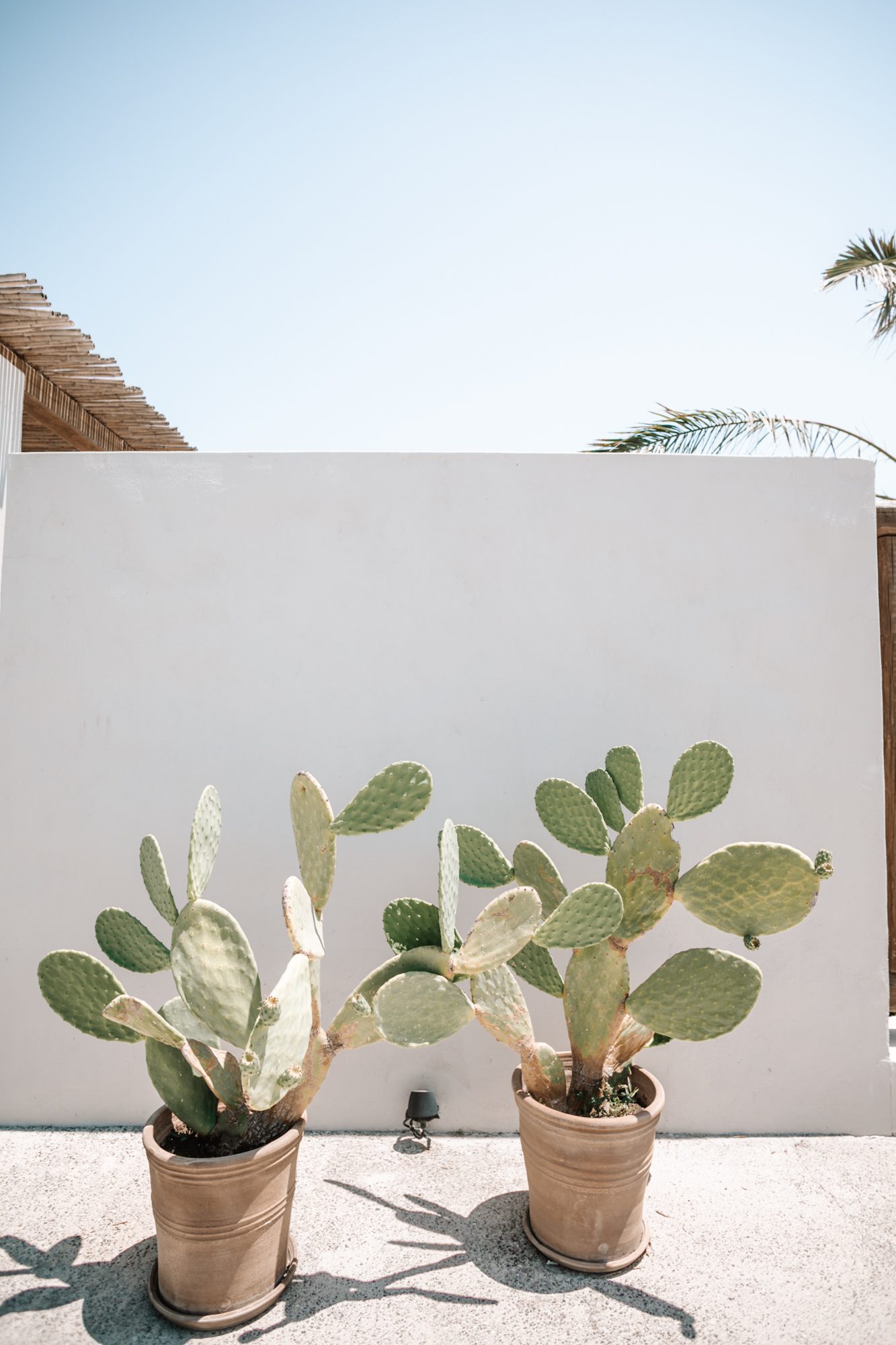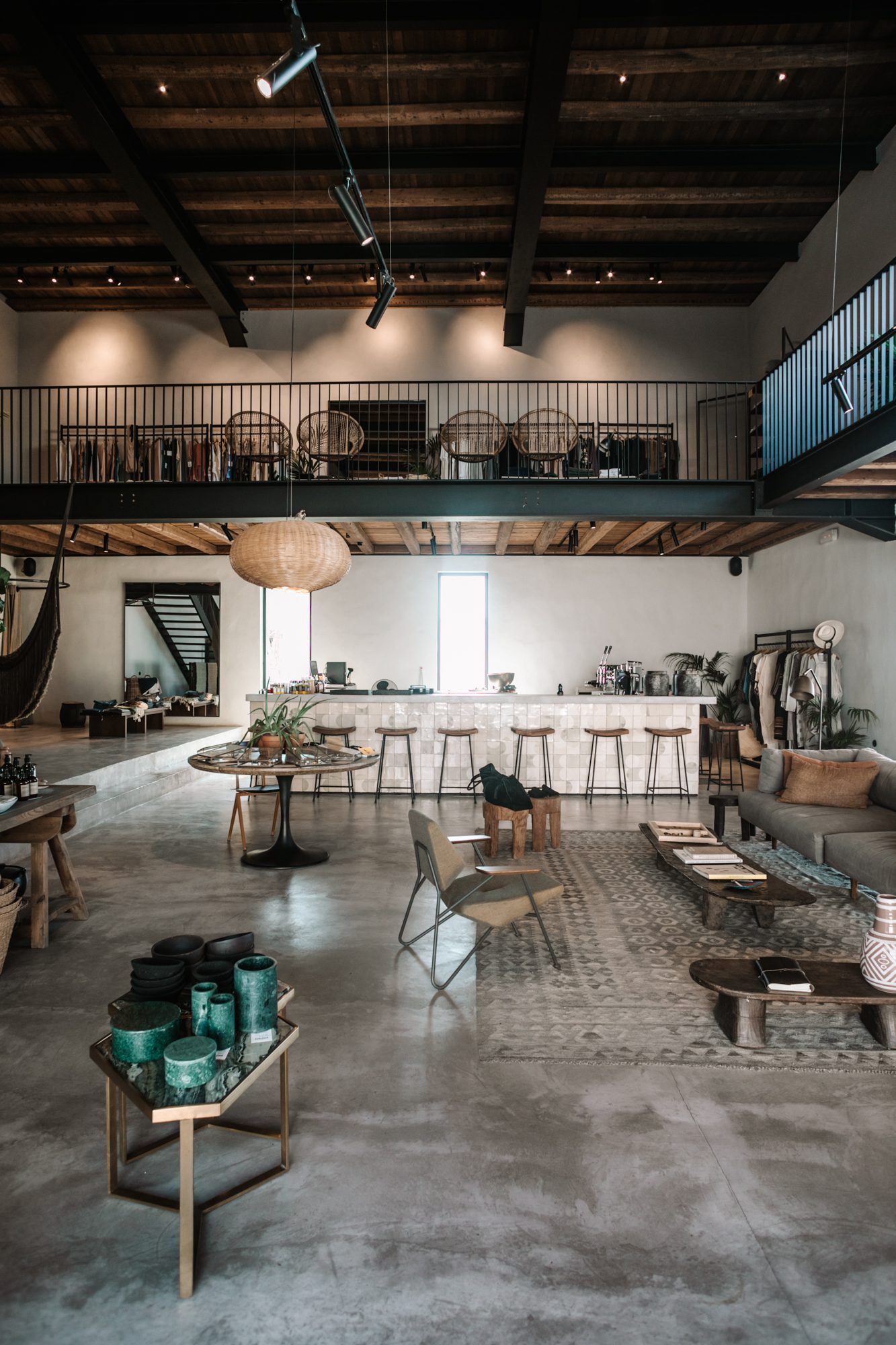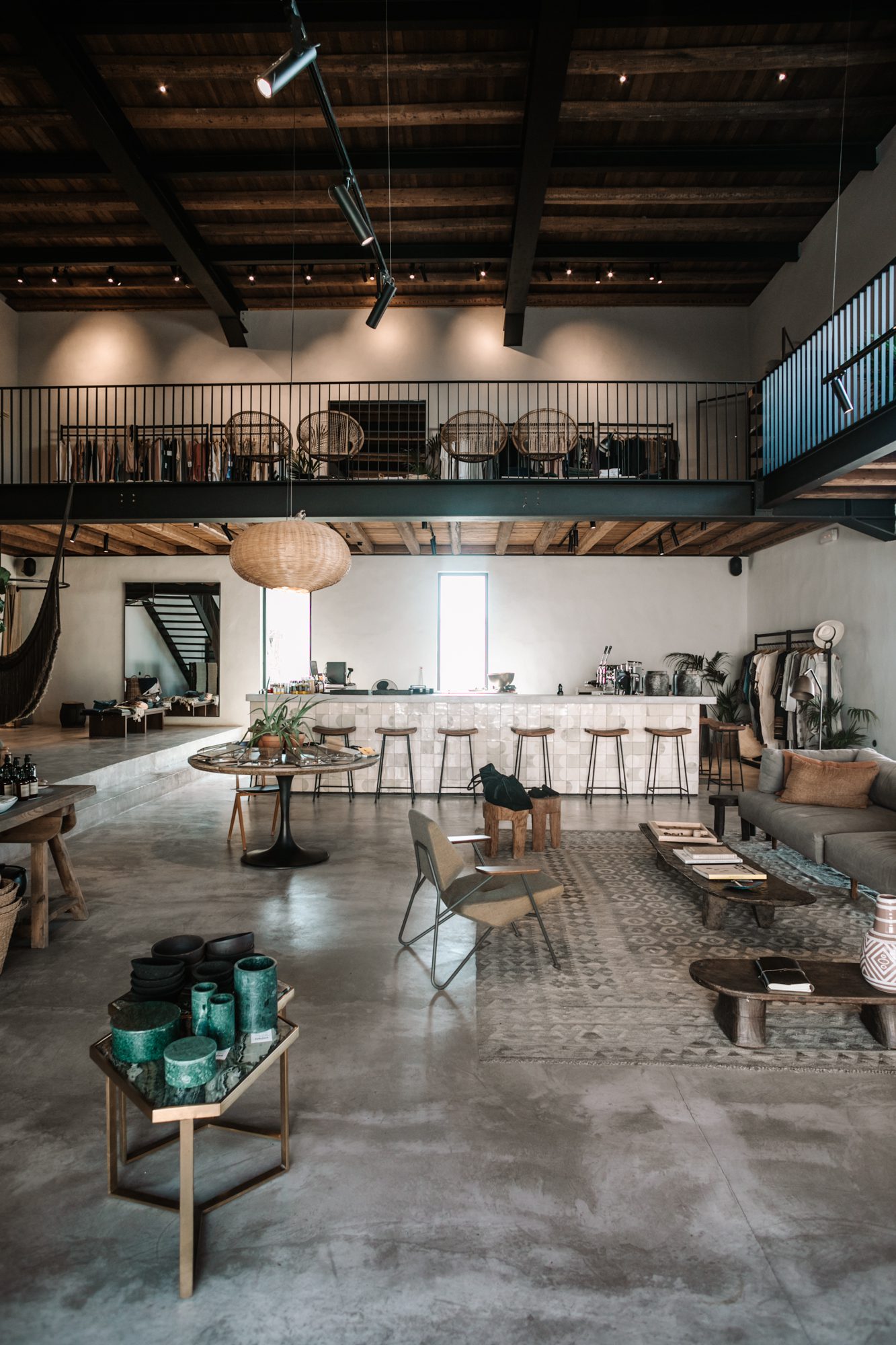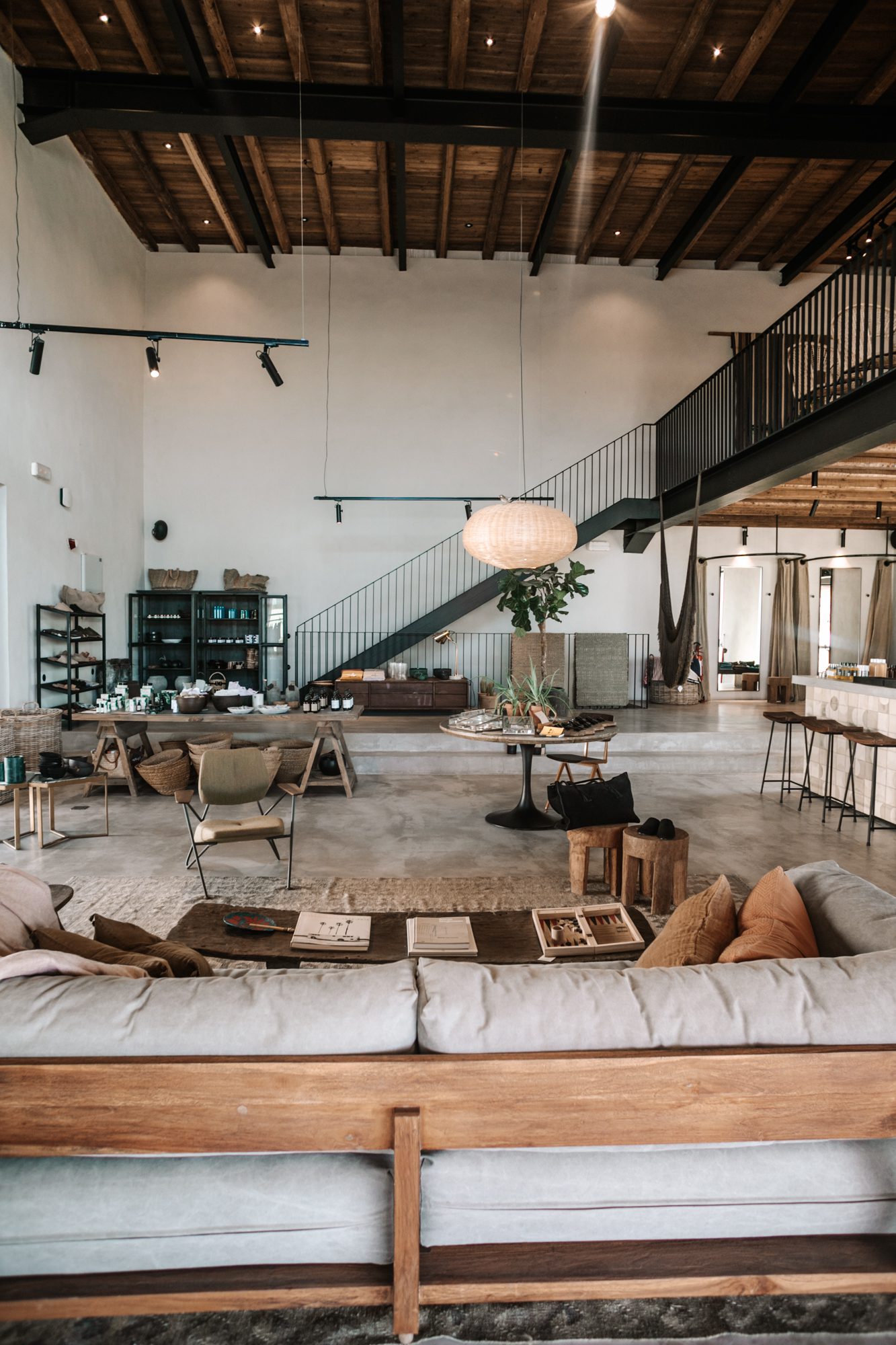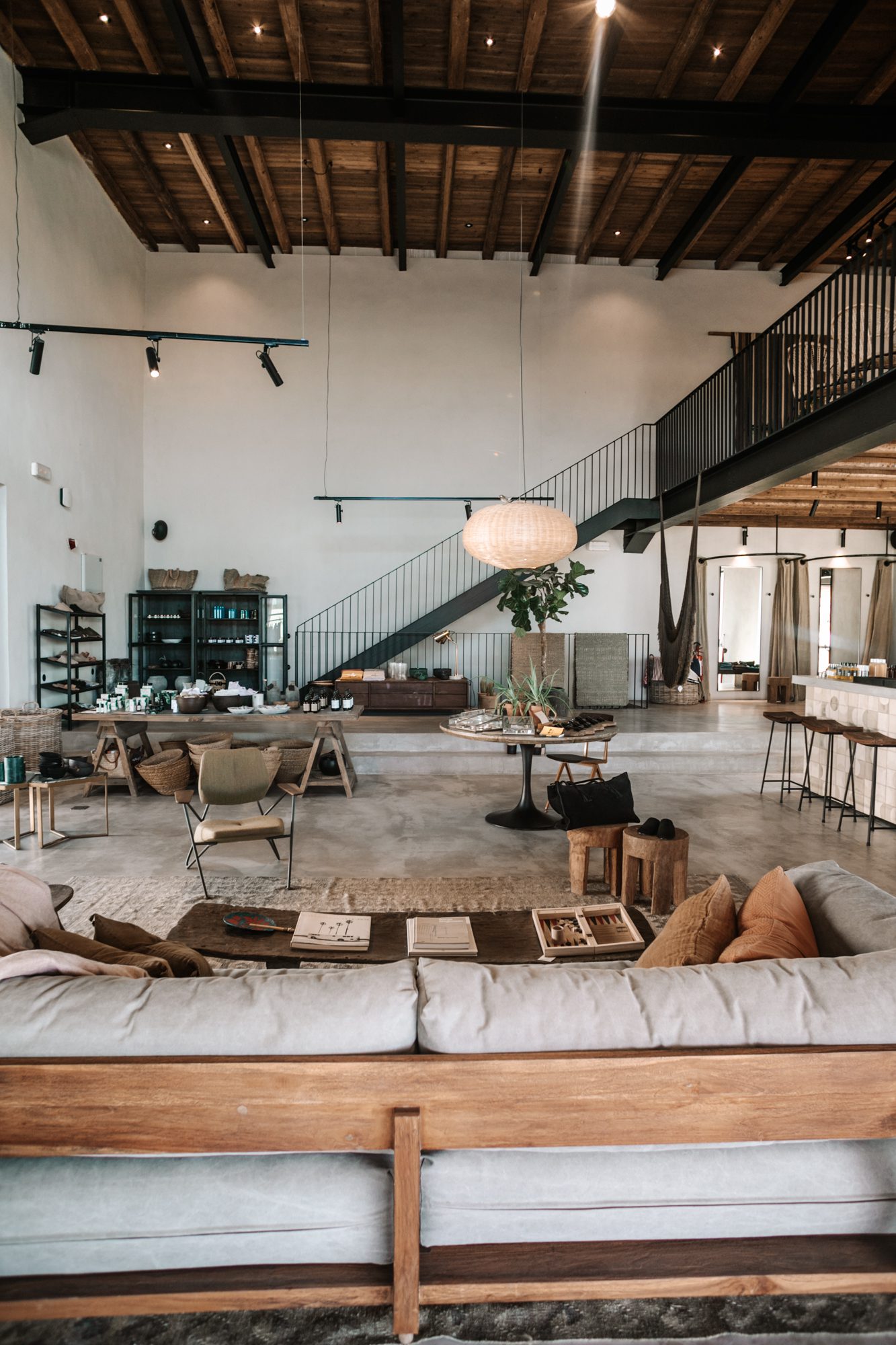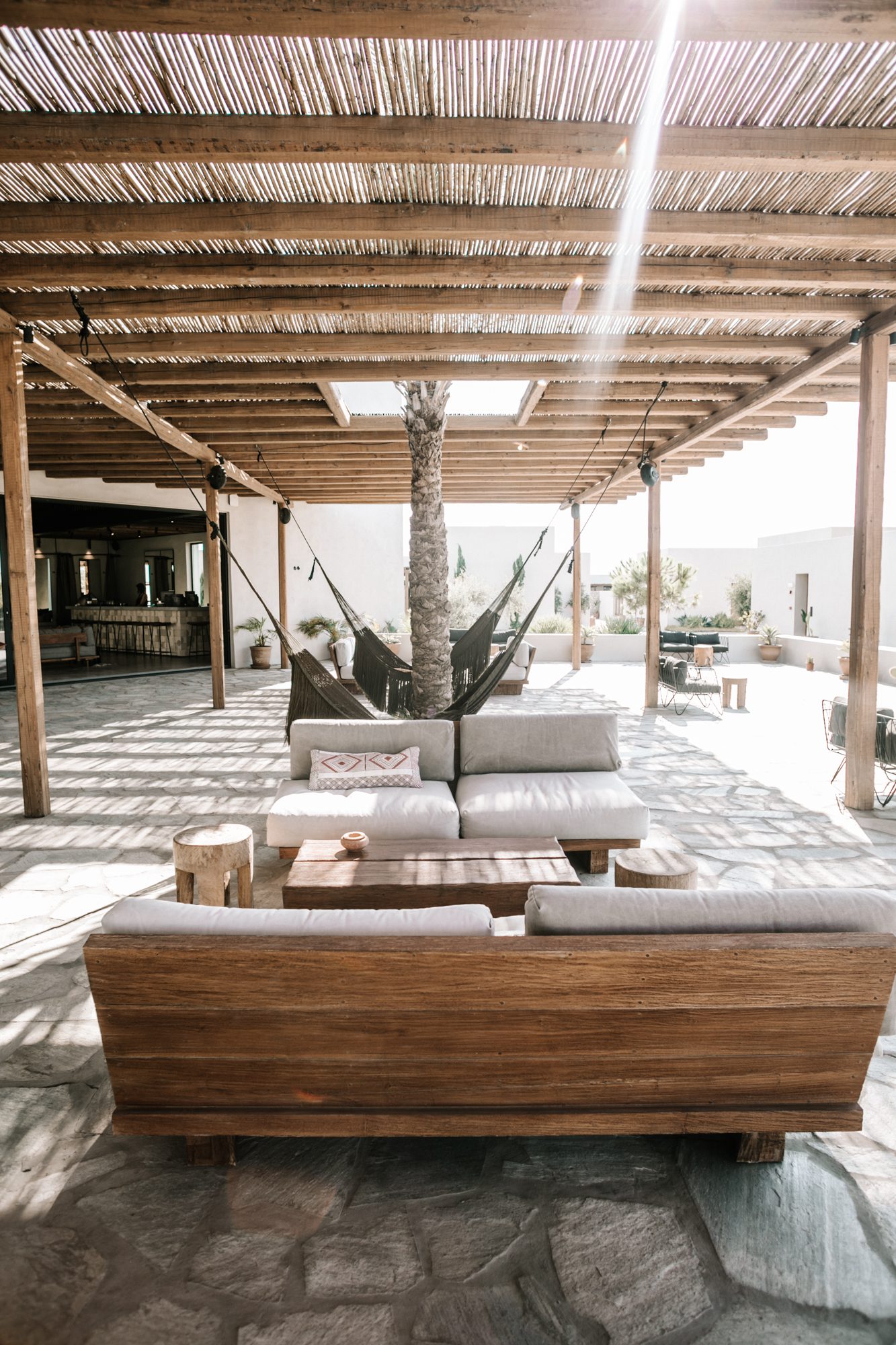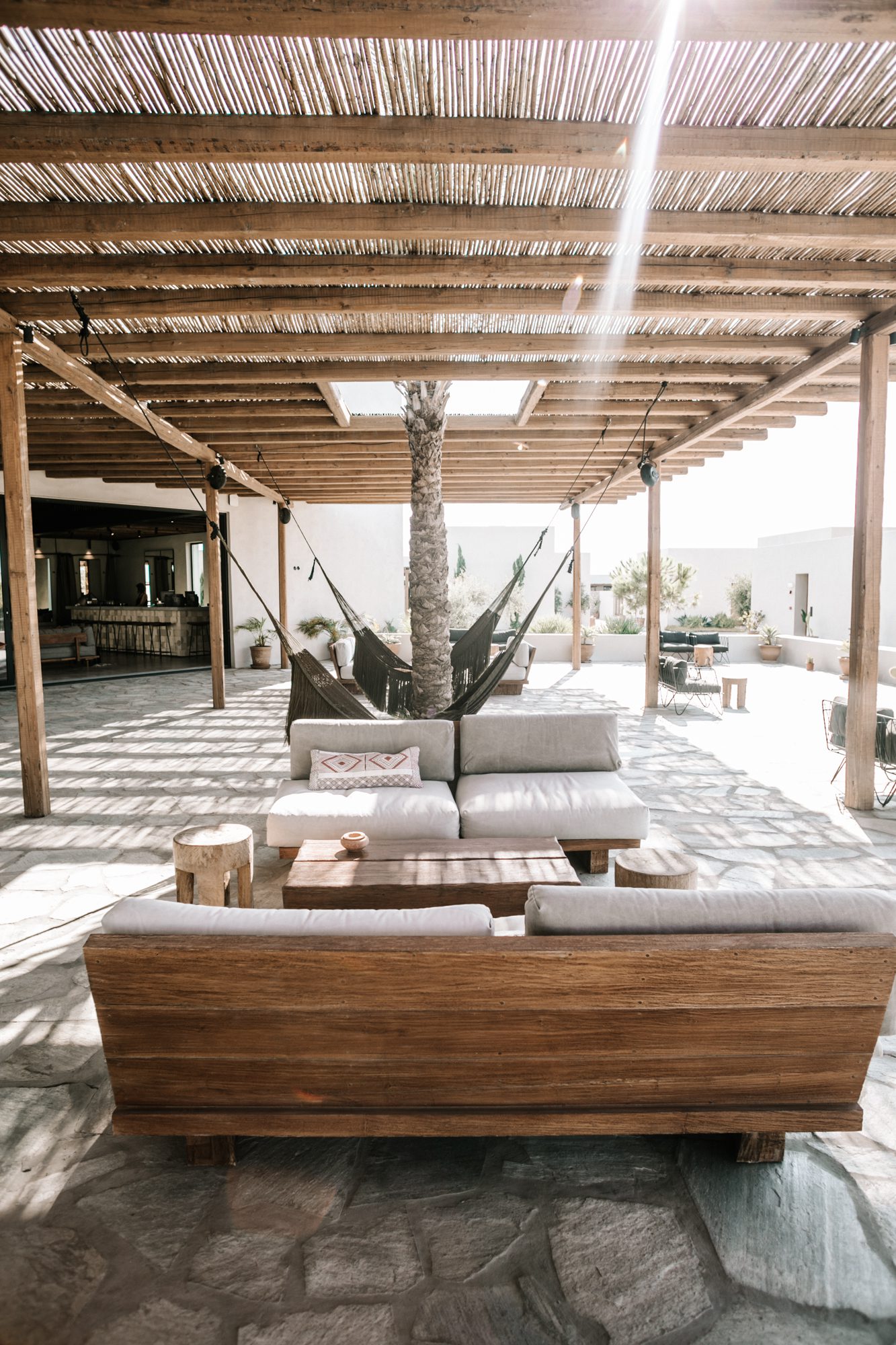 I took the Sensum Mare collection with me while visiting Kos. It's a Polish brand of cosmetics which I've been using constantly for almost 2 years now. It's based on seaweed extract; glacier water and it just takes the best out of nature and combines it with the modern technology of todays cosmetology. The beauty products work really well in preventing wrinkles. When we were staying in Tulum I just took random beauty products with me. It ended up with brown marks on my skin and generally a very poor condition of the skin. I'm never making that mistake again. Sensum Mare is hyphoallergenic, reliable, cool and its products smell deliciously well. I always use the SPF 50 all over my body! After two weeks of the most amazing holiday in the sun, I came back home with a hydrated and glowing skin. Holiday is a special time for everyone, but don't forget to protect your skin and be fussy about the beauty products you choose! My favourite Sensum Mare beauty products are:
– hydrating skin tonic
– light serum, smells great and hydrates the skin
– AlgoRich crème (it used to be too heavy for me but now I use it as facemask and it works miracles!)
– conditioning tonic (I keep it in the fridge and spray it all over my face to even my PH, but I also use it on make-up as it adds the glow; I use it on the beach spraying it all over my face regularly)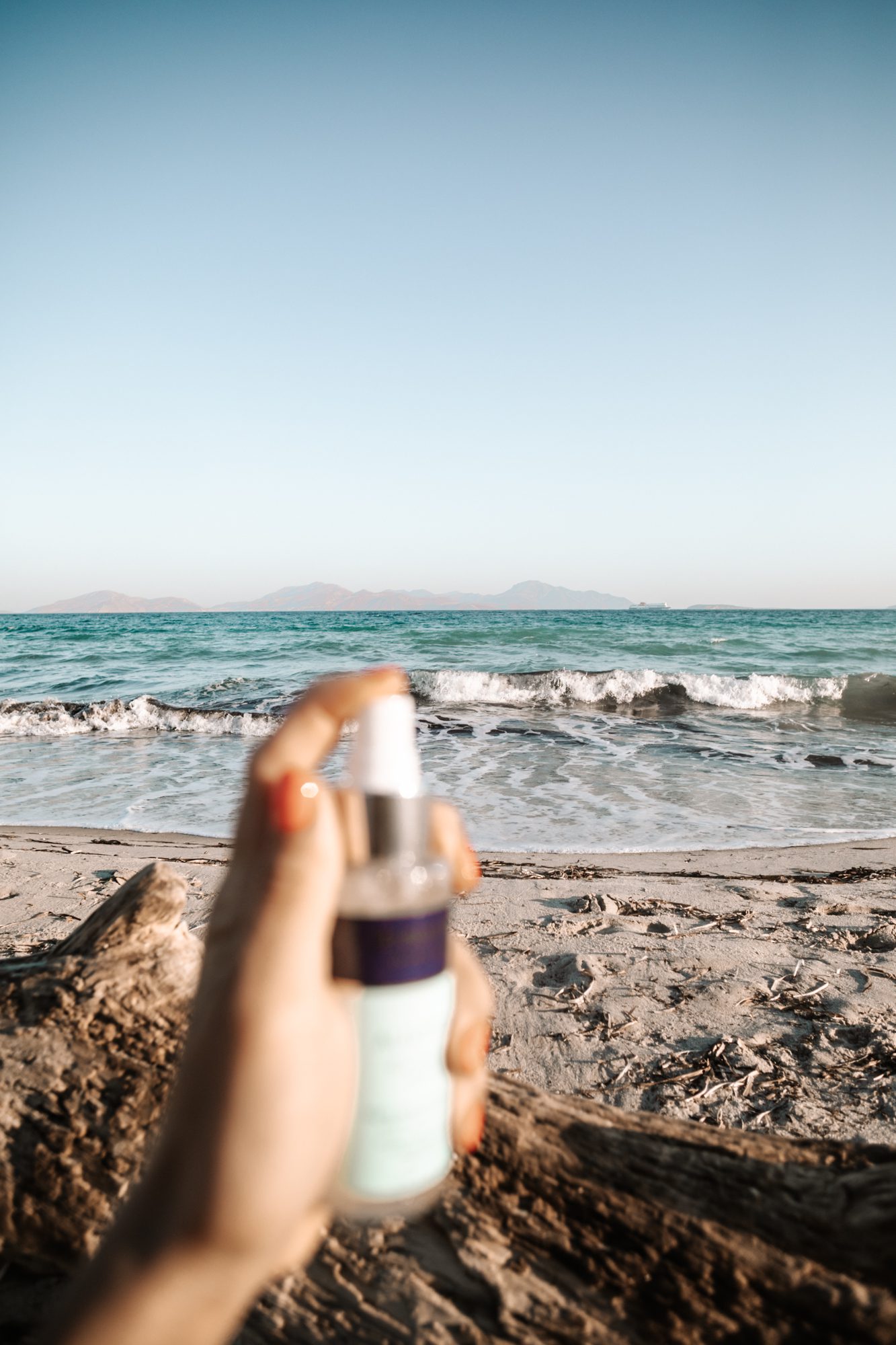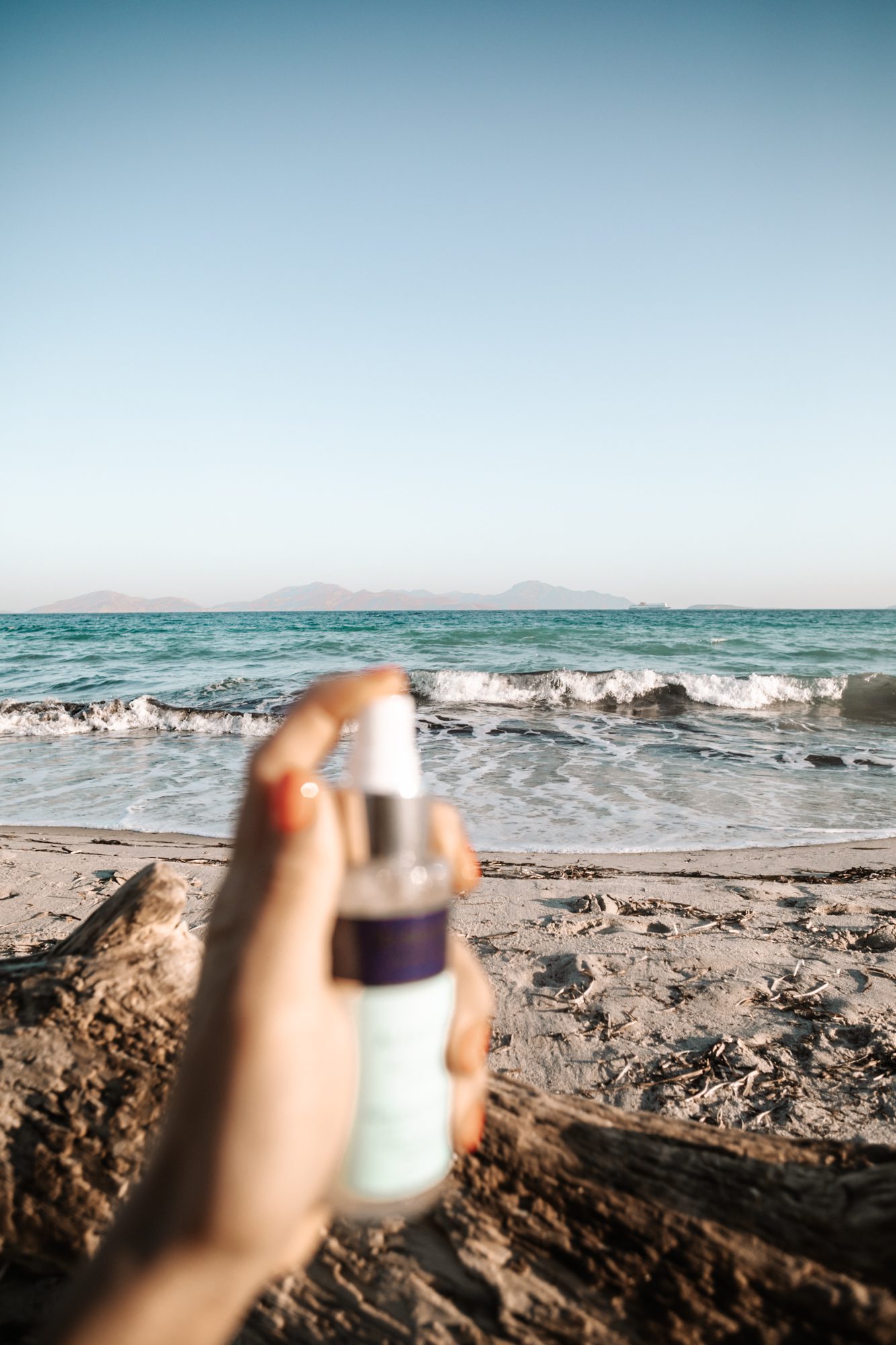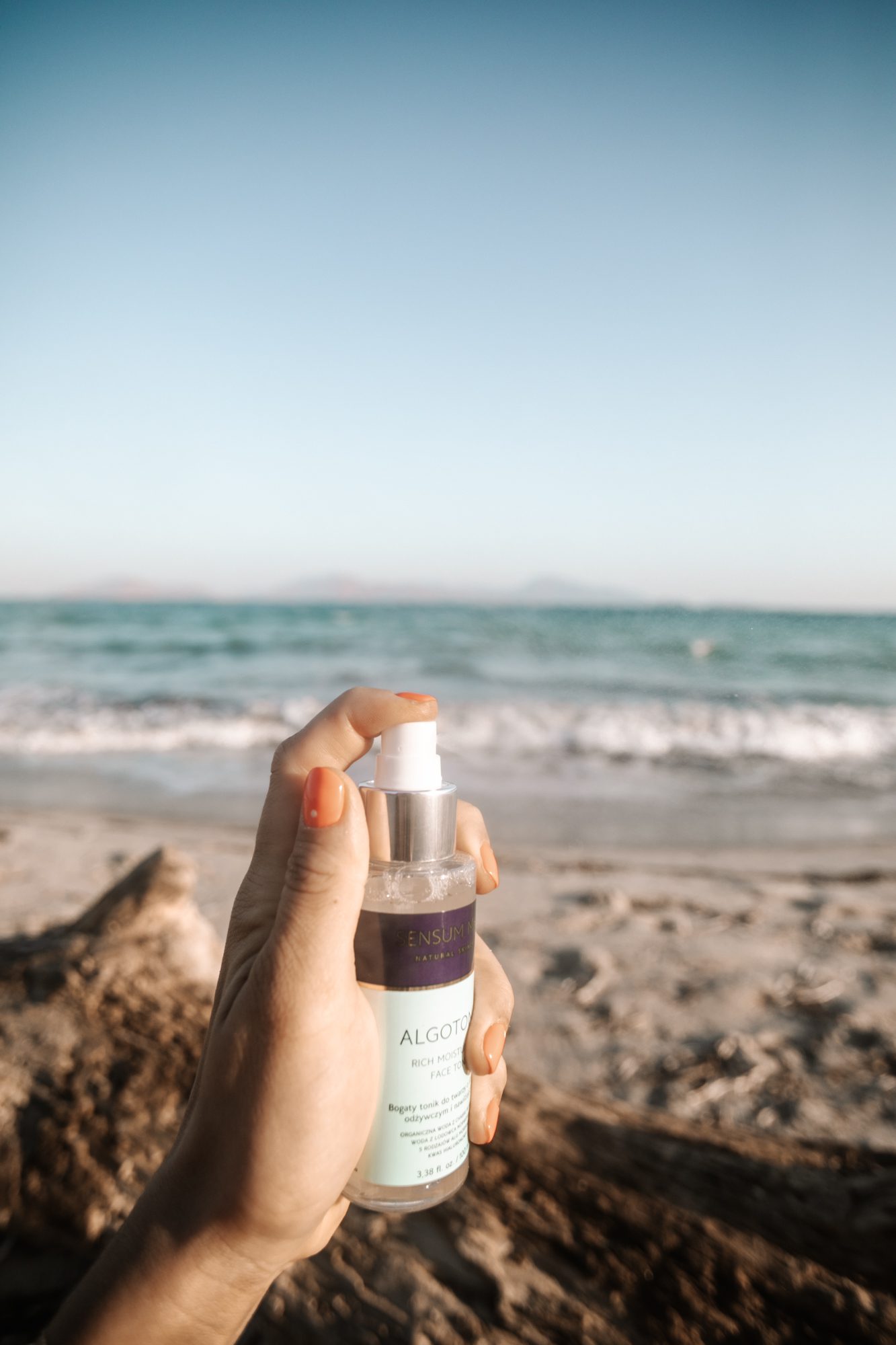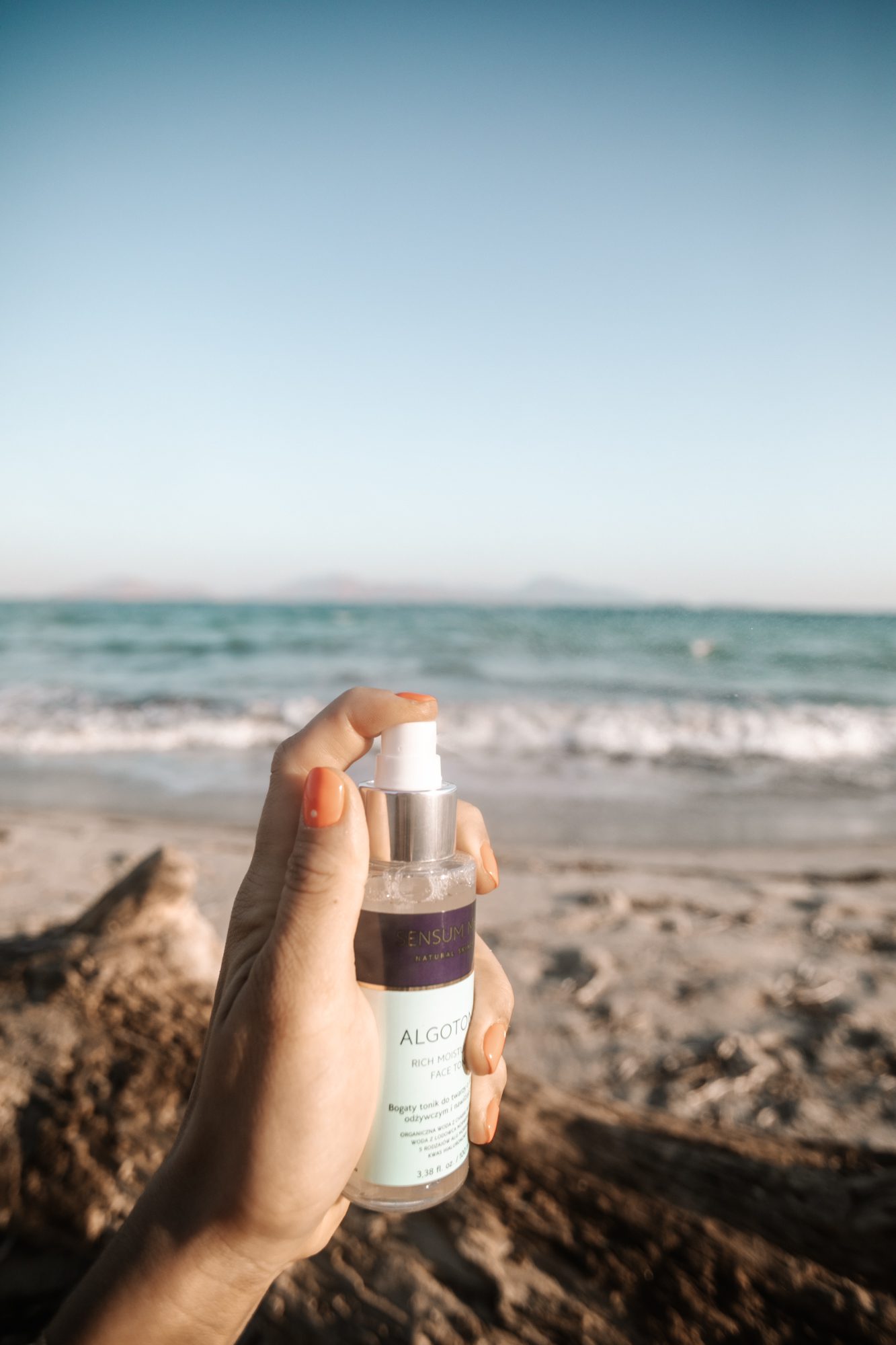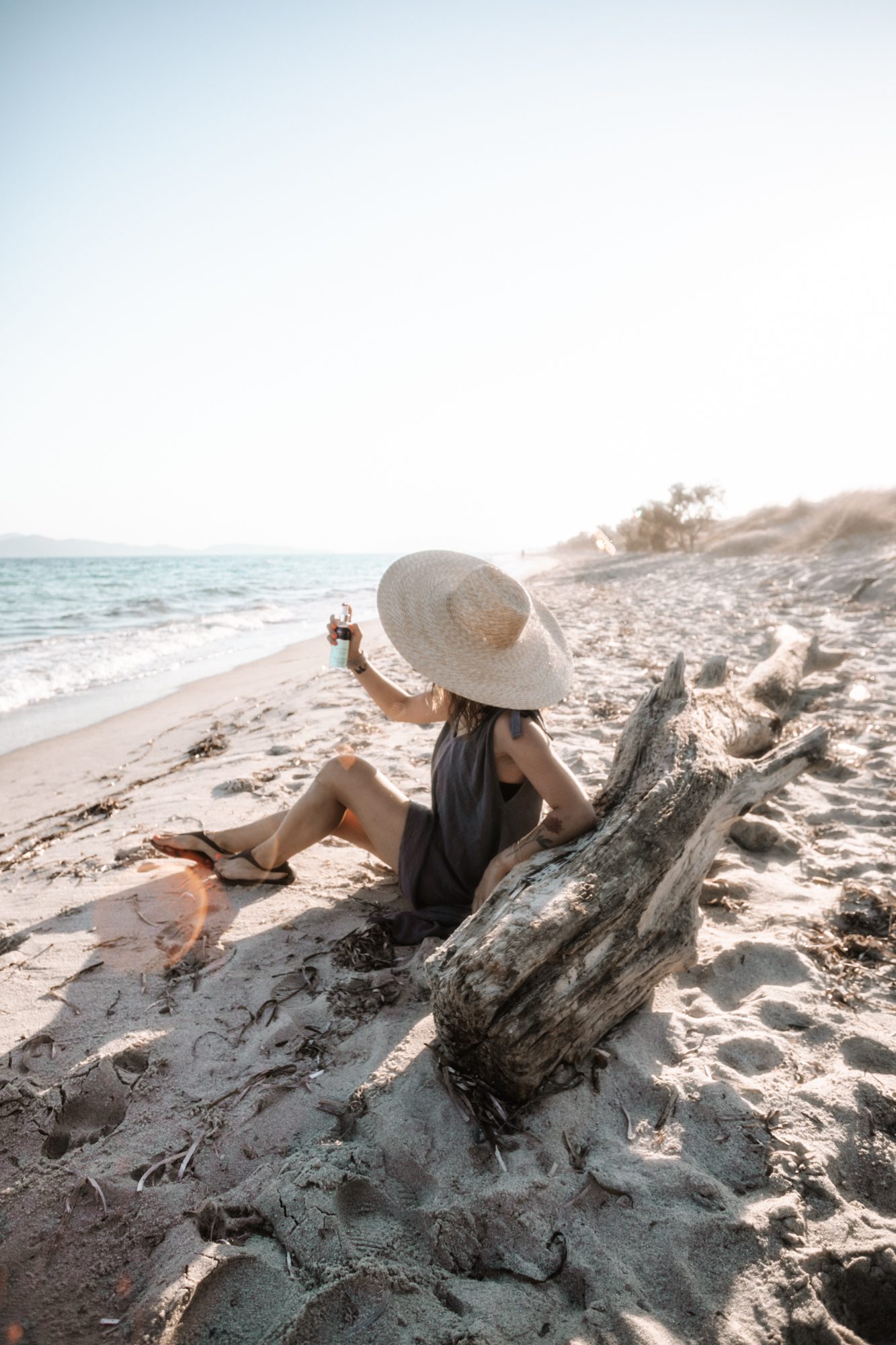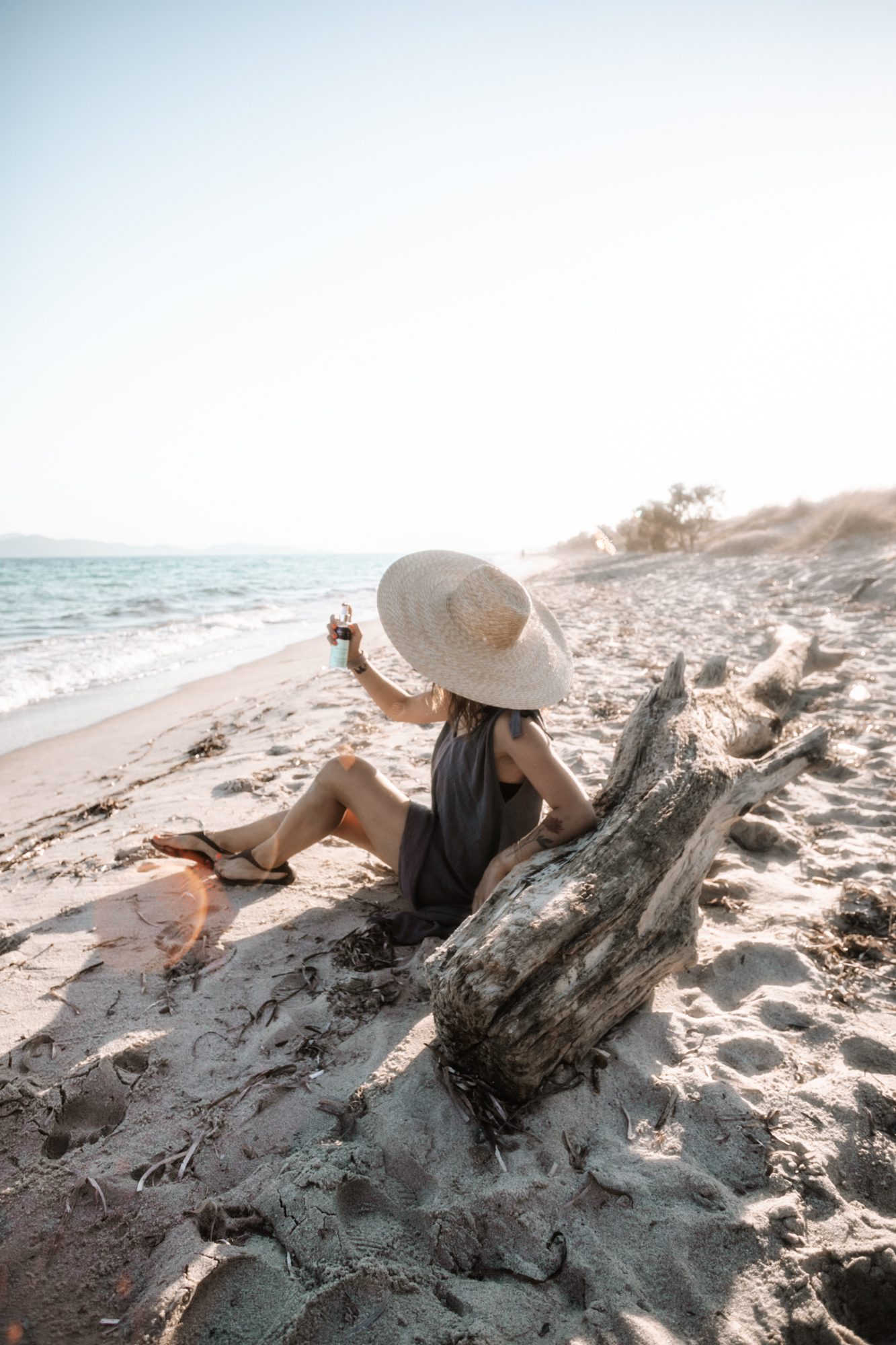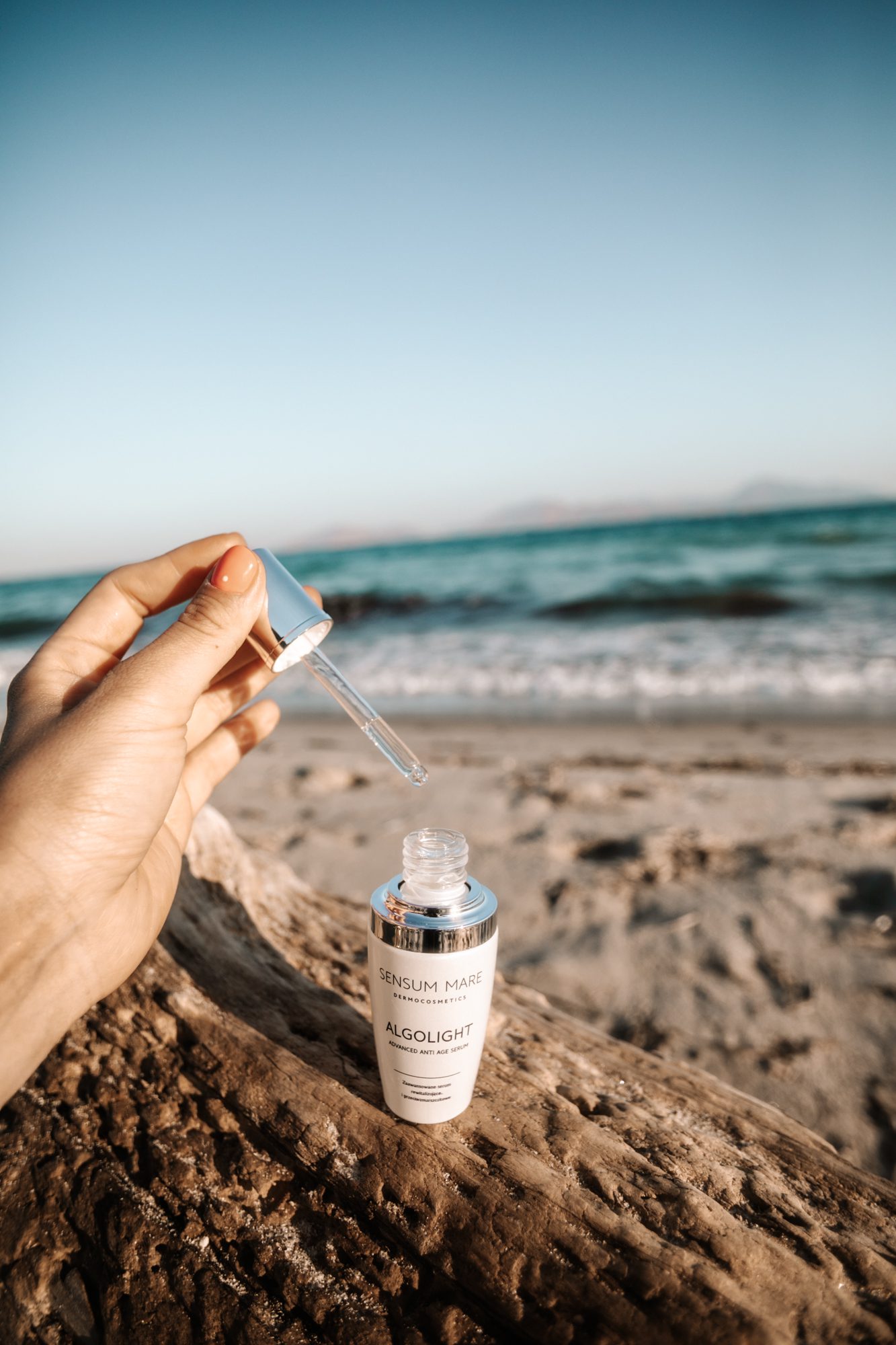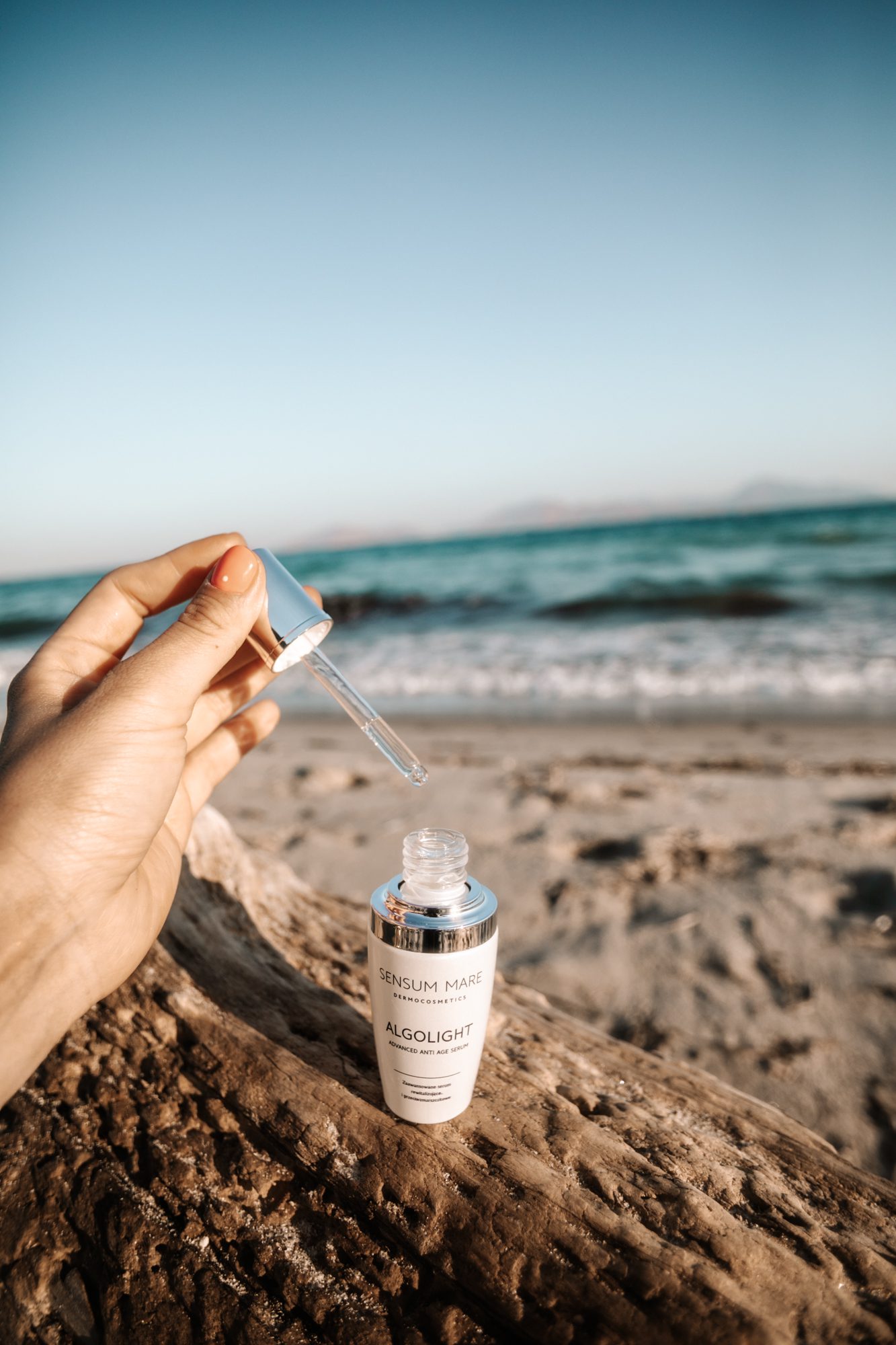 You're always really interested in the cuisine of any country I'm visiting. I have to say that the breakfasts in Casa Cook are out of this world. They just serve all the best ingredients from the Greek cuisine with a perfect combination of everything that's healthy and popular these days. You've got wholemeal bread, a variety of plant-based milk, fresh juices, smoothies, bowls of fresh fruit, avocados, Greek cheese, feta, delicious veg etc. A breakfast heaven. There's freshly grounded coffee (unlimited!), freshly squeezed orange juice…
Generally, in Casa Cook Kos the cuisine is dominated by modern Greek cuisine. You can order a selection of hummus, tzatziki, salads, grilled octopus, but also burgers and pizza. Everything is so delicious! The prices are a bit high though and definitely the food in the hotel is more expensive than anywhere away from the hotel.
The dinner menu is a bit more creative, there's a lot of seafood – it's all accompanied by this sophisticated atmosphere and a lovely holiday feeling. It's a good idea to book a table located so that you can see the sunset. If you have an option with dinner available (sunset with dinner) – go for it! It's much cheaper than just ordering from the menu.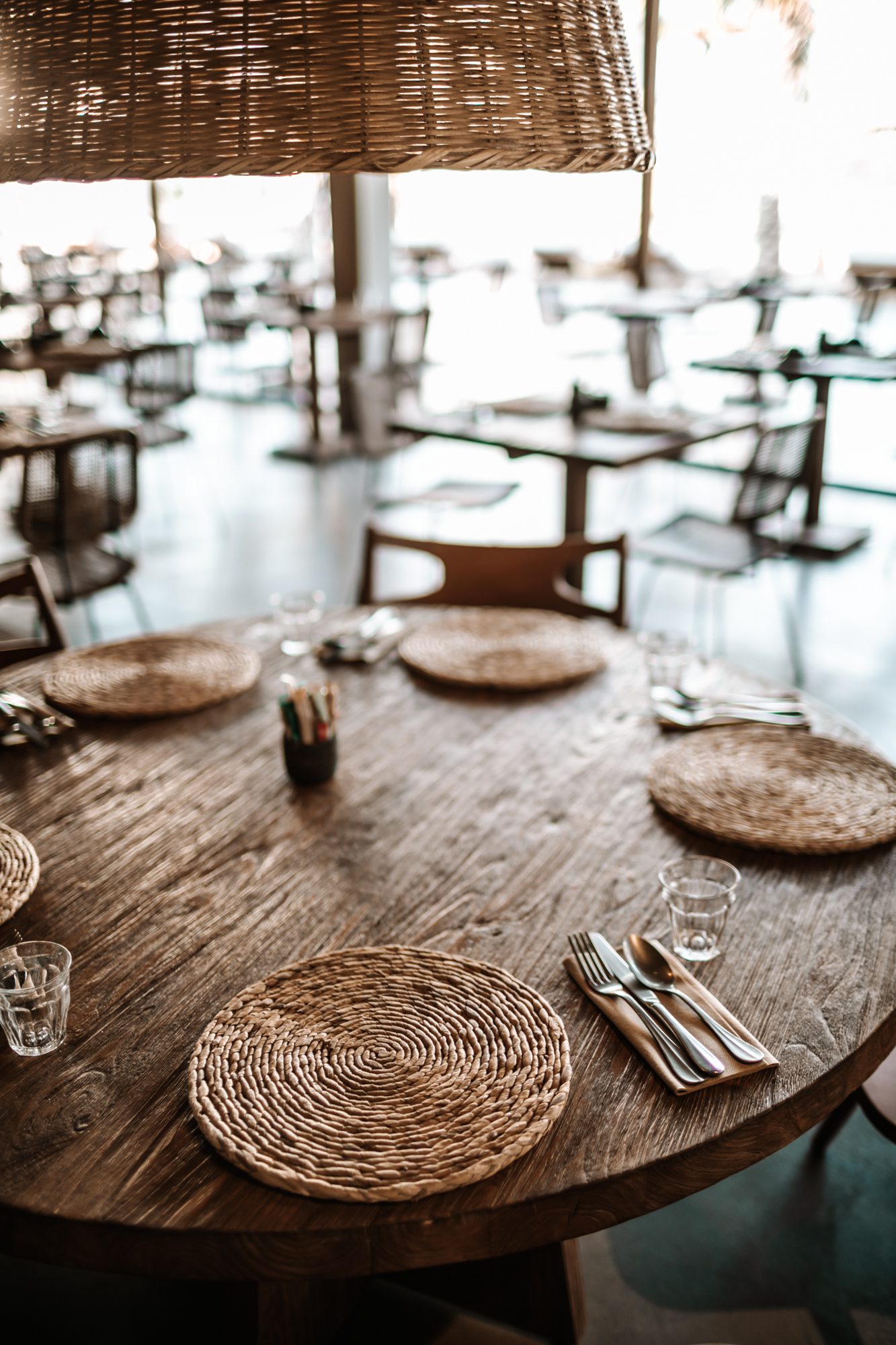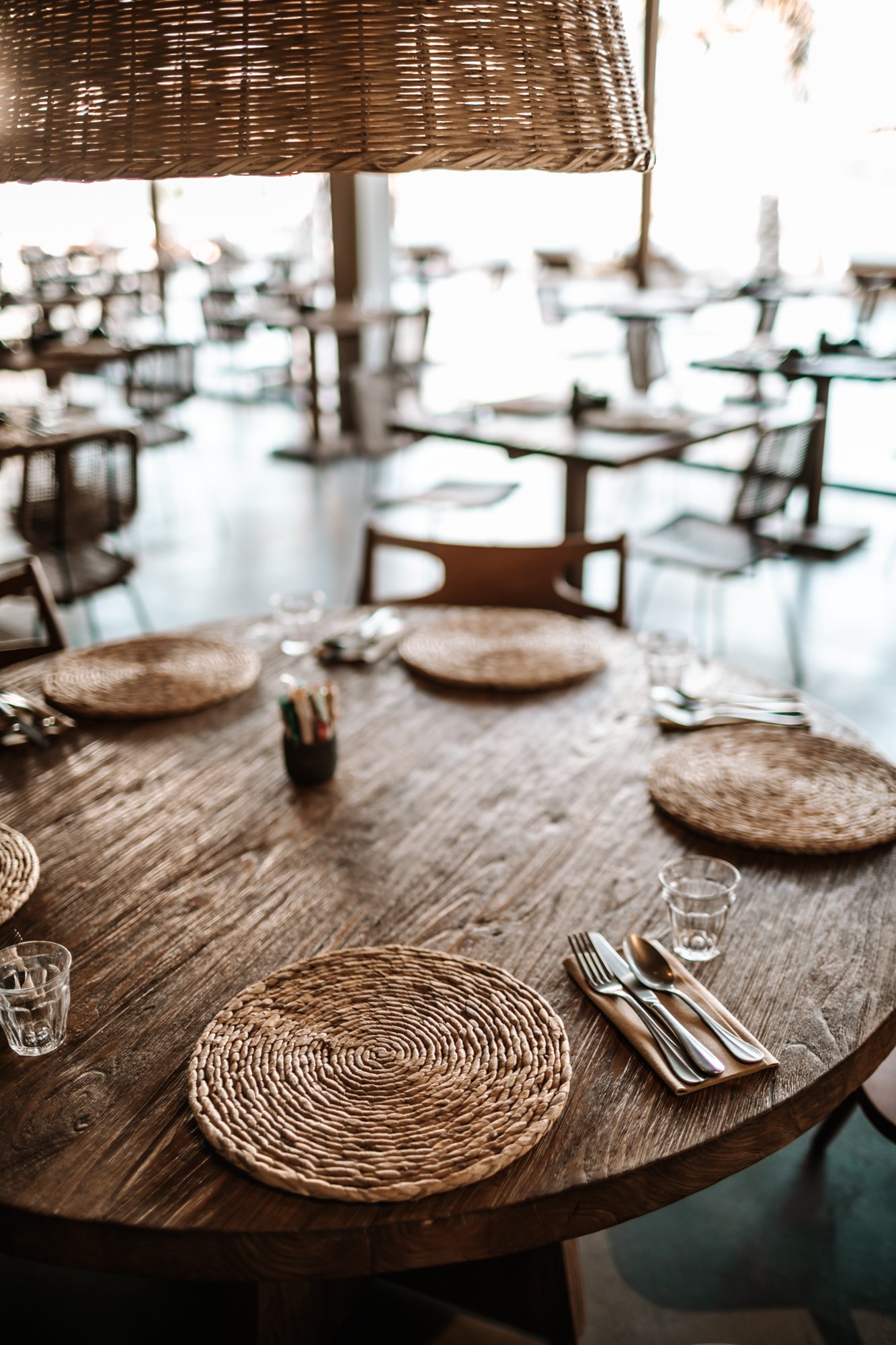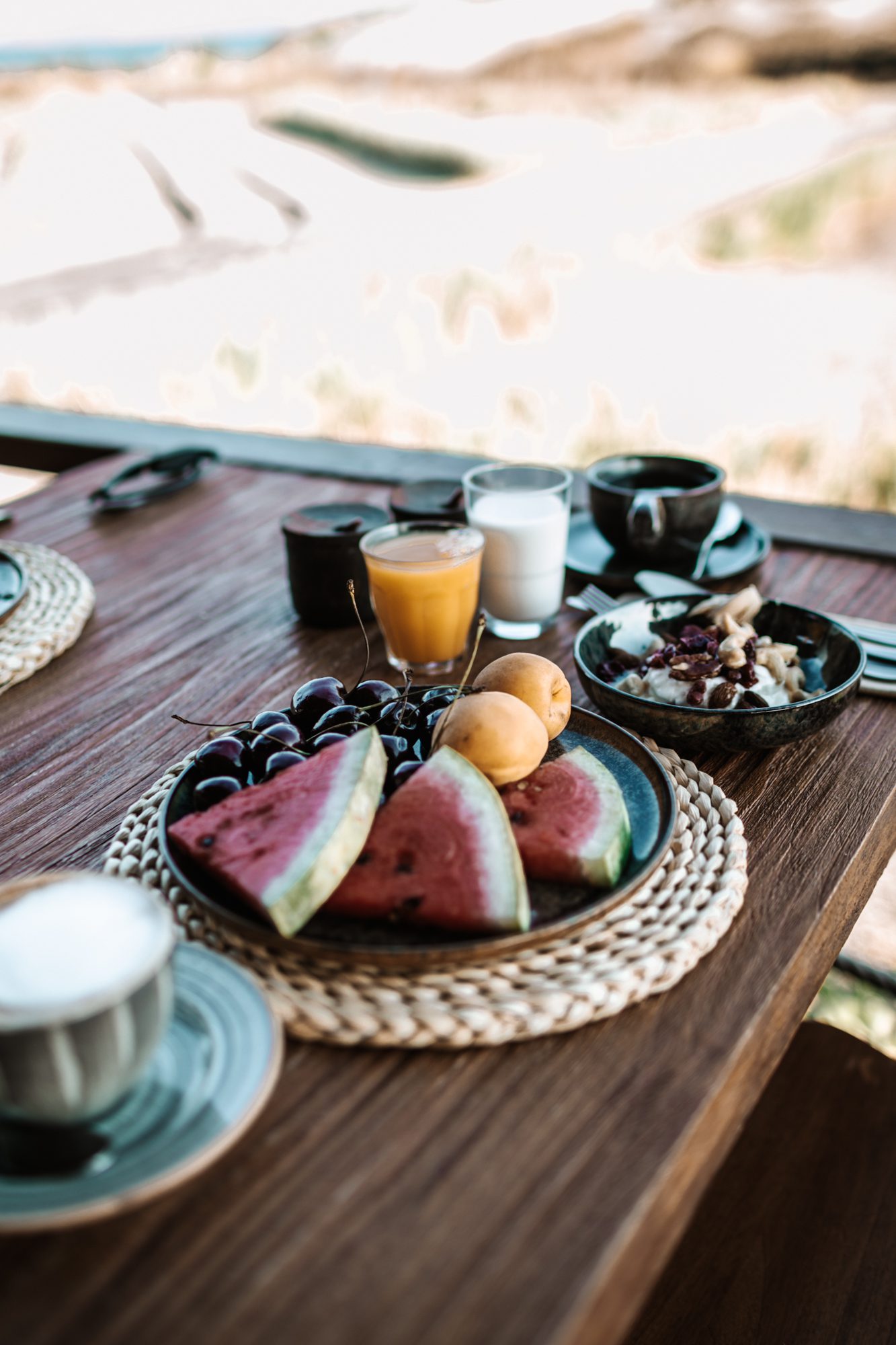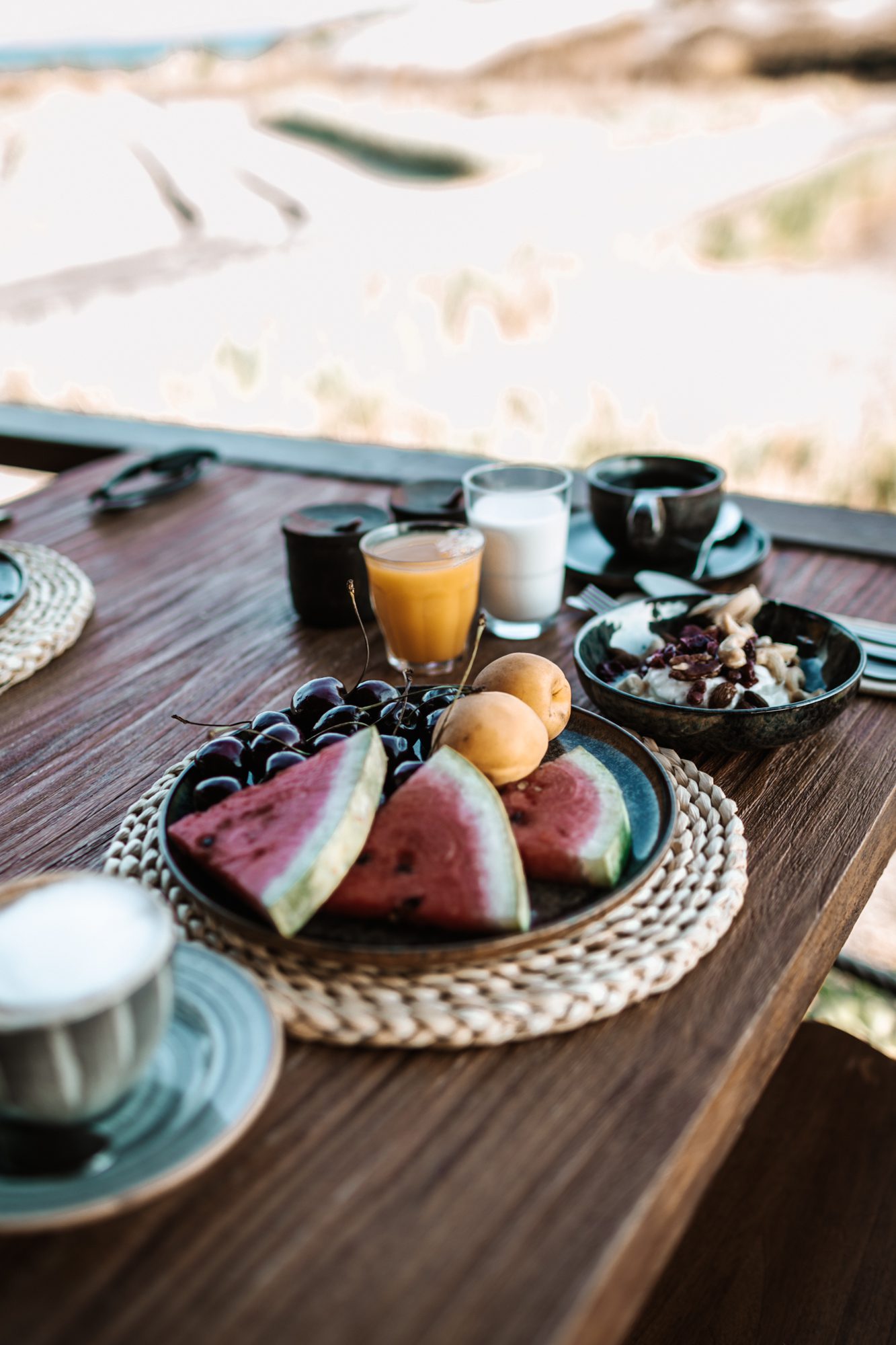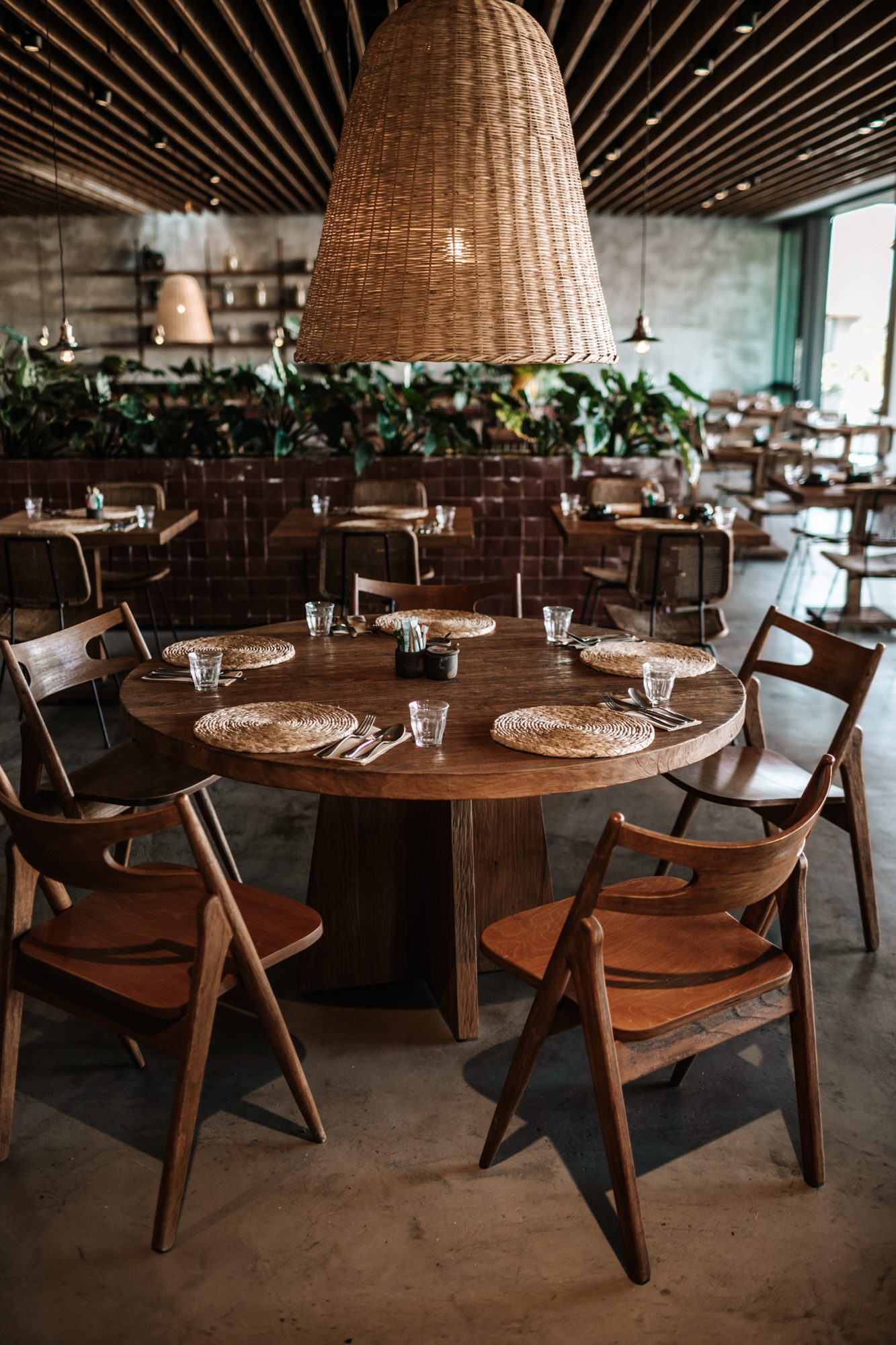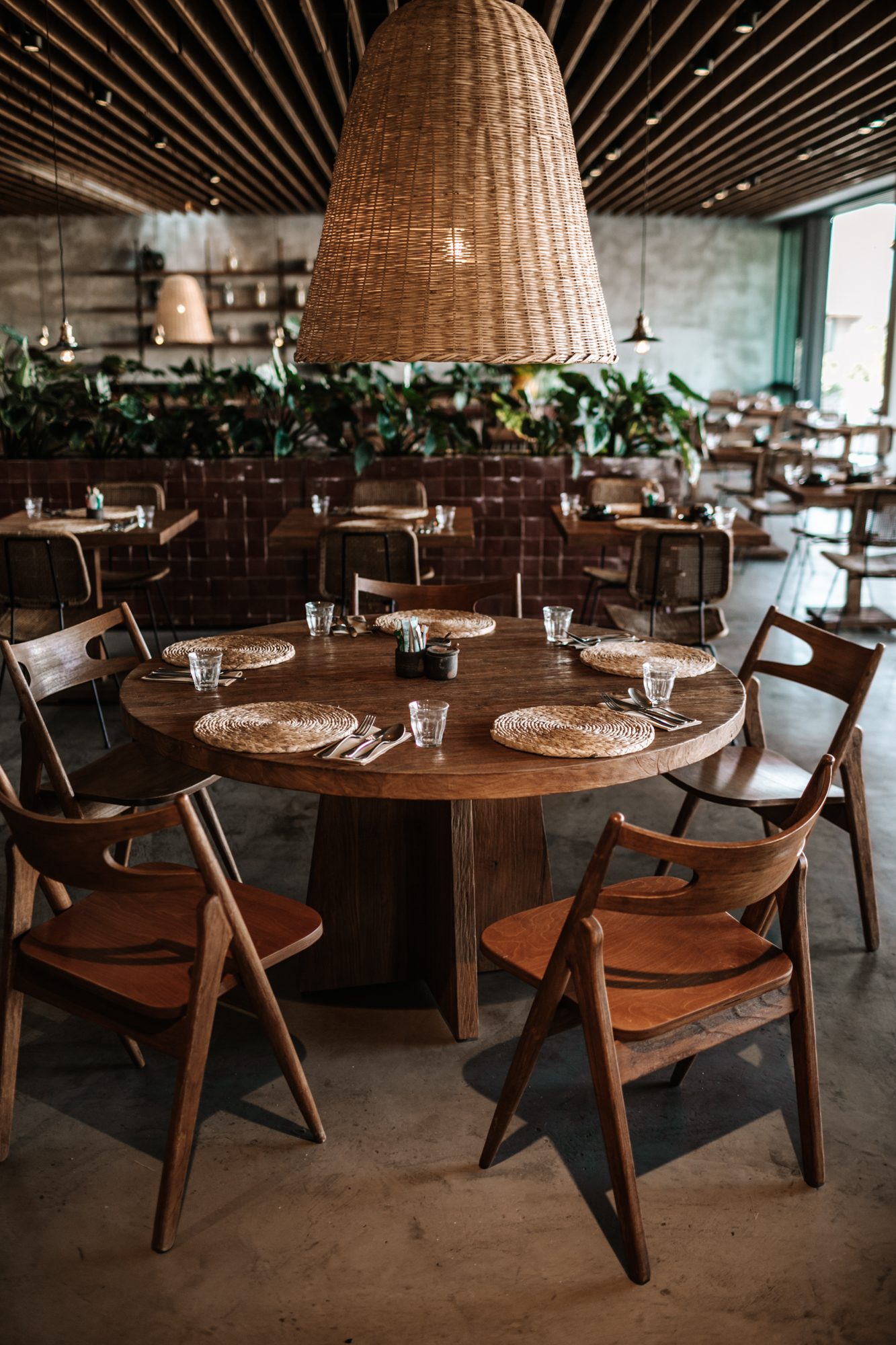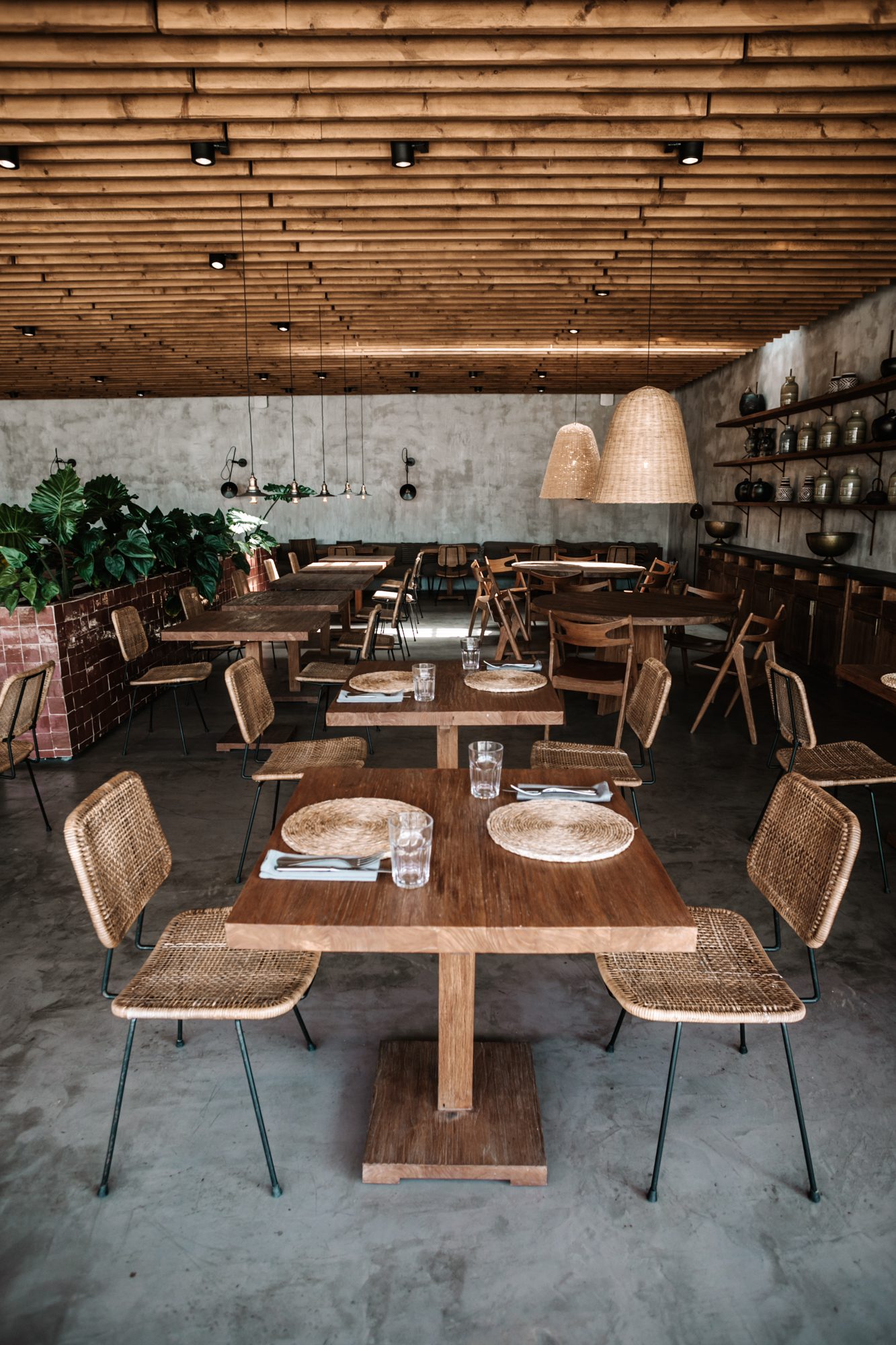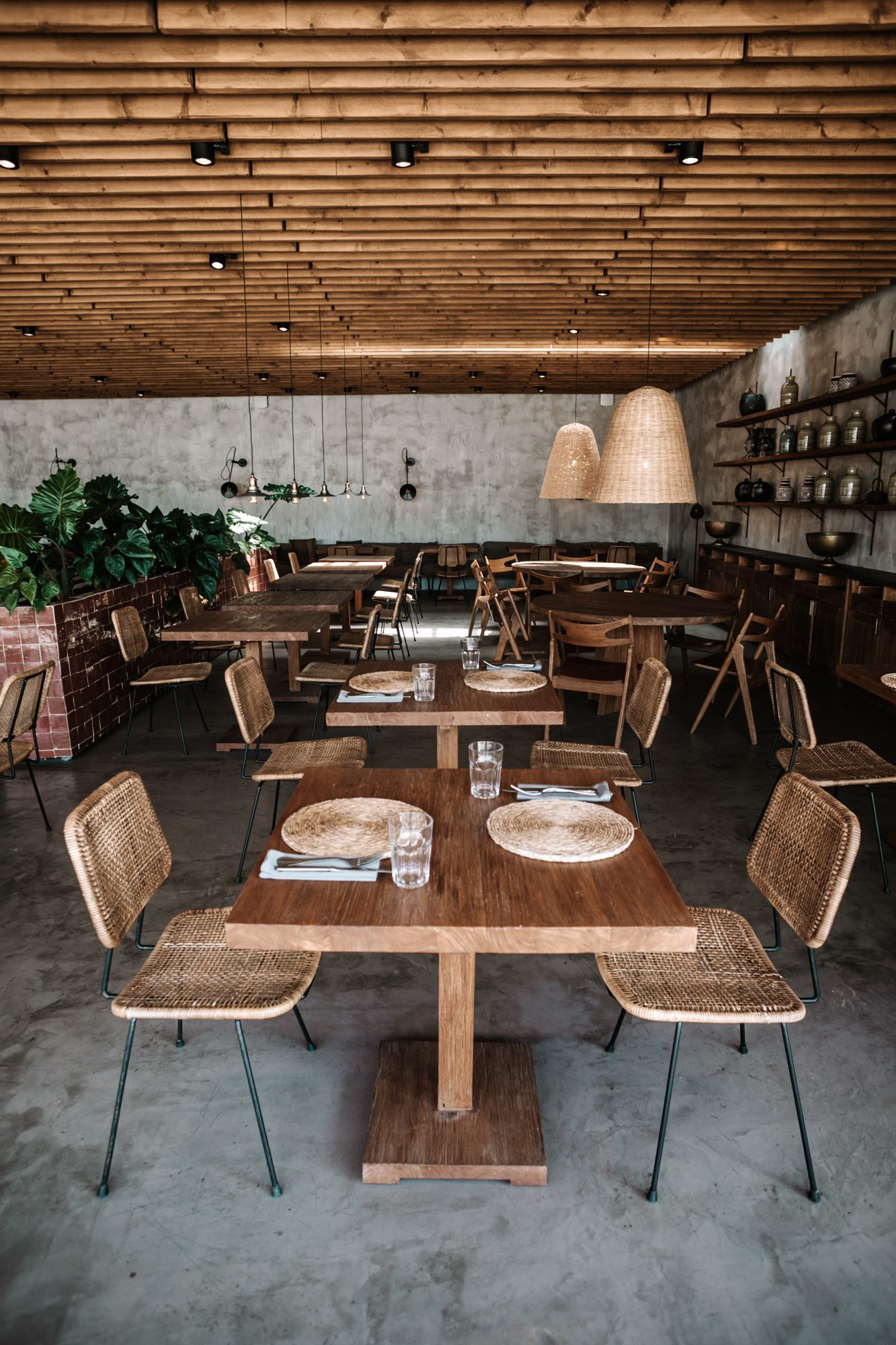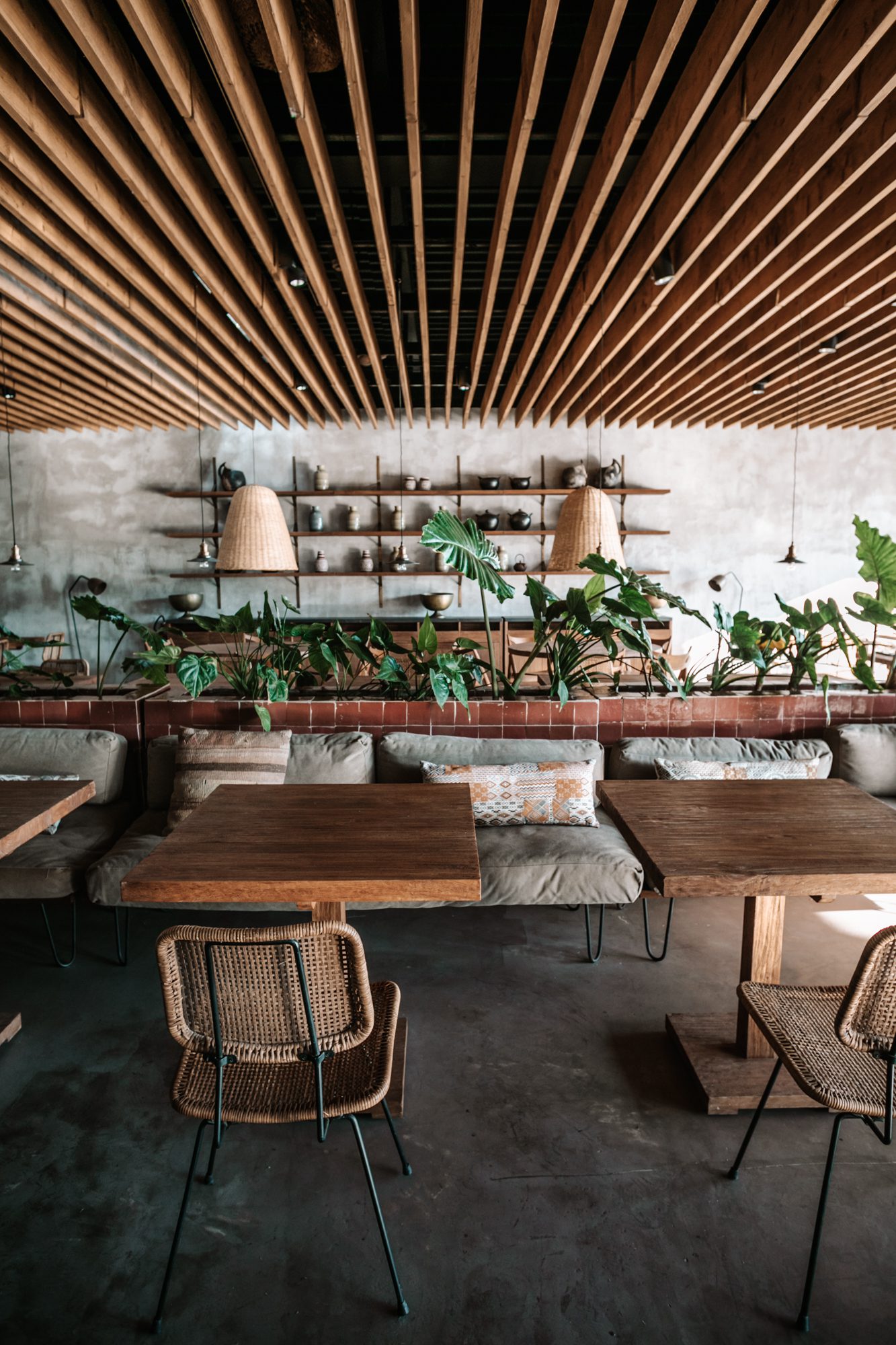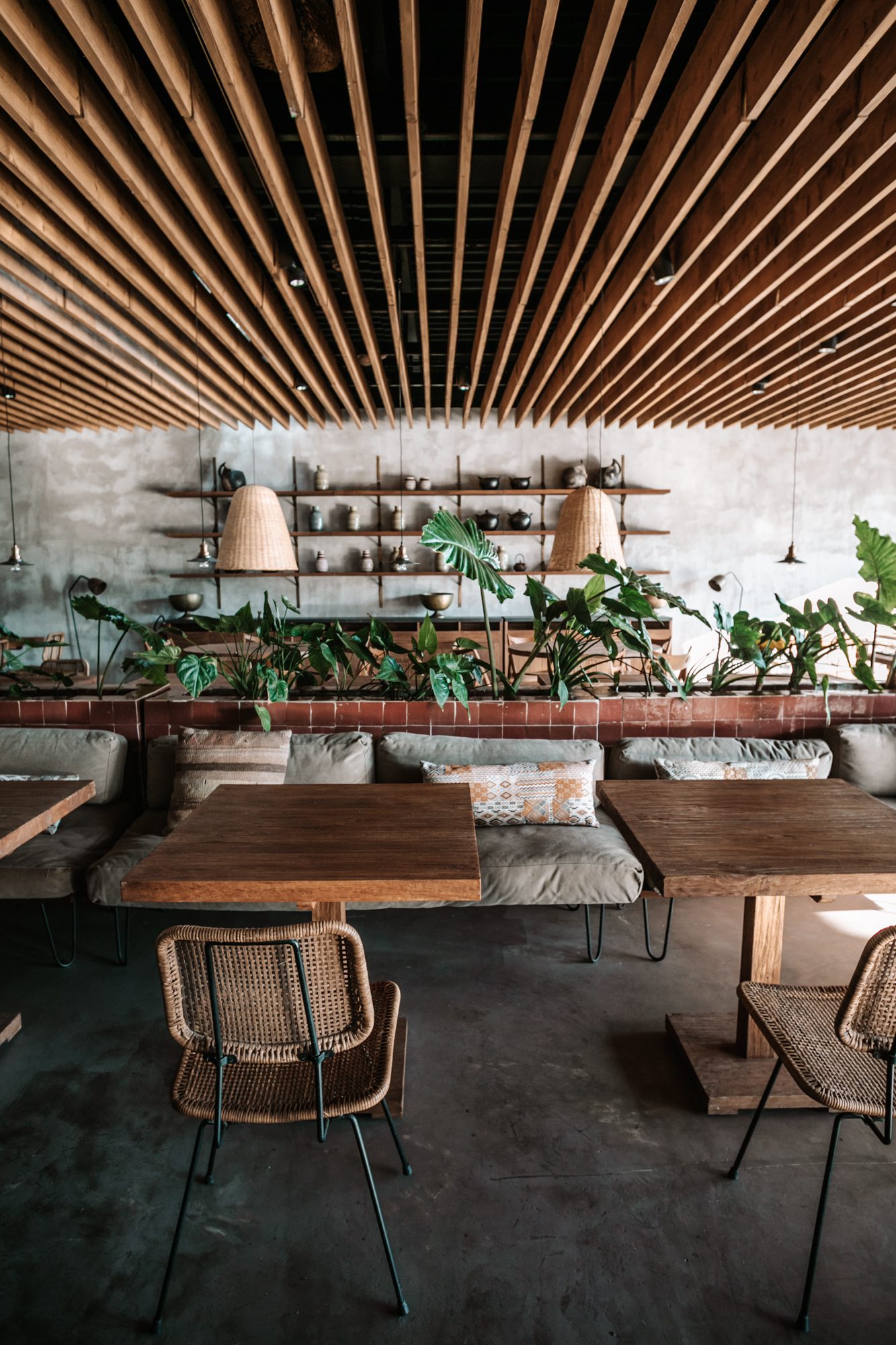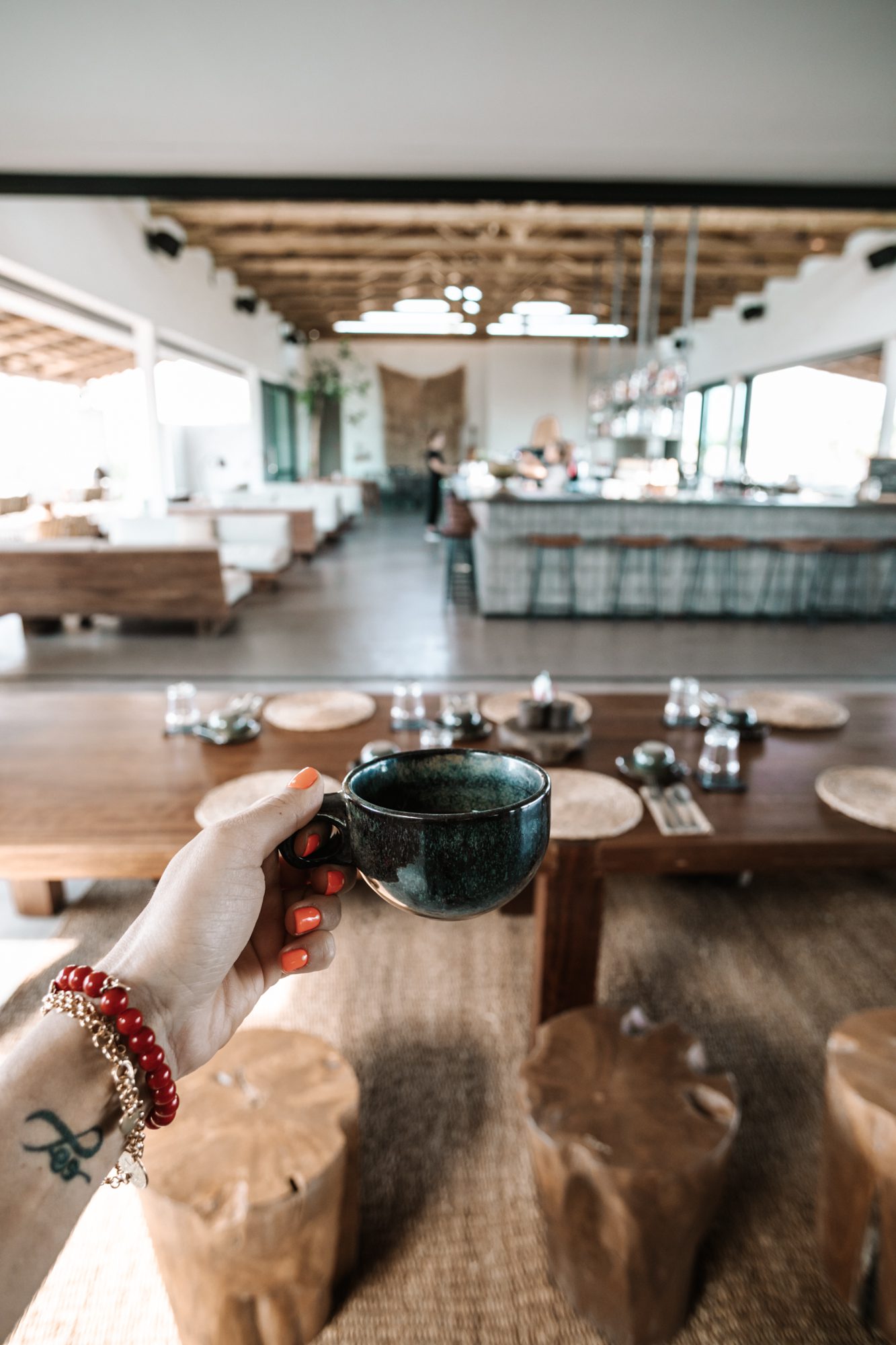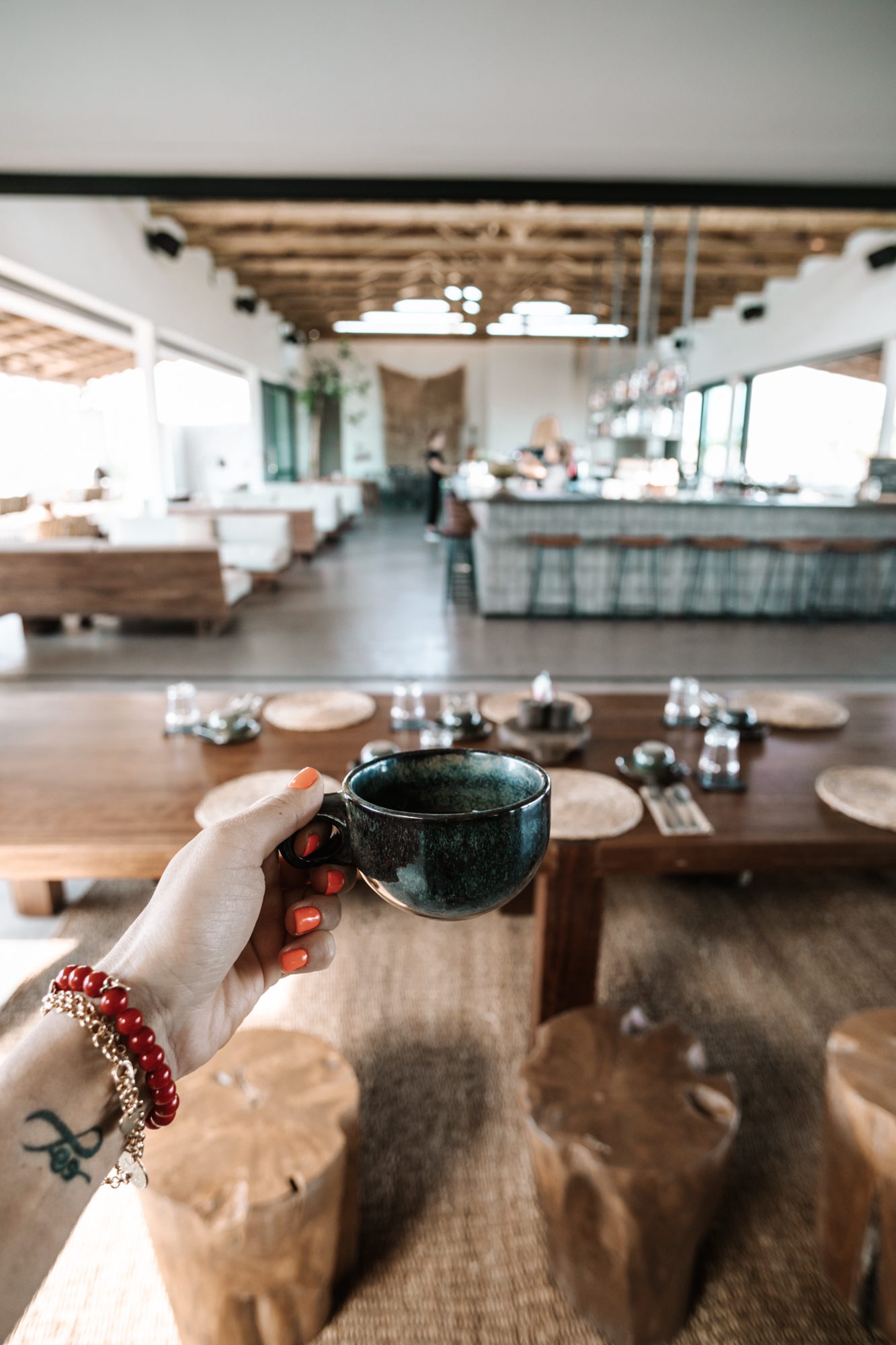 The bar is the heart of the hotel. It serves coffees, wine, cocktails and water. The bar staff is great (and generally the hotel staff are all amazing). Alcohol in Casa Cook was a bit expensive, but we don't really drink that much, so there's nothing to moan about really. The local rose with a hint of strawberry was delicious. Almost everyone used to order it all the time!
There was a beach party when we arrived at the hotel. Music on the beach, cocktails, people dancing. It was amazing. It was a shame that they didn't do it every night! I really enjoyed the party.
I mention again that the hotel staff in Casa Cook is perfect. They speak perfect English; everyone is really nice and polite. It seems that nothing is a problem for them. Seriously, they've been trained so well! Thanks to them the general feel of the hotel is calm and lovely.
There are some disadvantages when it comes to Kos itself. There's just not much to do on the island. It wasn't a big thing for us, as we just wanted a relaxed holiday, but if you like to explore and sightsee, choose another destination.
I also didn't like the fact that there was no free water available for the hotel guests. A 1 litre bottle costs about 5 euros. There was no bottled water available in the hotel shop, so you just had to order it by the bar. When we asked about tap water, the locals just shook their heads, so we got the hint. I usually drink loads of water, so we had to go into town to get some more 😊. I mean, it wasn't the end of the world, just a tiny disadvantage.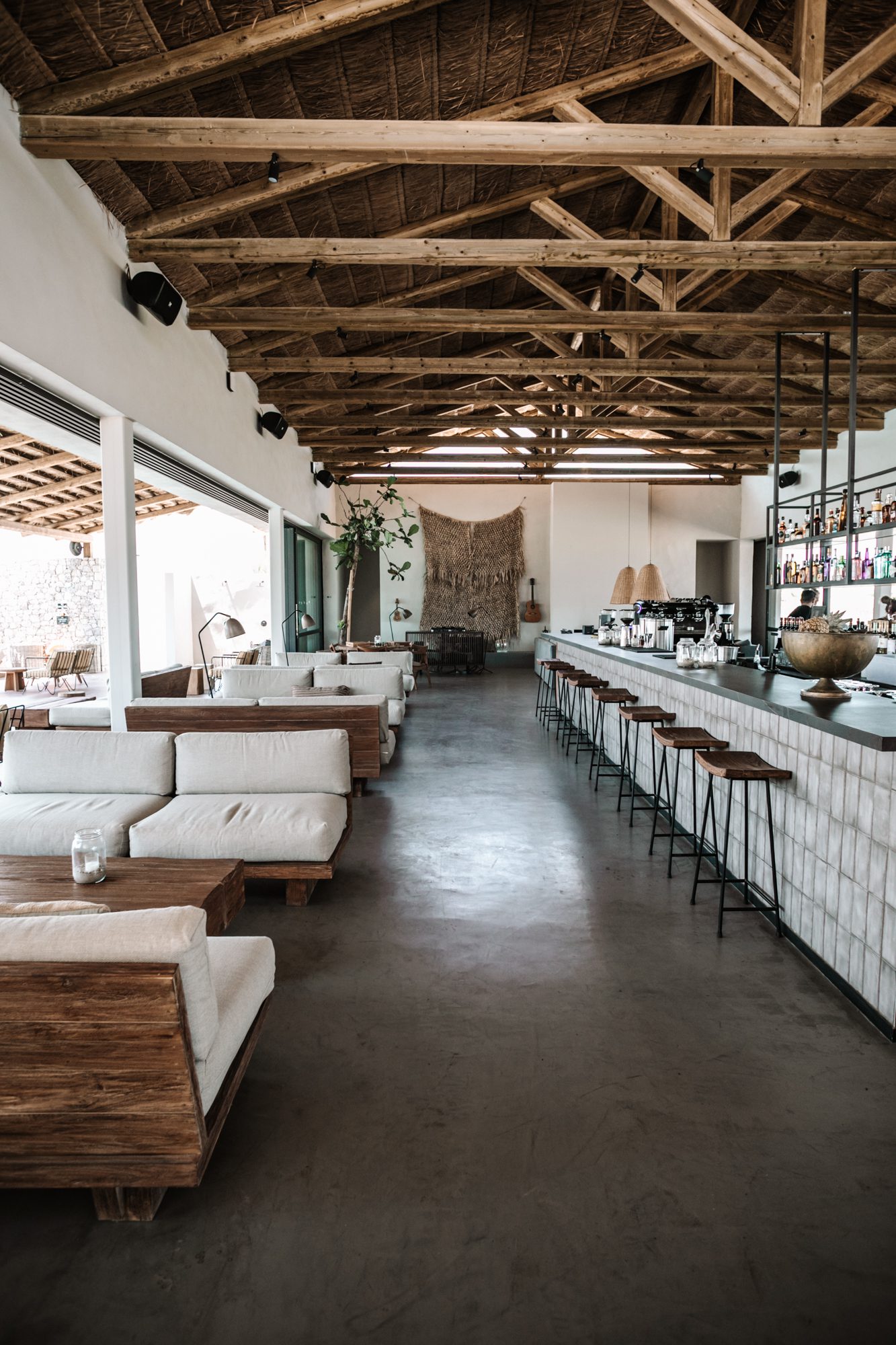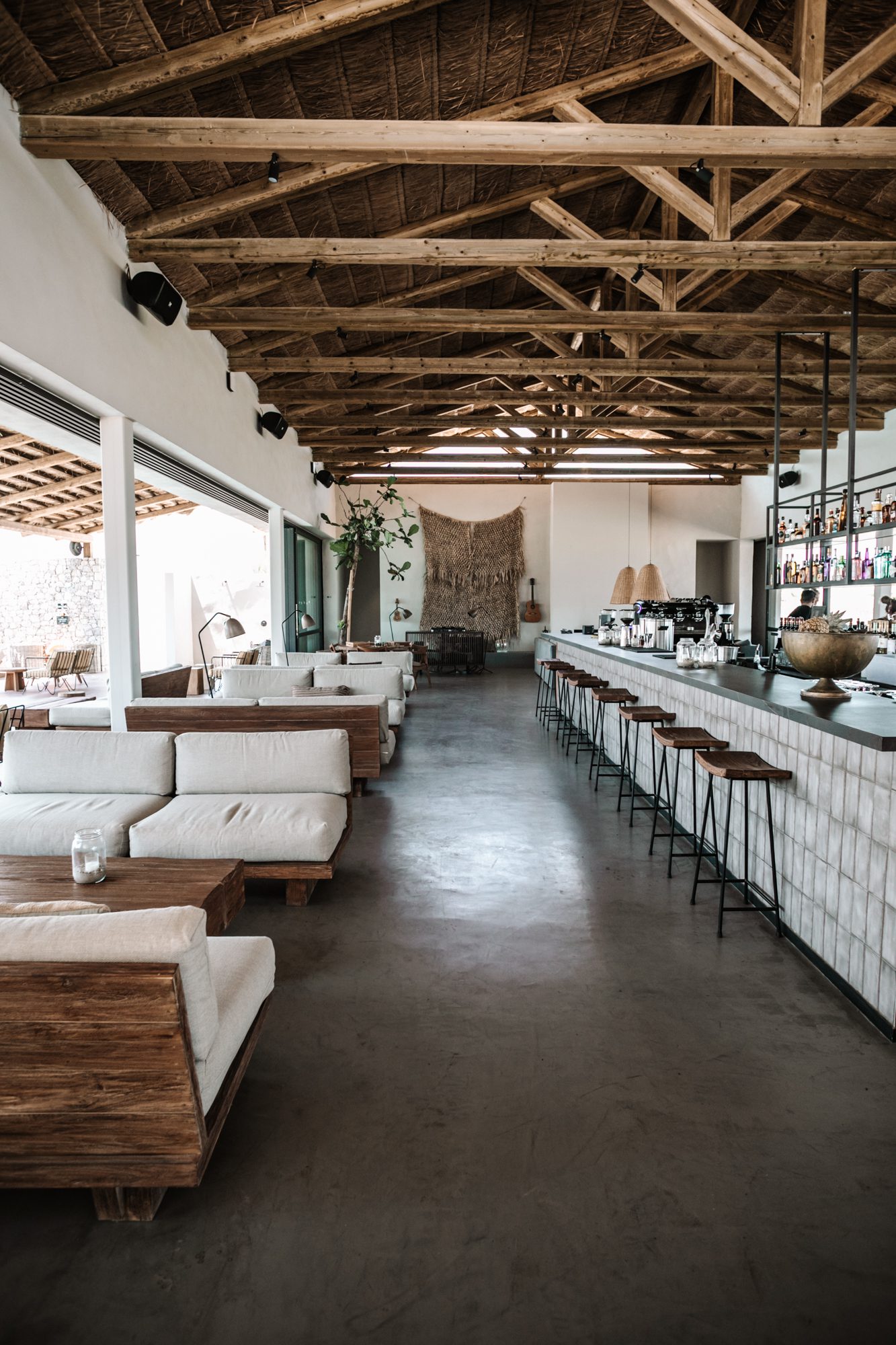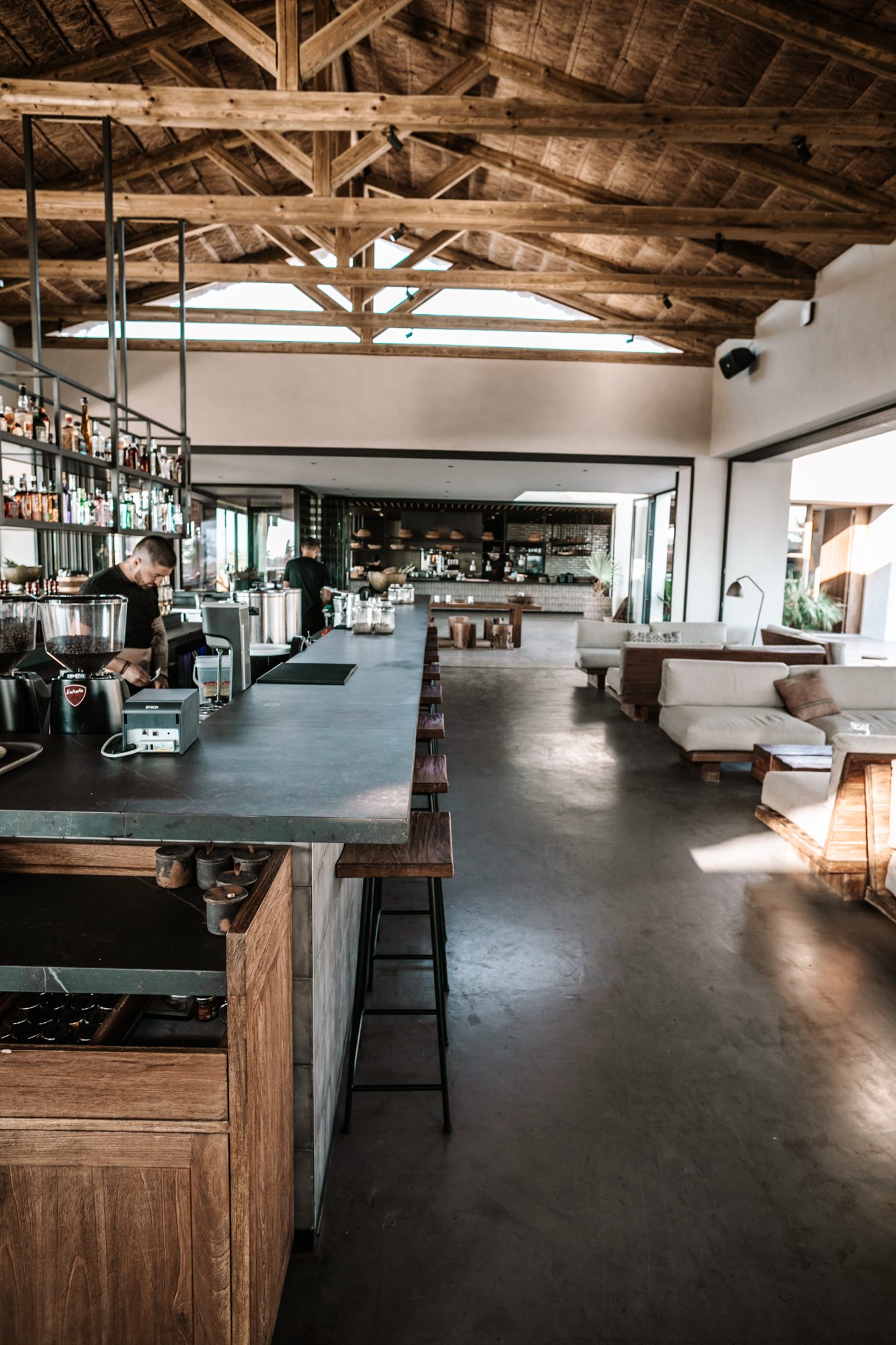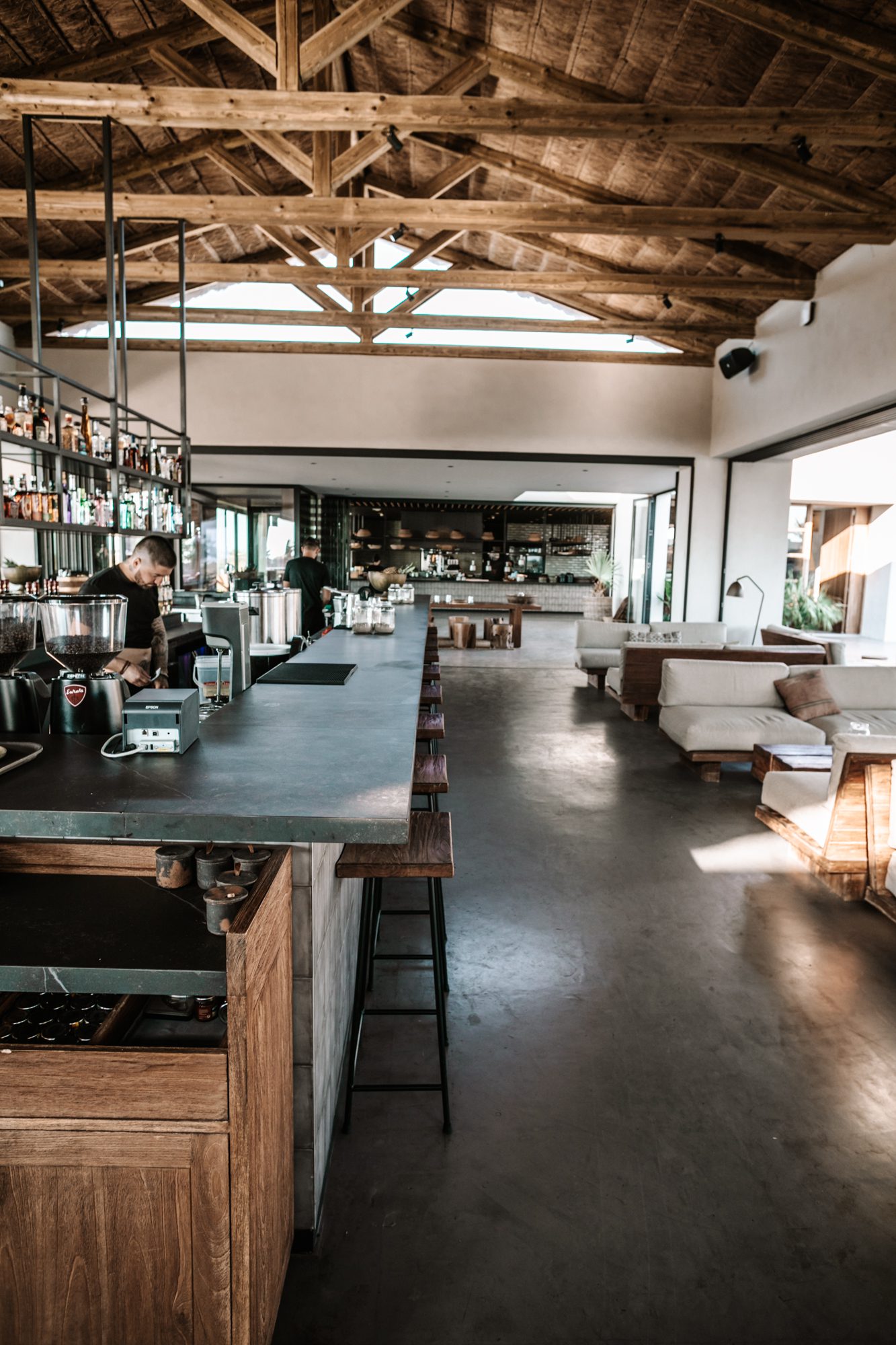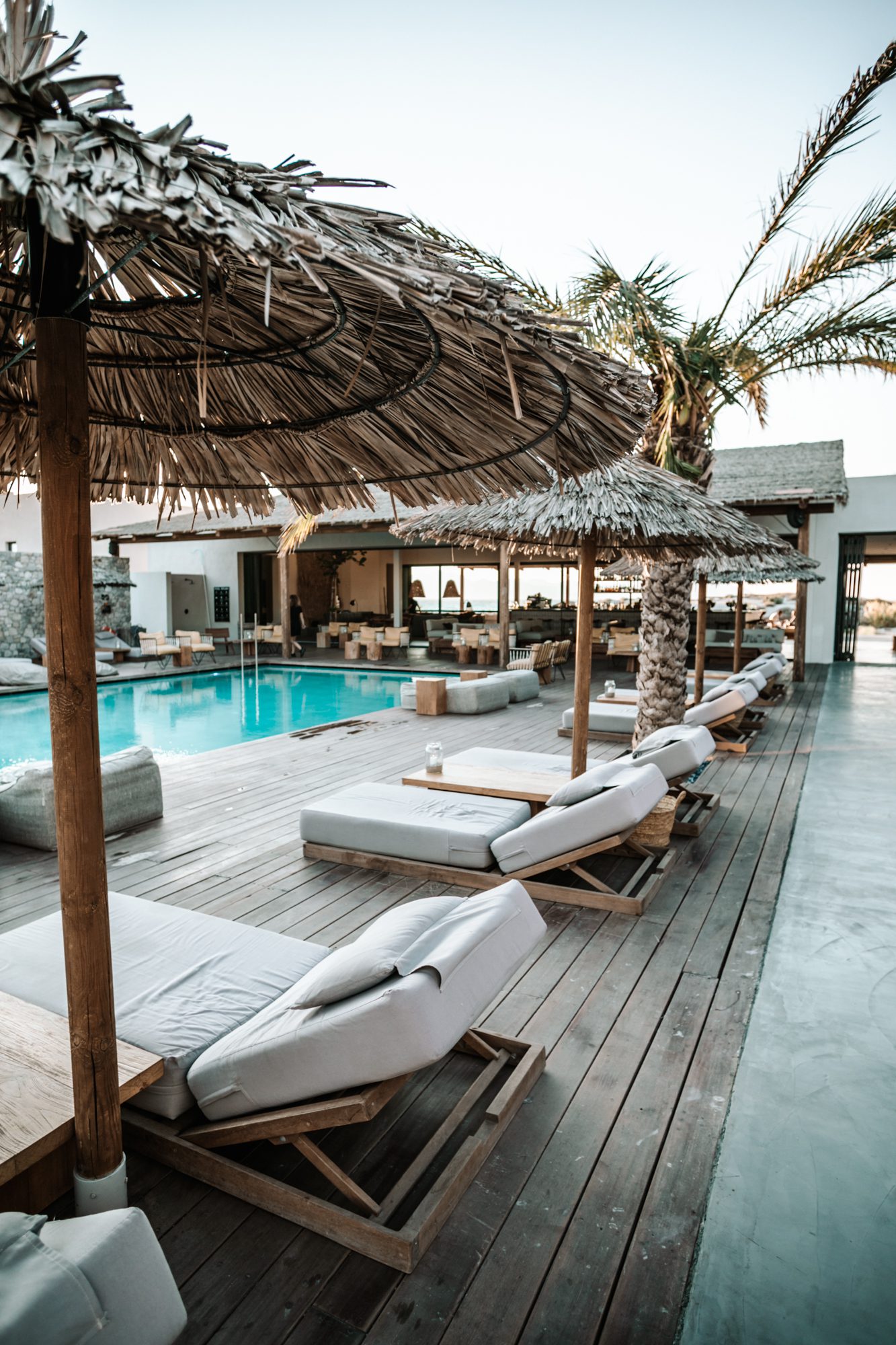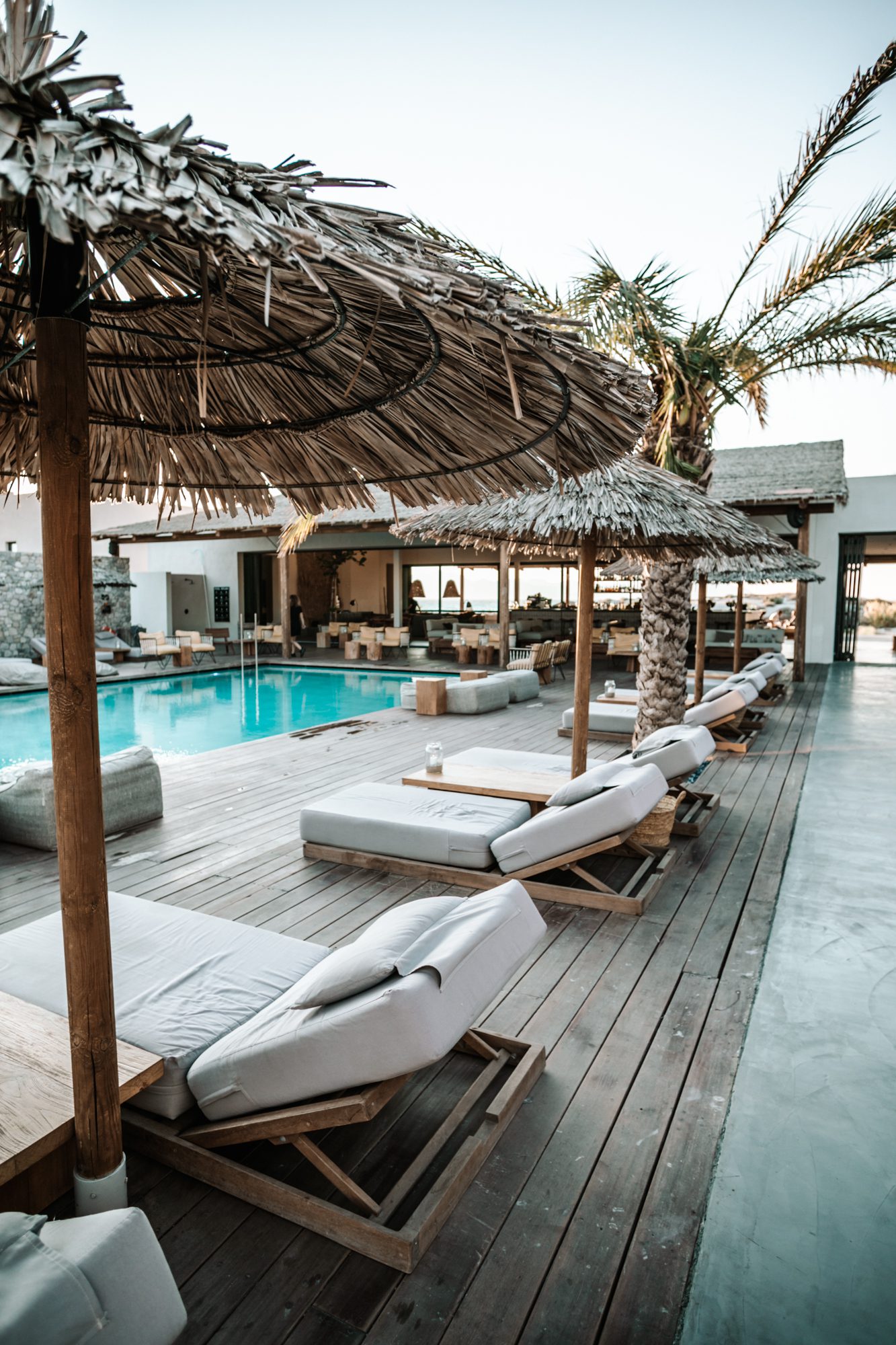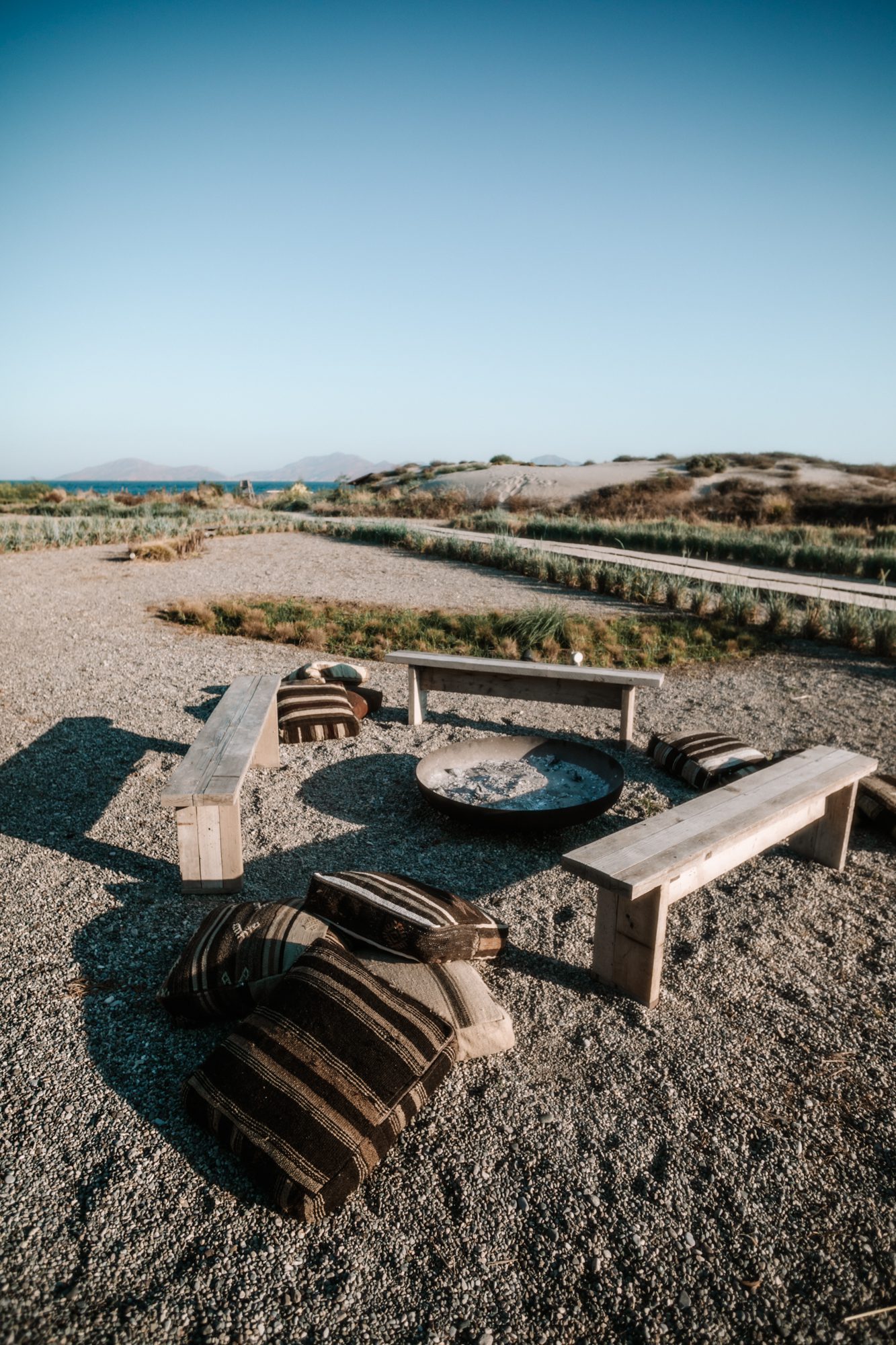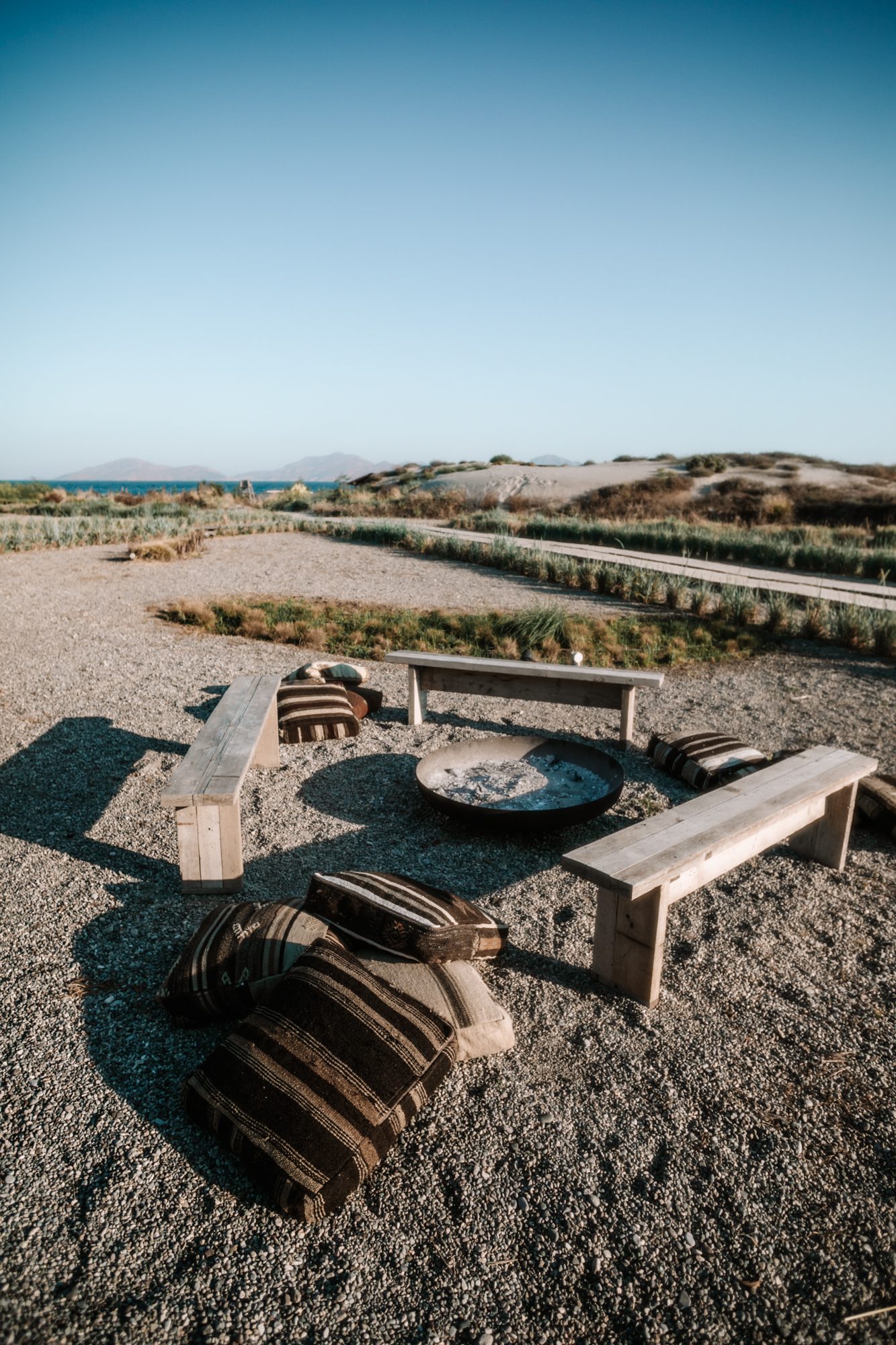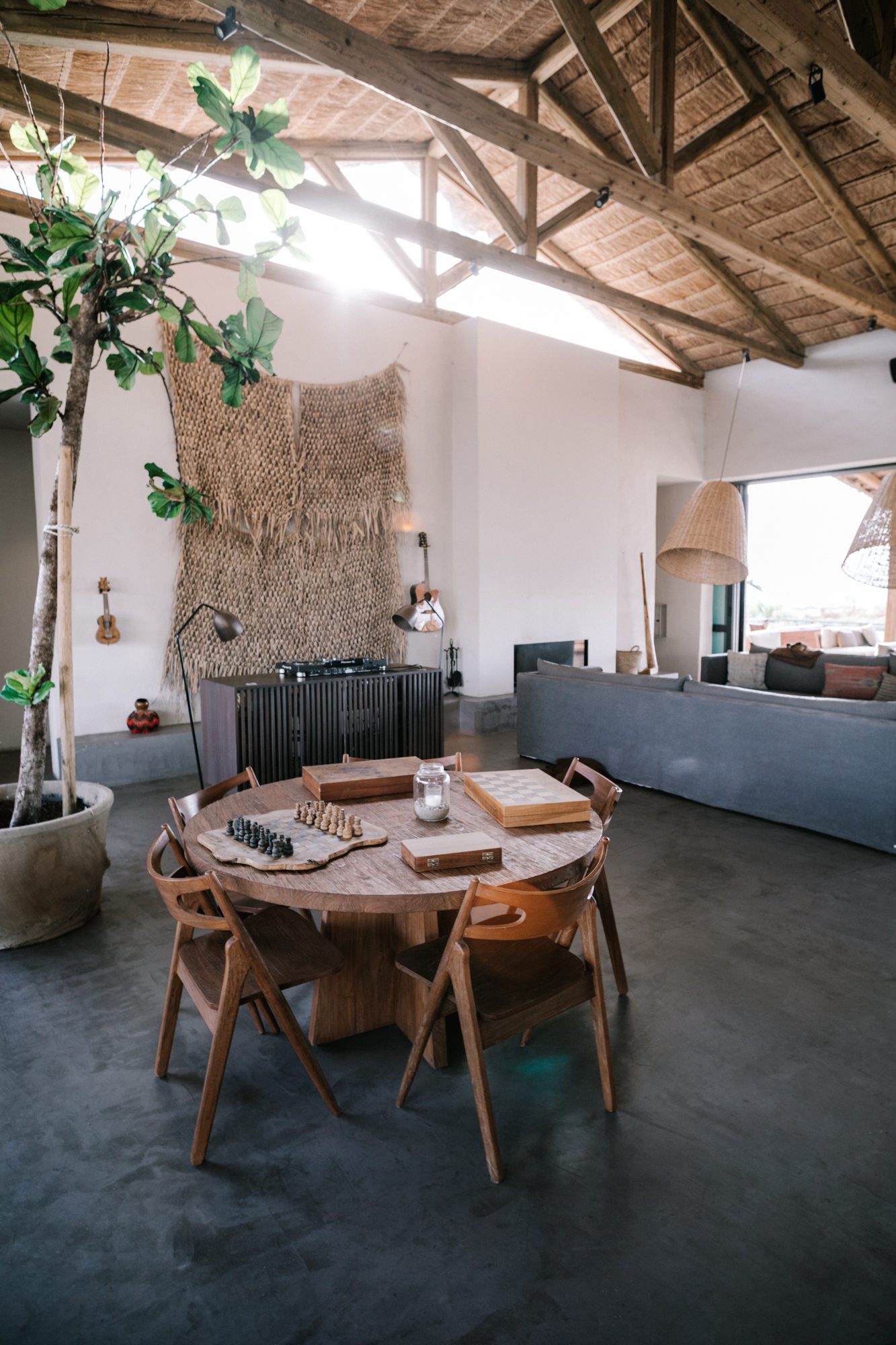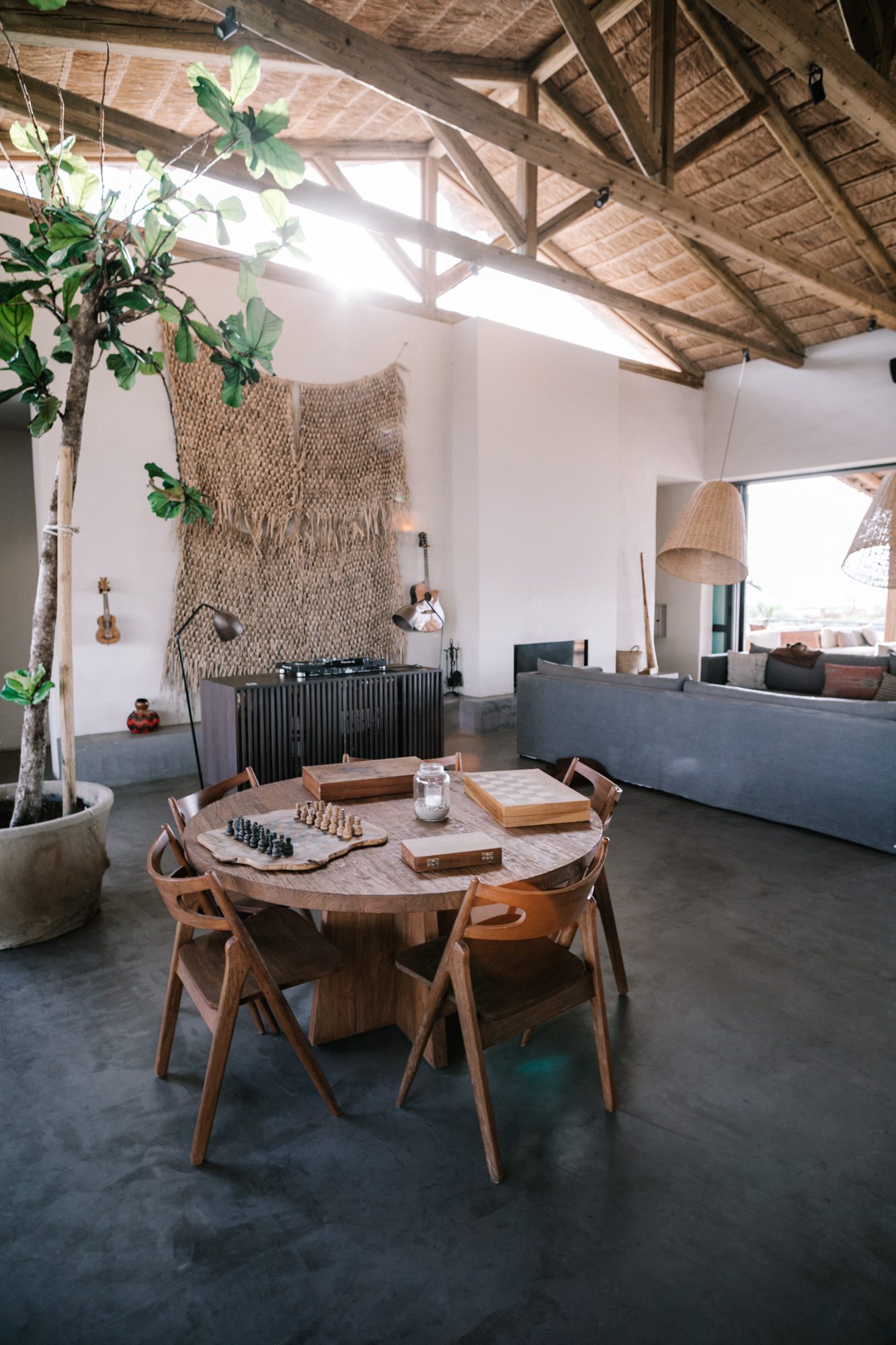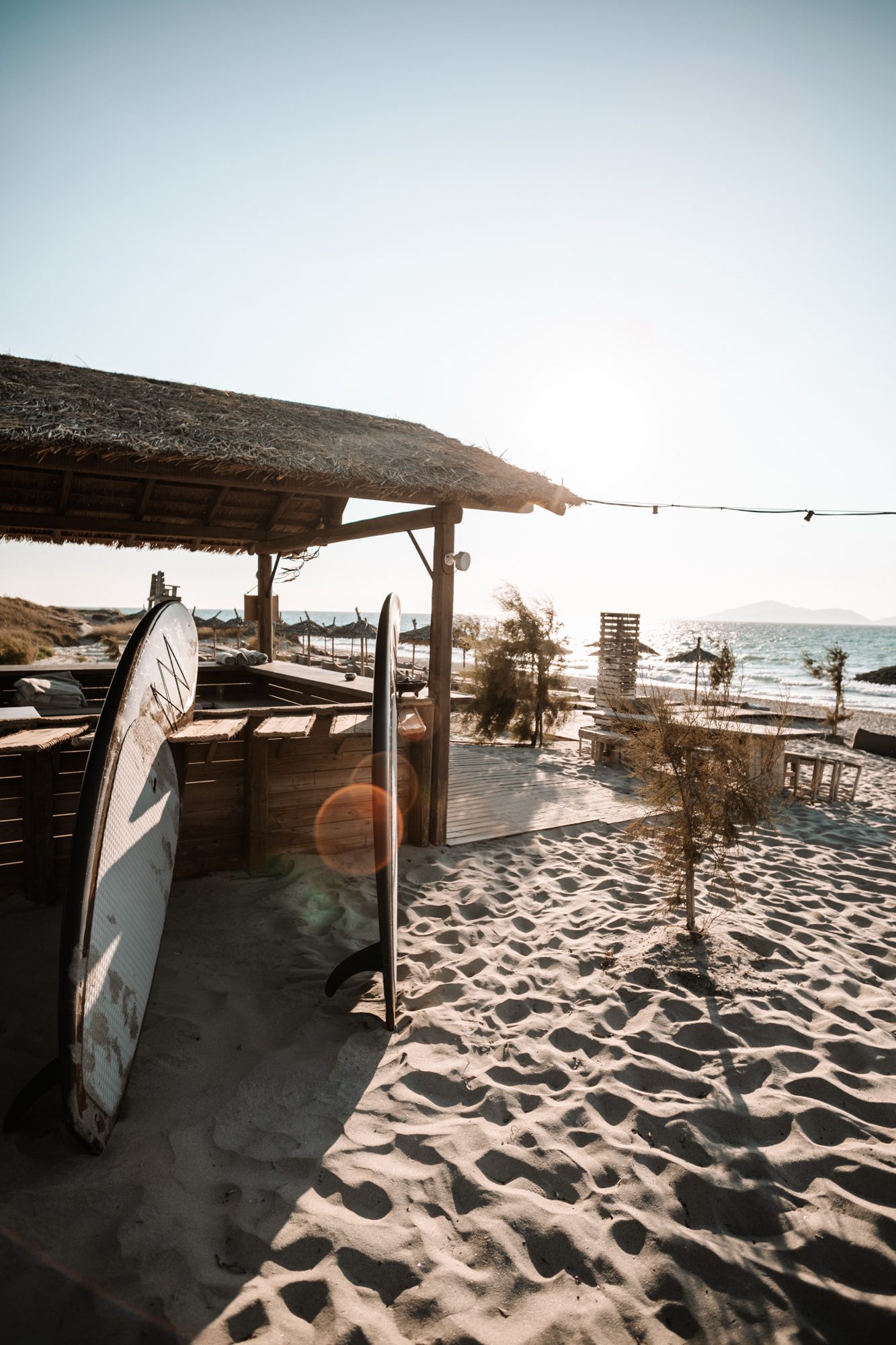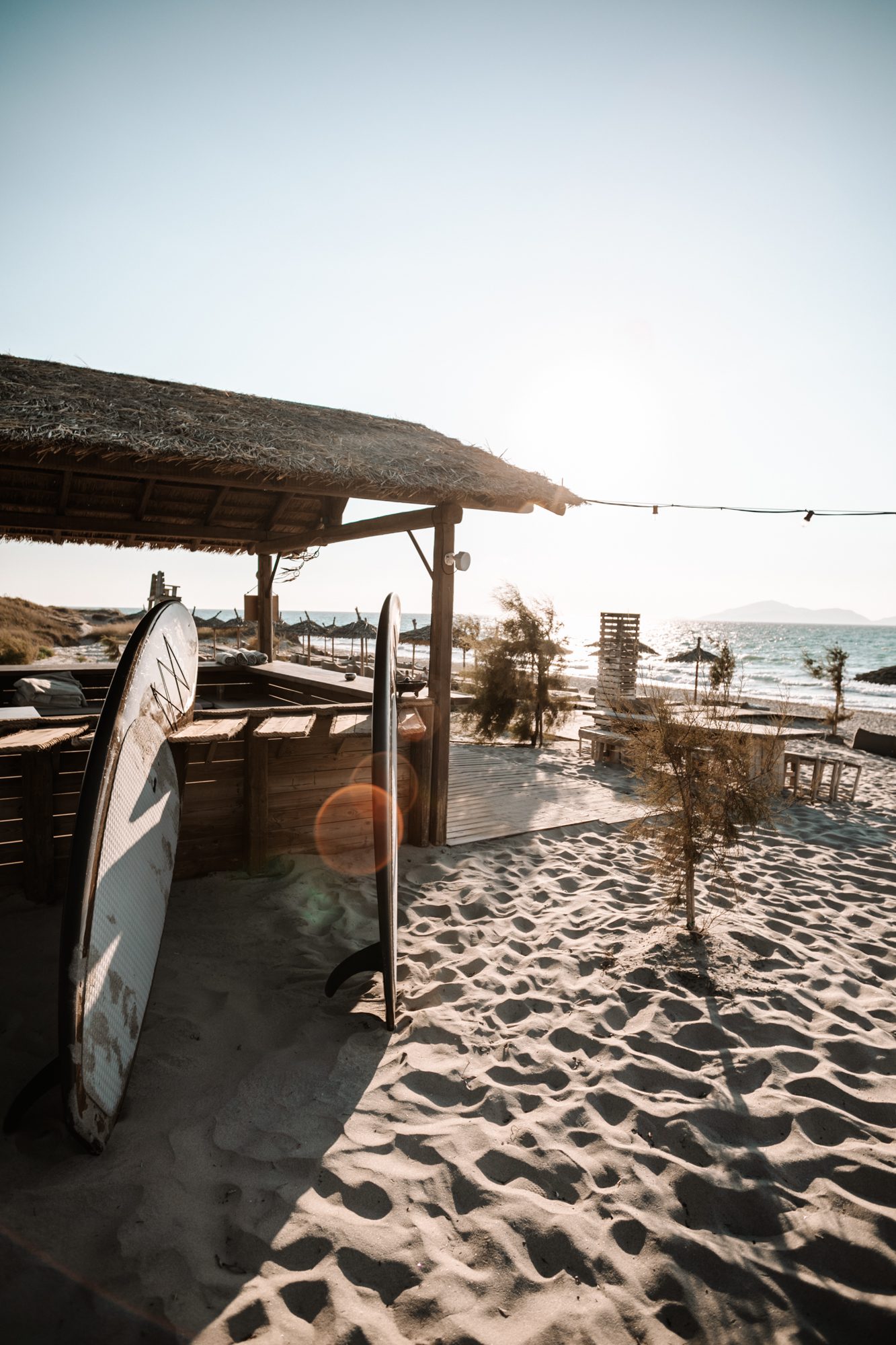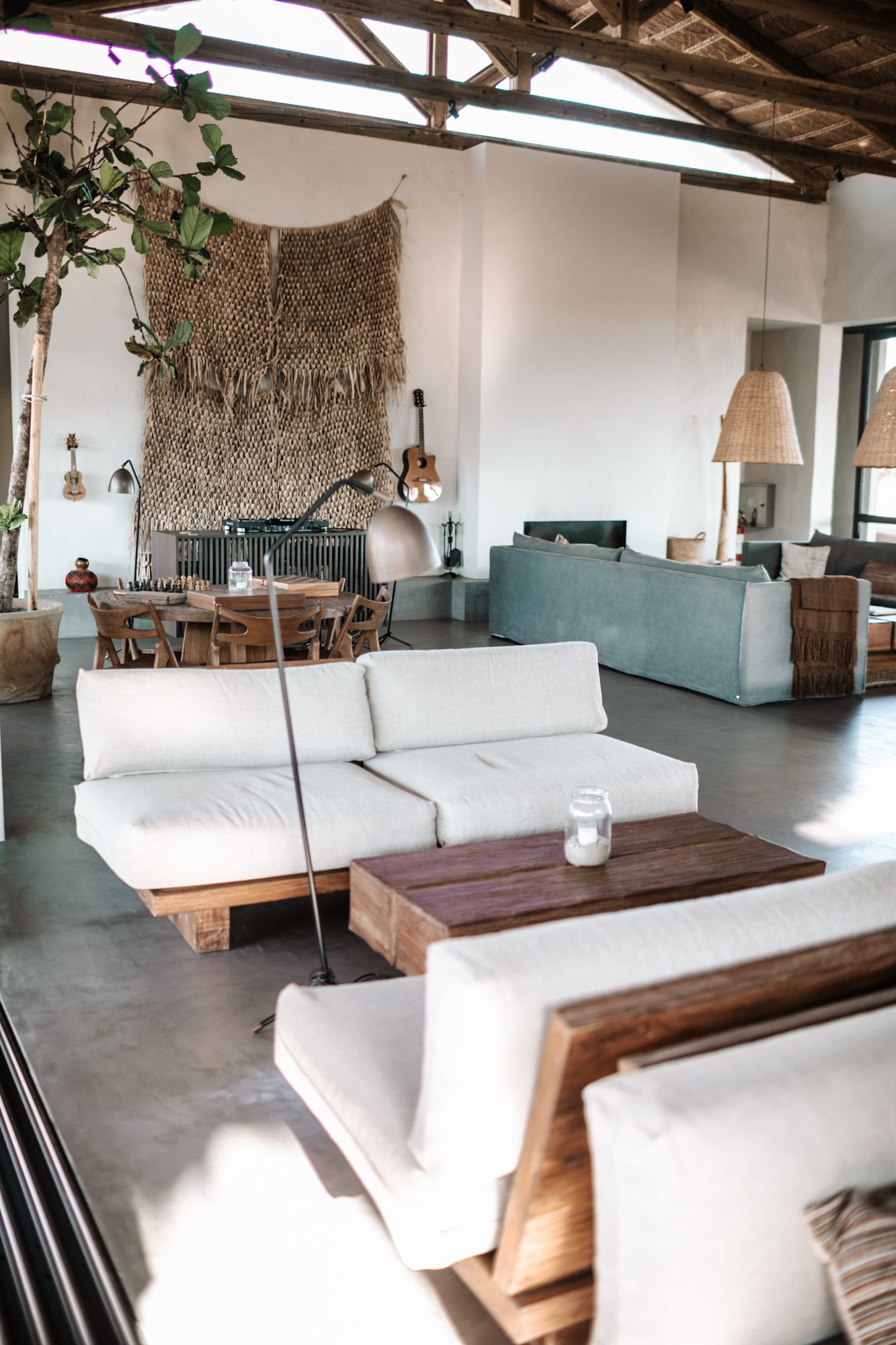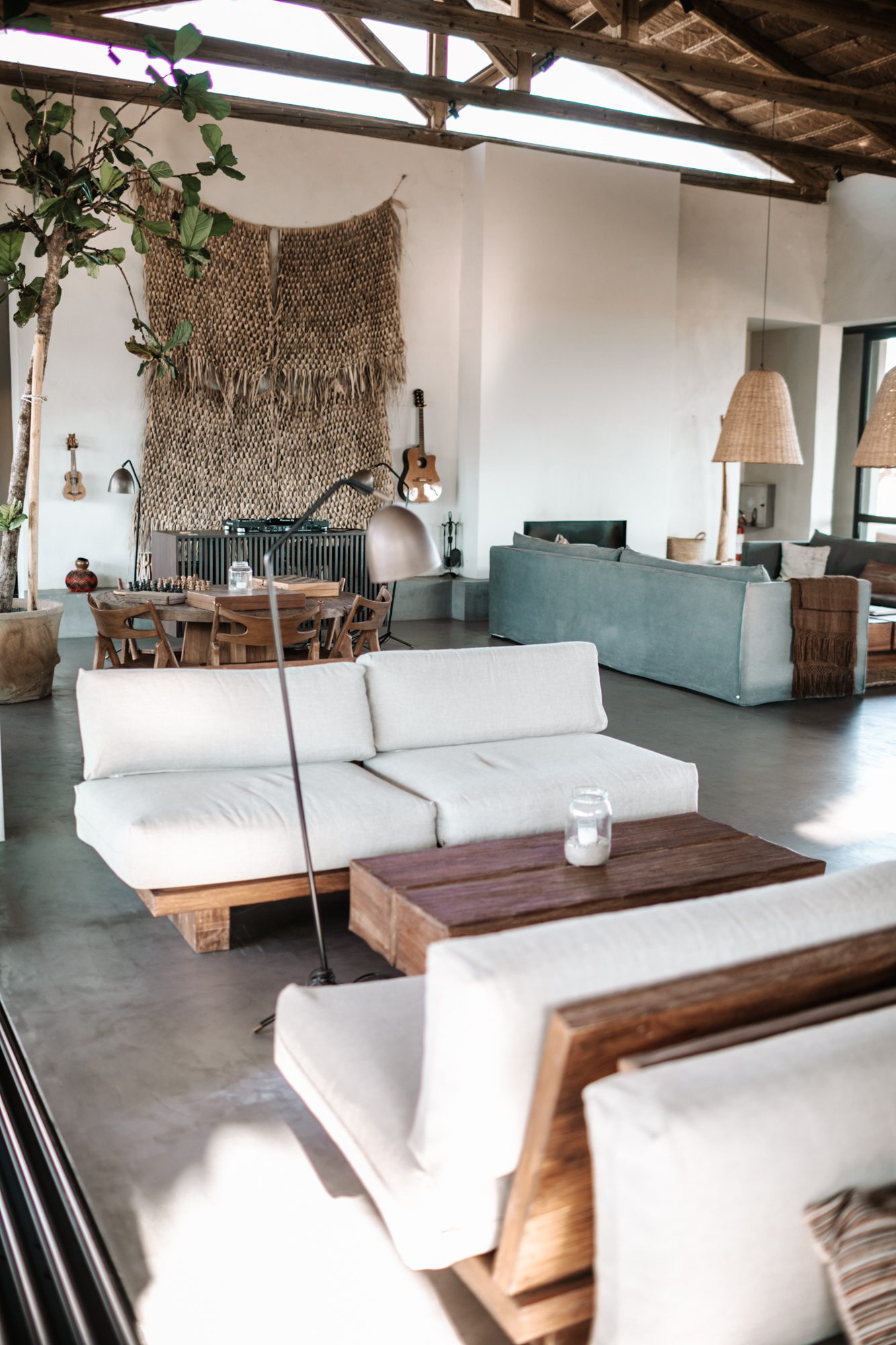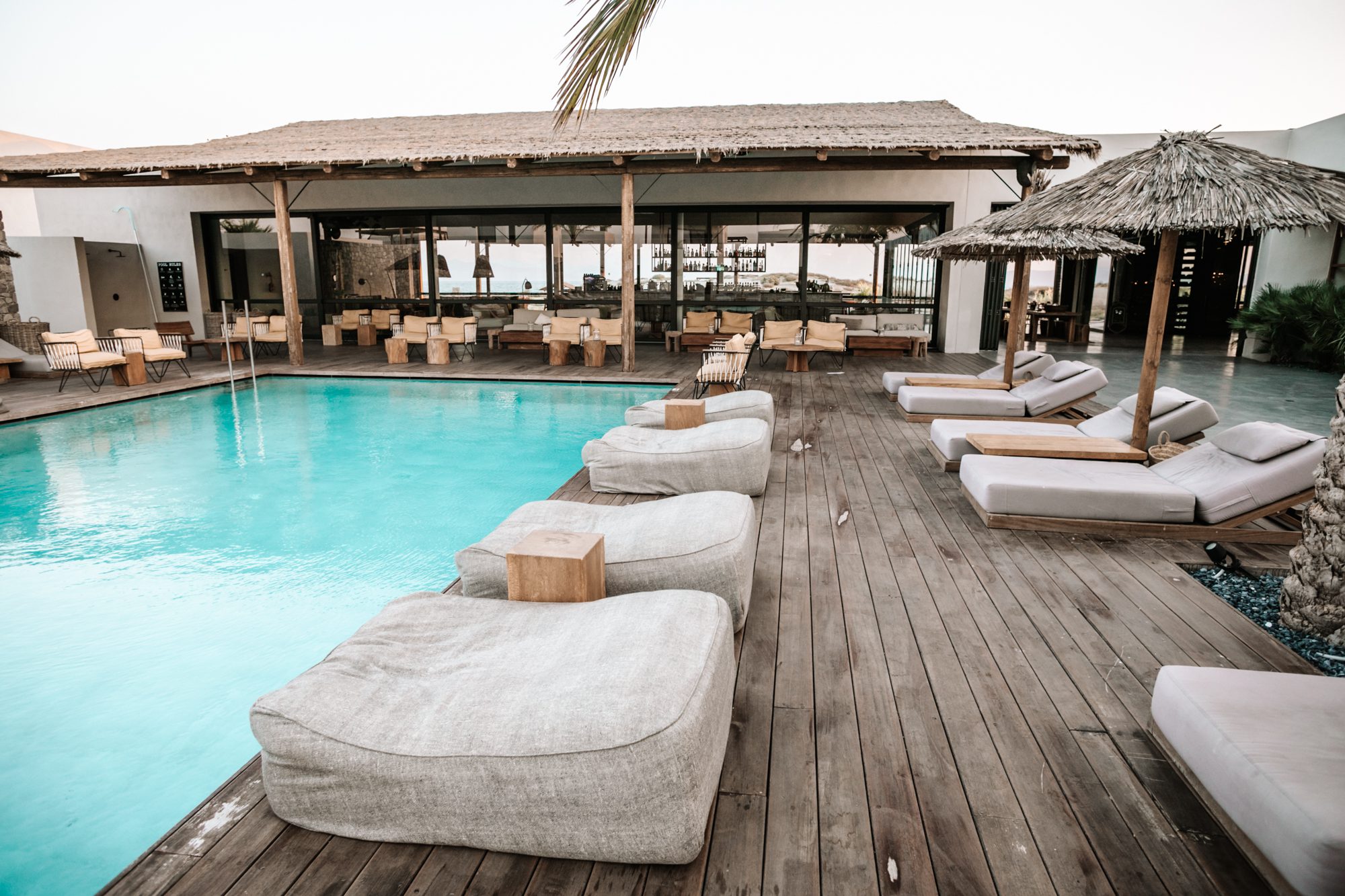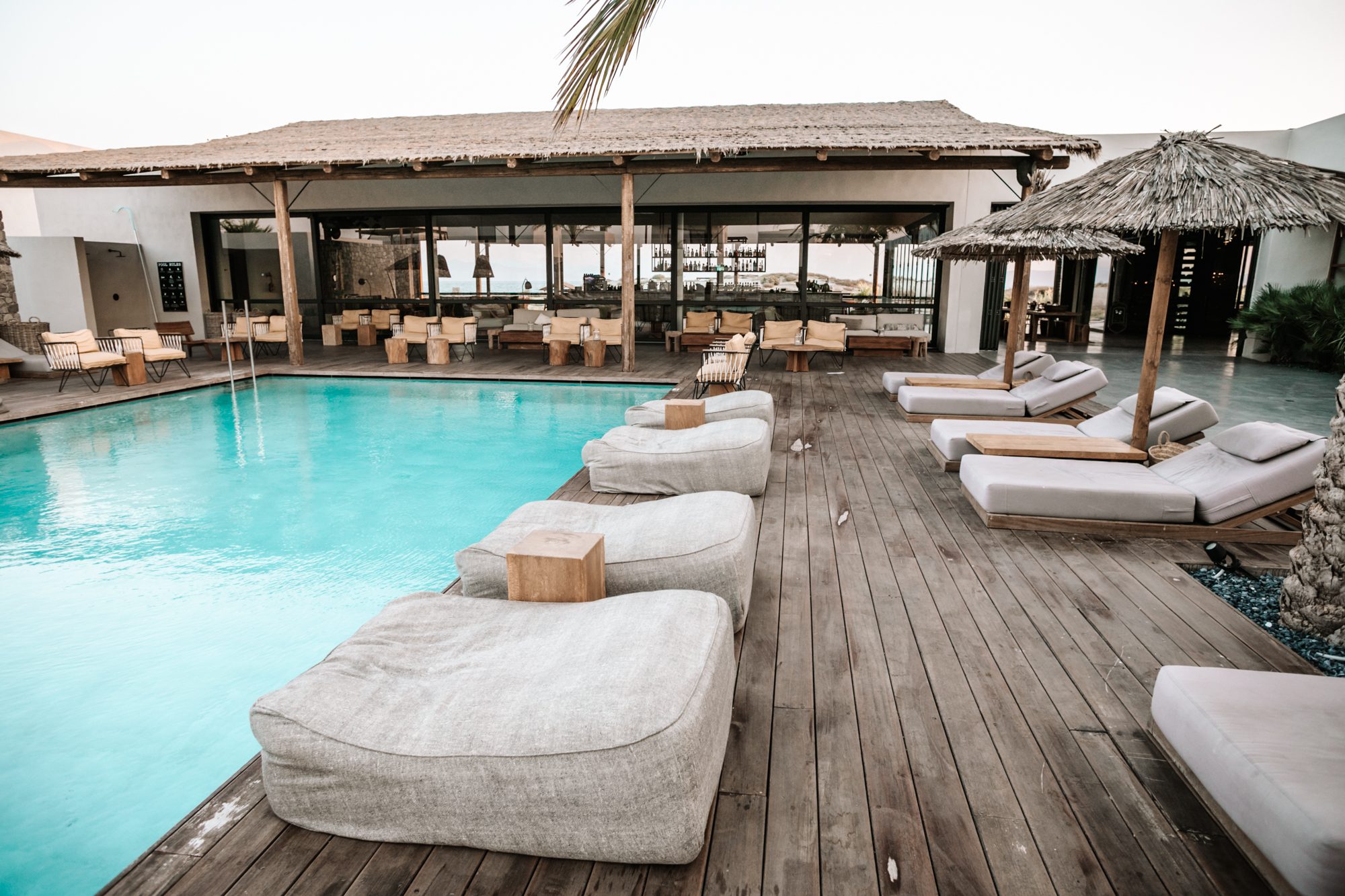 Casa Cook Kos has a private beach with loads of sunbeds available, some of them shadowed. You can order drinks while sunbathing. You can also surf and paddleboard, the weather is ideal for it! You can also enjoy reading on the beach and the sunbeds are always available for you. You don't have to worry about not finding one. The beach is private but you can walk for miles, it's not a problem. There's a KITE spot located about 200 meters from the hotel so you can use the facilities available if you're into it!
The sand is beautiful and clean, the sea warm and pleasant. I will never forget the pink and orange sunsets which reminded me of my trip to Africa. And… If all this wasn't enough, you could see horses on the beach just after sunset.
I'm not sure if it's the boho style (the Tulum vibe maybe!), but even the hotel guests were lovely. Most of them were very similar to us. Similar age, similar dress style, it was just really cool. We got to know some of them and it came out they were also into artistic or creative work so we had a lot to talk about. It was just such a nice feeling to have something in common with those people. Most of the hotel guests were couples wanting to relax mainly, so the atmosphere at the hotel was calm and peaceful. Thanks to all of the above, I will definitely choose Casa Cook next time I want to go on holiday in Europe.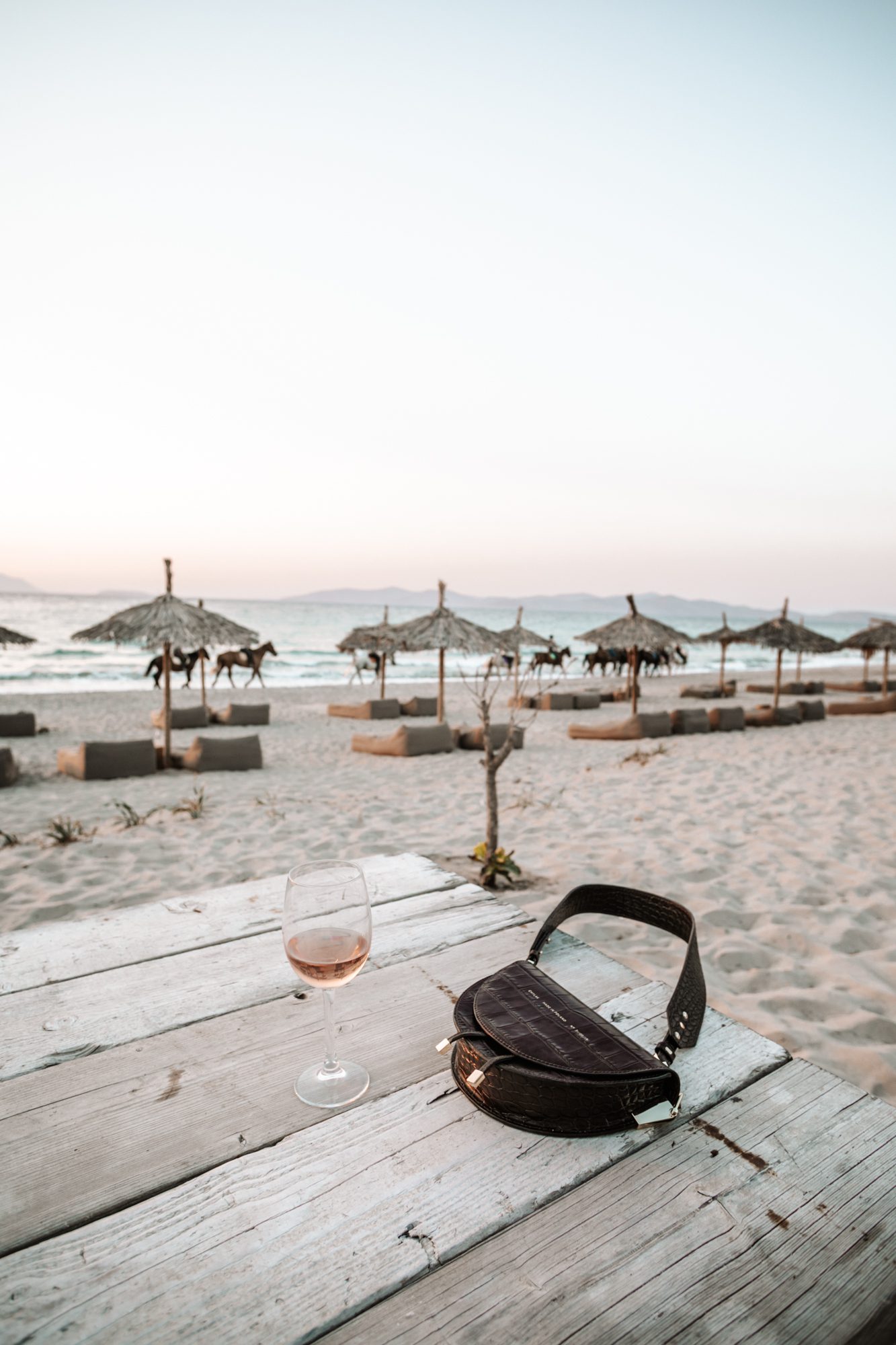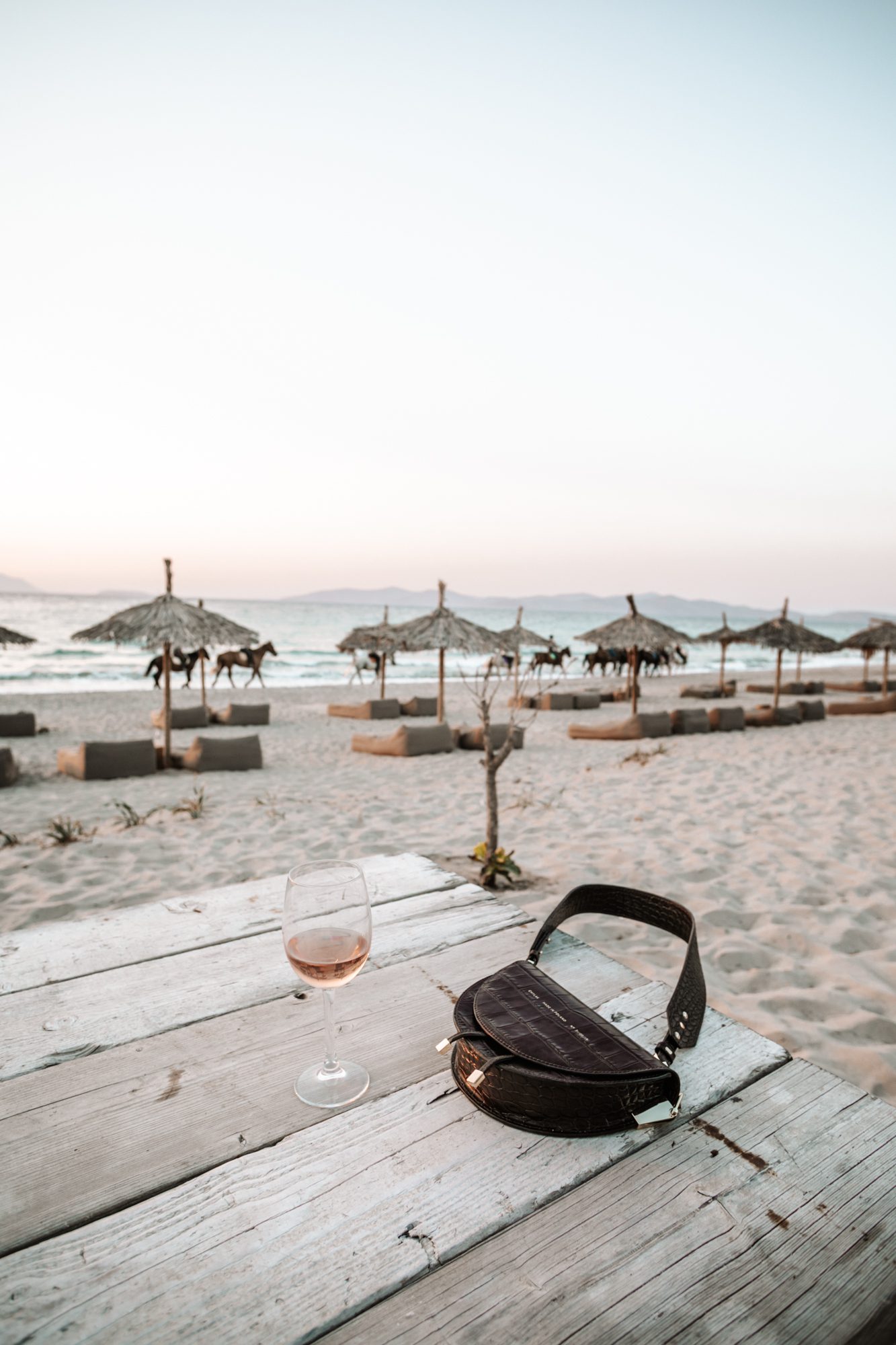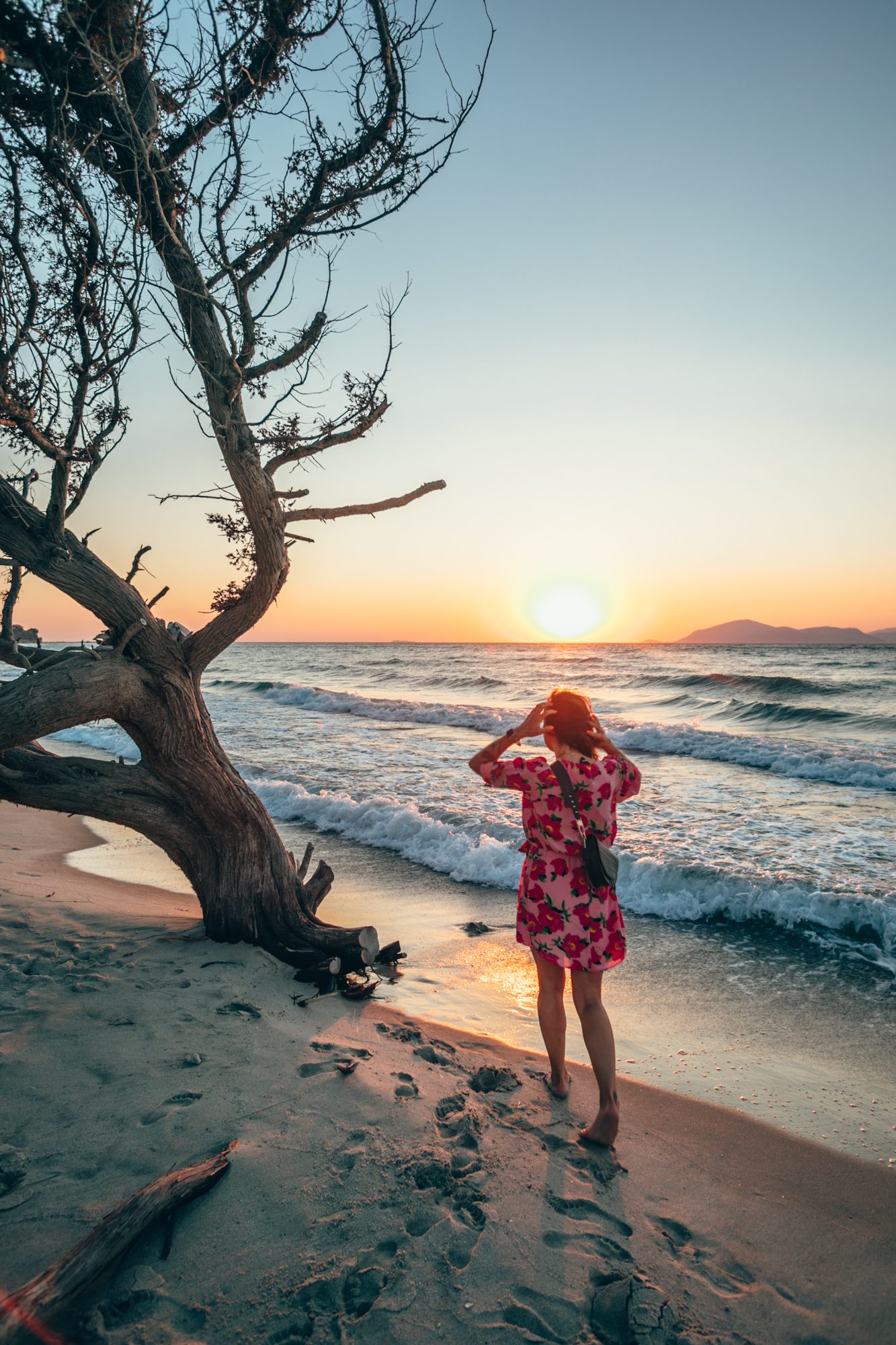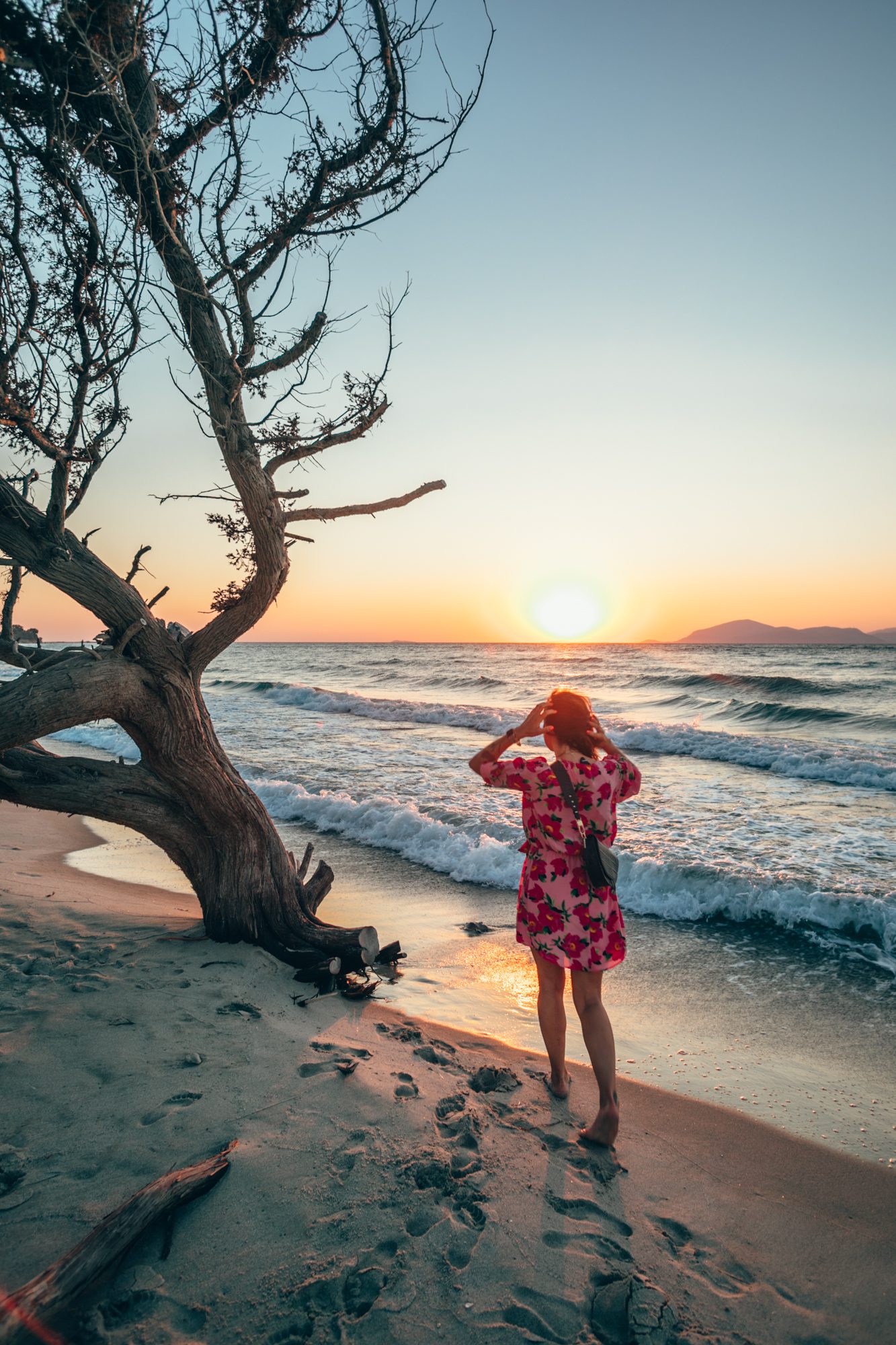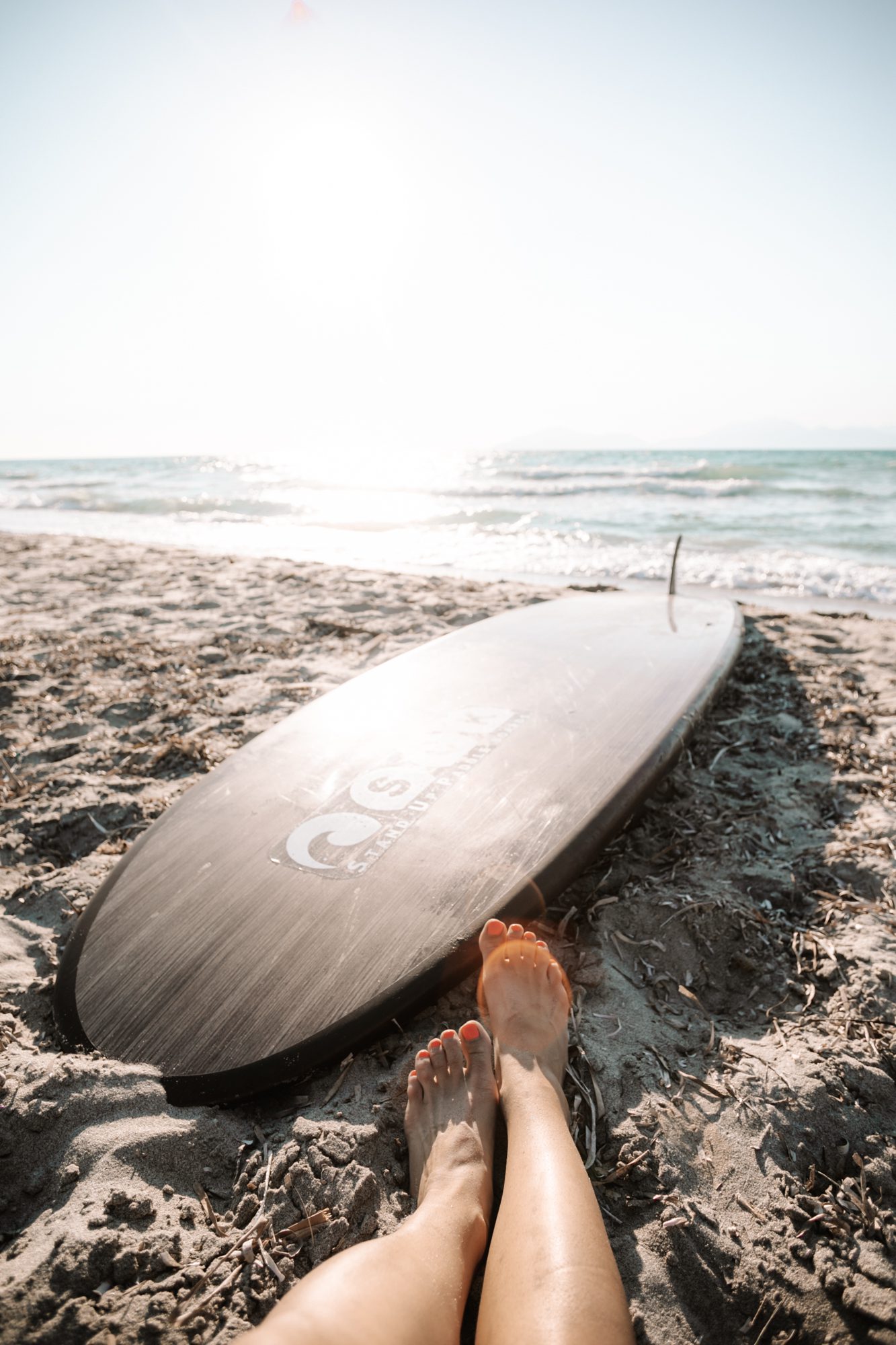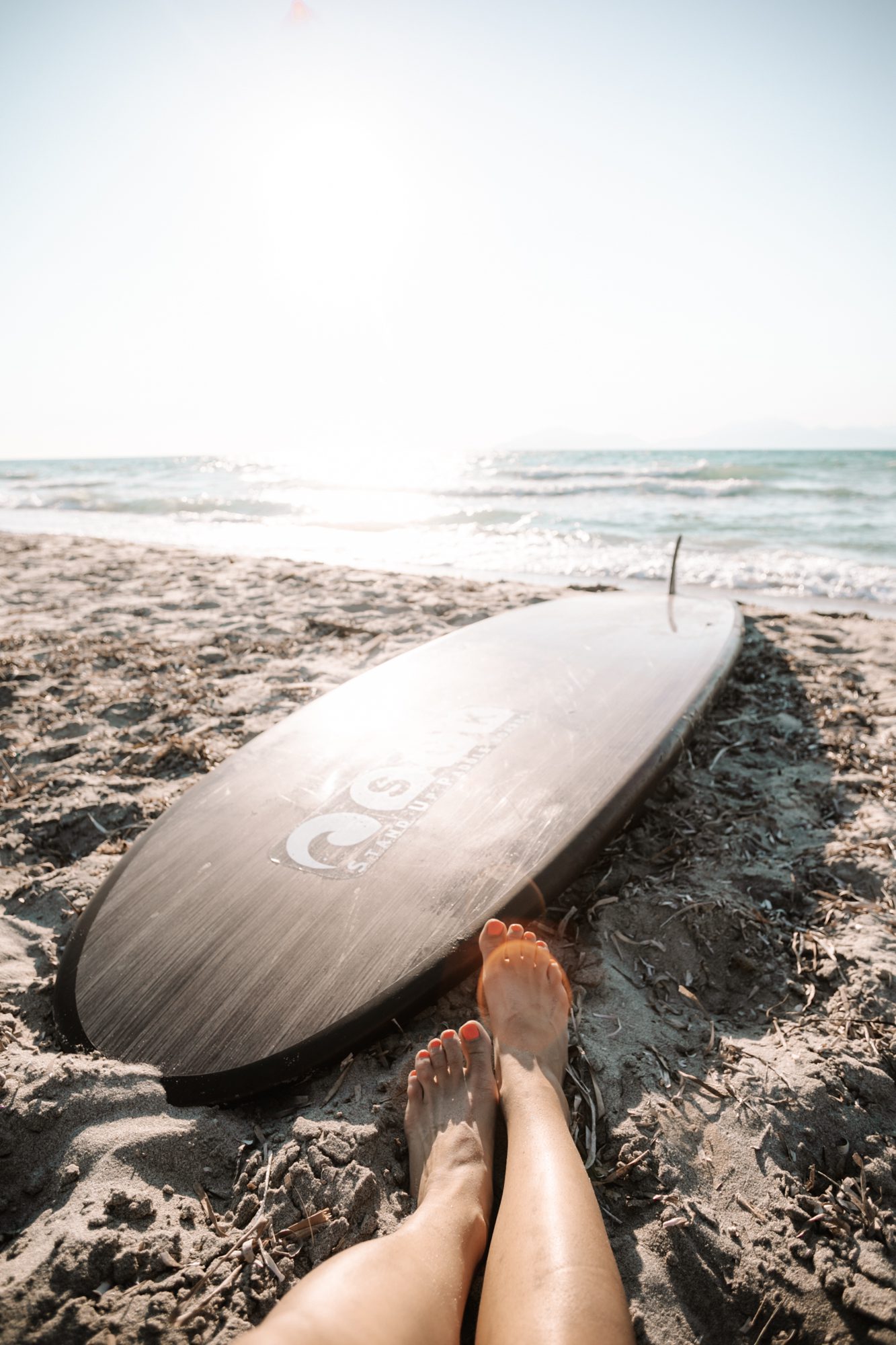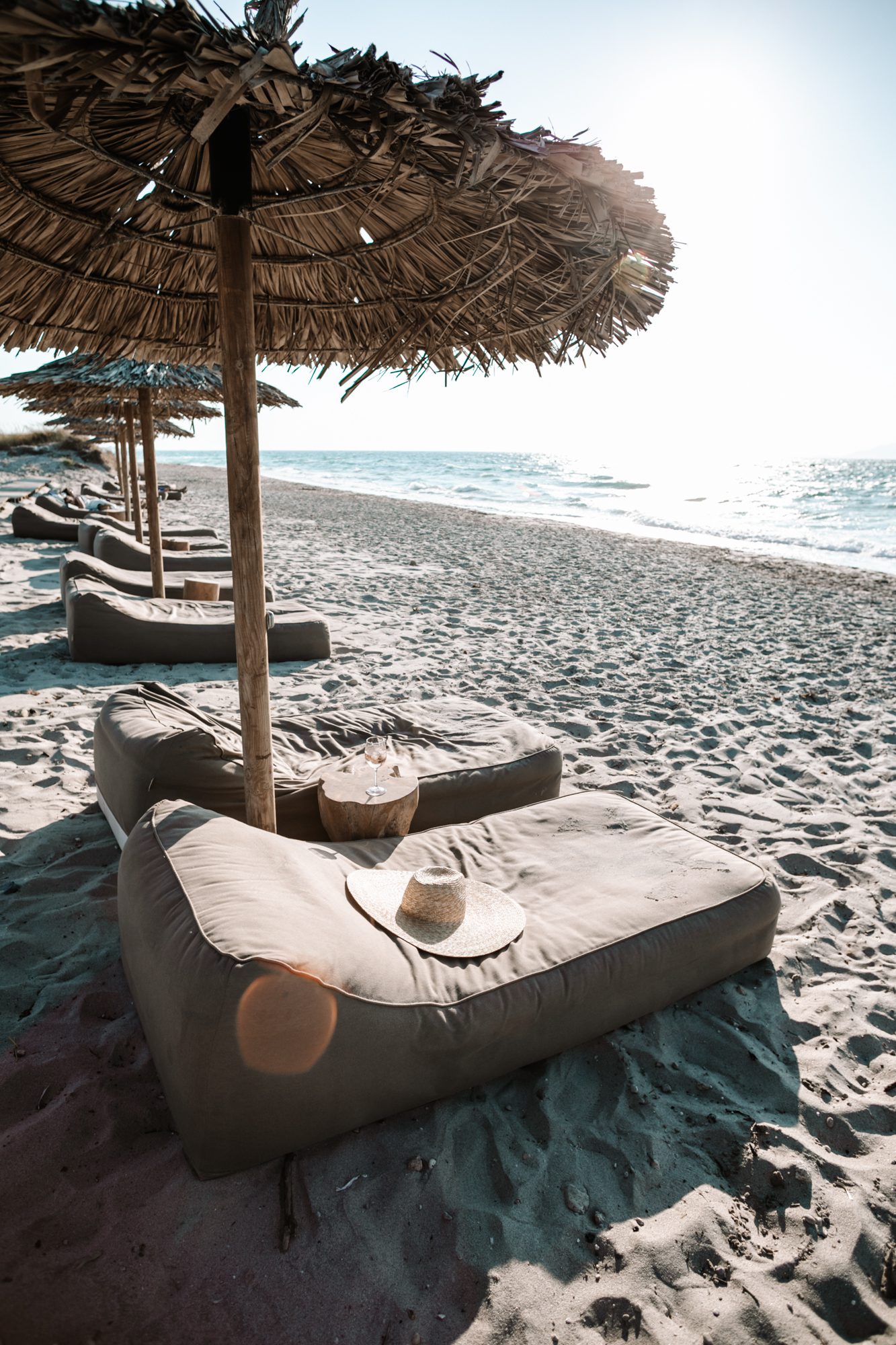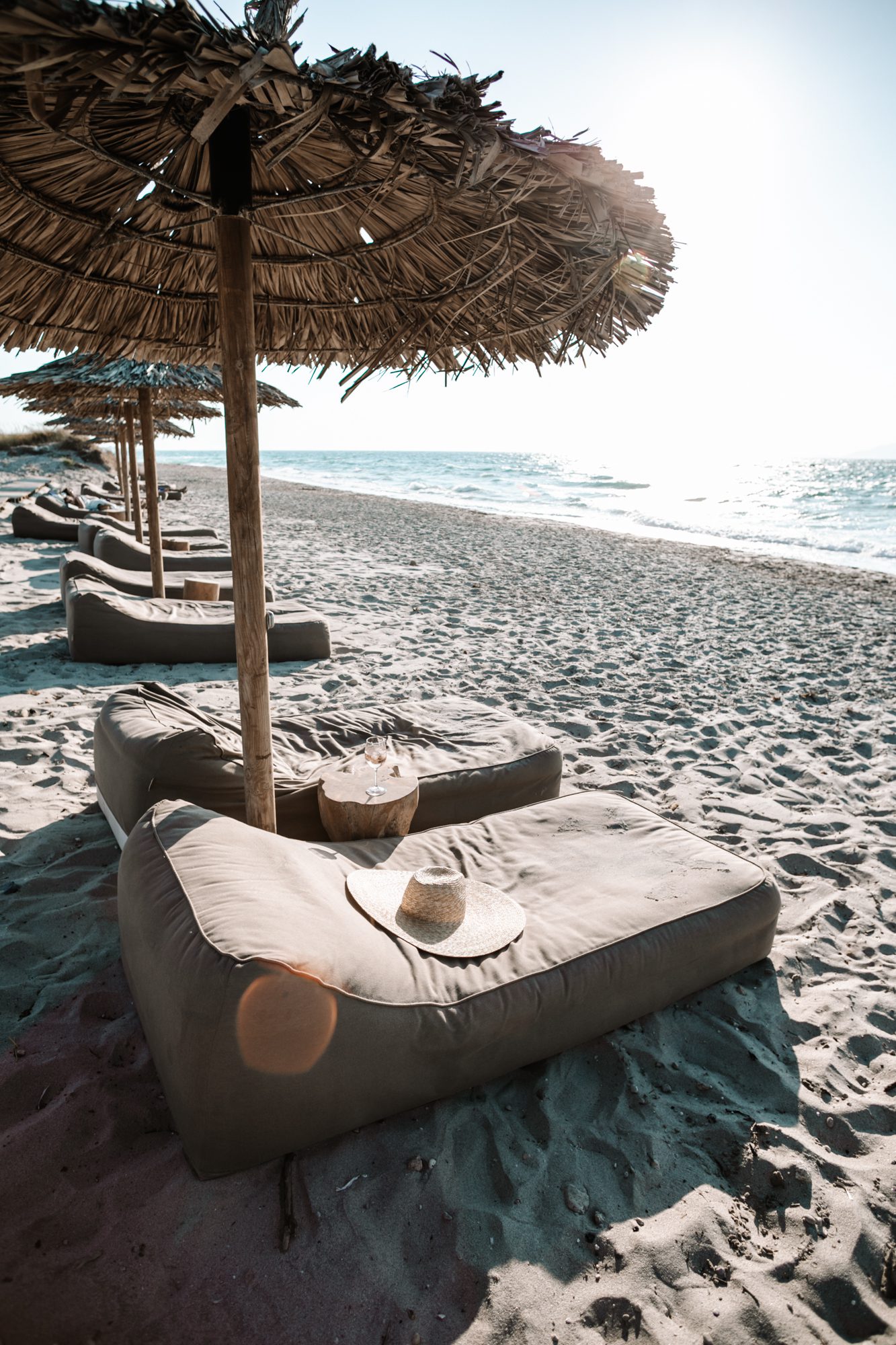 If you love sport, Casa Cook will not let you down. The gym is equipped really well, but…it was always full (from 8 a.m. until 8 p.m fully packed). I guess the beautifully trained bodies did not appear out of nowhere! The hotel also offers yoga classes on the beach. The yoga instructor is a wonderful woman with amazing energy. I just chose to jog on the beach. You can also SUP. Of course, there's also a swimming pool available with sunbeds and chill out zones.I went to the hotel SPA and had a lovely massage which was based on the Ancient Greece rituals and it was all about massaging stress-inducting spots and then enjoying the weight of warm stones on my back. I have to say it absolutely blew my mind. The SPA has been designed fantastically. I don't like to repeat myself, but the design in Casa Cook is really something!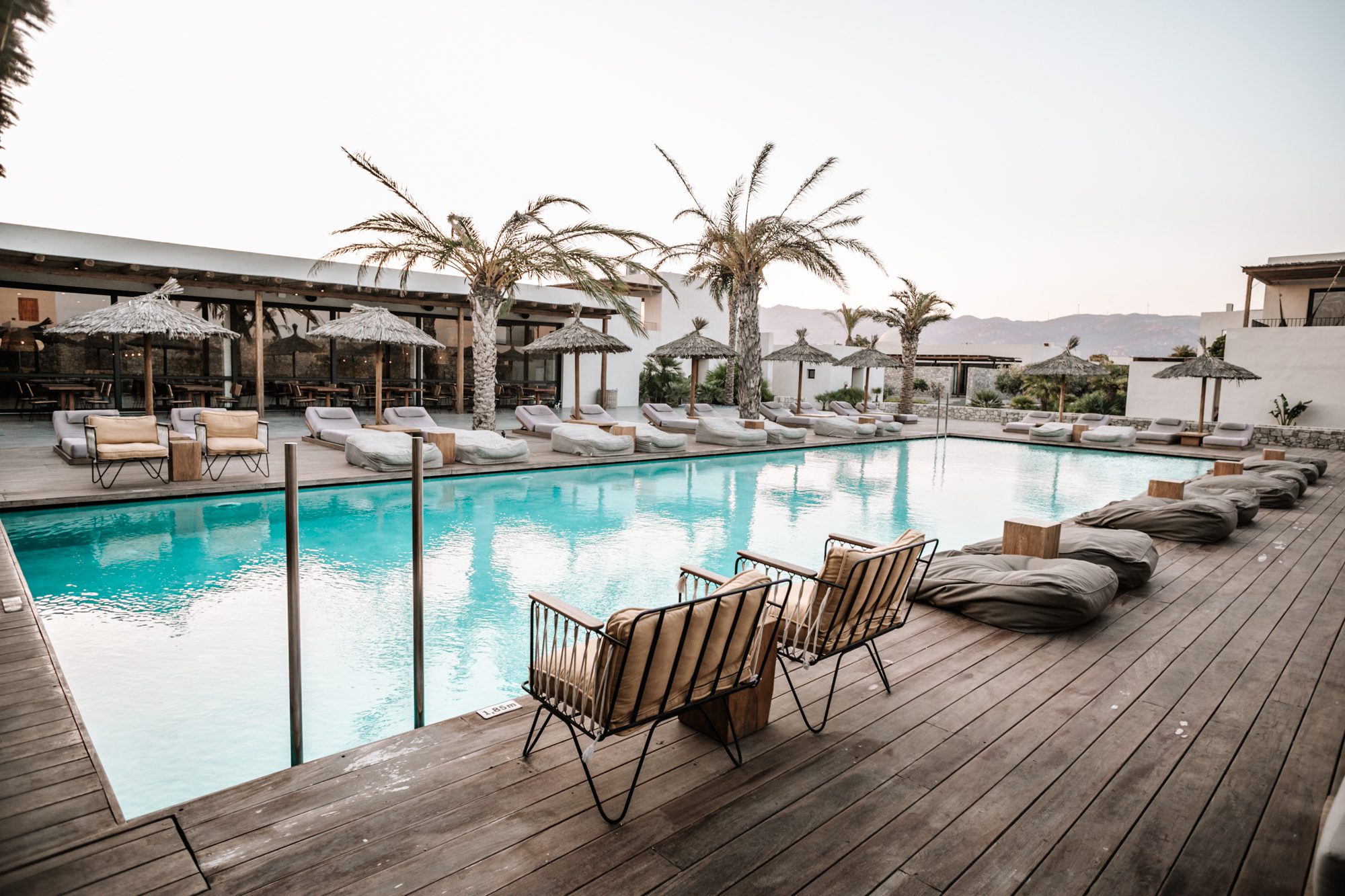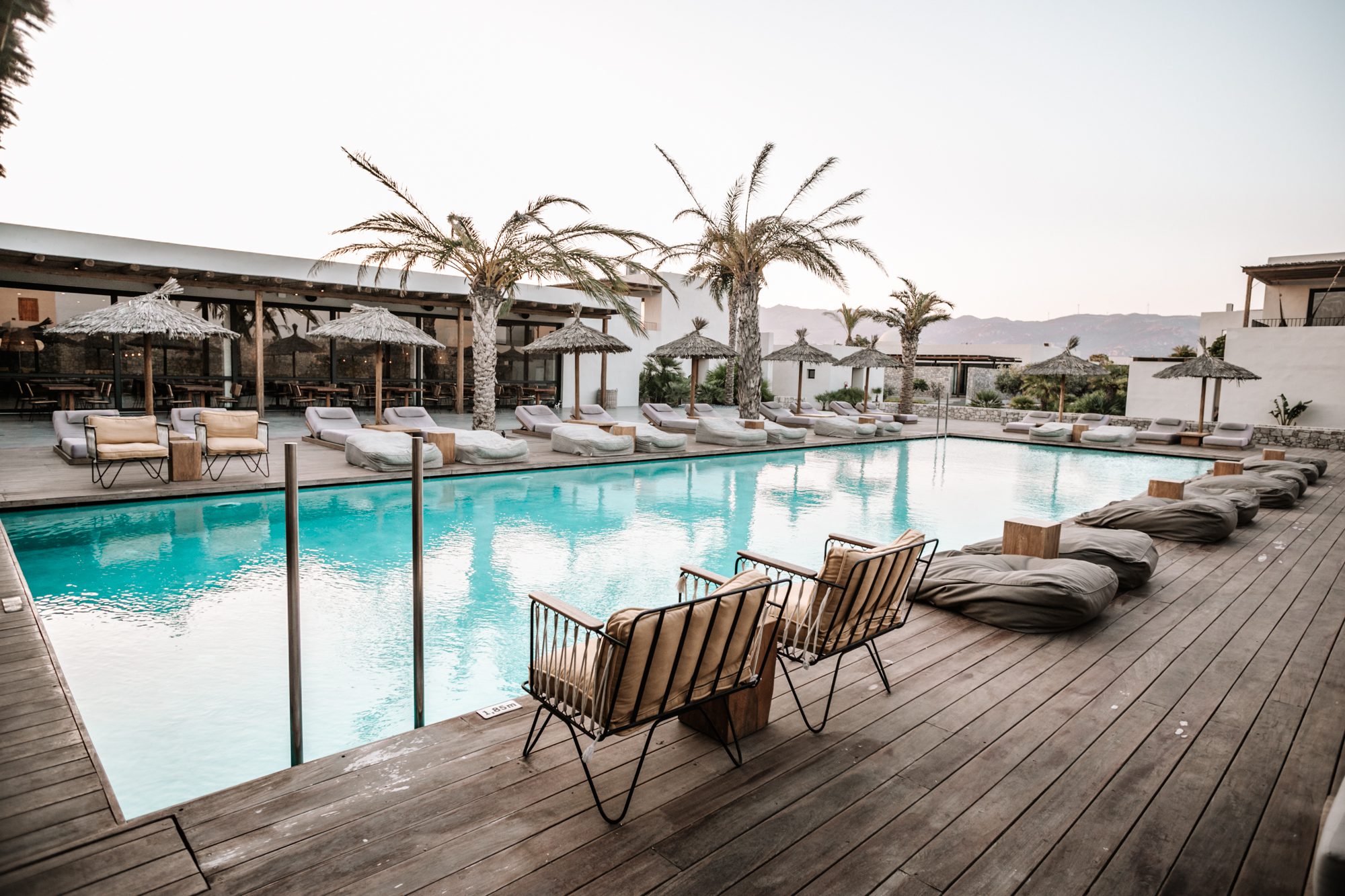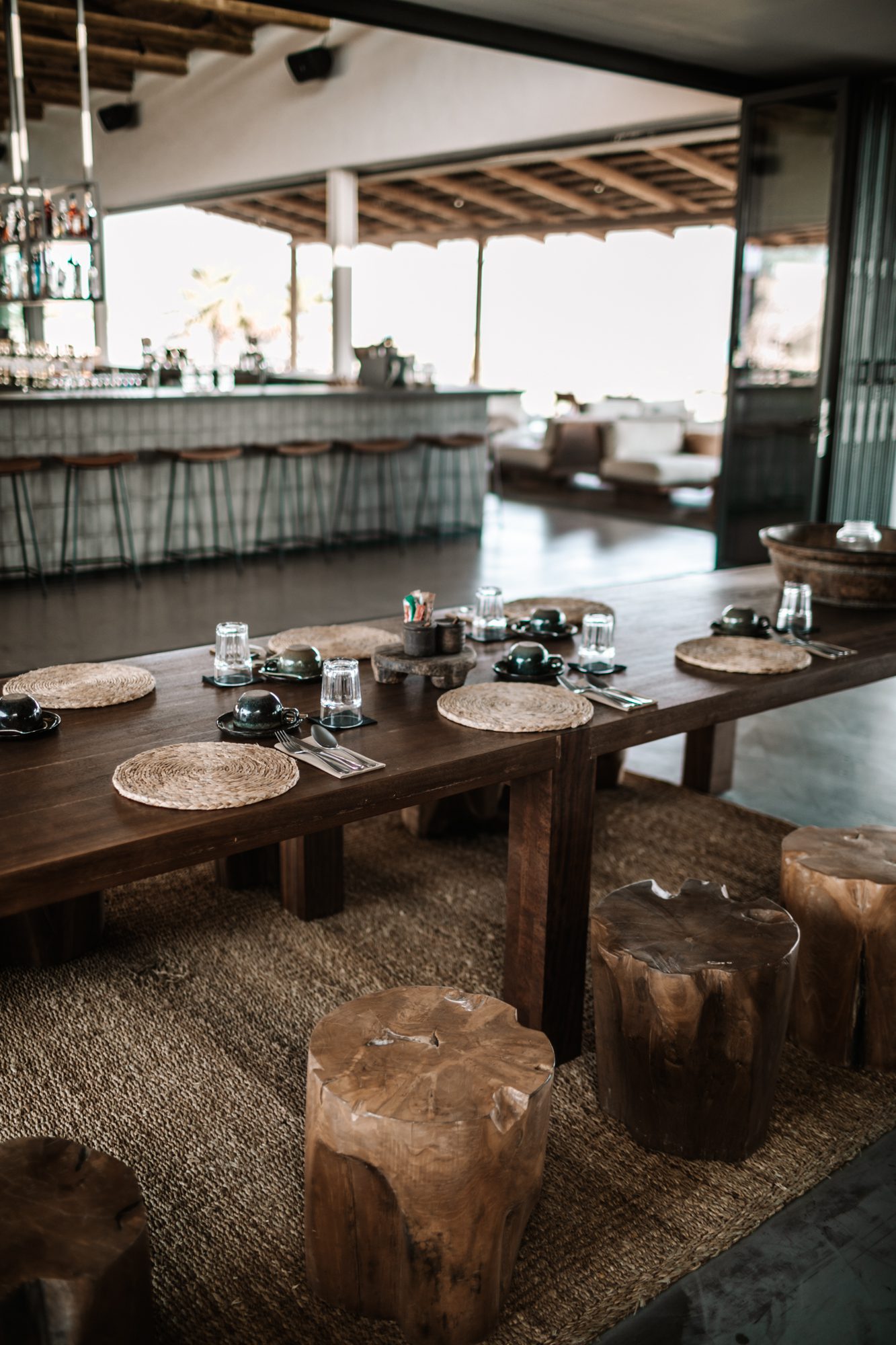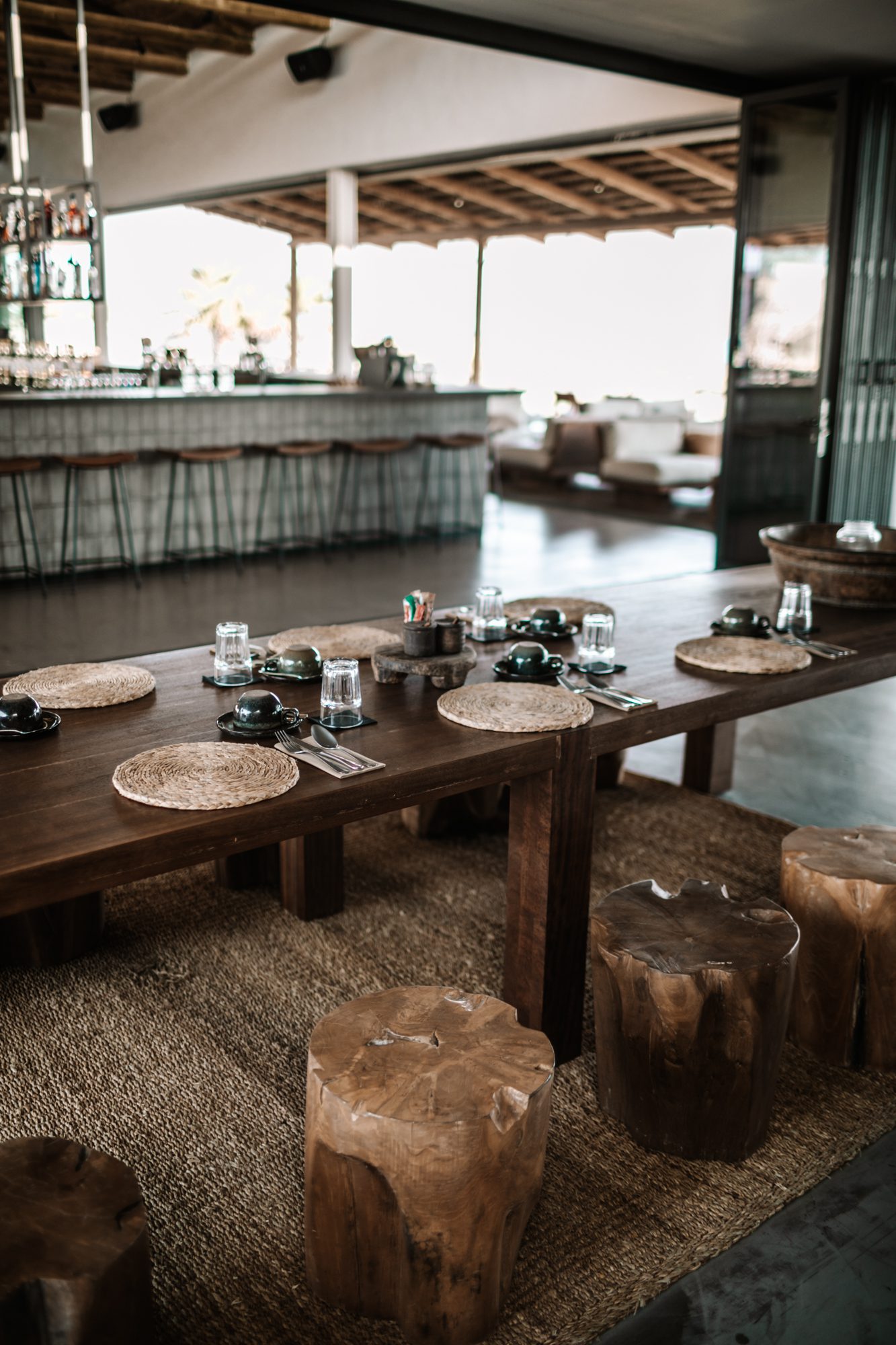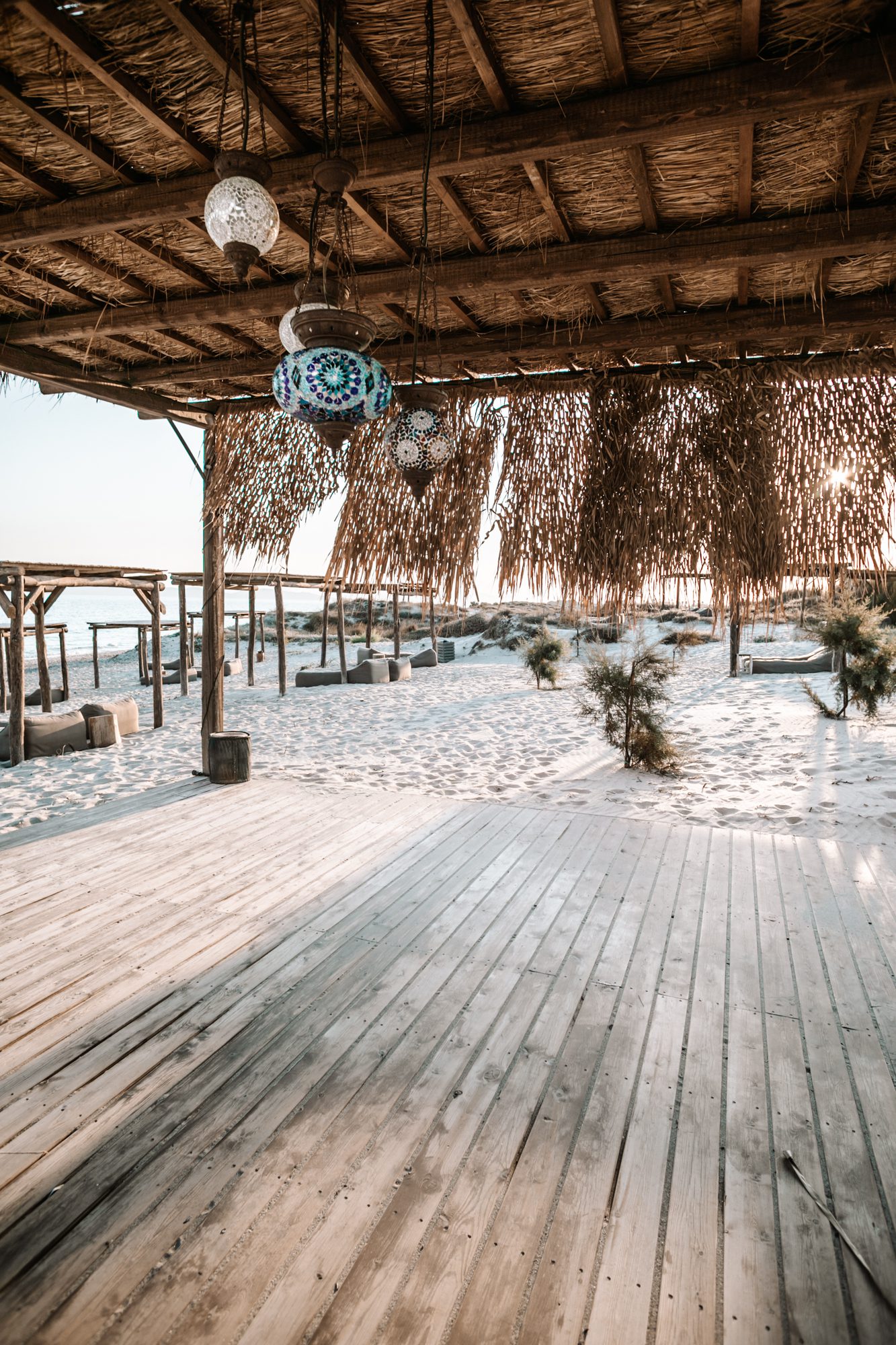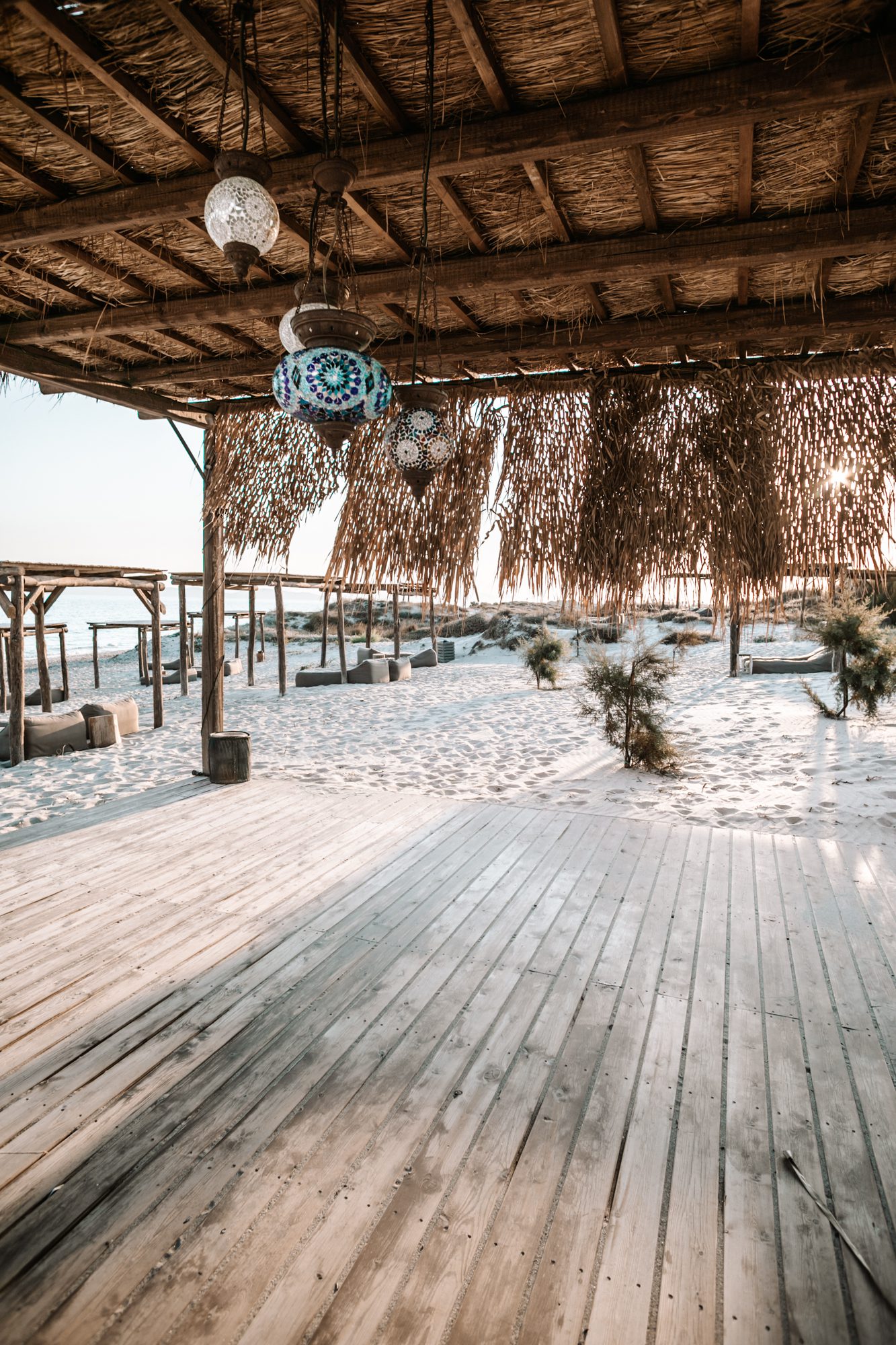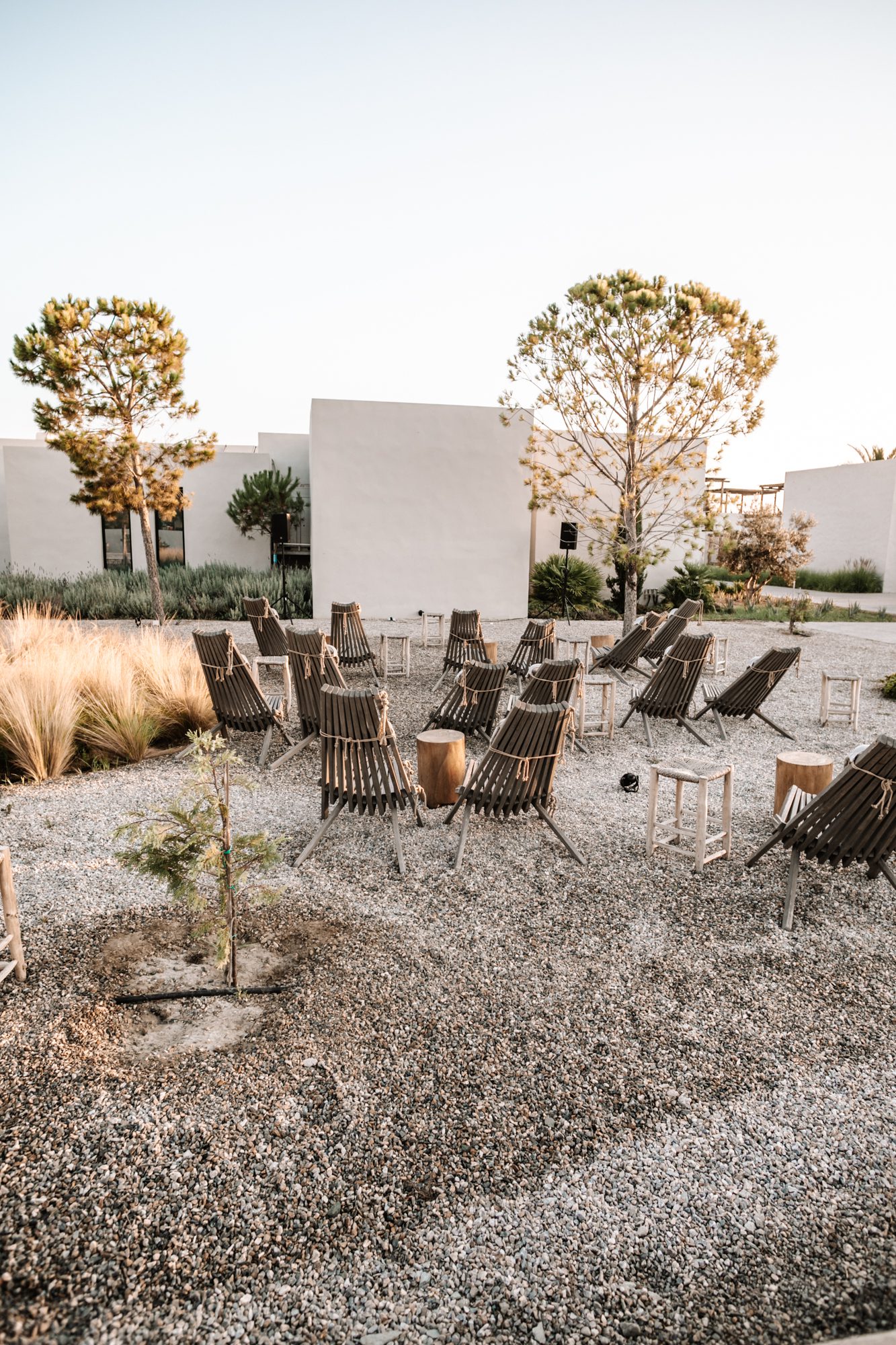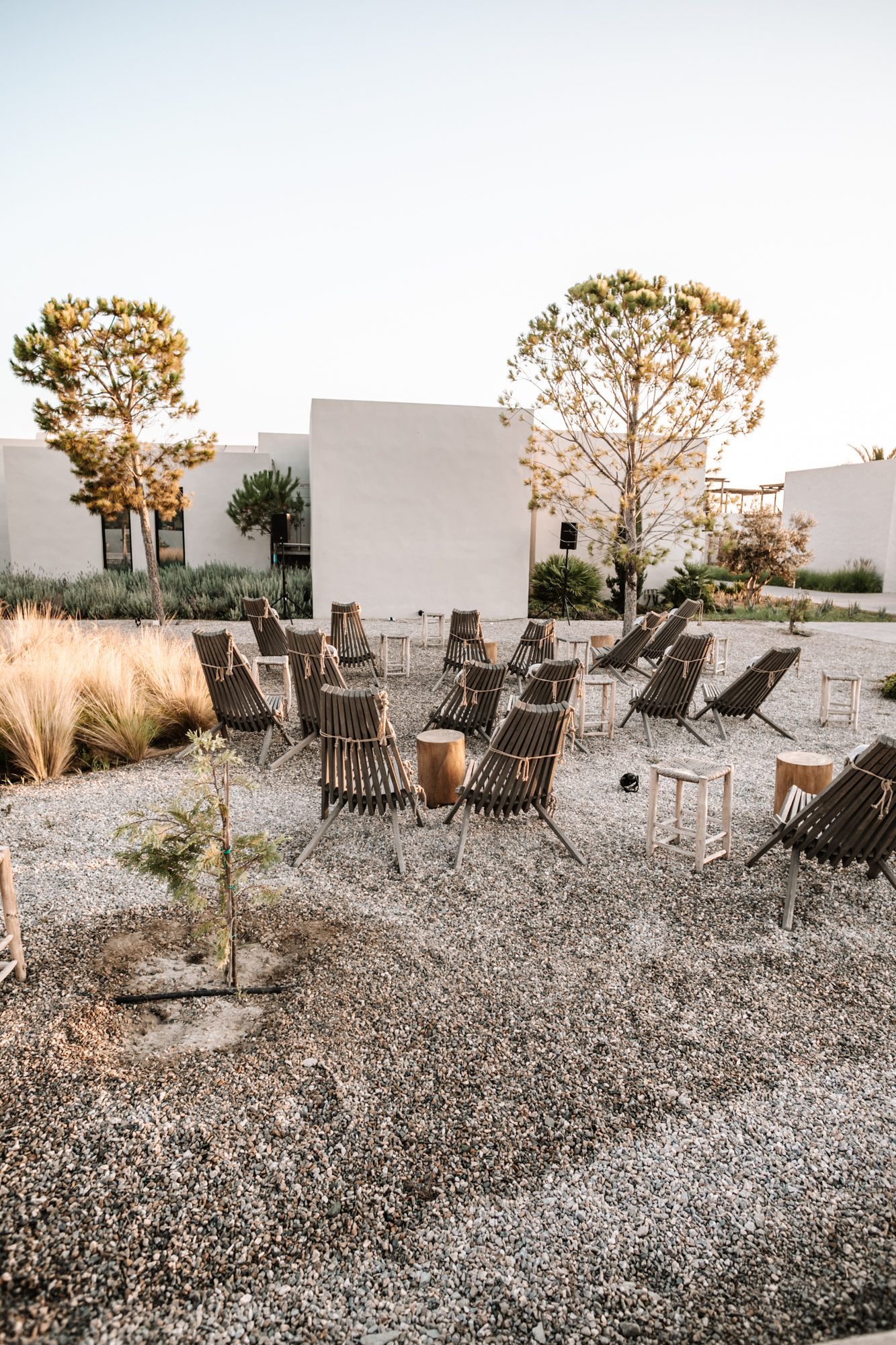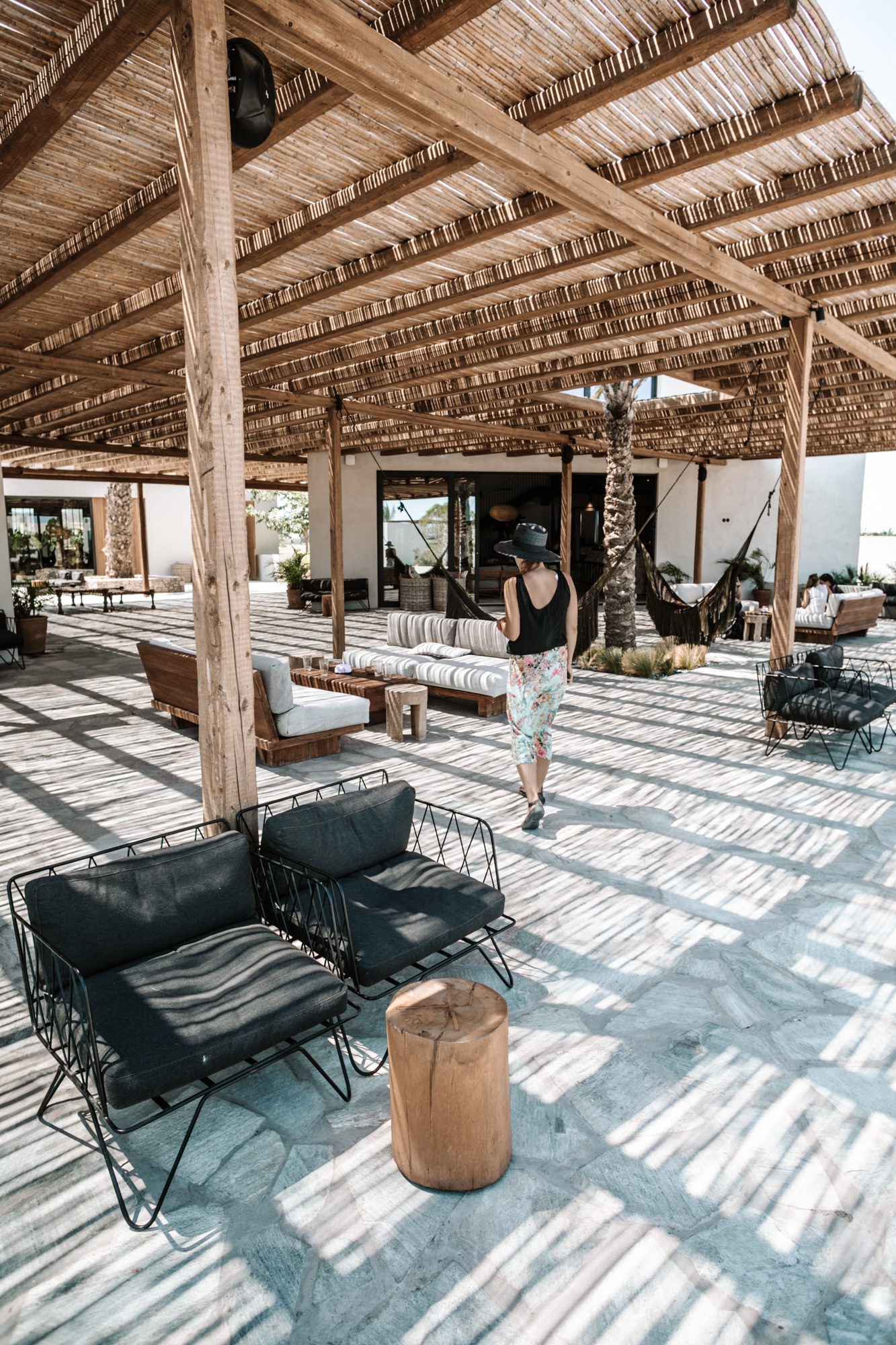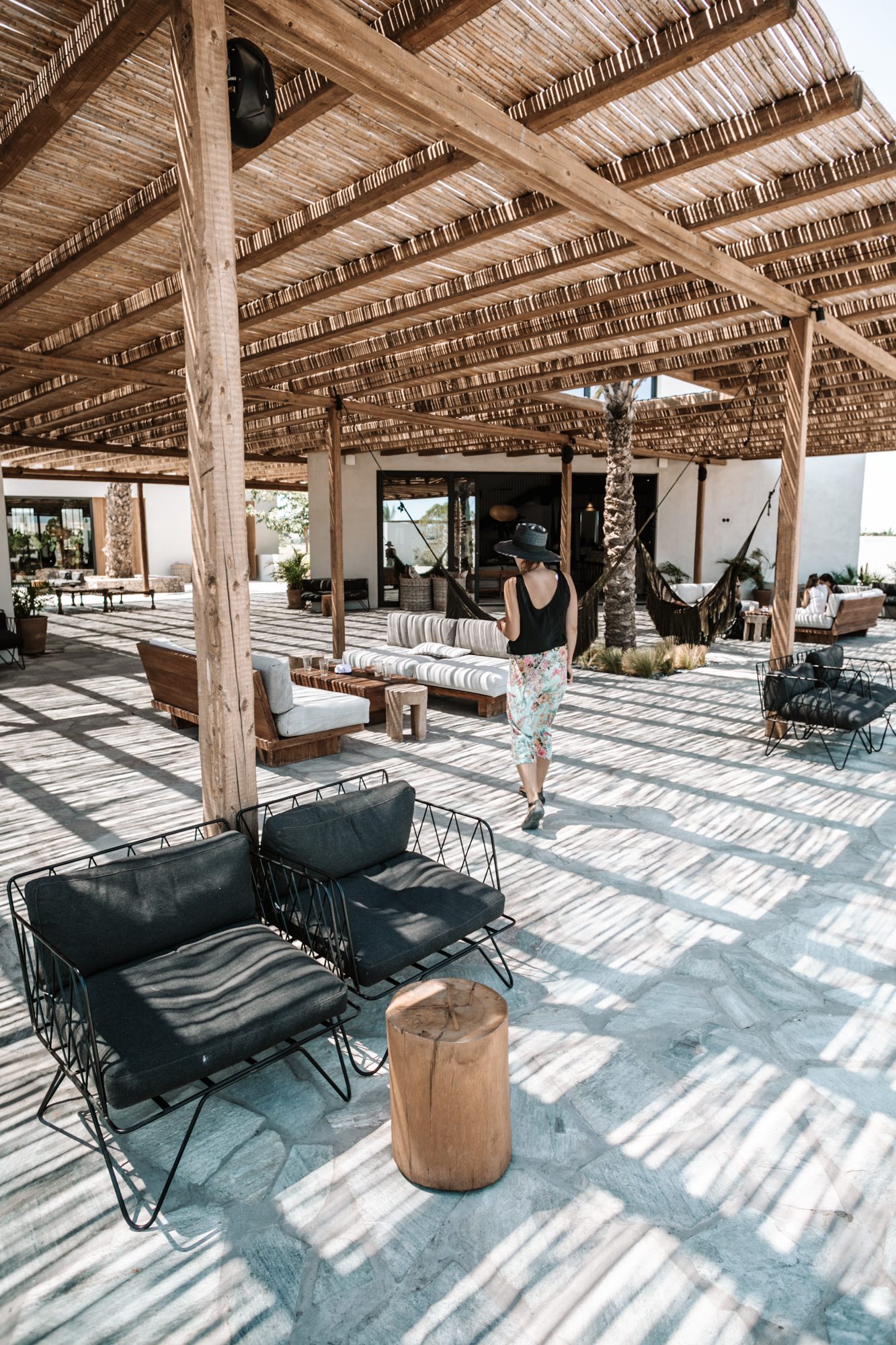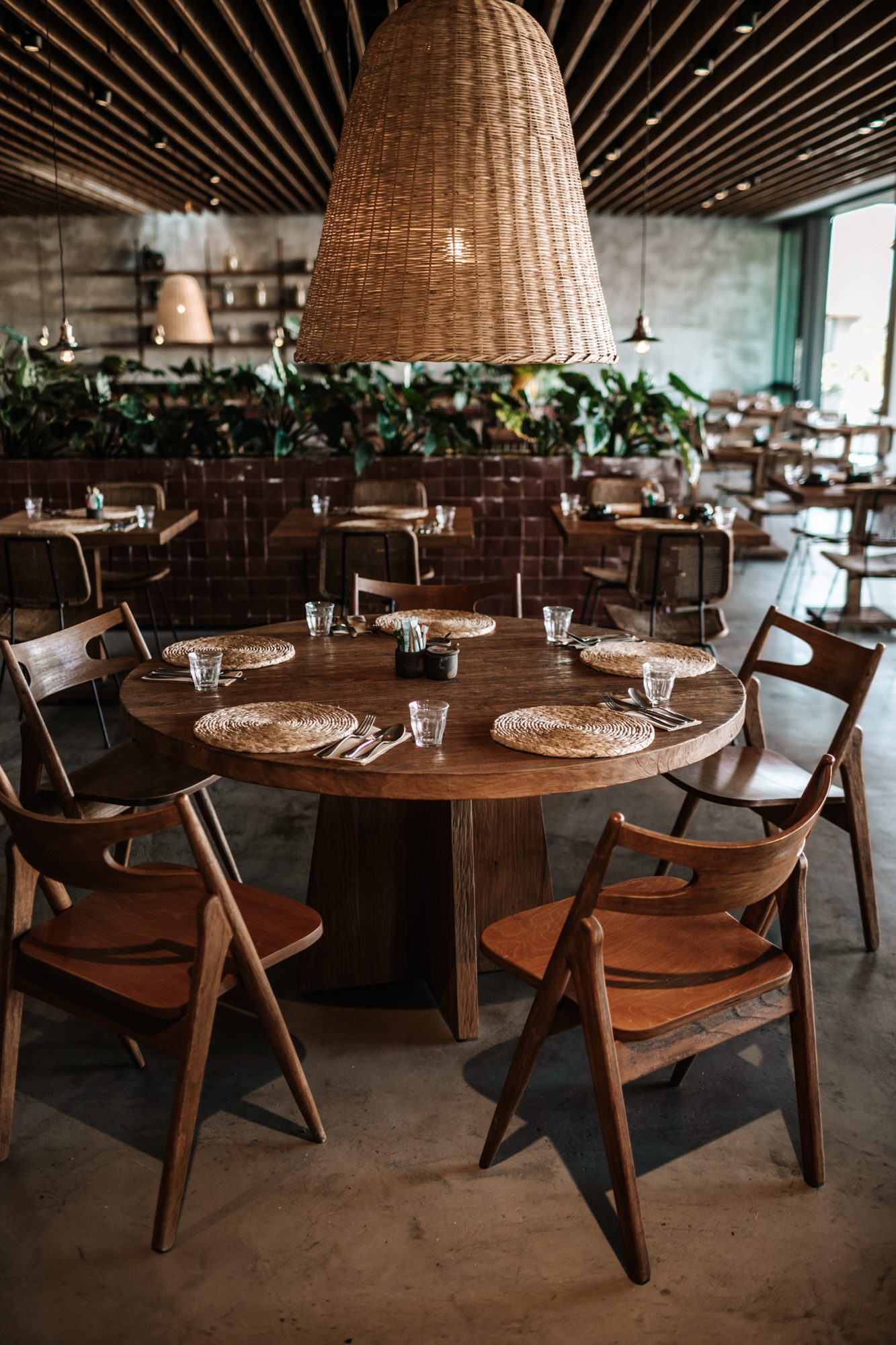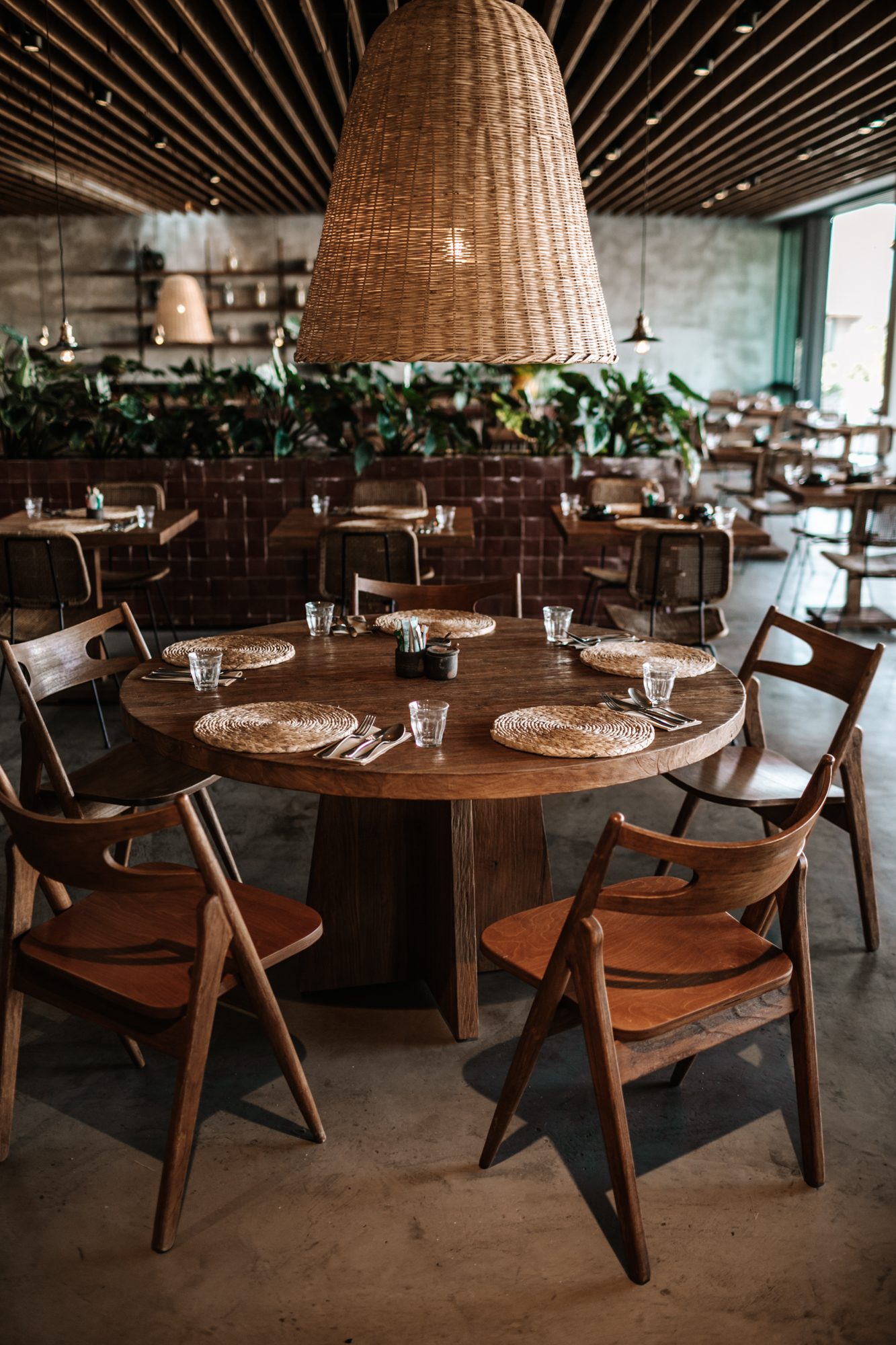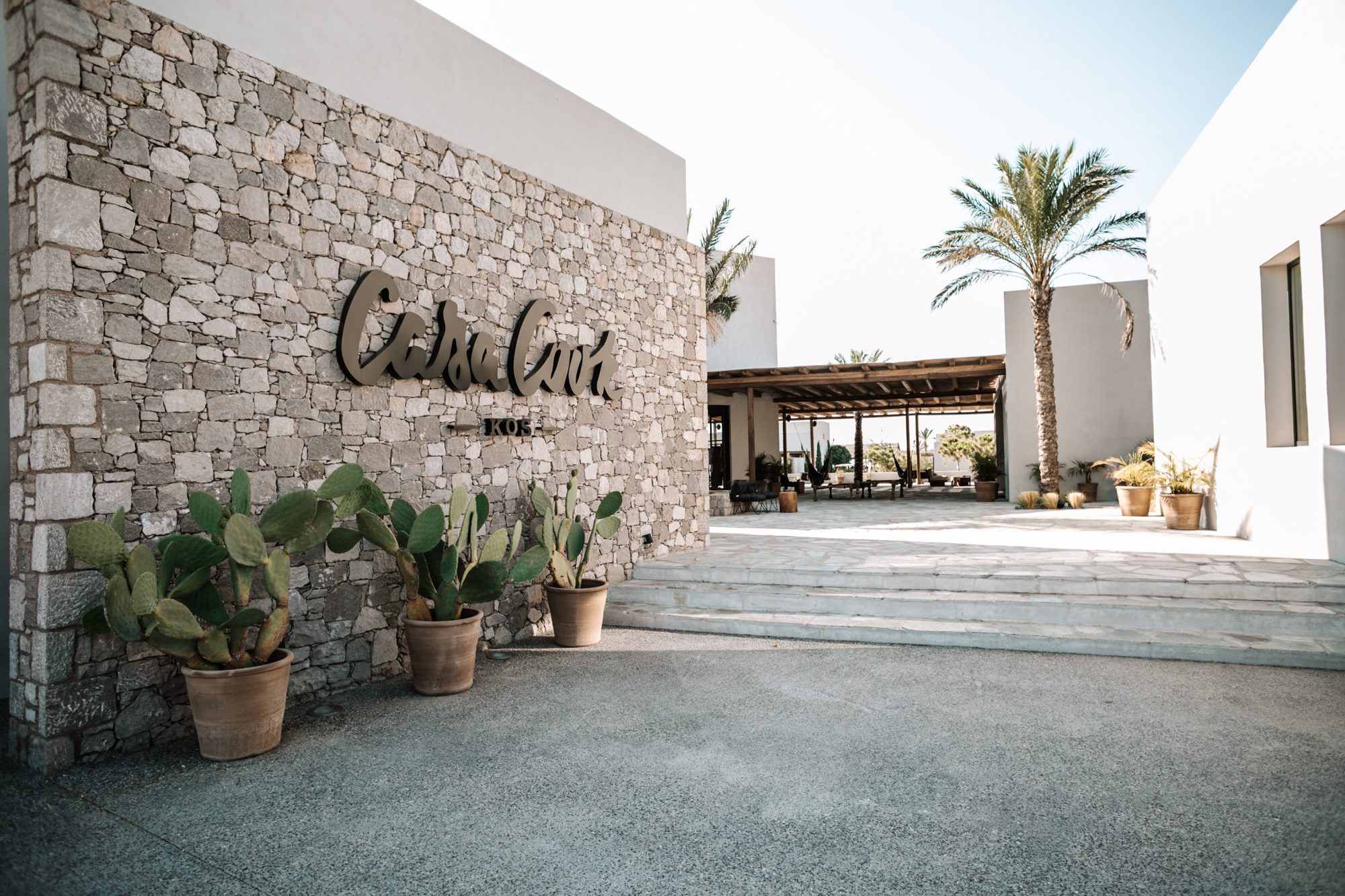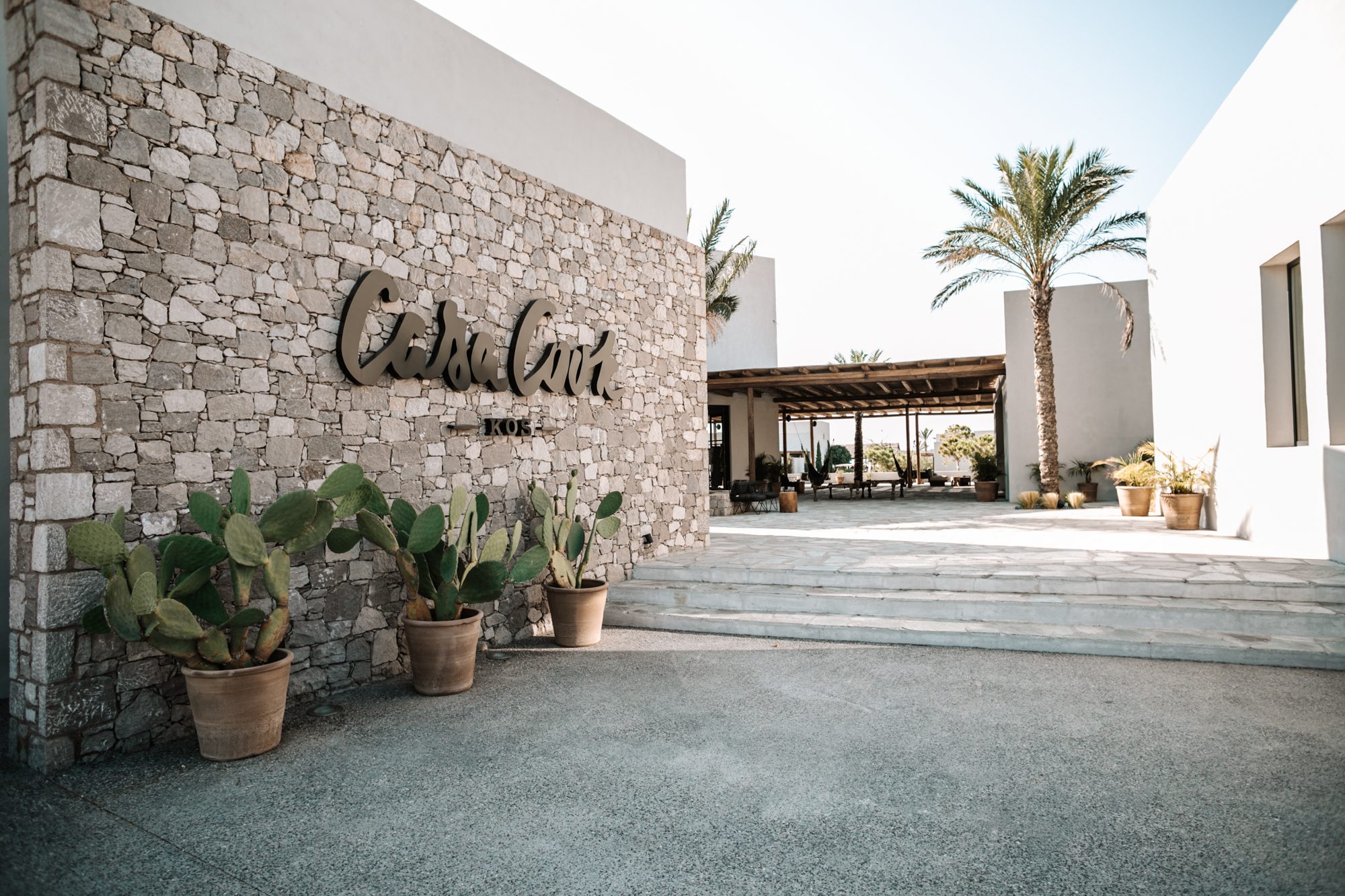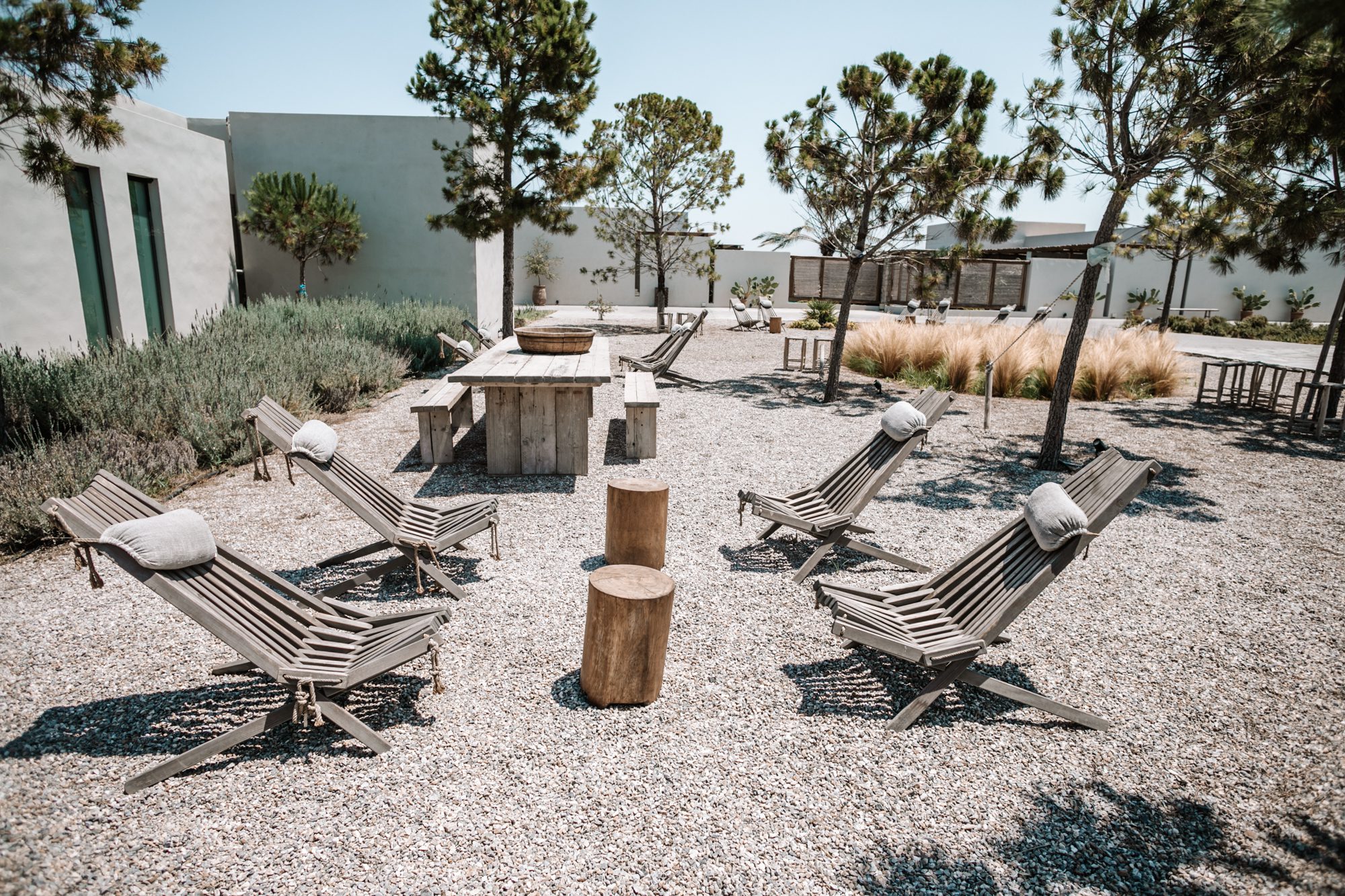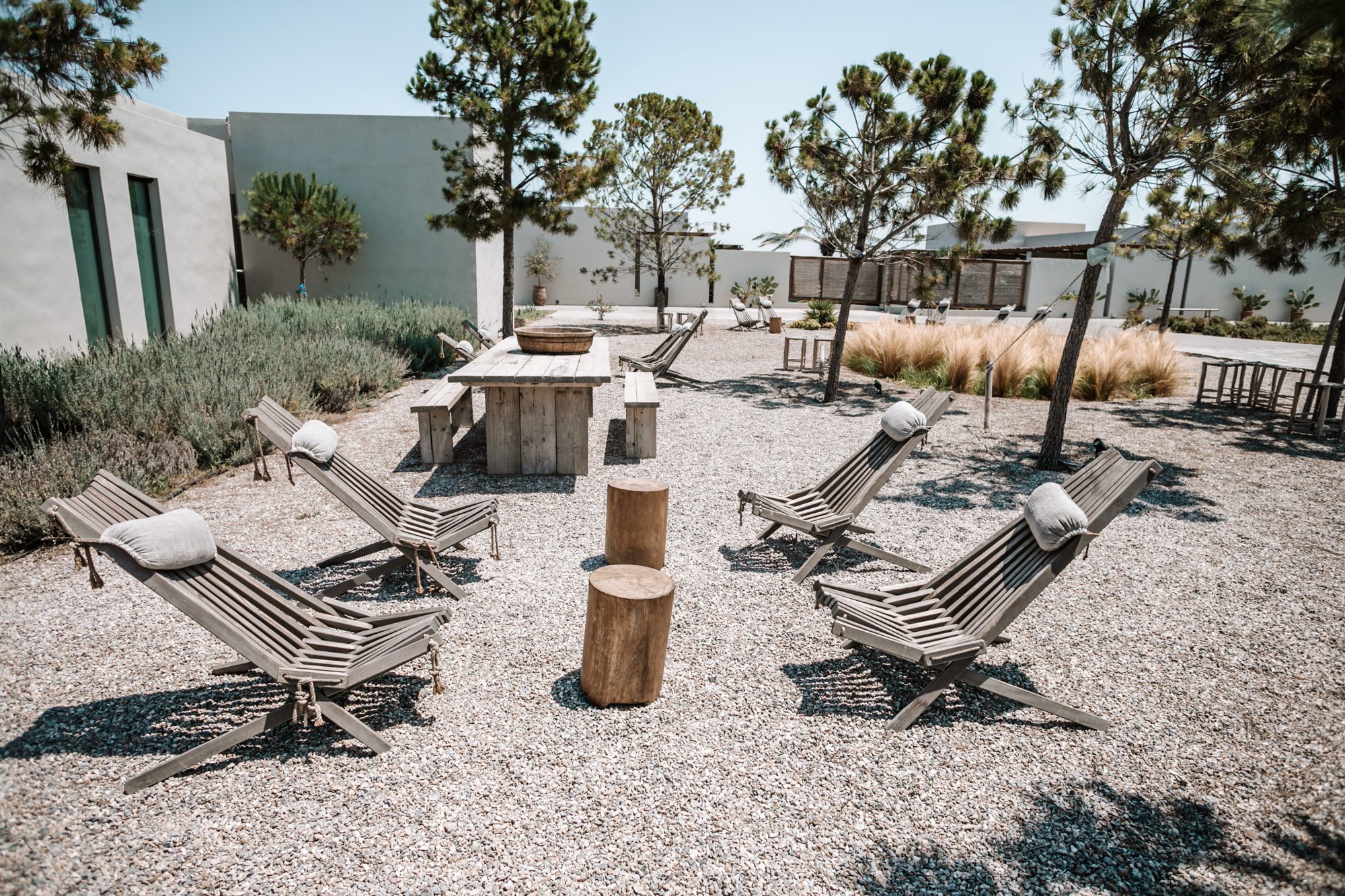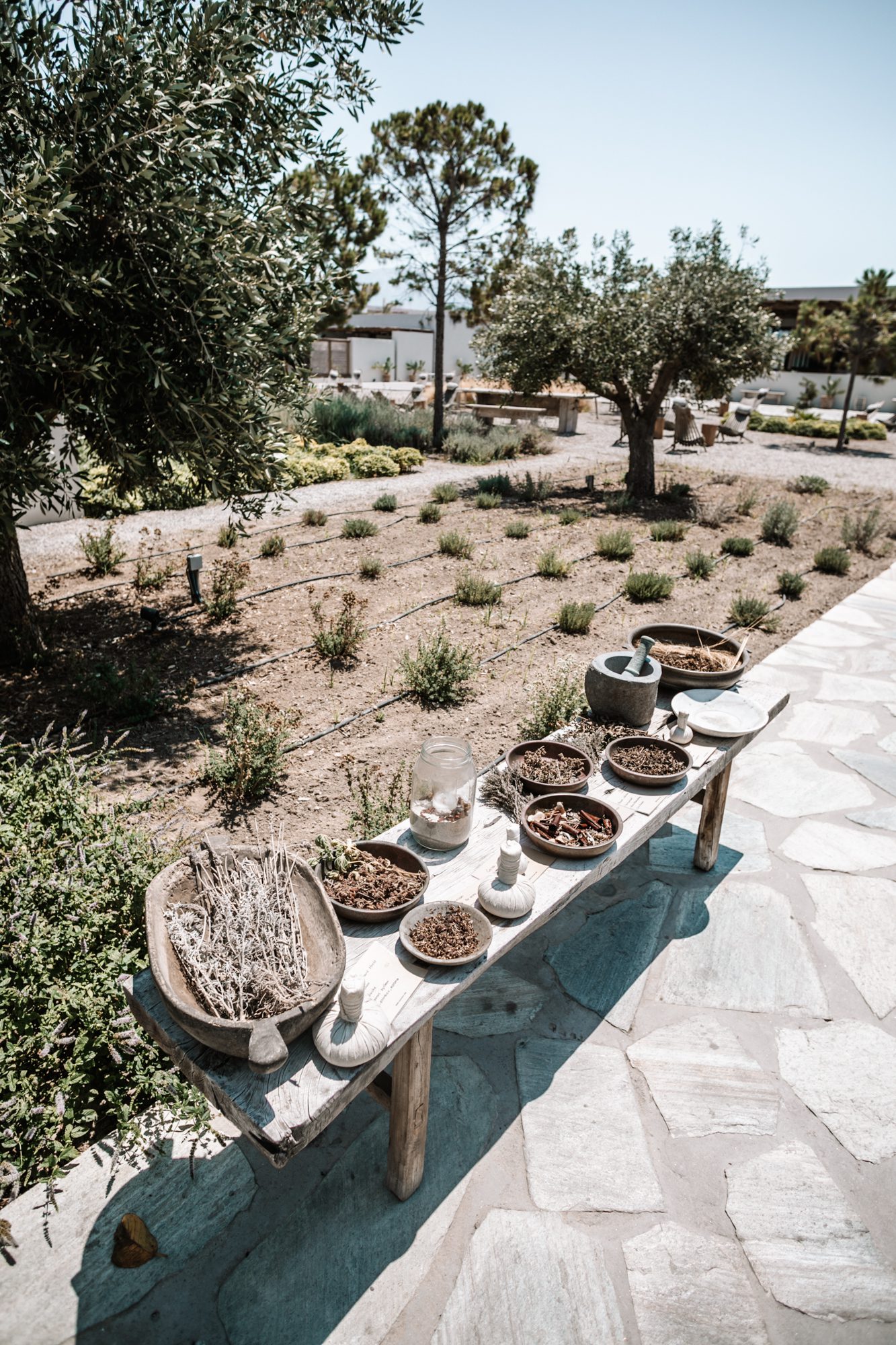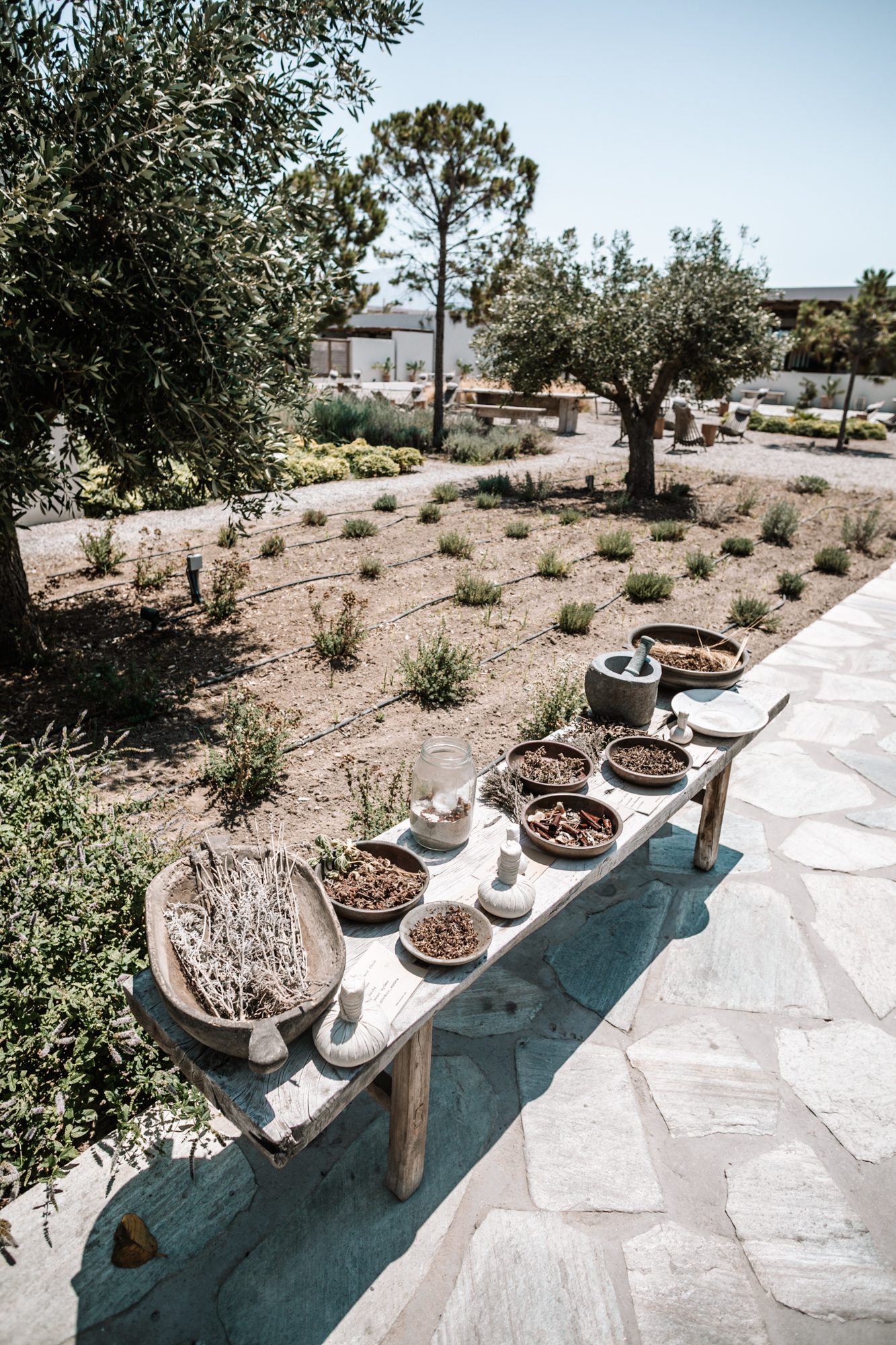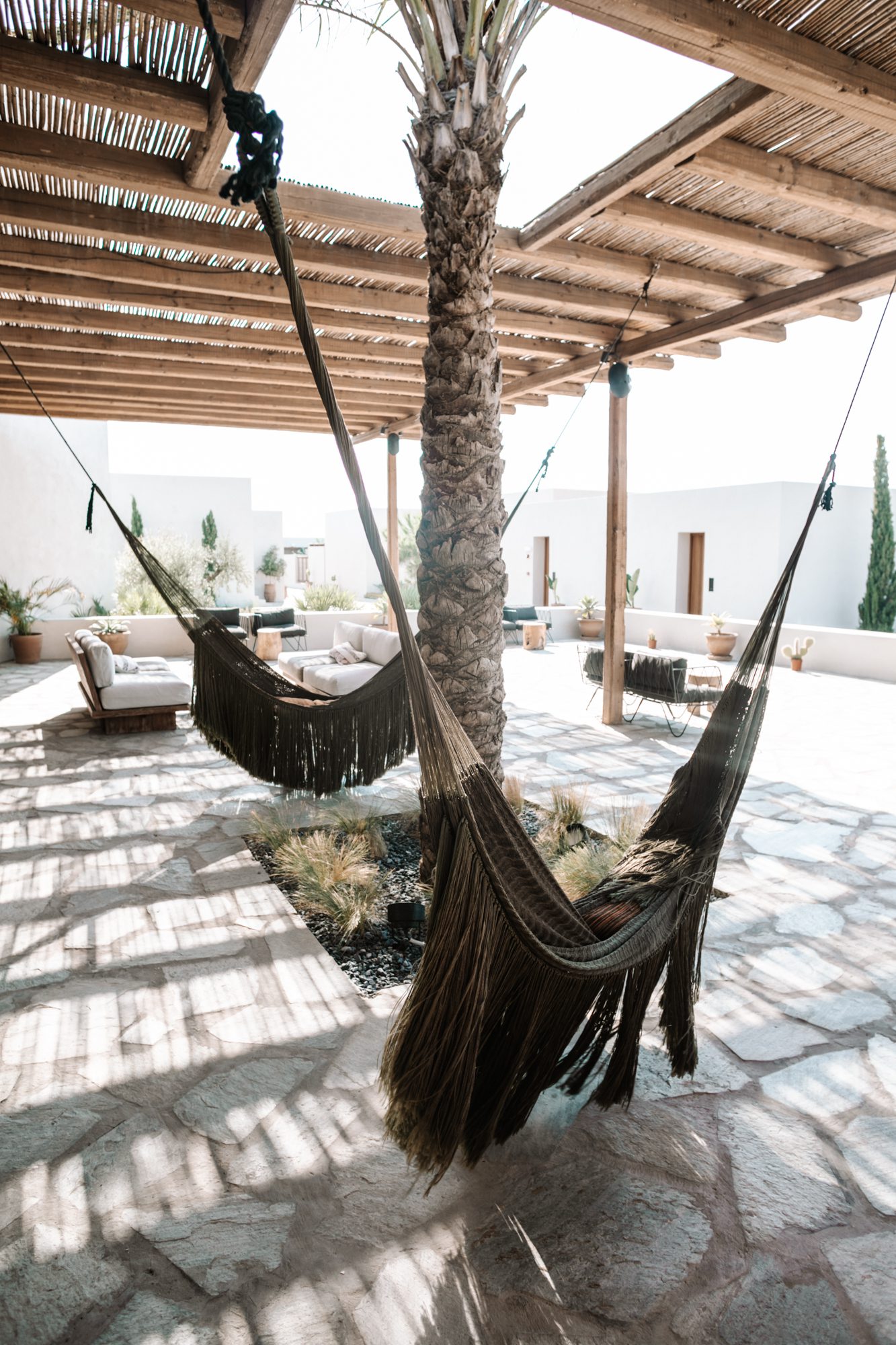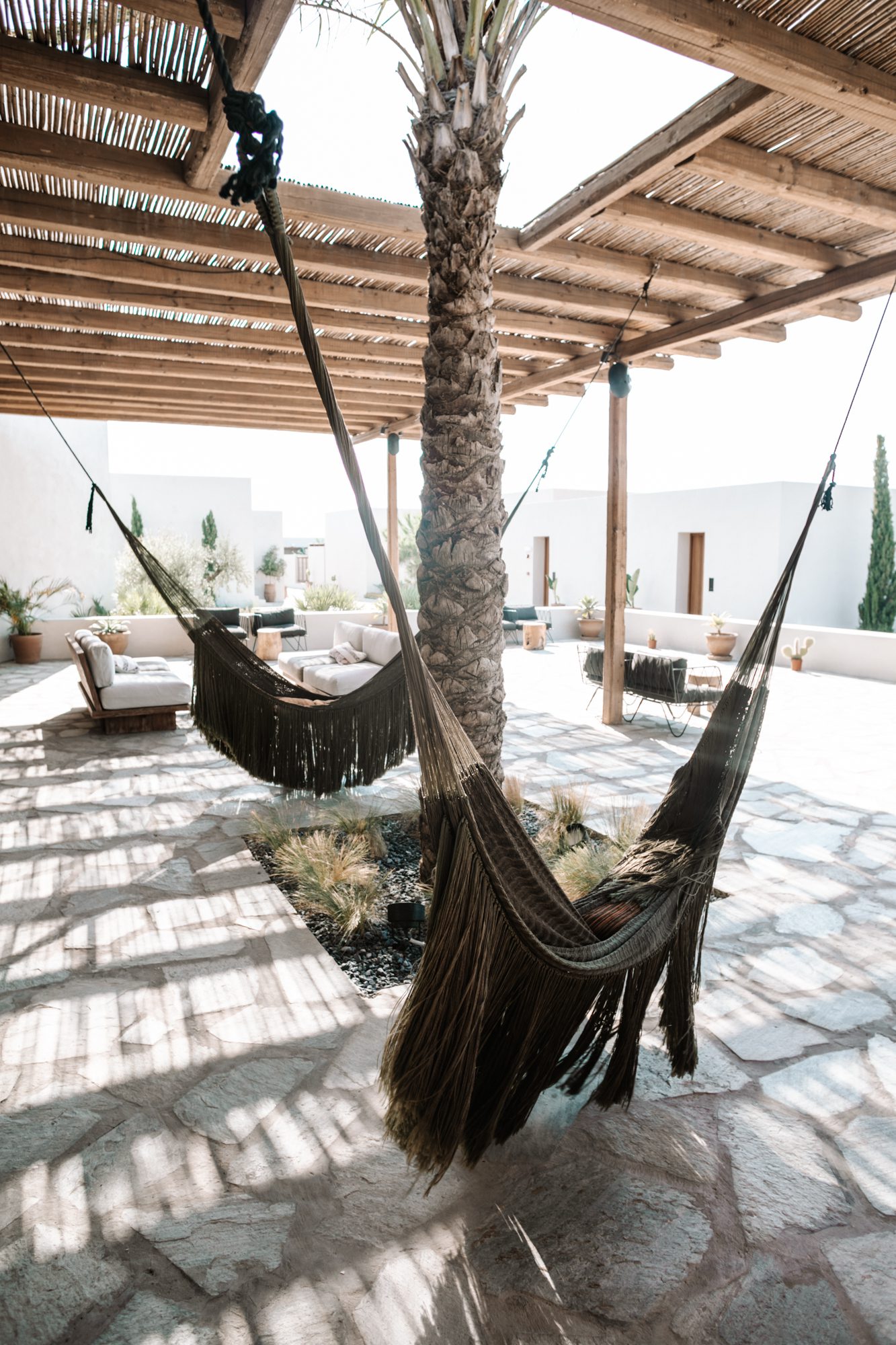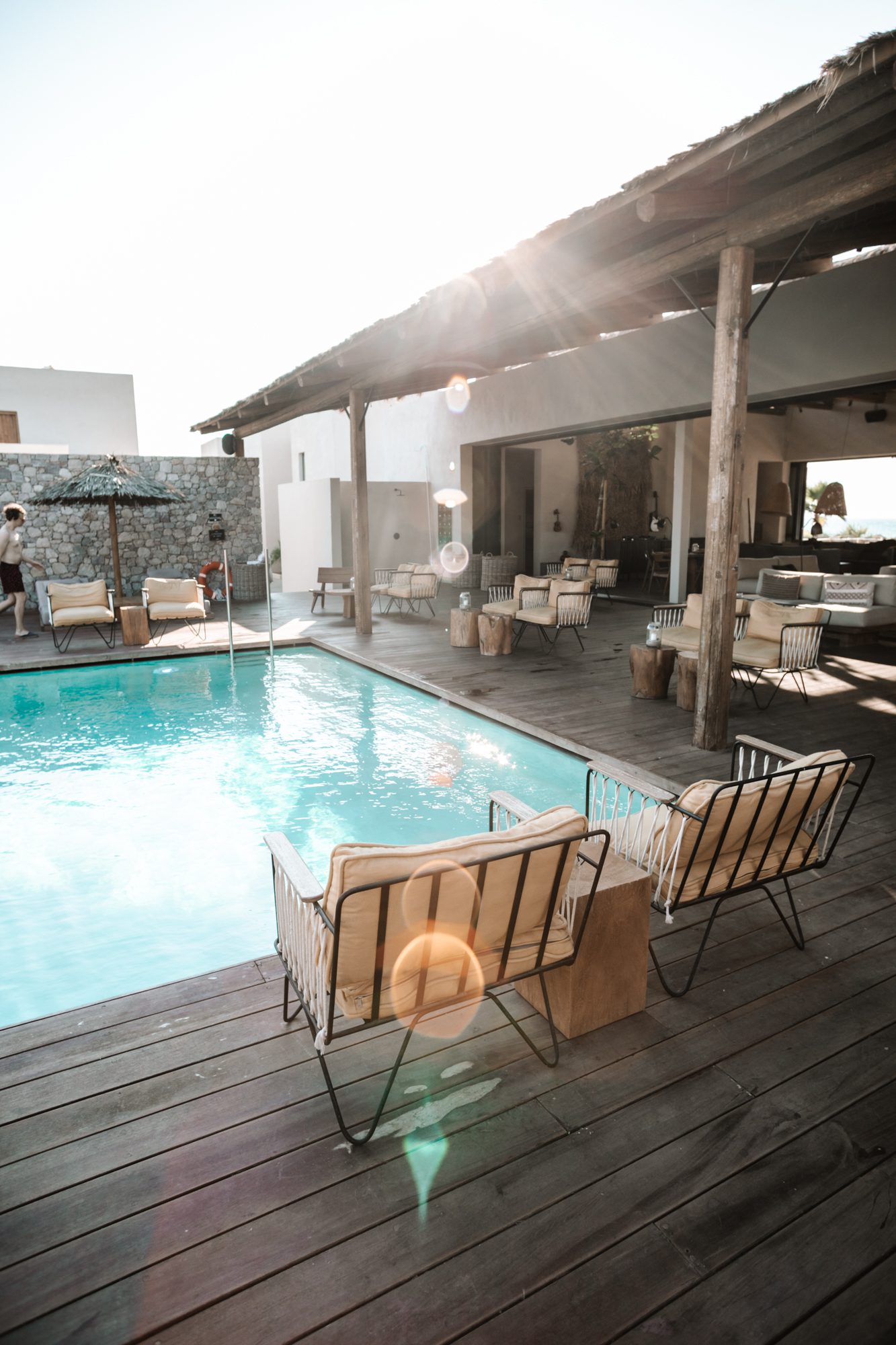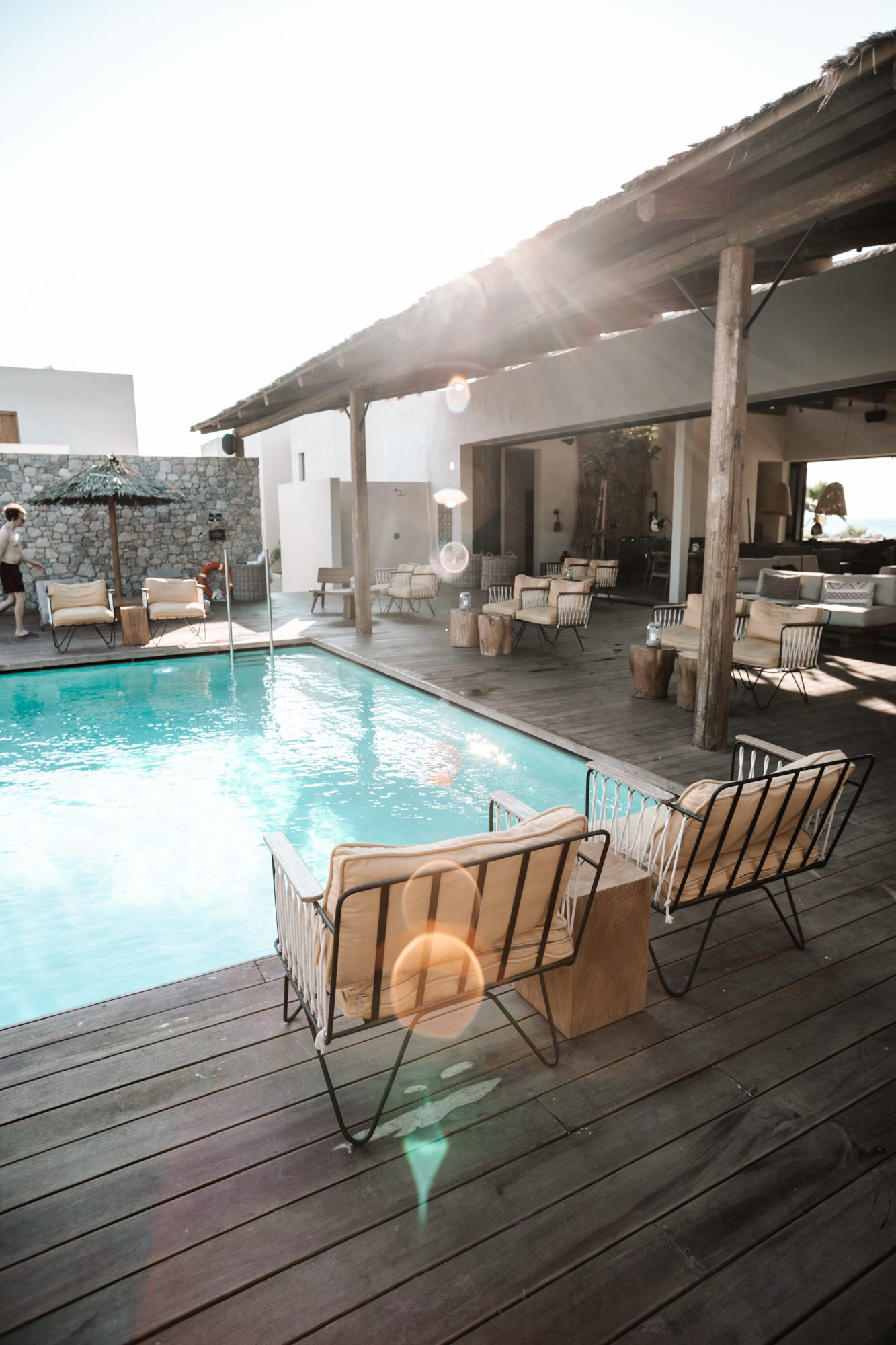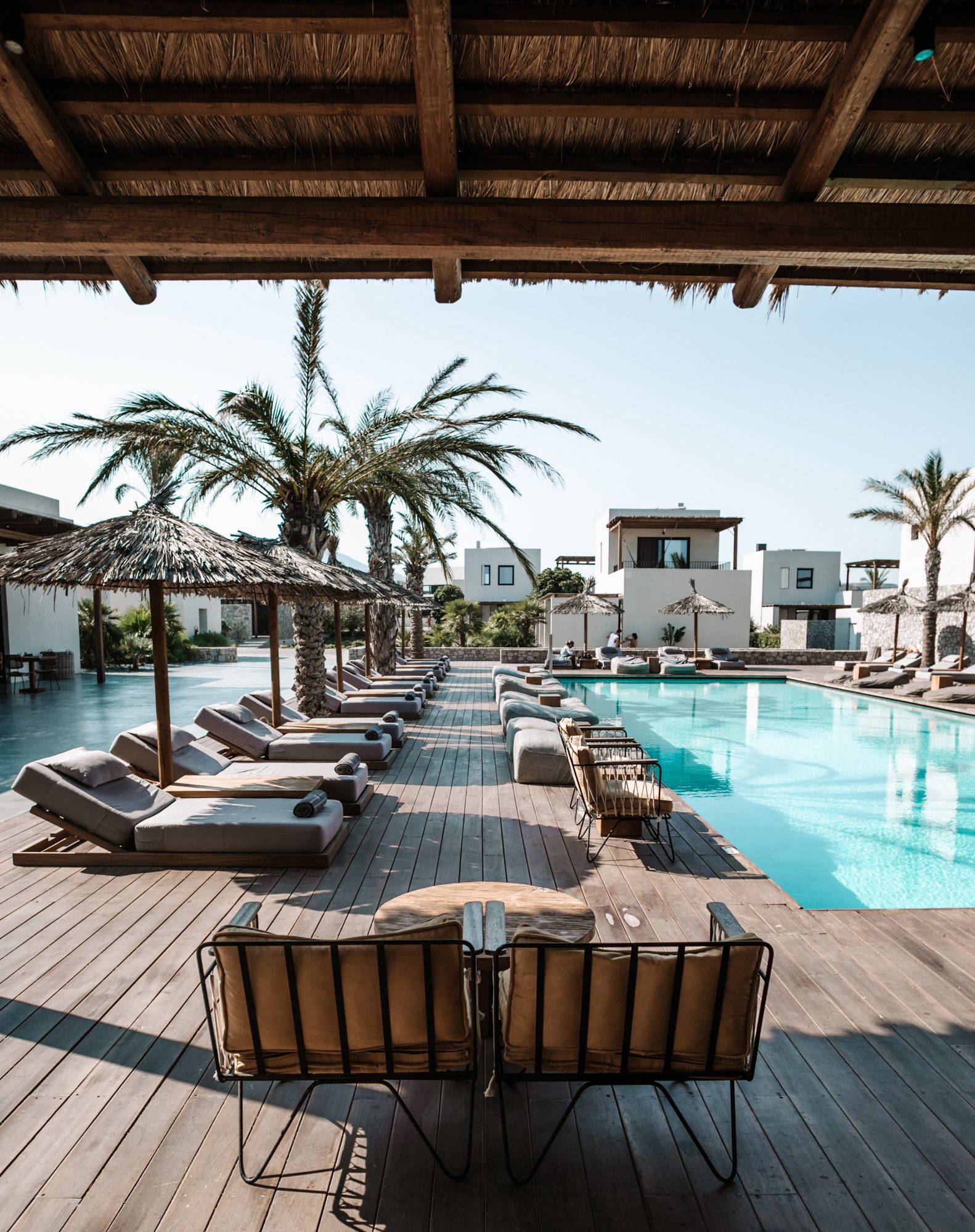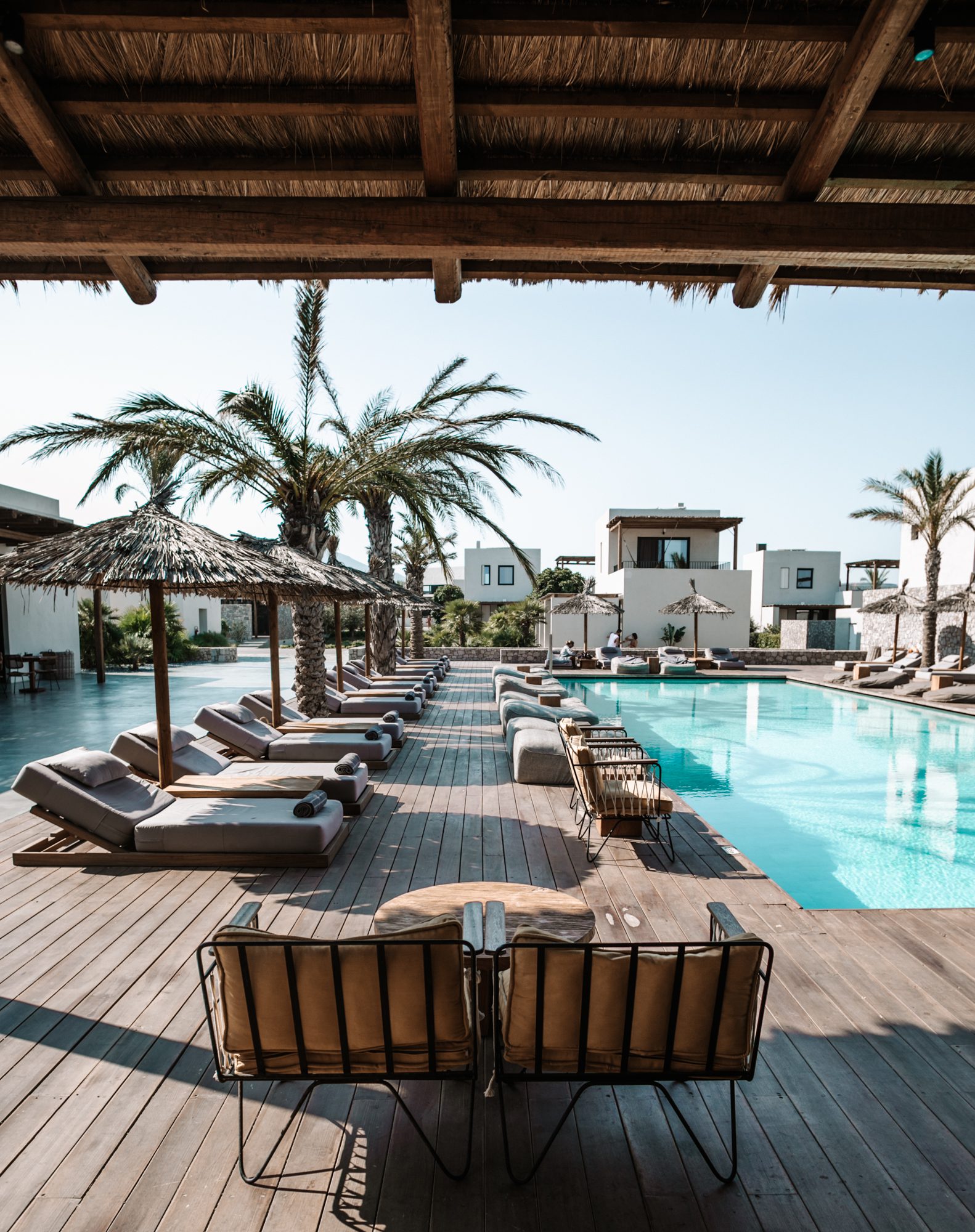 …and to sum up…
Casa Cook Kos is an amazing place if you want a holiday with a tropical feel in Europe. It's perfect for couples and tired parents wanting to relax. Oh yes, absolutely! Our holiday was fulfilled with tranquillity, excellent customer service and relaxation. It's a unique destination full of interesting people and we will definitely stay at Casa Cook again (most probably in Ibiza). I recommend this place especially in May or October (so out of the holiday season). I'm sure you'll be enchanted!
– adults only
– beautiful design
– a lot to choose from for your breakfast
– amazing, spacious rooms
– swimming pool
– private beach
– yoga classes
– great restaurant
– excellent customer service
– a relaxing atmosphere
– outdoor Cinema
– beach parties
Tłumaczenie : Joanna Osmola, Tłumacz Kreatywny, osmola.joanna@gmail.com